Welcome to SketchOk.com, the ultimate destination for all art enthusiasts looking to infuse creativity into their Halloween celebrations. Every October, as the world gears up for the season of spooky festivities, many are on the lookout for ways to add a unique touch to their celebrations. What's more unique than drawing your favorite characters in eerie Halloween styles? With our detailed Halloween drawing guides, dive deep into a world where art meets horror, and craft stunning visuals to awe your friends and family. Whether you're a newbie to the world of sketching or a seasoned artist, we promise an experience that's both enriching and fun.
Table of Contents:
The Magic of Halloween Sketching
Art has an innate power to bring stories to life. And what better story to narrate than that of Halloween? Sketching your cherished characters with a Halloween twist not only fuels your creative instincts but also offers a refreshing take on popular tales. Picture this: Elsa, not as a snow queen, but a witch or Mickey Mouse as Dracula. The juxtaposition of familiar characters in unfamiliar settings is an exciting challenge for any artist. Moreover, sketching these iconic figures in Halloween garb can be an excellent addition to your festive décor, a unique gift, or even a special way to bond with loved ones as you craft these visuals together. In a nutshell, Halloween sketching takes your love for art to an enchanting, spooky realm.
Unpacking the Step-by-Step Drawing Guides
At SketchOk.com, we understand that complex characters can be intimidating. That's why our step-by-step drawing guides are here to help. Instead of overwhelming you with intricacies from the get-go, we break down each character into digestible steps. This incremental approach ensures that even the most complex designs become manageable. Every step is visual, allowing you to see the process and replicate it. This method is not just efficient; it also provides a deeper understanding of character structures and design elements. Whether it's a detail in a Disney princess's gothic gown or the eerie facets of a horror icon, our guides ensure you capture every nuance with ease. Dive in, and let our guides unravel the artist within you.
Halloween Drawing Guides
This Halloween season, let's delve into a spooky artistic realm and rediscover our beloved characters. From Chucky's haunting grin to Mickey's Dracula makeover, our drawing guides are the epitome of Halloween twists. But there's more! Discover how your favorite Disney Princesses have embraced the Halloween spirit. Let's dive into this gothic fairy tale.
How to Draw Halloween Disney Princesses
Elevate your Halloween drawing with our series dedicated to Disney Princesses. Imagine the enchanting world of Disney but with a shade darker and much spookier!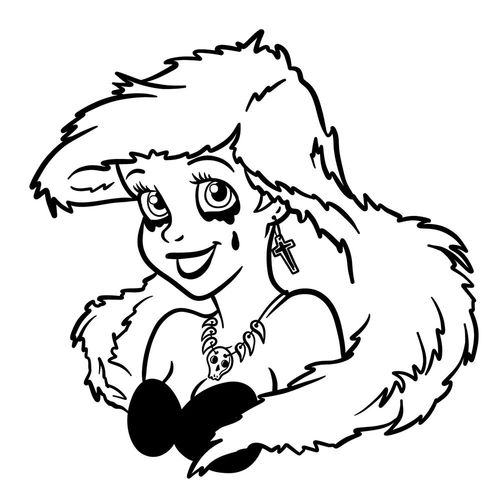 Witness Ariel's mesmerizing yet haunting transformation. Her iconic red locks have turned spiky and unkempt, but her enchanting smile and eyes remain unchanged. A black tear trickles down, while her ensemble is completed with a cross earring and a grim necklace featuring fangs and a skull. Her signature seashell bra now comes in an eerie black.
Bid goodbye to Jasmine's iconic dress and welcome the mysterious mummy attire. Bondages envelop her, leaving only her hands and expressive eyes on display, complete with a bondage-inspired hairband.
Mulan, with striking black eyeliner and lips, is crowned with an intricate spider-webbed headdress. Her elegant hairstyle seems to be woven by spiders, perfectly embodying the chilling Halloween spirit.
Belle's classic golden dress now features a bat brooch and is paired with a horned hairband. The darkened lips and unique earring transform this beauty into a creature of the night.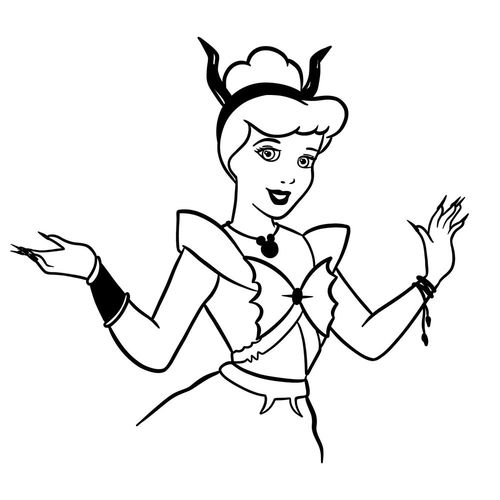 Cinderella dons a gothic look with horned hairbands, bat bows, and dark accessories, but her charismatic charm remains undiminished.
Merida channels the infamous Chucky with stitches and cracks in her makeup. Clad in Chucky's attire and brandishing a knife, she is every bit the horror icon.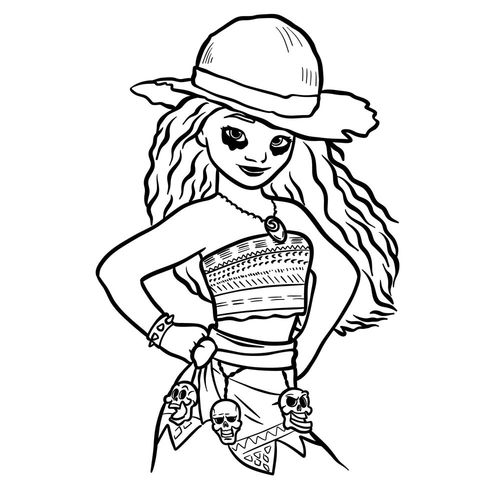 Moana's traditional look is paired with a Straw Hat, dripping makeup, and some eerie additions. The suspended skulls add a touch of dread to her ensemble.
Sitting on her knees, Pocahontas displays a juxtaposition of her traditional dress with Halloween touches. Alongside her is Meeko, now possessing bat wings and a thirst for pumpkin.
Rapunzel stands atop her sprawling hair, donning a witch's hat and an edgy dress. This rendition captures her witchy transformation perfectly.
Crowned with a witch hat and holding a jack-o'-lantern, Elsa epitomizes the chilling beauty of a sorceress.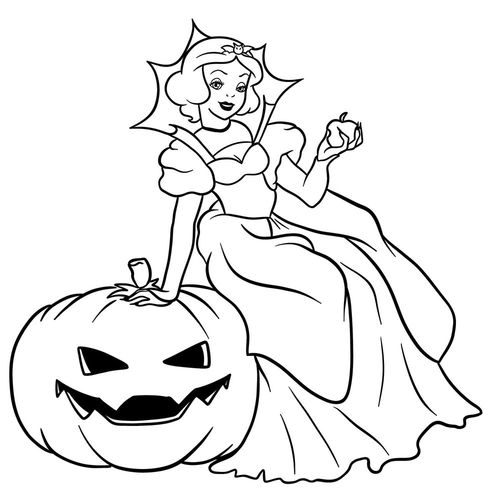 Seated atop a colossal jack o' lantern, Snow White's darkened lips, spiked collar, and bat bow paint her as the dreamy queen of darkness.
Tiana's transformation is a haunting spectacle. Her gloves give a skeletal illusion, and a miniature frog version of herself, perched on a lily, adds a touch of whimsical dread.
Rediscover these princesses like never before and let their stories weave a web of artistic intrigue this Halloween. Dive into these guides and let your pencil do the magic.
How to Draw Popular Disney Characters on Halloween
Drawing your favorite Disney characters with a Halloween twist is not only entertaining but also enhances your artistic skills. In this section, we delve into drawing your beloved characters in their spooky best. Halloween isn't just about ghosts; it's about transformation. Let's transform these characters!
The playful Pluto wrapped in white bandages might just be the cutest mummy you've ever seen! Start with Pluto's regular facial features and then wrap him up in layers of bandages, leaving just  his head peeking out.
A true blend of Disney magic and Halloween spirit, the pumpkin carriage is synonymous with Cinderella. Add a darker shade, twisted vines, and perhaps a ghostly glow to make it perfect for Halloween night.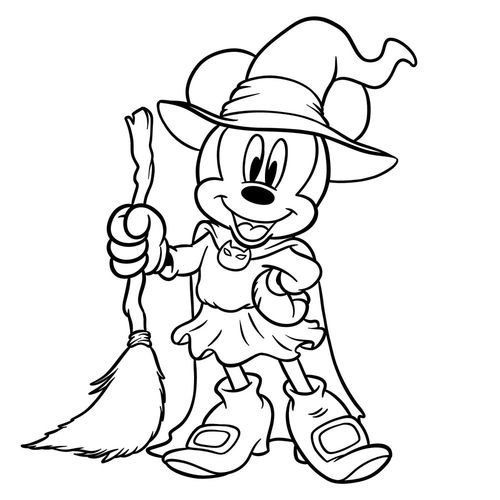 Minnie's signature bow takes a backseat as she dons a pointed witch hat. With a magical broom in hand and a mischievous sparkle in her eye, Minnie is all set to cast her spell this Halloween.
Mickey Mouse as the famed Dracula is a delightful twist. Picture him with a cape and those pointed teeth. It's an exciting blend of Transylvanian terror and Disney delight.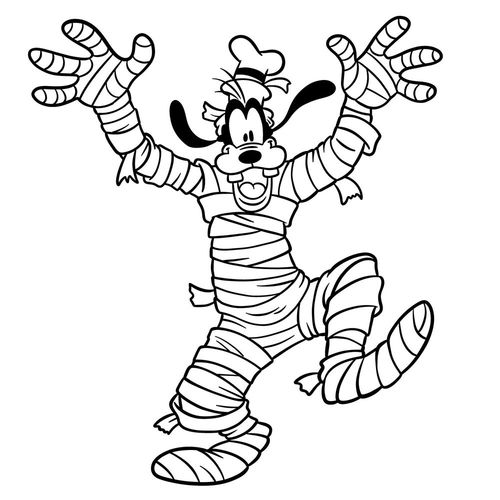 Imagine the ever-klutzy Goofy getting tangled in mummy wraps. It's hilarious and endearing at the same time. Add some bandage layers, ensuring his lanky structure is evident, and you've got Goofy ready for Halloween.
The usually fiery Donald peeking out of a carved pumpkin is an image to cherish. Drawing Donald inside a jack-o'-lantern combines autumn festivities with classic Disney charm.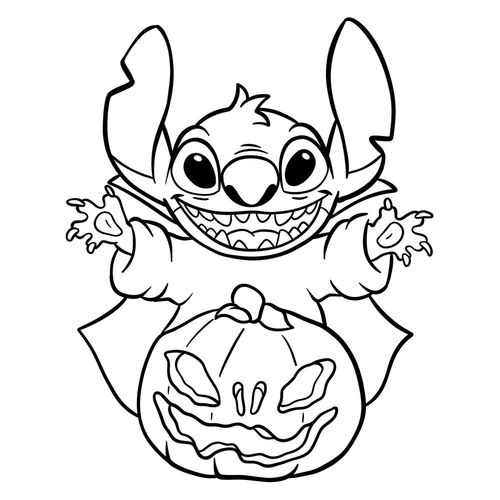 Stitch, the mischievous alien, becomes even more magical as a wizard. Standing in front of a jack-o'-lantern, with his blue fur contrasting against the pumpkin's orange glow, is sure to be a drawing highlight!
For those who'd like a challenge, combining the eerie Pennywise with the adorable Stitch will test your skills. Though a tricky blend, the result is bound to be both spooky and endearing, making it a perfect Halloween illustration.
How to Draw Popular Horror Characters
Unearth the legends of horror cinema with these drawing guides. Venture into the depths of terror and rekindle the chills and thrills of iconic horror characters that have haunted screens for generations.
The emblematic Scream mask, representing terror at its purest. It's more than just a mask; it's a symbol of horror that has sent shivers down the spine of many. Our guide will walk you through capturing the haunting eeriness of this iconic visage.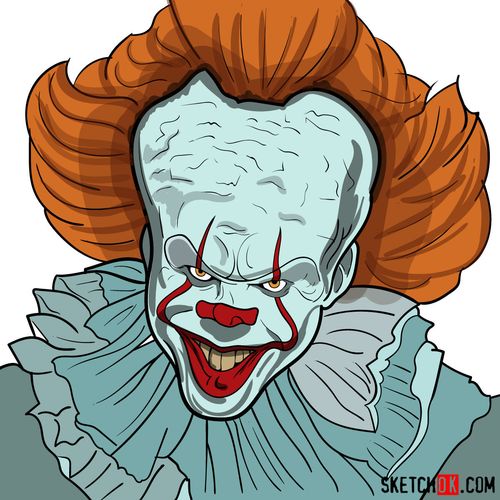 Recreate the malevolent smirk and piercing eyes of Pennywise, the dancing clown. Its fearsome countenance has been the stuff of nightmares for many, and this guide promises a journey through every intricate detail.
Diminish the terror, but not the impact! Learn to sketch the chibi version of Pennywise, combining the essence of horror with an adorable twist.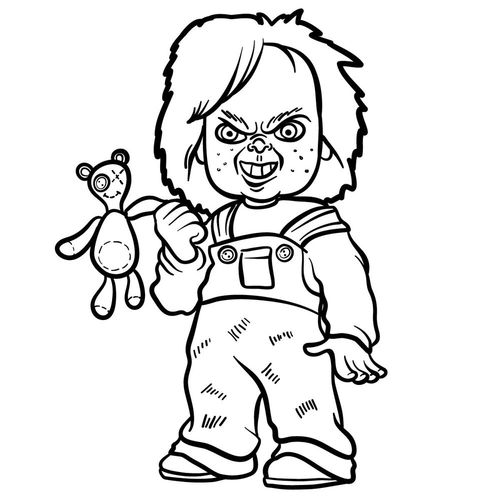 The chilling gaze, the stitched smirk, and that malicious glint in his eyes. Drawing Chucky is an invitation to the realm of horror toys. Ready to bring this pint-sized terror to life?
How to Draw Halloween Simpsons
Step into the world of Springfield this Halloween! The Simpsons, our favorite animated family, have donned their spooky attires, and it's time you sketch their eerie avatars.
Watch out, Springfield! Bart has taken a vampiric turn. With fangs ready and a mischievous gleam, this guide ensures you capture every essence of Bart's nocturnal mischief.
Forget donuts; Dracula Homer has a new favorite snack! With this guide, you'll get to depict Homer's transformation into the classic vampire, with all his goofiness intact.
Little Maggie has found herself a new pacifier, and it's a jack-o'-lantern! Dive into sketching Maggie, peeking cutely from her pumpkin, ready to be the star of your Halloween showcase.
Marge's iconic blue hair gets a mummified twist. Wrapped in mystery and bandages, sketching Mummy Marge promises to be an exciting Halloween endeavor.
Lisa swaps her saxophone for a magic wand this Halloween. Ready to sketch the brightest witch of Springfield? This guide helps you reimagine Lisa's intellectual charm with a witchy spin.
Halloween Skulls, Spiders, and More!
Evoke the essence of Halloween with timeless, symbolic elements that represent the very spirit of the season. From mysterious skulls to intricate webs, these drawing guides are perfect for any Halloween crafts, decor, or just a spooky drawing session.
Start with the quintessential symbol of magic and witchcraft. A witch hat embodies all things enchanting and eerie. Unravel its curves and peaks with our detailed drawing guide.
Capture the heart of Halloween with the classic jack-o'-lantern. Its haunting glow and mischievous grin have become emblematic of the festival's ghostly allure.
Dive deeper into the macabre with a tombstone, and up the ante with a skeleton arm reaching out. A chilling image that reminds of tales of the undead rising.
Master the art of minimalism and mystique with a graveyard silhouette. Perfect for backgrounds or standalone pieces, this guide helps set an eerie ambiance.
Craft the delicate and symmetrical designs of a spider web. Whether as a backdrop or focal point, the web adds an element of silent dread.
Add life, or perhaps a tiny eight-legged menace, to your web. This guide intricately combines the spider web with its masterful creator.
Breathe (or not!) life into four ethereal spirits. These simple ghost silhouettes are versatile additions to any spooky scene.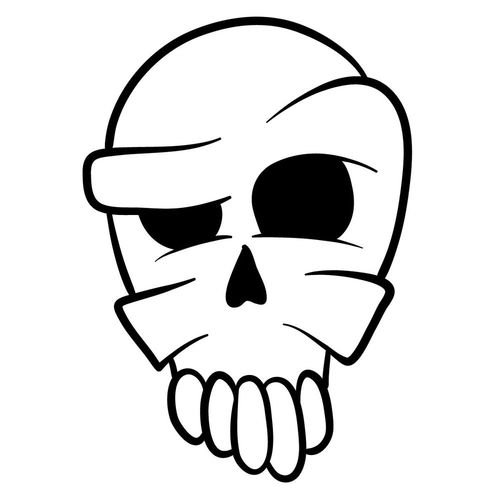 Introduce a touch of whimsy with a cartoon skull. While retaining the iconic shape, its exaggerated features bring forth a playful side of the macabre.
Elevate your cartoon skull with the classic crossbones. This symbol, often associated with pirates, adds a sense of danger and adventure.
Step into the inferno with the devil's skull. With horned features and an evil grin, this drawing promises to be a devilishly good time.
Harness the power of these symbols and create spine-chilling masterpieces this Halloween season!
Different Halloween Drawing Guides
Dive into a varied selection of Halloween characters, each bringing its unique style and story. From iconic pop culture figures to classic monsters, we have got you covered!
Guard the night with the ancient and mythical gargoyle. Often perched on old cathedrals, these stone creatures add a gothic touch to any Halloween theme.
Mix humor and horror with this cartoonish take on the classic zombie. Perfect for younger audiences or those looking for a fun spin on the undead.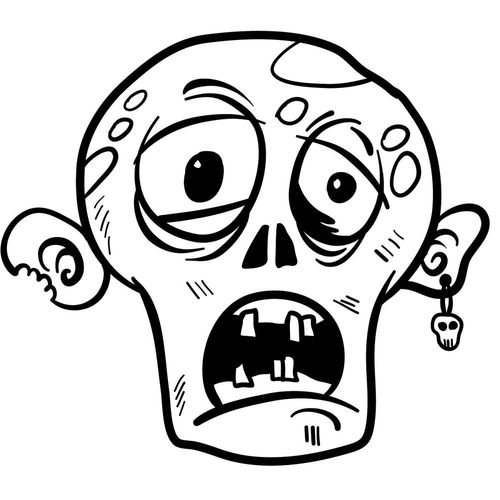 Focus on the defining features of a zombie with this headshot guide. Capture the vacant stare, rotting flesh, and an insatiable hunger.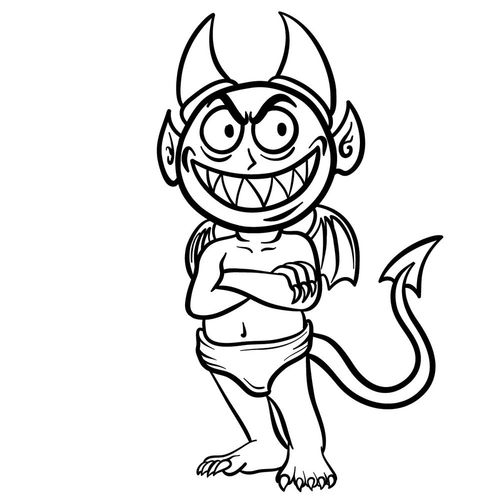 Get cheeky with a cartoon depiction of the king of hell. This devilish character is more about playful mischief than pure evil.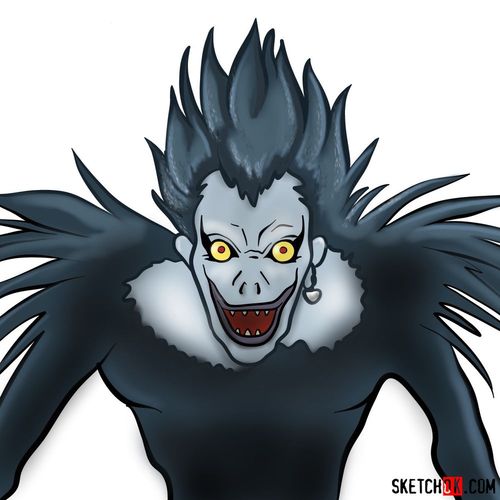 Delve into the world of Japanese manga with Ryuk, the iconic death god. His unique features and sinister grin make for an intricate drawing challenge.
Another anime favorite, Death from Soul Eater presents an abstract take on the grim reaper. Its design is quirky, yet ominous.
The age-old symbol of mortality, the grim reaper stands as a haunting figure, ever-present and waiting.
Merge gaming and Halloween with the pumpkin-clad barbarian. This unique character adds a twist to the traditional barbarian image.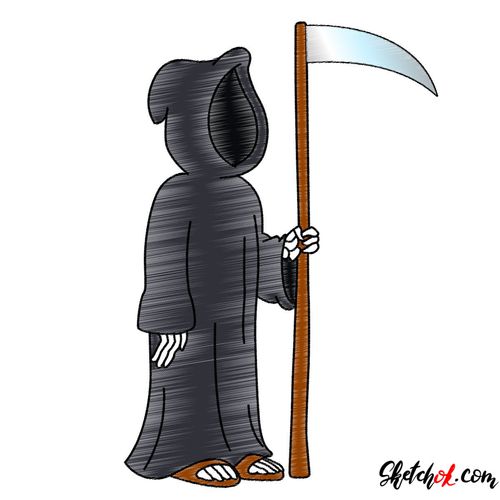 Add a touch of humor with the pop culture favorite, Death from Family Guy. A reminder that even the afterlife has its light-hearted moments.
From the classic "The Nightmare Before Christmas," Jack Skellington remains a favorite among many. His skeletal frame and tailored suit make for a stylish draw.
Combine the fun of Despicable Me with the horror of Dracula. This minion turned vampire adds humor to the classic bloodsucker image.
Embrace gaming nostalgia with the Mummy from Puyo Puyo. Its wrapped appearance and comical features bring fun to any Halloween project.
Derived from British folklore, the boggart is a shape-shifting creature, embodying one's deepest fears. A versatile and eerie addition to your repertoire.
Deceptively inviting, Huggy Wuggy combines the appearance of a plush toy with the essence of a nightmare. This character promises a unique drawing experience.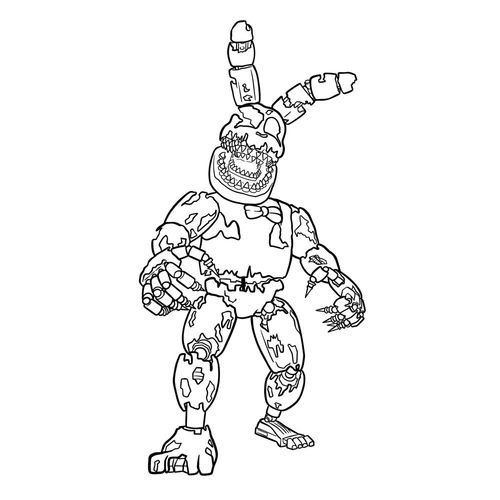 Unravel the mysterious and eerie world of "Five Nights at Freddy's" (FNaF) by diving into the diverse range of characters this iconic game series offers. The franchise boasts characters that range from the eerily charming to the downright terrifying. Engage with notable figures like Jack-O-Bonnie, a haunting variant of the original Bonnie. Dreadbear's hulking form redefines terror, while characters like Nightmare Freddy and Withered Freddy offer a glimpse into the nightmarish decay. Journey through the twisted timeline and encounter Springlock Fredbear and the ever-elusive Springtrap. And, of course, the childlike yet unsettling Bidybab awaits your artistic touch. These characters, rich in lore and horror, will offer both a challenge and a thrill to every artist.
Friday Night Funkin' (FNF) gives a platform to reimagine some of our beloved characters from various franchises in a more terrifying and glitched form. Delve deep into the digital abyss with EXE versions of Mario and Sonic. Feel the corrupted essence of characters like Pibby Sonic, Soul Tails, and Soul Knuckles, and get ready to experience your favorite cartoon characters in a light you've never seen before. Glitched manifestations like Battered Mickey, Glitched SpongeBob, Timmy Turner, and Thomas Jasper Cat Sr put a dark spin on their original cheerful forms. Glitched Red J. Bird and Qunny are no exceptions, proving that any character can have a sinister side. Drawing these characters offers a chance to experiment and explore the shadowy realm of our favorite figures, giving artists a delightful blend of nostalgia and horror.
Spooky Conclusion
As the embers of our digital journey fade and the whispering winds of Halloween usher us towards the looming silhouette of October's end, it's time to reflect on the tapestry of terror and wonder we've woven together. Drawing – that age-old craft of translating imagination onto the canvas – acquires an enchanting allure during the Halloween season. This guide, saturated with tales of Halloween drawing, endeavors not just to instruct but to kindle the dying flames of creativity amidst the digital deluge of our era.
The night is dark and full of marvels; from gothic princesses with their cursed crowns to the nightmares of FNaF's metallic monstrosities. Every pencil stroke, every smudged line, breathes life into legends and phantoms. It's a dance of darkness and light, of ghouls and heroes, of forgotten tales and whispered legends.
Stephen King once wrote, "Monsters are real, and ghosts are real too. They live inside us, and sometimes, they win." But with our guide, not only do these monsters and ghosts come alive on paper, they serve as a testament to human imagination, resilience, and our eternal love affair with the otherworldly.
So, as you hang up your drawing tools, remember: this guide isn't just about lines and sketches. It's a portal, a beacon, beckoning you to venture into the vast universe of your imagination, challenging the boundaries of reality, and making every Halloween drawing a masterpiece. In the symphony of spooks, be the maestro, and may your creations haunt the annals of art forever.
Happy Drawing and Bewitching Crafting! 🎃👻🖋️