In the vast universe of artistry, bringing iconic characters to life with unique, festive twists can be exhilarating. Today, we're venturing into a realm where the beloved princess Rapunzel trades her innocent charm for a dash of Halloween mystique. Dive into this tutorial and discover how to draw Halloween Rapunzel as the bewitching beauty she is.
Character Highlights: Rapunzel's Spooky Transformation
Before commencing our drawing journey, it's paramount to grasp the distinct features that set Halloween Rapunzel apart from her original portrayal:
Signature Witch Hat: A staple of Halloween, Rapunzel's witch hat is both enchanting and defining.
Laced-Up Dress: Adding a gothic touch, the laced-up detail on her dress exudes mystery.
Spiked Collar: In place of her usual frills, a spiked collar offers an edgy flair.
Distinct Patch: A little imperfection on her dress, symbolizing the mirth of Halloween.
Iconic Hair: Holding her magnificent hair in one hand, she flaunts its length by standing on it, adding to her whimsical aura.
Drawing a Halloween-themed character could also open avenues for incorporating other mystical beings. Consider adding characters like a spooky Moana or perhaps Merida as Chucky for a comprehensive Halloween scene.
About This Sketching Guide
This guide is systematically designed to ensure a seamless drawing experience. Let's decode the color guidelines:
Red Color:

Represents the focal point of your current drawing step.

Black Color:

These lines have been etched in previous steps. Use them as reference points.

Grey Color:

Demonstrates the basic sketch or the proportion framework.
In a series of 35 steps, we'll first construct the basic proportion sketch. By the end, you'll have the choice to ink your drawing. Remember, patience is key. Wait for the ink to dry before erasing any pencil lines, ensuring clarity and precision.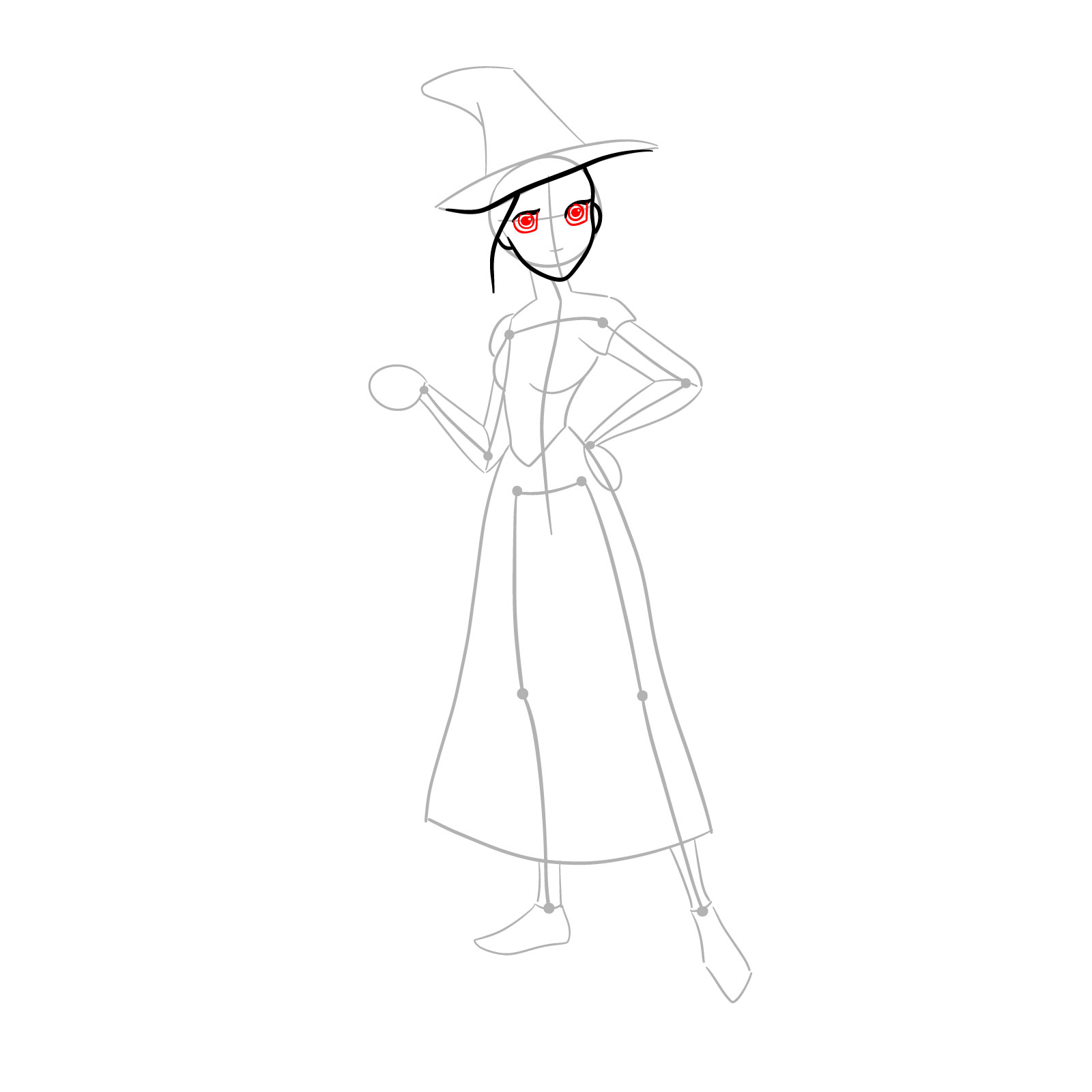 Frequently Asked Questions
What's the best technique to draw Rapunzel's long hair?
Capturing Rapunzel's hair requires a balance of flow and volume. Start by outlining the general direction of her hair. Use wavy lines to depict its cascading nature, while also adding some stray strands for realism. Layering and shading will offer depth, making the hair look voluminous and dynamic.
How can I accurately sketch her witchy attire?
Begin with a basic silhouette. Focus on the unique elements, like the lacing or the spiked collar. Use reference images if available and pay attention to the folds or creases in the fabric. This will lend authenticity to your drawing.
Any tips for maintaining proportion throughout the drawing?
Using a grid technique or having reference lines can significantly aid in maintaining proportions. Remember, it's essential to draw lightly initially, making adjustments easier as you refine your sketch.
Concluding the Enchanting Journey
Thank you for venturing into the world of enchantment with this guide on how to draw Halloween Rapunzel. If you're keen to see more such tutorials or have a specific character in mind, consider supporting SketchOk. Your donations not only fuel future guides but also offer you a chance to suggest themes. These suggestions receive prime attention and bring your artistic dreams to the forefront swiftly.
For a daily dose of artistic inspirations and to become a part of our ever-growing community, feel free to subscribe:
Lastly, if you'd like to donate and bolster this initiative, head over to Buy me a coffee. Here's to many more drawing adventures together!