With Halloween just around the corner, there's no better time to explore a darker, more mysterious side of our favorite ocean princess, Ariel. In this guide, you'll learn how to draw Halloween Ariel up to her chest, blending her classic beauty with the thrilling aura of All Hallows' Eve.
A Glimpse Into Ariel's Halloween Makeover
Intense Gaze: Ariel's captivating eyes are further intensified with smokey makeup and a black tear drop on the left, adding to her haunting allure.
Wild Waves: While retaining her iconic hairstyle shape, Ariel's hair takes on a messier, spikier appearance for the season.
Spooky Adornments: Adding to her eerie charm, Ariel dons a cross earring and a necklace with fangs and a small central skull.
The Darkened Seashell Bra: A stark contrast to its usual vibrant color, her seashell bra turns completely black, enhancing the overall dark theme.
About the Drawing Guide
This guide offers a series of images to lead you through the process of bringing Halloween Ariel to life. Before diving deep into the drawing:
Red Color:

Indicates the current step in your drawing journey.

Black Color:

Highlights the lines that have been previously crafted.

Grey Color:

Displays the foundational sketch to ensure the proportions are perfect.
The guide is segmented into 34 steps, commencing with the essential structure of the sketch. As you conclude, you can ink your drawing. Remember, patience is crucial. Wait for the ink to dry before gently erasing the underlying pencil sketch to ensure smudge-free results.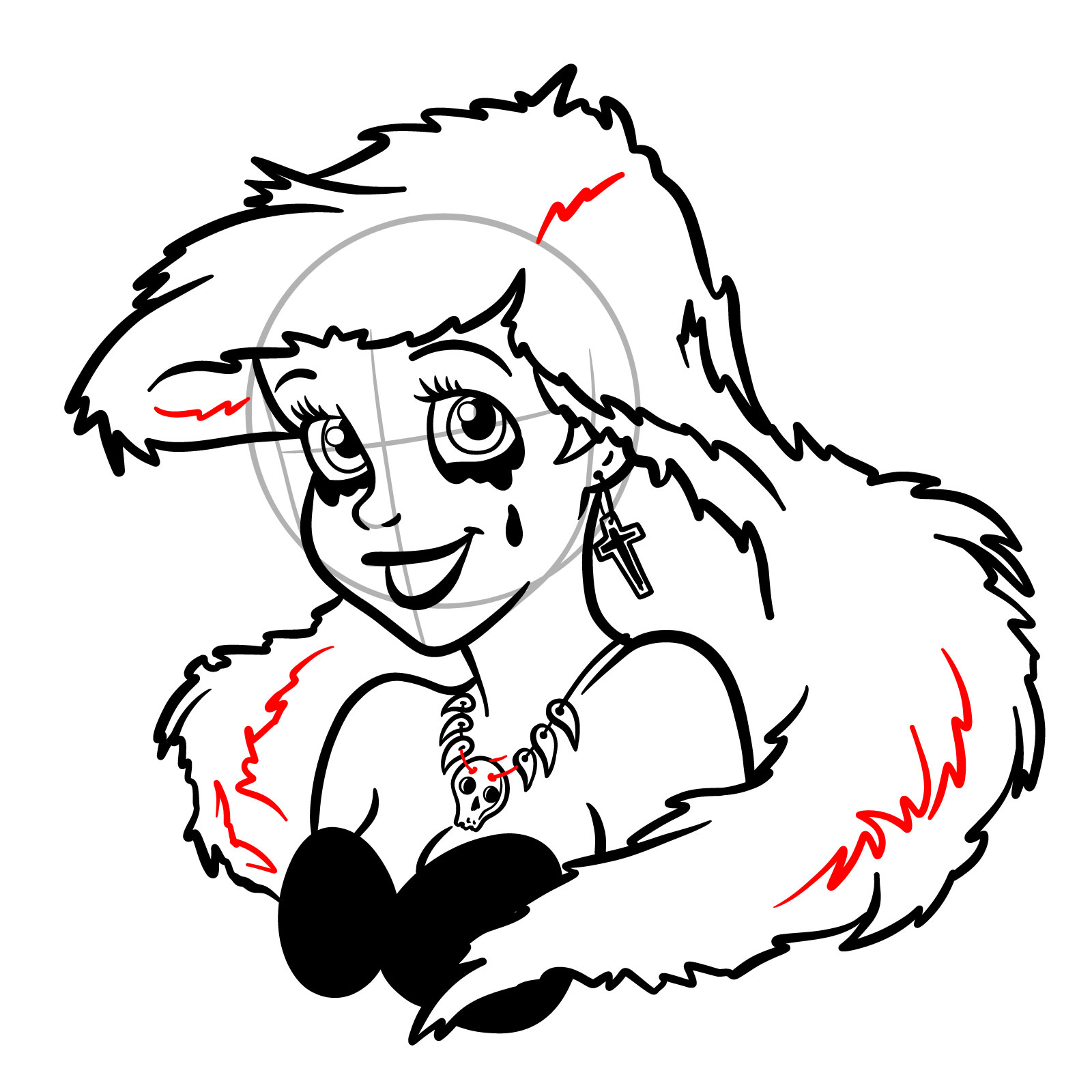 Frequently Asked Questions
What's the ideal technique for drawing Ariel's smokey eyes?
For the smokey eyes effect, start with a lighter shade as the base and gradually add layers of darker shades. Blend smoothly using a blending stump or your fingertip to achieve the desired smokiness. The black tear drop can be added as a final touch, making sure it stands out against the smokey backdrop.
How can I capture the messiness and spikiness of Ariel's hair?
Begin with loose wavy lines to map out the hair's flow. For the spiky effect, incorporate sharper, jagged lines. Ensure the lines are dynamic and varied to create a realistic messy look. Remember to maintain Ariel's recognizable hair silhouette as a base.
Any tips for detailing the skull and fangs on Ariel's necklace?
Start with basic shapes. For the skull, begin with a circle and add facial details. For the fangs, elongated triangles work well. Refine and add details gradually. Shadows and highlights can be added for depth and realism.
Wrapping It Up
Thank you for joining me in this artistic journey to bring Halloween Ariel to life. Sharing this guide with fellow art enthusiasts is the best way to spread the Halloween spirit and love for the Little Mermaid. If you wish to support my work further and even suggest themes for future tutorials, consider making a small gesture at Buy me a coffee. Every donation message there could shape our next guide!
Stay connected and inspired by following SketchOk on Facebook, Instagram, and Pinterest. Your support means the world to me, and together, we'll continue exploring the magical realms of art.