With Halloween just around the corner, it's the perfect time to add some spooky flair to your artwork. If you're on the lookout for something quirky yet iconic, then learning how to draw Chibi Pennywise is a delightful pick. This fun-sized rendition of the sinister clown from Stephen King's "IT" might be small in stature but is sure to make a big impression!
Key Features of Chibi Pennywise
Compact, short body typical of the chibi style
Slightly slanted eyes, adding a dash of mischief
Iconic clown costume, scaled down to chibi size
Clutching a balloon in his right hand
A playful yet eerie expression
If you're a fan of horror characters, you might also consider drawing other iconic figures like Chucky or Ghostface, to accompany your Chibi Pennywise in a spooky ensemble!
About the Drawing Guide
This guide provides a series of images, easing you through the process of sketching Chibi Pennywise. Here's what the color coding signifies:
Red Color:

This highlights the current step in the drawing.

Grey Color:

Illustrates the basic proportions sketch. It's essential during the initial stages to ensure accurate proportions.

Black Color:

Represents lines you've already drawn in the previous steps.
The drawing spans 29 detailed steps, with the first stage focused on establishing the basic proportions. Towards the end, you'll have the option to ink your sketch. Should you choose to do so, remember to let the ink dry thoroughly before erasing the pencil marks to avoid smudges.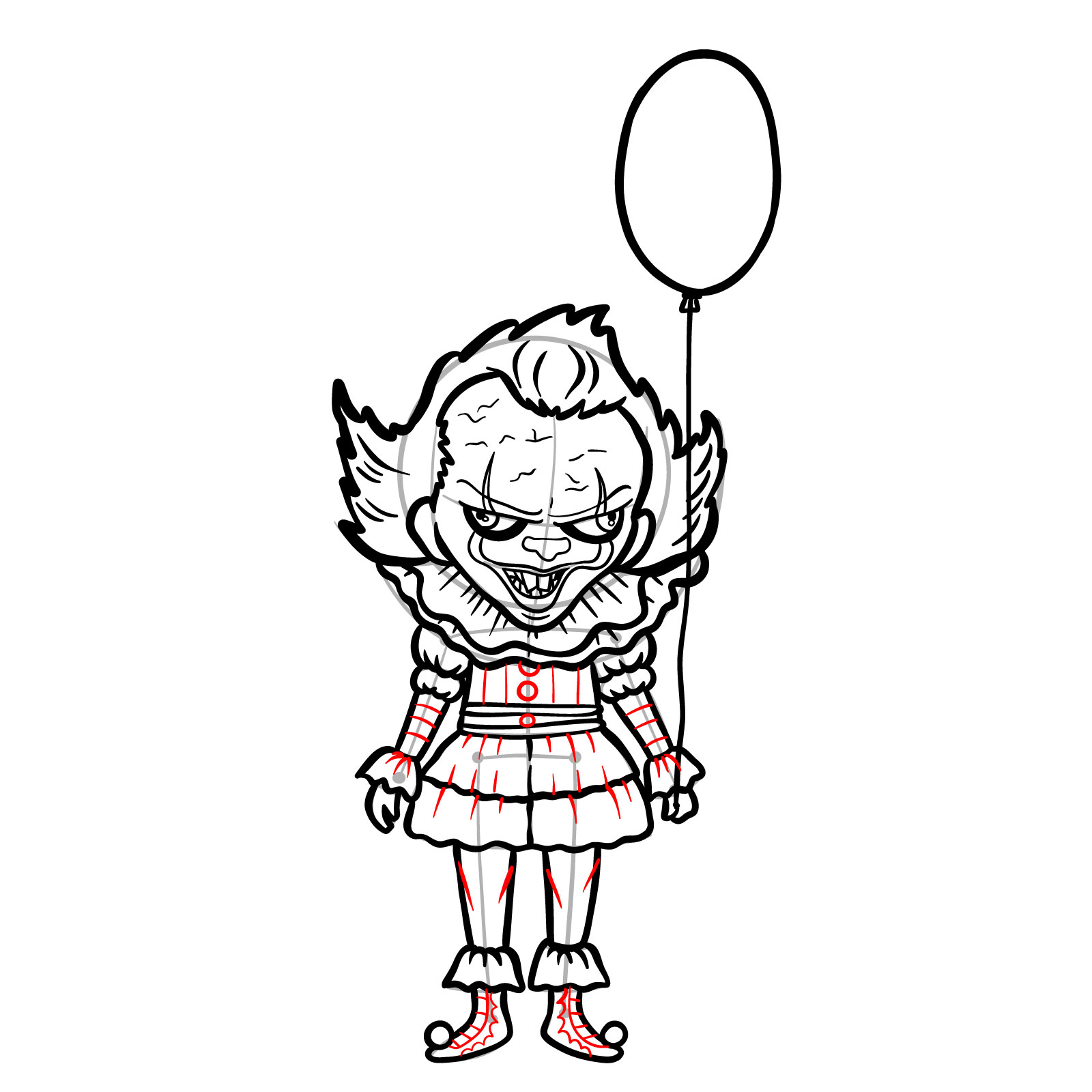 FAQs on Drawing Chibi Pennywise
Any tips for sketching the clown costume on a chibi character?
Absolutely! When sketching Chibi Pennywise's costume, keep the design elements simplified yet recognizable. The key is to capture the essence without over-complicating. For instance, emphasize the ruffles and buttons, but avoid intricate patterns. This ensures the costume is clearly Pennywise's, but adapted for a chibi design.
Concluding Thoughts
I hope you enjoyed this tutorial on how to draw Chibi Pennywise. It's always a joy sharing my techniques with fellow art enthusiasts. If you've enjoyed this guide, consider sharing the link with friends who might be interested. Your support helps in creating more such tutorials!
Want to see more content or have a specific tutorial in mind? Support SketchOk by making a donation here. With every donation, you can suggest topics for future tutorials, which I'll prioritize. Let's keep the creative juices flowing!
Also, don't forget to connect with us on Facebook, Instagram, and Pinterest for more fun and learning. Happy drawing!