When we think of Princess Tiana, the first things that come to mind are her grace, bravery, and the magical transformation. This time, we are going to give her a Halloween spin. Imagine Tiana adorned with cat ears, x-ray gloves, and surrounded by mystical water lilies. Exciting, right? In this guide, you'll learn how to draw Halloween Tiana, capturing the essence of her character with a touch of festive spookiness.
Character's Haunting Appeal
Tiana's Halloween look is a blend of her characteristic elegance and some festive elements that make her stand out:
Cat Ears Headband: Adding a playful touch to her regal demeanor.
Black Necklace & Lipstick: Accentuating her charm with a dark allure.
Water Lily Dress: A nod to her transformation journey, the dress intricately weaves in the magic of the bayou.
X-ray Skeleton Gloves: Perhaps the most striking feature, these gloves give a spooky twist to her outfit.
Her Frog Version: Seated on a water lily, this little creature gazes at Tiana, representing the bond they shared during their adventure.
For those looking to add a dash of extra magic, consider incorporating other characters like a pirate Moana or even Merida in a Chucky cosplay!
About This Drawing Guide
Before we embark on this artistic journey, let's understand the road map:
Red Color:

It indicates the current step of the sketch you should be concentrating on.

Black Color:

Represents the portions you've completed in the previous steps.

Grey Color:

Highlights the basic structure of the sketch to maintain proportionality.
We will walk through 36 comprehensive steps. The first phase is primarily about etching the basic structure. By the end, artists can choose to ink their sketch. Once the inking is done, patiently let it dry to prevent smudging, and then gently erase the underlying pencil marks to reveal a clean, polished drawing.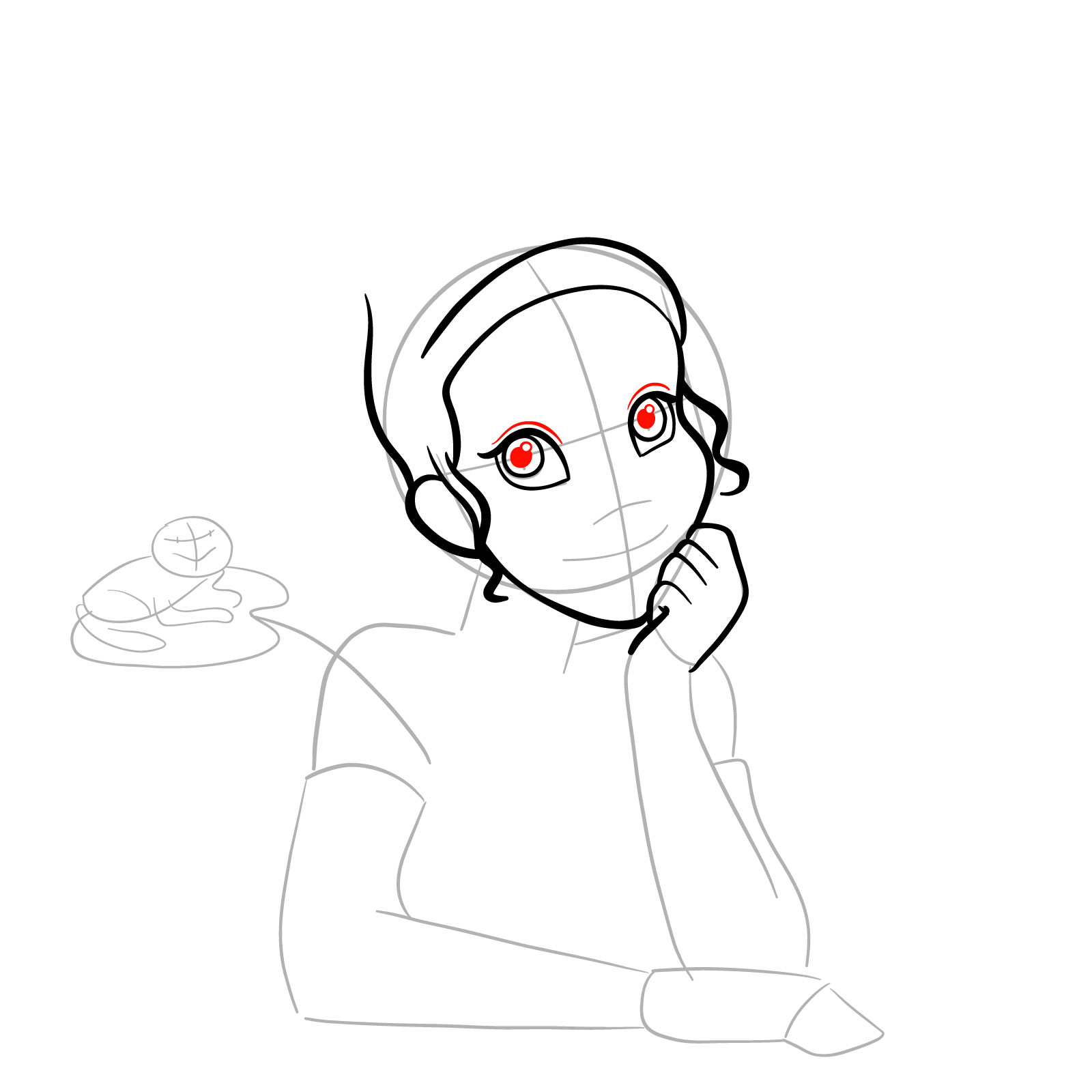 Frequently Asked Questions
What's the secret to perfecting Tiana's X-ray gloves?
The x-ray gloves, although intricate, can be mastered by understanding some basic anatomy of hands. Begin with light strokes to outline the shape, and then focus on detailing the skeletal structure. Using a reference image can be handy!
How to give the water lily dress a 3D appearance?
To give the water lily dress a realistic 3D look, emphasize the folds and shadows. Understand the source of light in your drawing and shade accordingly. This will provide depth and volume to the dress.
Any tips on drawing the frog with a touch of emotion?
Emotions are best conveyed through eyes. For our frog, who is gazing at Tiana with admiration, draw slightly enlarged eyes with sparkles and keep the rest of the face relaxed. This will effectively capture its endearing look.
Thank you for joining me on this artistic journey of how to draw Halloween Tiana. If you've enjoyed the guide and wish to support SketchOk further, you can generously donate here. By donating, you can even suggest topics for future tutorials. Your suggestions will be given priority, and the guides will be crafted swiftly.
Spread the word and share this guide with fellow art enthusiasts! Don't forget to follow us on Facebook, Instagram, and Pinterest for more tips, tricks, and tutorials. Together, let's create art that captivates!