Ever imagined Snow White with a hint of the supernatural? In this guide, we'll journey through the world of creativity, merging the innocence of Snow White with the spine-chilling vibes of Halloween. Perfect for those looking to add a twist to their art portfolio or simply relish in the festivity of the season, our guide on how to draw Halloween Snow White will surely ignite your artistic flair.
Gothic Touches to Snow White's Appearance
Sitting Gracefully: Snow White takes her seat atop a gigantic jack o' lantern, illuminating the dark.
Apple of Enchantment: Clasping a possibly poisoned apple in her left hand, reminiscent of her fateful story.
Spiky Fashion: A daring dress with a spiky collar, redefining royal fashion.
Hauntingly Beautiful: Black lips and a bat-inspired bow, transforming her from a damsel to a gothic diva.
Imagine pairing her with a gothic Ariel or perhaps, a bewitched version of Elsa? The possibilities are endless!
About the Guide and Its Essence
This guide has been meticulously crafted, spanning 33 steps to ensure every stroke leads to perfection. Let's decode the colors:
Red Color:

Pinpoints the current step, guiding your pencil with precision.

Black Color:

Represents the lines sketched in the previous steps, ensuring continuity.

Grey Color:

A glimpse into the basic proportion sketch, helping maintain accurate dimensions.
The journey commences with the basic structure, using light pencil strokes to get the proportions just right. Nearing completion, artists can choose to ink their masterpiece. Remember to let the ink dry to prevent smudging, and then gently erase the pencil sketch for a clean finish.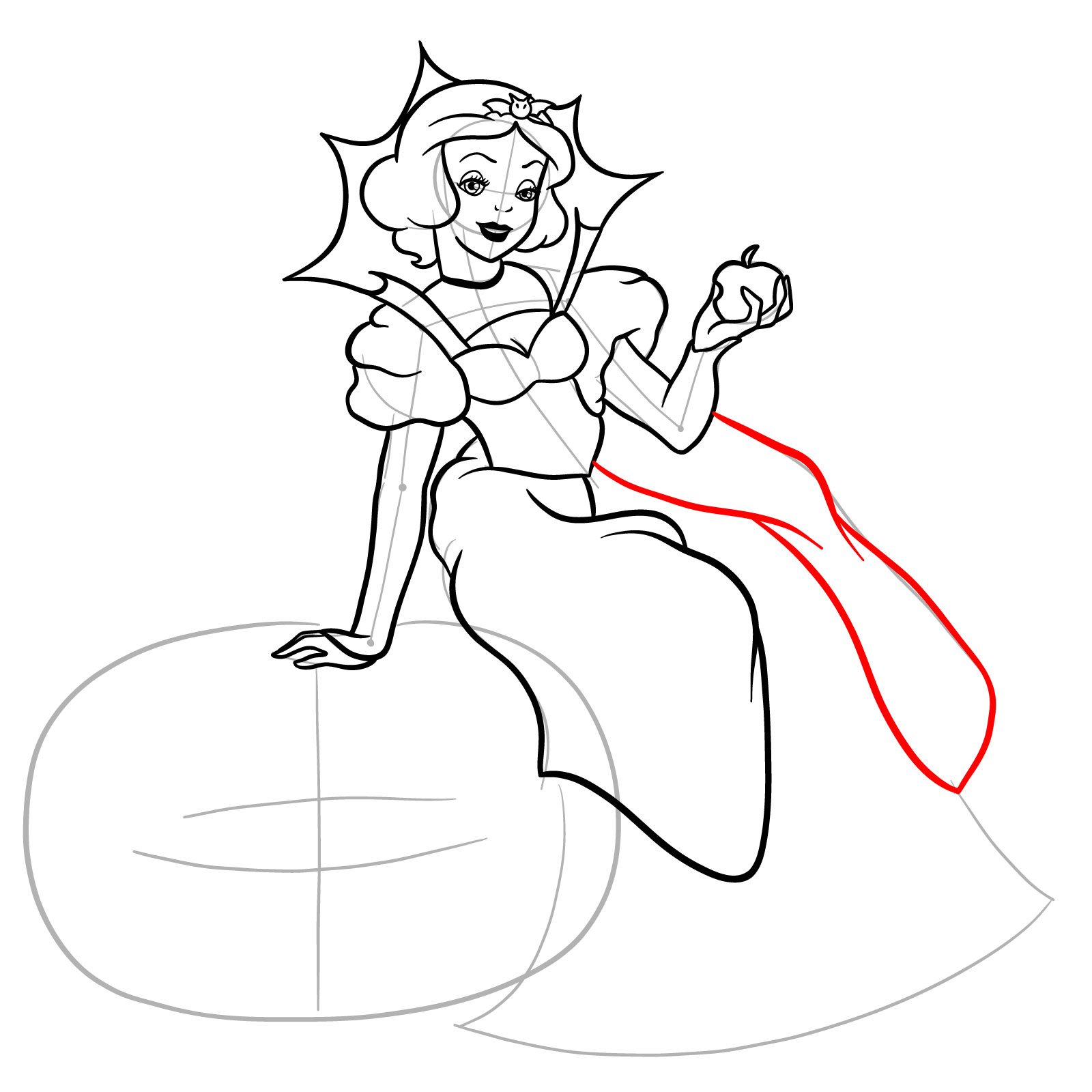 Frequently Asked Queries
What's the trick to giving Snow White a gothic appearance?
Blending gothic elements, like a spiky collar, black lips, or a bat-like bow, with her traditional attributes can strikingly transform Snow White's appearance. It's about striking the right balance between her classic charm and Halloween elements.
How can I make the jack o' lantern look realistic?
Attention to detail is key. Incorporate the curved lines, shadows, and highlights to give it depth. Also, reflecting Snow White's weight on the pumpkin by adding compressed lines can enhance realism.
What type of ink is best for finalizing the sketch?
Fine-tip black pens or brush pens are ideal for inking. They provide control and precision, ensuring your sketch retains its original essence even after inking.
I've always believed that art has the power to reshape stories, and with this guide on how to draw Halloween Snow White, we did just that. If you enjoyed this artistic journey, please consider donating. Your donations help keep the passion alive and also, you can suggest topics for future tutorials. Your idea might be the next big guide! To stay updated with more such tutorials, follow us on Facebook, Instagram, and Pinterest. Remember, every pencil stroke tells a story. Make yours enchanting!