In the realm of horror cinema, few faces are as instantly recognizable as Ghostface from the Scream series. The act of learning how to draw Ghostface is not just about lines and shades, but capturing the essence of the terror he represents. This guide is meticulously crafted to assist you in reproducing this iconic horror figure.
Decoding Ghostface: Key Features to Focus On
Ghostface, characterized by the chilling Scream mask nestled within a dark hood, possesses certain unique attributes essential to nail during sketching:
Mask Shape: The Ghostface mask is elongated with hollowed eyes and a gaping, twisted mouth, setting it apart from conventional masks.
Eye Details: While hollow, there's a deep sense of menace in them that's crucial to capture.
Mouth Contours: The distorted, scream-like mouth gives the mask its eerie character.
Hood Shadows: The hood enveloping the mask plays with light and shadow, adding to the character's mysteriousness.
For those artists wishing to enhance their horror portfolio, considering adding characters like Pennywise, Chucky, or even Huggy Wuggy alongside Ghostface would be a spine-chilling touch.
Tips for Sketching Ghostface
To create a lifelike representation of Ghostface, an artist must focus on more than just the basic structure. Here are some pointers to bear in mind:
Starting with a light foundational sketch is key, giving you the freedom to make adjustments seamlessly.
Referring to movie stills can offer diverse perspectives and ensure an accurate rendition.
Consistent practice makes perfect, so don't be disheartened if the initial sketches aren't up to mark.
Understanding the Guide's Structure
For those who seek precision in their artwork, our 13-step guide provides a clear pathway. To aid your journey, here's a breakdown of our color-coding system:
Red Color:

Represents the current step you're working on.

Black Color:

Depicts the previously drawn lines.
With foundational sketches complete, artists can opt to ink their artwork. It's essential to patiently let the ink dry before proceeding to erase the pencil sketches. This patience ensures a flawless, smudge-free result.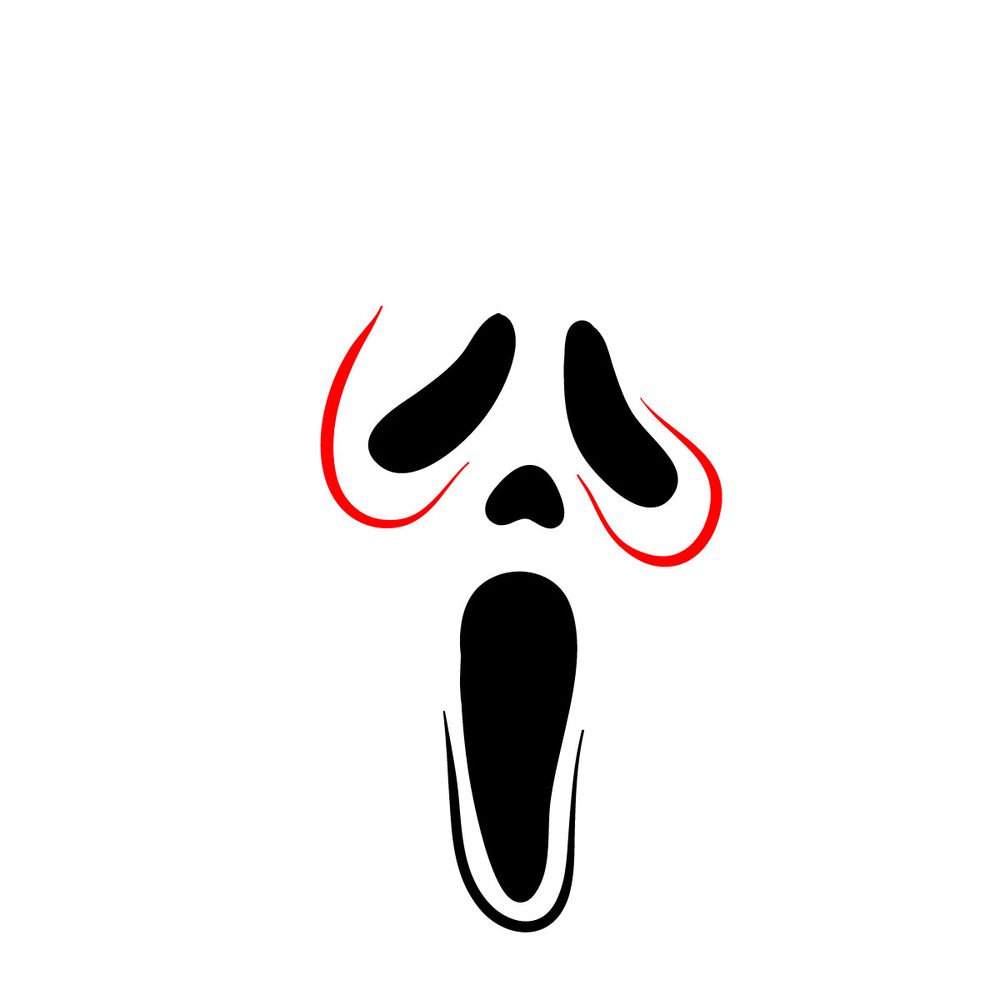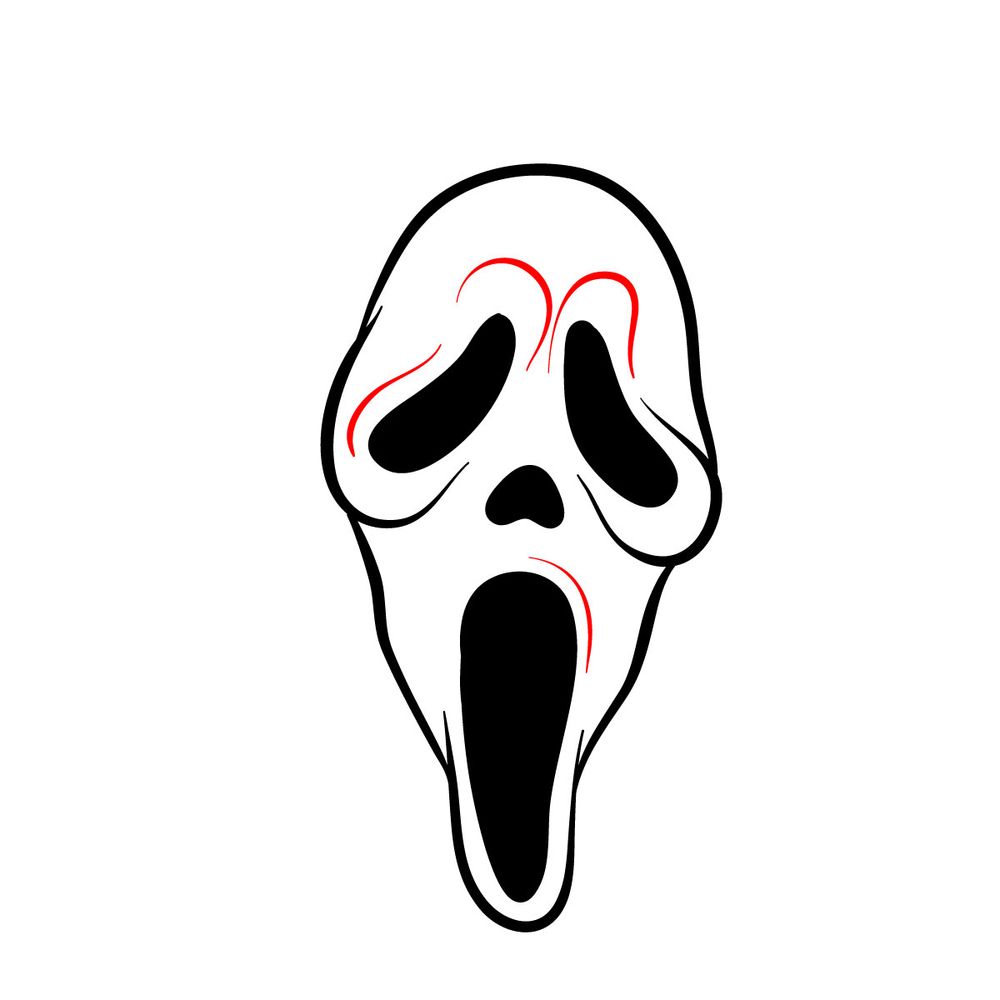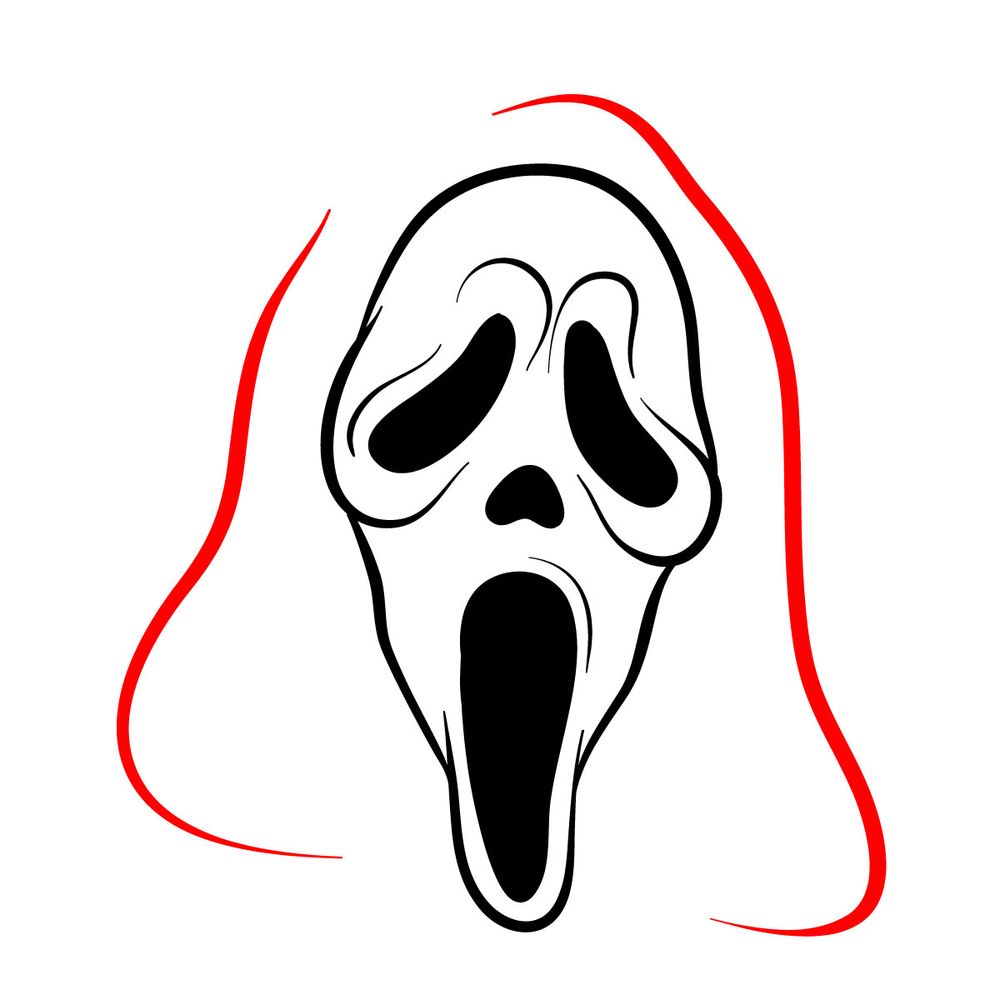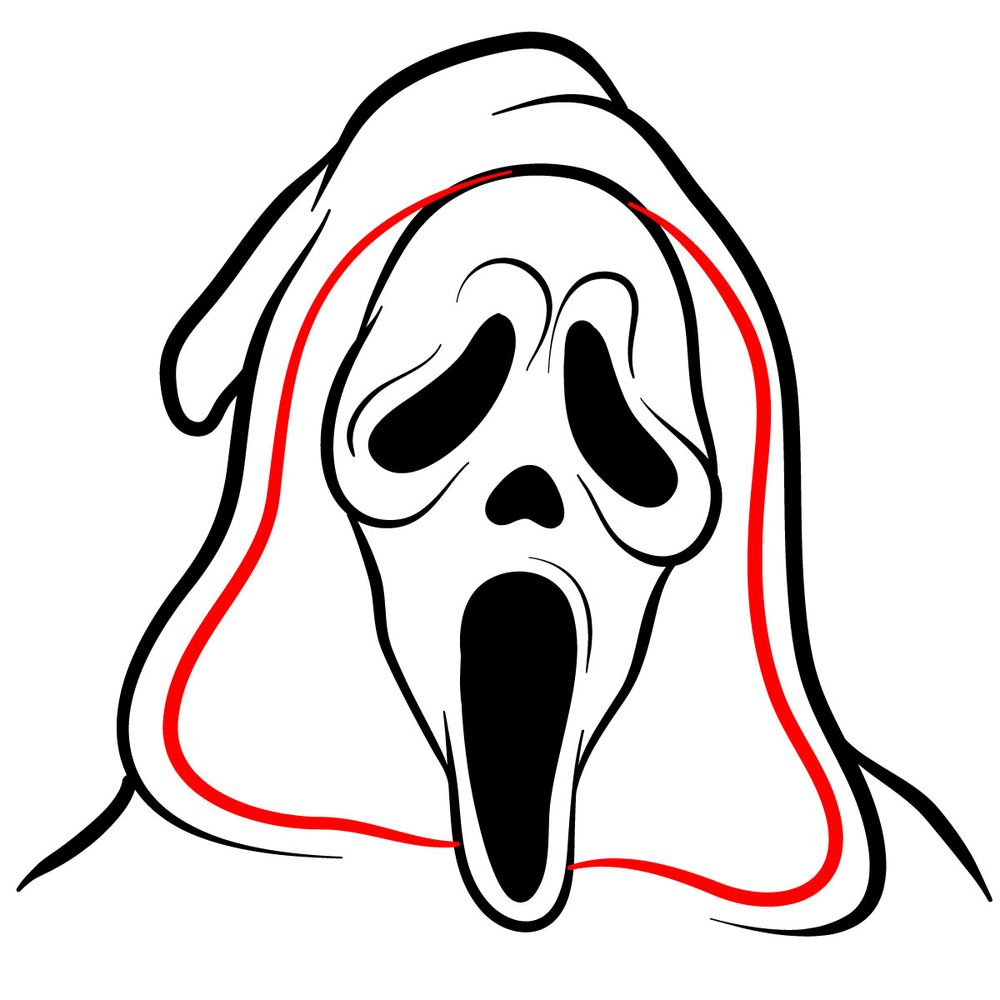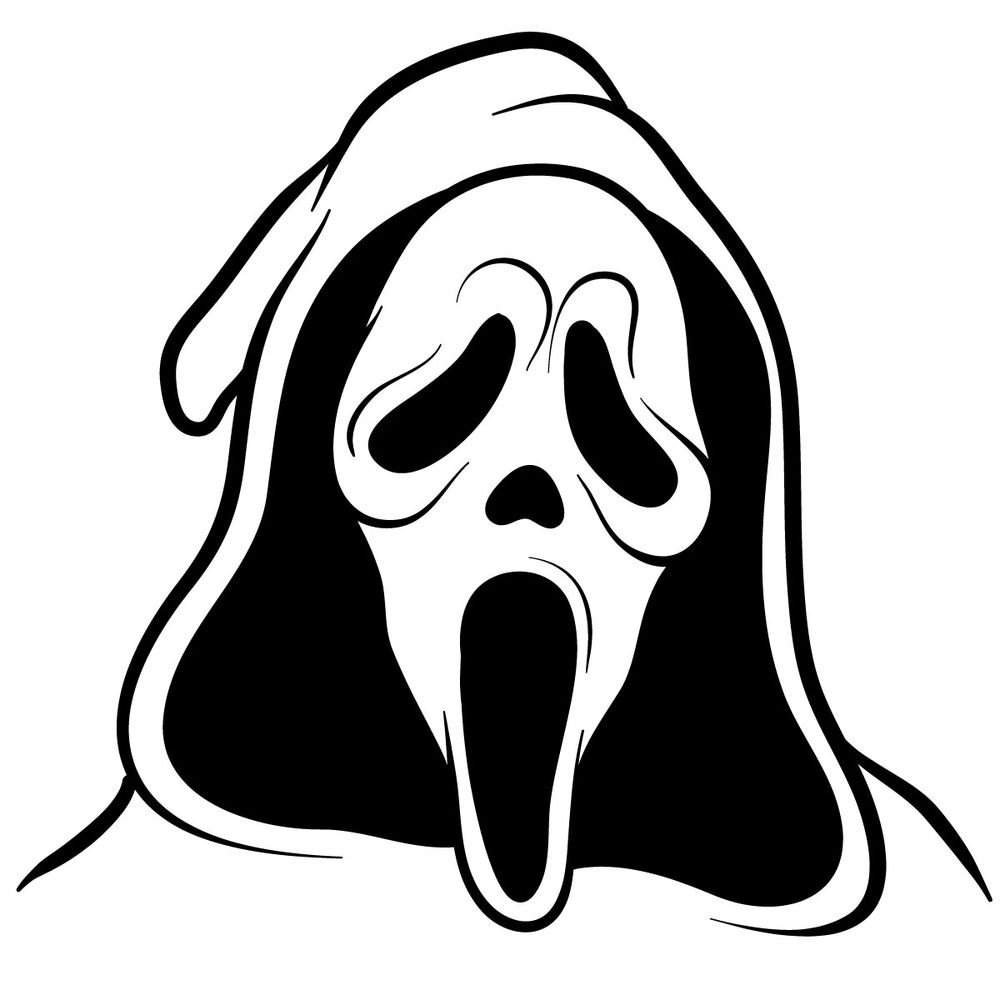 Detailed FAQs on Drawing Ghostface
How can I perfect the scream-like contour of the mouth?
Ghostface's mouth is what gives the mask its name – a silent scream. Begin by drawing a stretched oval. The curvature should be more pronounced at the ends, creating a visual representation of a scream. The lower part of the mouth should dip downwards, intensifying the grimace. Paying attention to this detail is pivotal to capture the mask's terror.
Any tips on sketching the hood shadows?
The hood that envelops the Ghostface mask plays with light and shadow, creating a mysterious aura. In our case, we simple fill the space between the hood and mask with black color.
Ghostface Drawing Insights
Remember, Ghostface is more than just a mask and hood. It's a representation of pure horror and relentless pursuit, traits that should come across in your sketch. Keeping this essence in mind can inspire artists to introduce minute details, making their rendition distinct and hauntingly lifelike.
Thank you for trusting our guide on how to draw Ghostface. Sketching is an art form that thrives on continuous learning and practice. If you found our guide helpful and wish to delve deeper into other iconic characters, feel free to share the love by spreading our link. Your feedback, likes, and shares drive us. And, if you're inclined to support SketchOk even further, a donation is immensely appreciated. By donating, you not only support the cause but also gain the unique opportunity to suggest tutorial topics. Rest assured, your suggestions will be our primary focus. Stay connected on Facebook, Instagram, and Pinterest for regular updates. Happy sketching!