Pennywise, also known as "It," is a shape-shifting entity that originated from the brilliant mind of Stephen King. The creature has the ability to take on the form of a person's deepest fears, but its most common manifestation is that of a menacing clown. Pennywise is a master of psychological manipulation, using its powers to terrorize and feast on the fear of its victims, especially children.
The 2017 film adaptation of 'It' brought a new level of terror to the character, with Bill Skarsgård's chilling portrayal of Pennywise captivating audiences around the world. Drawing Pennywise, especially on Halloween, can be a thrilling artistic challenge, as it allows you to explore the dark side of creativity and bring this iconic villain to life.
Setting the Stage for Your Pennywise Drawing
Before diving into the drawing process, it's crucial to gather some essential materials and set up your workspace. As we focus on drawing Pennywise's face, you'll need a quality sketchbook, a range of pencils with varying hardness levels, an eraser, and a pencil sharpener. A comfortable workspace with good lighting is also key to ensure the best results.
Top Tips for Drawing Pennywise
With your materials and workspace ready, it's time to delve into the drawing process. Here are some tips to help you capture the essence of Pennywise:
Study the character's features: Pay close attention to the details of Pennywise's face, such as the shape of his eyes, the sinister smile, and the unique facial markings. These elements are crucial to capturing the character's essence.
Practice proportions and symmetry: To create a realistic portrait, it's essential to get the proportions and symmetry right. Spend time practicing these aspects before committing to your final sketch.
Experiment with shading: Shading is key to adding depth and dimension to your drawing. Experiment with different shading techniques to find the one that best suits your style and the character's features.
Be patient and persistent: Drawing a complex character like Pennywise takes time and practice. Don't be discouraged by initial setbacks; keep refining your skills and learning from each attempt.
Seek inspiration from other artists: Look at the works of other artists who have drawn Pennywise to learn new techniques and gather inspiration for your own creation.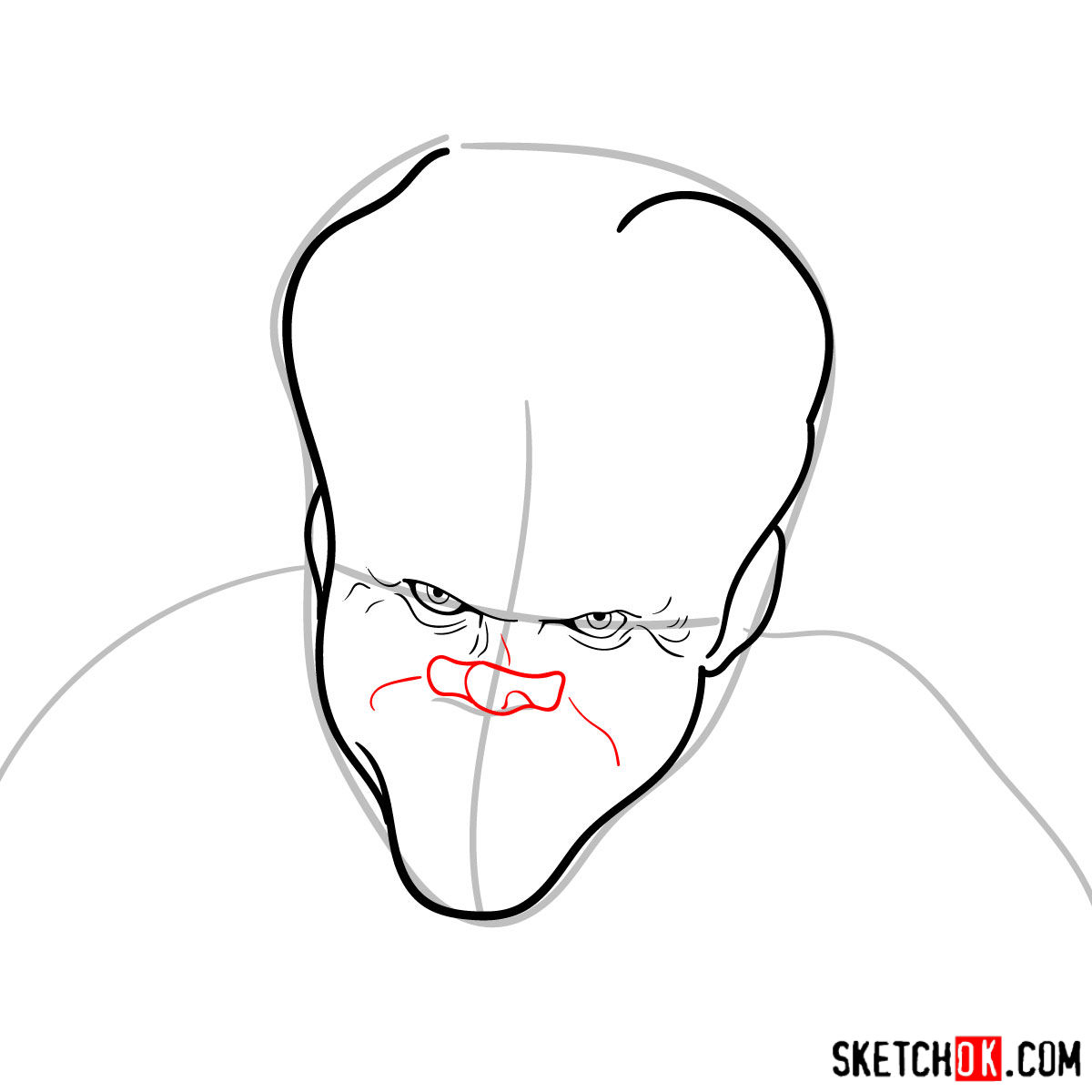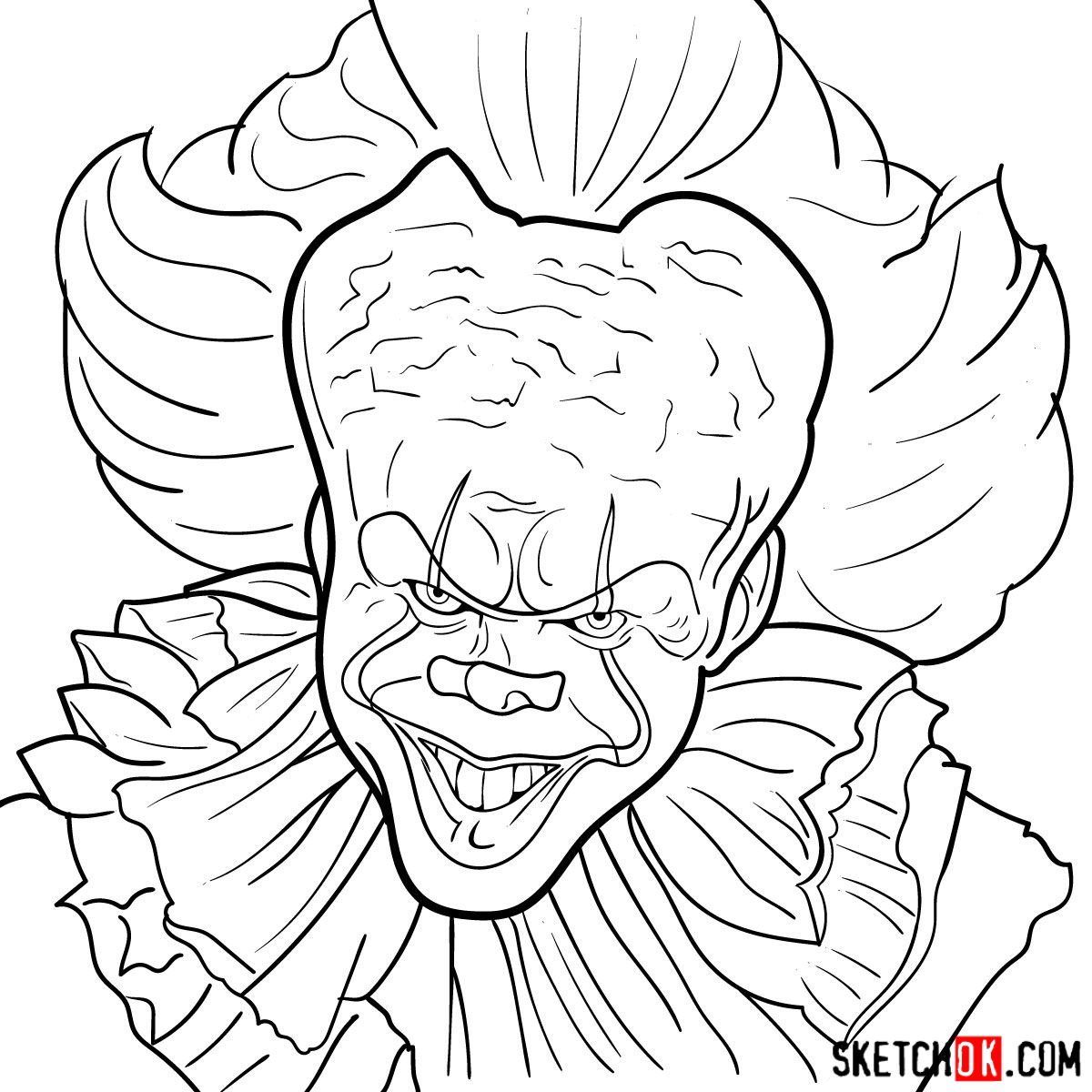 Wrapping Up Your Pennywise Masterpiece
Once you've completed your Pennywise drawing, take a step back and admire your work. Reflect on the techniques you've learned and the progress you've made. Remember, practice makes perfect, and each drawing brings you closer to mastering the art of sketching. Don't forget to share your creation with friends and fellow artists, as this can be a great way to receive feedback and learn from others.
If you found this guide helpful and would like to support my artistic journey, please consider buying me a coffee by clicking on this link: https://www.buymeacoffee.com/sketchok. Your support will enable me to continue creating content that helps aspiring artists like you develop their skills and passion for drawing.
Explore the World of Iconic Characters
Beyond Pennywise, there's a vast world of iconic characters waiting to be explored and sketched. Consider trying your hand at drawing other characters from the Stephen King universe, such as Jack Torrance from 'The Shining' or Carrie White from 'Carrie.' You can also venture into other realms, drawing characters like Batman, Wonder Woman, or Spider-Man. The possibilities are endless!
Remember, practice makes perfect, and as you continue to hone your skills and explore new characters, you'll soon see a marked improvement in your drawings. Keep pushing yourself to try new techniques and learn from each sketch. Happy drawing!