Welcome, aspiring artist! Today, we'll be guiding you through a magical journey on how to draw Lisanna Strauss, the kind-hearted mage from Fairy Tail. With our step-by-step tutorial, you'll learn the basics of sketching, refining, inking, and coloring your very own Lisanna masterpiece. So, let's dive into this enchanting drawing adventure!
Get to Know Lisanna Strauss: Fairy Tail's Gentle Mage
Lisanna Strauss is a Mage of the Fairy Tail Guild and the younger sister of Elfman and Mirajane. As a childhood friend of Natsu Dragneel, she's known for her kind-hearted nature and affinity for animals, especially cats. With her bubbly personality, she easily connects with others and has a knack for winning arguments. Now that you know a bit about Lisanna, let's gather our materials and start drawing!
Assemble Your Magical Drawing Tools
Before we begin, let's prepare our drawing tools. While you can use any materials you prefer, we recommend the following:
Pencil for sketching
Eraser to correct mistakes
Fine liner or pen for inking
Colored pencils, markers, or watercolors for coloring
Blending tools for shading
Step-by-Step Guide: Unleashing Your Inner Artist
Stage 1: Laying the Foundations
Start by sketching a basic structure of Lisanna using light pencil strokes. This initial sketch will serve as your guide for proportions and positioning. Remember, the first three images in our tutorial will help you create this foundation, with red lines indicating the current step.
Stage 2: Refining the Sketch
Once you have your basic structure, it's time to refine the sketch by adding details and improving proportions. Focus on Lisanna's distinct features, like her expressive eyes and iconic hairstyle.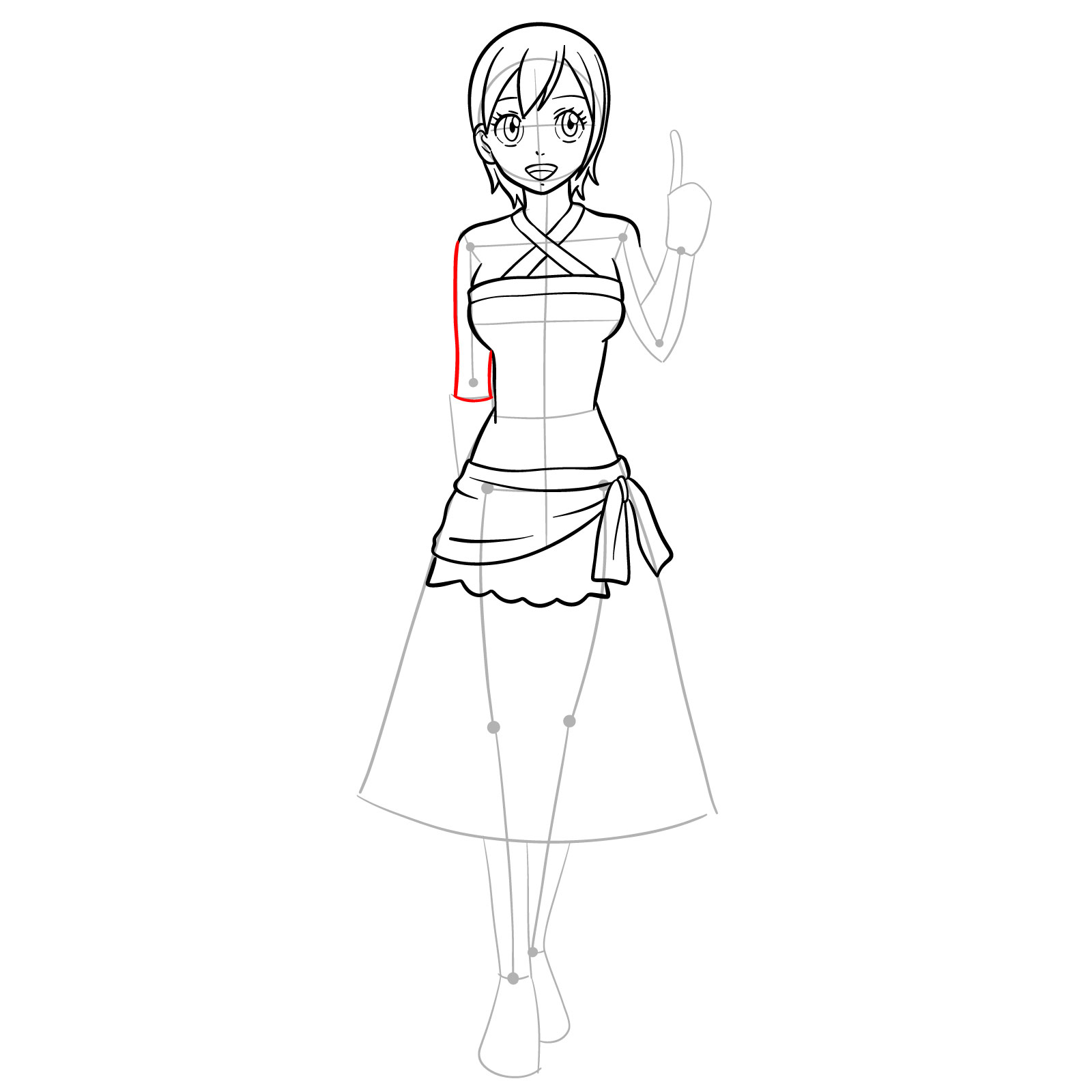 Stage 3: Inking Your Masterpiece
Now that your sketch is complete, it's time to ink your drawing. Use a fine liner or pen to trace your pencil lines, giving Lisanna a crisp, clean look. Be sure to capture the flow of her hair and the intricacies of her outfit. Once you're done inking, erase any remaining pencil marks.
Stage 4: Coloring and Shading (optional)
Finally, you can bring Lisanna to life with color! Use colored pencils, markers, or watercolors to add vibrant hues to your drawing. Pay attention to shading and highlights, giving your artwork depth and dimension. Don't forget to reference the colors from the Fairy Tail series for accuracy!
Tips and Tricks for a Magical Drawing Experience
To make your Lisanna Strauss drawing even more enchanting, consider these expert tips:
Study references of Lisanna and other Fairy Tail characters to better understand their unique features and proportions.
Experiment with different shading techniques, such as hatching, cross-hatching, or stippling.
Use foreshortening and perspective to create a dynamic, engaging composition.
Frequently Asked Questions
Q: How can I improve my Lisanna Strauss drawing?
A: Practice is key to improving your drawing skills. Focus on understanding proportions, capturing facial expressions, and mastering shading techniques. Studying reference images and learning from other artists can also help.
Q: Can I use digital tools to draw Lisanna Strauss?
A: Absolutely! Digital tools like tablets and drawing software can be a great way to create your artwork. Just follow the same steps and techniques mentioned in the tutorial, adapting them for the digital medium.
Q: What other Fairy Tail characters can I draw using these techniques?
A: These techniques can be applied to draw various characters from the Fairy Tail series, such as Wendy Marvel, Evergreen, or even Happy. Just study their unique features and adapt the steps accordingly.
Congratulations on completing your Lisanna Strauss drawing! We hope this step-by-step tutorial has inspired you to continue exploring the world of Fairy Tail and drawing other beloved characters. Remember to share your artwork and support the creation of more free drawing guides by donating at Buy me a Coffee. Happy drawing, and may your artistic journey be filled with magic!