If you're a fan of the popular anime and manga series, Fairy Tail, you're likely familiar with Happy, the lovable blue cat. Happy has become one of the most beloved characters in the series, known for his cheerful personality and his ability to fly with his wings. If you want to learn how to draw Happy, this article is for you! In this guide, we'll provide you with tips and tricks to help you create your very own Happy drawing.
Materials You'll Need
Before we dive into the drawing process, let's go over the materials you'll need. To draw Happy, you'll need:
Pencil
Eraser
Paper
Colored pencils or markers (optional)
Step-by-Step Guide to Drawing Happy
Now that you have your materials ready, it's time to start drawing! Follow these step-by-step instructions to create your Happy drawing:
Part 1: Start with the basic Head, Body and Wings Outline
Begin by drawing a simplified outline for Happy's head. Make sure to leave enough space at the bottom for his body. Body and limbs are next. Finally, outline the wings and tail.
Part 2: Front Paws
Our sketch starts with the front paws, as they are in the foreground and slightly overlap Happy's face.
Part 3: Add the Face
Next, make the outline of the head and draw two large circles for Happy's eyes. Inside the circles, draw smaller circles for the pupils and fill them with black. Draw a small triangle for Happy's nose and a curved line for his smile. Then sketch in his ears.
Part 4: Draw the Body
Based on the rough sketch we made earlier, outline the shape of Happy's body and hind legs, as shown in the pictures below. Add a ribbon around his neck. For the paw pads, draw black circles and dots.
Part 5: The Tail
Simply sketch the tail of Happy.
Part 6: Add the Wings
Happy's wings are what allow him to fly. Draw two large wings on either side of his body. The wings should be slightly curved and point upwards.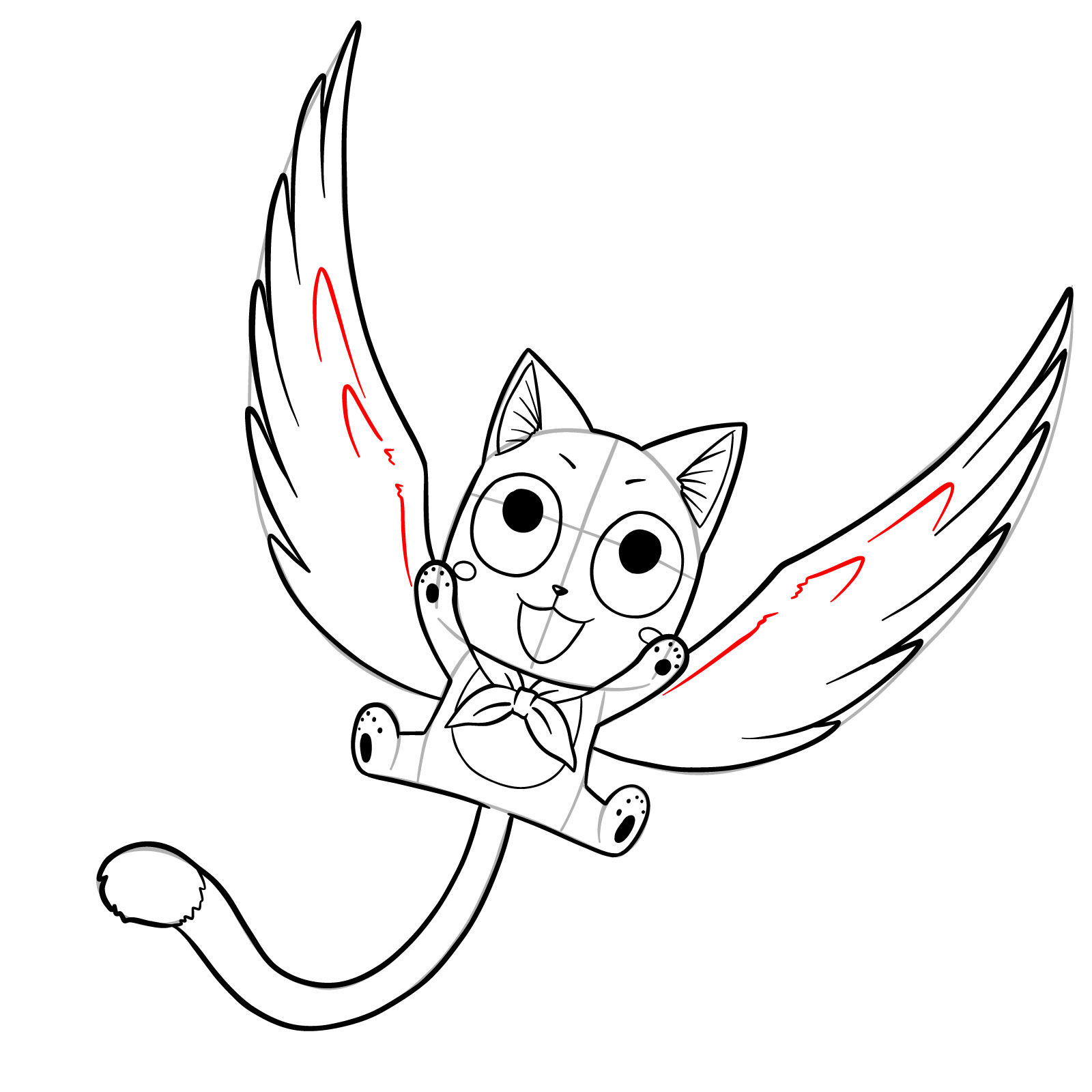 Part 7: Color (optional)
If you want to add some color to your drawing, now is the time to do it! Happy is mostly blue, but you can use other colors and create you own unique version of Happy.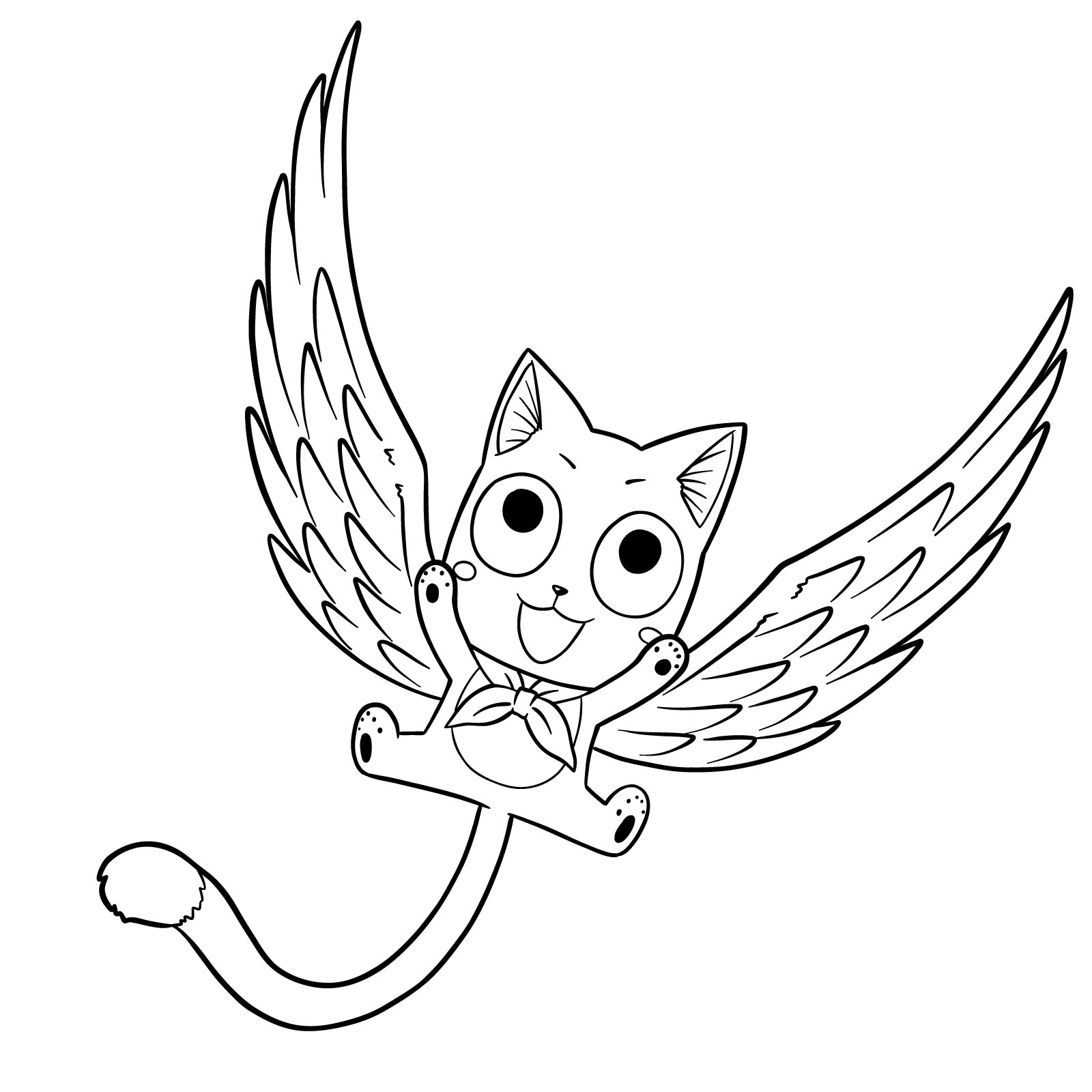 Tips for Drawing Happy
Here are a few tips to keep in mind as you draw Happy:
Take your time: Don't rush through the drawing process. Take your time and pay attention to the details.
Use reference images: If you're having trouble with a certain part of the drawing, look up reference images to help guide you.
Practice, practice, practice: The more you draw, the better you'll get! Don't be discouraged if your first attempt isn't perfect.
Have fun: Drawing should be fun! Don't stress too much about getting every detail perfect.
Other Characters to Draw Next
Now that you've mastered drawing Happy from Fairy Tail, you might be wondering which character to draw next. Here are some other characters from the series that would be great to draw:
Of course, these are just a few suggestions. There are plenty of other characters in the series that would make great drawings!
Conclusion
Drawing is a fun and rewarding hobby, and there's no better way to show your love for a series than by creating your own fan art. By following the steps outlined in this article, you'll be able to create your own Happy drawing in no time. And don't forget to try drawing some of the other characters from Fairy Tail as well!
If you found this article helpful, consider supporting me on Buy Me a Coffee. Your support helps me create more helpful guides like this one. Thanks for reading, and happy drawing!
FAQs
How long does it take to draw Happy?
It depends on your skill level and how much detail you want to add to your drawing. It could take anywhere from 15-30 minutes to a few hours.
Do I need to use colored pencils or markers?
No, you can create a great Happy drawing with just a pencil and paper. Coloring is optional.
Can I draw Happy in a different pose?
Absolutely! Once you master the basic Happy drawing, feel free to experiment with different poses and facial expressions.
What if I make a mistake while drawing Happy?
Don't worry! Mistakes happen to everyone. Use your eraser to fix any mistakes and keep practicing.
Can I draw Happy digitally?
Yes, you can draw Happy using digital art tools. Many artists prefer digital drawing because it allows for easier corrections and more flexibility.