Hey there, aspiring artists! Today, we're going to embark on a magical drawing journey with a step-by-step tutorial on how to draw Evergreen, the beautiful and powerful mage from the Fairy Tail Guild. By following our guide, you'll be able to bring Evergreen to life with your own pencil strokes. So grab your sketchbook, and let's get started!
Getting to Know Evergreen
Before we dive into the Evergreen drawing tutorial, let's learn a bit more about this fascinating character. Evergreen is a Mage of the Fairy Tail Guild and the only female member of the Thunder God Tribe. After Fairy Tail's disbandment, she joined the Blue Pegasus Guild with her teammates but eventually returned to Fairy Tail.
Evergreen is known for her light brown hair, dark brown eyes, and visible pink lips. Her signature look includes oval glasses, a voluptuous figure, and a wardrobe featuring dresses with movable wings on the back. Her green guild stamp is located on the right side of her bust.
She is a woman who loves fairies and aspired to become one in her childhood. Initially, Evergreen appeared vain and arrogant, but her deep care and affection for her teammates, particularly Laxus Dreyar, became more evident as the series progressed.
Preparing for the Evergreen Drawing Tutorial
Our step-by-step tutorial is designed as a sequence of images that walk you through the drawing process. The initial three images concentrate on establishing a fundamental framework for the sketch, ensuring accurate proportions. You'll want to use gentle pencil strokes for this part. In the images, the red color highlights the current step in the drawing, the grey color illustrates the foundational proportion sketch, and the black color demonstrates what has been drawn thus far.
Part 1: Establishing the Proportions
Begin by lightly sketching a rough outline of Evergreen's body. Draw a simple stick figure, then pay attention to her unique features, such as her large breasts, and curvy hips. This step will serve as a foundation for the rest of the drawing.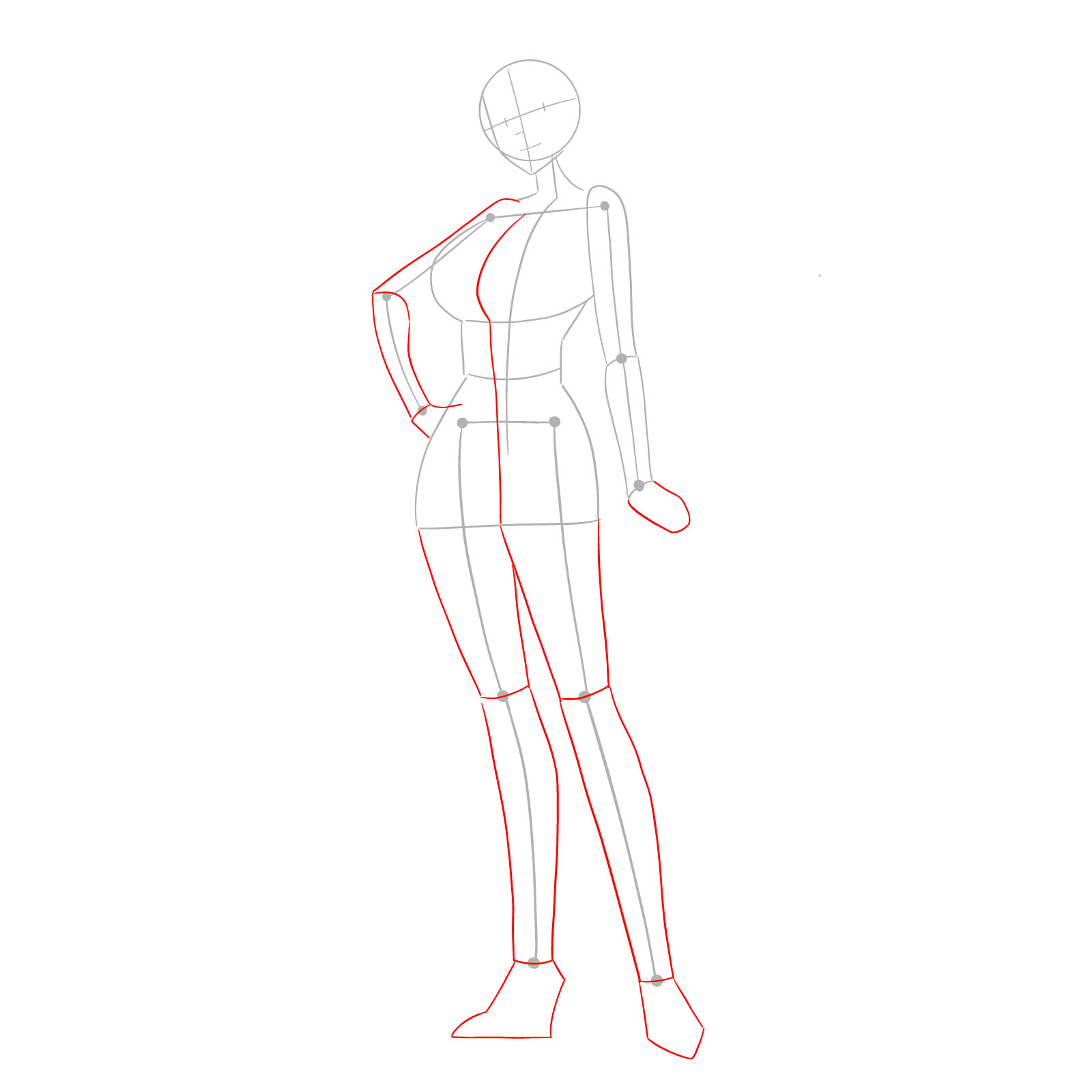 Part 2: Refining the Sketch
Once you have the basic proportions in place, refine your sketch by adding more details and depth. Start drawing Evergreen's face, her body and costume details. The images below will guide you through each single step.
Part 3: Adding the Final Touches
With your sketch complete, it's time to add the finishing touches. Erase any unnecessary lines and refine your drawing even further. You can also add shading and highlights to make Evergreen pop off the page (optional).
Other Characters to Draw
Now that you've mastered drawing Evergreen, why not try your hand at sketching some other characters from the Fairy Tail universe? Here are a few suggestions to get you started:
Congratulations! You've successfully completed the Evergreen drawing tutorial. Remember that practice makes perfect, so keep working on your skills and exploring different characters from the Fairy Tail series. By continuing to draw, you'll not only improve your technique but also deepen your connection to these magical characters and their stories.
If you found this tutorial helpful and would like to support the regular release of free drawing guides on SketchOk, consider showing your appreciation by donating on Buy Me a Coffee. Your support helps us create more engaging and helpful content for aspiring artists like you.
As you continue your artistic journey, remember that drawing is an ever-evolving process. Embrace the challenges and joys that come with it, and never stop learning. We hope this Evergreen drawing tutorial has inspired you to unlock your creative potential and bring the world of Fairy Tail to life with your art. Happy sketching!