Welcome to our guide on how to draw Natsu Dragneel in full growth! As a member of the Fairy Tail Guild and one of the strongest Dragon Slayers out there, Natsu is a beloved character with a fiery personality and unique style. In this post, we'll be breaking down everything you need to know to draw Natsu in his most powerful form.
Whether you're a seasoned artist or just starting out, our step-by-step guide will help you bring this iconic character to life. So grab your sketchbook and pencils, and let's get started!
About Natsu Dragneel
Natsu Dragneel is a Mage of the Fairy Tail Guild and a member of Team Natsu. He's also a Dragon Slayer, meaning he has the ability to slay dragons and use their magic. Natsu is known for his reckless nature and fierce loyalty to his friends, as well as his signature spiky pink hair and sharp canines.
When drawing Natsu in full growth, it's important to capture his muscular physique and unique clothing style. From his gold-trimmed waistcoat to his signature scarf, every detail counts when bringing this Dragon Slayer to life on the page.
Drawing Guide:
To draw Natsu in full growth, follow these simple steps:
Start with a rough sketch of Natsu's basic form, including his body shape and pose.
Add in the details of his clothing, including his waistcoat, trousers, and scarf.
Next, add in his distinctive facial features and spiky pink hair.
Remember, practice makes perfect! Don't be afraid to experiment with different poses and angles to create your own unique Natsu Dragneel drawing.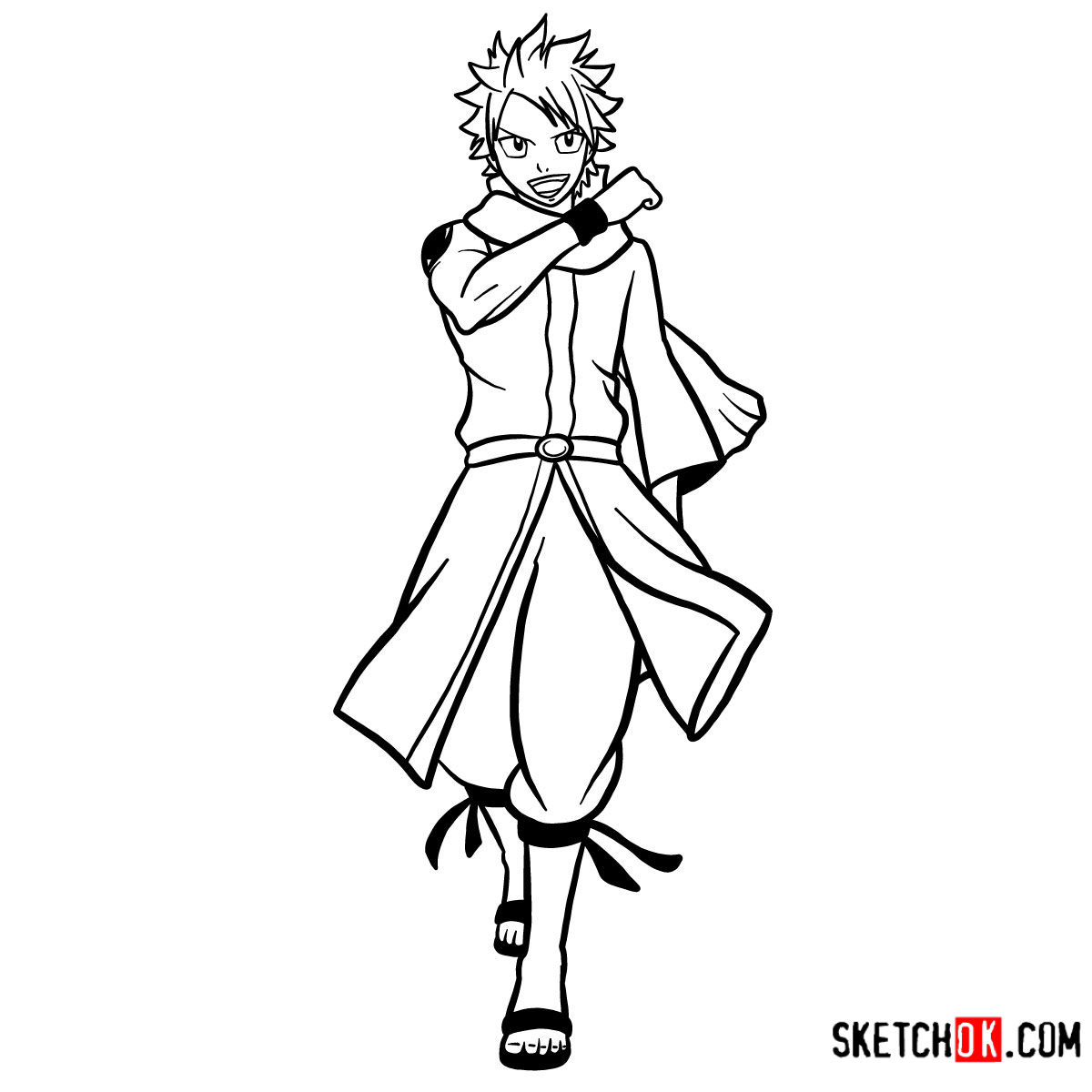 Other Characters to Draw:
If you're a fan of Fairy Tail, you know that there are plenty of characters to choose from when it comes to drawing inspiration. Why stop at Natsu Dragneel when you can draw his trusty sidekick Happy or the powerful wizard Erza Scarlet? Or maybe you want to tackle the ice wizard Gray Fullbuster or the young dragon-slaying Wendy Marvel. The possibilities are endless, and with each new character, you'll learn new skills and techniques to add to your artistic arsenal.
In conclusion, learning how to draw Natsu Dragneel in full growth is a great way to kickstart your journey as an artist. With his spiky pink hair, muscular physique, and signature outfit, Natsu is a challenging yet rewarding subject to draw. Remember to take your time, practice your skills, and don't be afraid to make mistakes along the way. And when you're ready to move on to other characters, don't hesitate to explore the vast and colorful world of Fairy Tail. So, grab your pencils and let's get drawing! And if you enjoyed this guide, consider supporting me on Buy Me a Coffee, so I can keep creating fun and helpful content for aspiring artists like you. Thanks for reading, and happy drawing!