Welcome to this step-by-step drawing tutorial that will teach you how to draw Gogeta in his base form. If you're a fan of the Dragon Ball franchise, you're in for a treat as you embark on a creative journey to bring this powerful fusion character to life.
The Mighty Gogeta: A Fusion of Goku and Vegeta
Gogeta is the result of a successful Fusion Dance between Goku and Vegeta. Known as one of the most powerful characters in the Dragon Ball universe, he combines the best of both warriors and amplifies their strengths. With a dual voice containing both Goku's and Vegeta's voices, Gogeta has appeared in various Dragon Ball series, from Fusion Reborn to Dragon Ball GT and even Broly.
In his base form, Gogeta sports a jet-black hairstyle that resembles Vegeta's, with longer and wider hair and an additional bang from his forehead. His tall physique is reminiscent of Goku, while his stern facial features are inherited from Vegeta.
Choose Your Artistic Arsenal
Before we dive into the drawing process, let's gather the recommended materials and tools to ensure a smooth experience:
Pencils (HB or 2B) for sketching
Eraser for corrections
Fine-tipped black pen or marker for inking
(optional) Colored pencils, markers, or digital tools for coloring
Remember, these are just recommendations. Feel free to use your preferred tools and materials.
Step-by-Step Guide to Drawing Base Gogeta
Stage 1: Basic Sketch
Start by creating a basic structure for Gogeta's proportions using light pencil strokes. This initial sketch will serve as a guide for your drawing and help you get the overall shape and posture right.
Stage 2: Refining the Sketch
With the basic sketch in place, it's time to refine the lines and add details to Gogeta's face, hair, and clothing. Focus on perfecting the proportions and capturing his unique features, like the widow's peak and the forehead bang.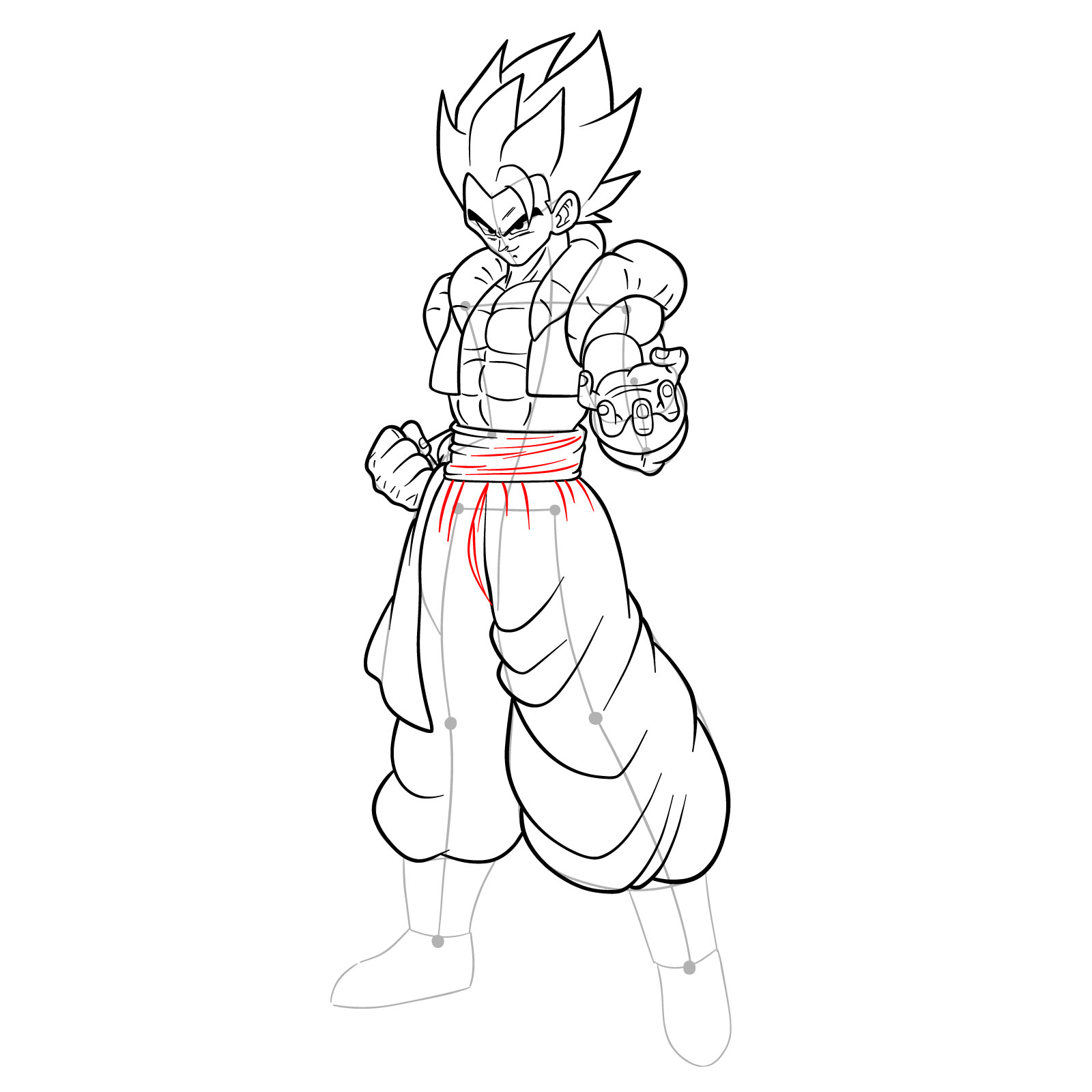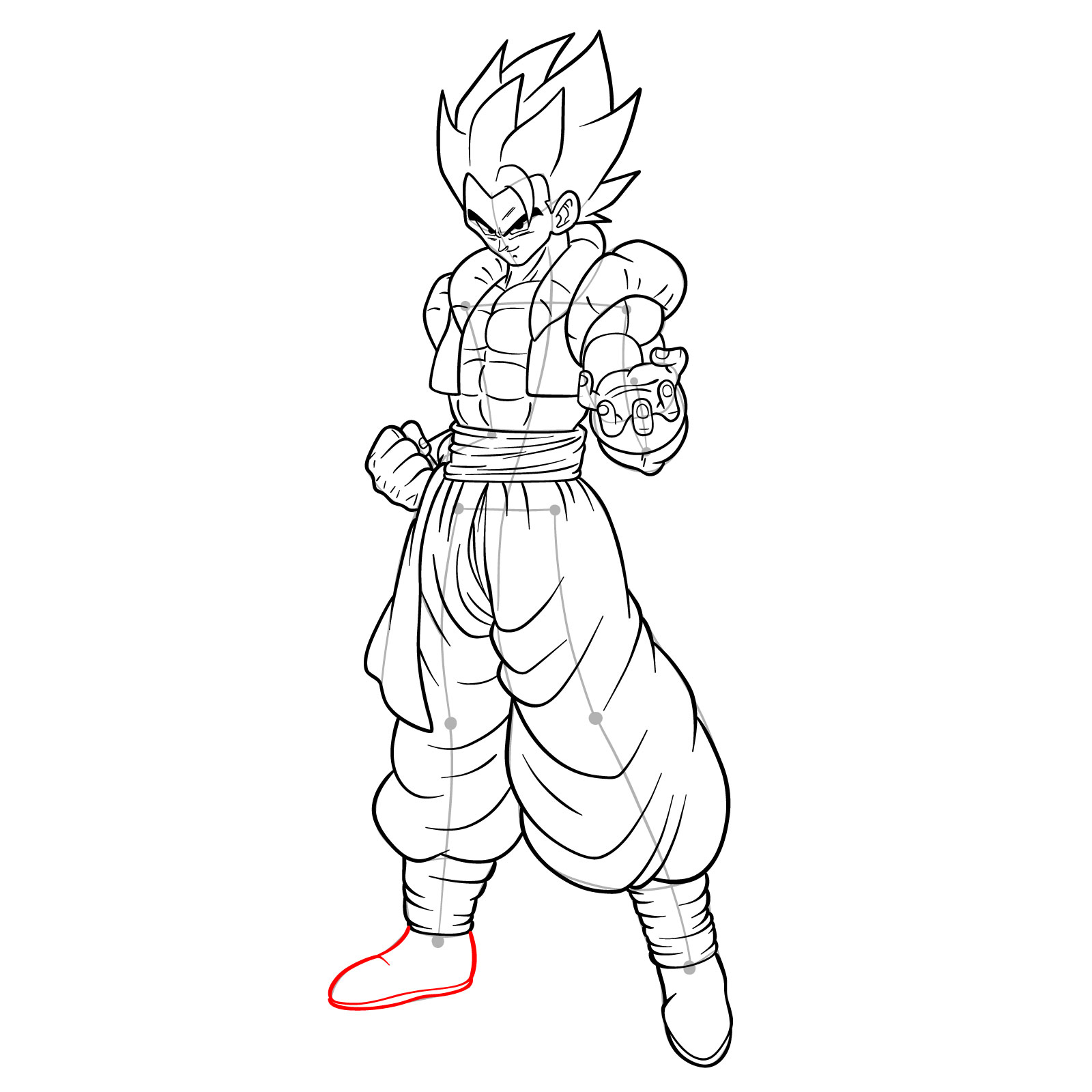 Stage 3: Inking
Once you're satisfied with your refined sketch, proceed to ink the drawing. Carefully outline Gogeta's features with fineliners or ink pens, adding final touches and details to make your Base Gogeta drawing come alive. Wait for ink to dry and erase the basic sketch.
Stage 4: Coloring and Shading (optional)
Finally, you may want to bring your drawing to life by adding color and shading. Use colored pencils, markers, or paints to fill in Gogeta's hair, skin, and clothing, paying attention to highlights and shadows for a more realistic and dynamic appearance.
Unlocking Your Inner Saiyan: Tips and Techniques
Here are some additional tips and techniques to help you improve your Gogeta drawing:
Study references of Gogeta to better understand his unique features and characteristics.
Practice drawing different poses and expressions to capture Gogeta's personality.
Experiment with various shading techniques to add depth and dimension to your artwork.
Don't be afraid to make mistakes; learning and improving your drawing skills is an ongoing process.
Frequently Asked Questions
What drawing techniques can I use when sketching Gogeta?

Consider using techniques like cross-hatching or stippling for shading, and utilize gesture drawing to capture dynamic poses. Additionally, practice breaking complex shapes into simpler ones to make drawing Gogeta's features more manageable.

How can I improve my proportions when drawing Gogeta?

Use guidelines and measurements to maintain accurate proportions. For instance, you can draw a grid or use the head-to-body ratio to ensure your Gogeta drawing has a balanced appearance.

What's the best way to add highlights and shadows to my Gogeta drawing?

Pay attention to your light source when adding highlights and shadows. Use lighter colors and gentle pressure for highlights, while applying darker colors and increased pressure for shadows. Experiment with blending to create smooth transitions between shades.
Congratulations on completing your Base Gogeta drawing! With practice and patience, you'll continue to improve and create even more amazing artwork. Don't forget to share your masterpiece with friends and fellow artists. If you enjoyed this tutorial and would like to support our regular release of free drawing guides, consider donating to SketchOk at buymeacoffee.com/sketchok. And of course, check out our other tutorials for more drawing inspiration. Happy drawing!