Hey there, aspiring artists! Today, we're going to learn how to draw Marceline from Adventure Time's "Broke His Crown" episode. This step-by-step drawing tutorial will help you create an amazing Marceline drawing. So, let's dive in and bring this captivating character to life!
Setting the Scene: Marceline in "Broke His Crown"
In the "Broke His Crown" episode, Marceline and Princess Bubblegum visit Ice King's dinner party. The episode features Marceline's unique bond with the Ice King (Simon) and the efforts to save him from the malfunctioning magic crown. As you follow our drawing tutorial, keep in mind Marceline's personality and the relationships between the characters in the episode.
Creating the Foundation: Basic Proportions and Sketching
Our drawing tutorial starts with three images that help you establish a basic structure for your sketch, focusing on accurate proportions. To achieve this, use light pencil strokes. In the tutorial images:
Red color represents the current drawing step
Grey color shows the basic proportions sketch
Black color indicates what has already been drawn
Drawing Techniques and Tips
Use Simple Shapes and Guidelines
Start by drawing a stick figure, simple shapes and guidelines for Marceline's head, body, and limbs. This will help you maintain the correct proportions throughout your sketch. Remember to keep your pencil strokes light so you can easily erase any unwanted lines later.
Refine Your Sketch
Once you've laid down the basic shapes, refine your sketch by adding details to Marceline's face, hair, and outfit. Pay attention to the unique features that make her recognizable, such as her fangs and signature hairstyle.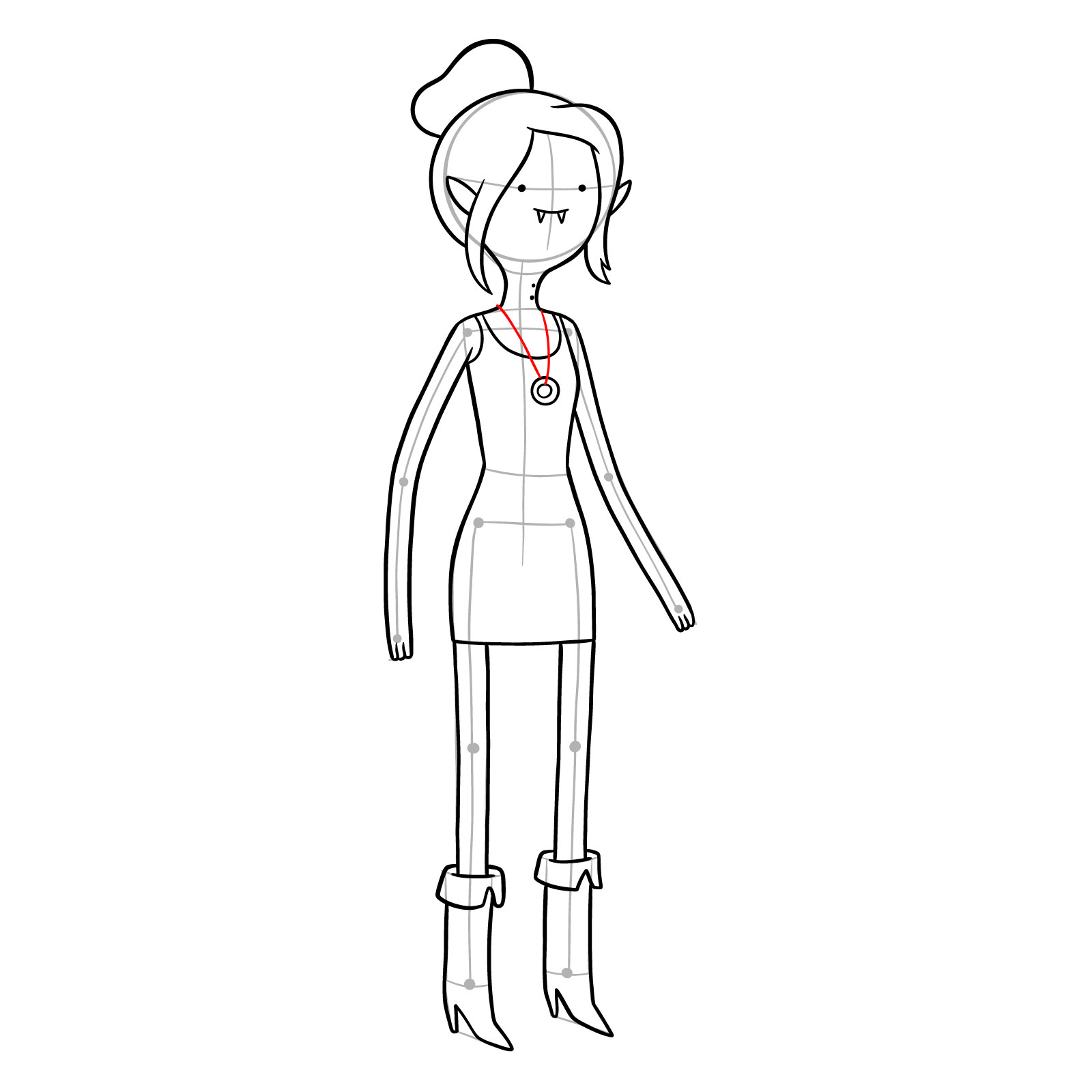 If you enjoy our drawing tutorials, consider supporting us on Buy Me a Coffee. Your donations help us continue to provide free drawing guides for artists like you. We appreciate your support!
FAQs on Drawing Marceline
What drawing techniques can I use when sketching Marceline?
Begin with light pencil strokes, and use simple shapes and guidelines for accurate proportions. Refine your sketch with details, and then add depth and shading to bring Marceline to life.
How can I make my Marceline drawing more expressive?
Pay attention to Marceline's facial expressions and body language. Incorporate these elements into your drawing to capture her unique personality and emotions from the "Broke His Crown" episode.
What tools should I use for my Marceline drawing
You can start with a basic pencil and eraser for sketching. As you progress, consider using fine-tip pens for inking, and colored pencils, markers, or even digital tools for coloring and shading your Marceline drawing.
How do I draw Marceline's hair and clothes accurately?
Take your time to observe the character's design in the "Broke His Crown" episode. Break down her hair and clothes into simpler shapes and lines, then refine them as you go along. This will help you capture the details and style of Marceline's appearance.