Are you captivated by the mysterious, charming, and powerful X-Men mutant known as Gambit? If so, this guide on how to draw Gambit will help you bring this charismatic character to life on paper. As a skilled thief and master of kinetic energy, Gambit has become a beloved figure in the Marvel universe, and learning to draw him is a fantastic way to showcase your artistic talents and love for the X-Men.
Created by writer Chris Claremont and artist Jim Lee, Gambit, also known as Remy LeBeau, made his first appearance in Uncanny X-Men #266. Born in New Orleans, Remy's mutant power allows him to control kinetic energy, which he often uses to charge objects, such as his signature playing cards, turning them into explosive projectiles. His agility, charm, and unique fighting style have made him a popular character among Marvel fans, alongside other X-Men members like Wolverine, Cyclops, and Rogue.
Getting to Know Gambit: Appearance and Personality
Before diving into the drawing process, it's essential to familiarize yourself with Gambit's appearance and personality. Known for his sleek, dashing looks, Gambit's most distinguishing features include his red eyes with black sclera, a head of unruly brown hair, and his iconic black-and-pink costume. The costume features a long trench coat, fingerless gloves, and metal boots, adding to his enigmatic aura.
As a character, Gambit's charm and roguish demeanor often serve as both an asset and a weakness. His tumultuous love affair with fellow X-Men member Rogue adds depth to his character, making him even more fascinating to fans. Keep these personality traits in mind as you work on your drawing, as they can help you capture the essence of this captivating mutant.
Drawing Gambit: Helpful Tips and Advice
Now that you have a better understanding of Gambit's appearance and character, let's move on to some tips and advice to help you draw him:
Start with a basic sketch: Begin your drawing with a light pencil sketch, outlining Gambit's basic form and pose. This initial step will provide a solid foundation for your drawing, making it easier to add details later.
Focus on proportions: To ensure that your drawing of Gambit is accurate, pay close attention to his proportions. Take note of the length of his limbs, the width of his shoulders, and the size of his head in relation to his body.
Emphasize his unique features: Make sure to include Gambit's signature red eyes and trench coat in your drawing. These iconic elements will make your rendition of the character instantly recognizable to fans.
Practice, practice, practice: Like with any art form, practice is key to improving your skills in drawing Gambit. Don't be discouraged if your first attempt doesn't turn out perfectly. Keep practicing, and your abilities will undoubtedly improve over time.
Bringing Your Drawing to Life: The Power of Detail
Once you have the basic structure and pose of Gambit in place, it's time to focus on the details. Pay close attention to the textures of his costume, the folds in his trench coat, and the various pouches and straps that adorn his outfit. These intricate elements will add depth and realism to your drawing, helping it stand out.
Additionally, remember that you can always experiment with your own artistic flair when drawing Gambit. Feel free to play with the colors, shading, and style of your drawing to make it truly unique. While we are focusing on creating a sketch in this guide, you can also choose to color your drawing if you wish.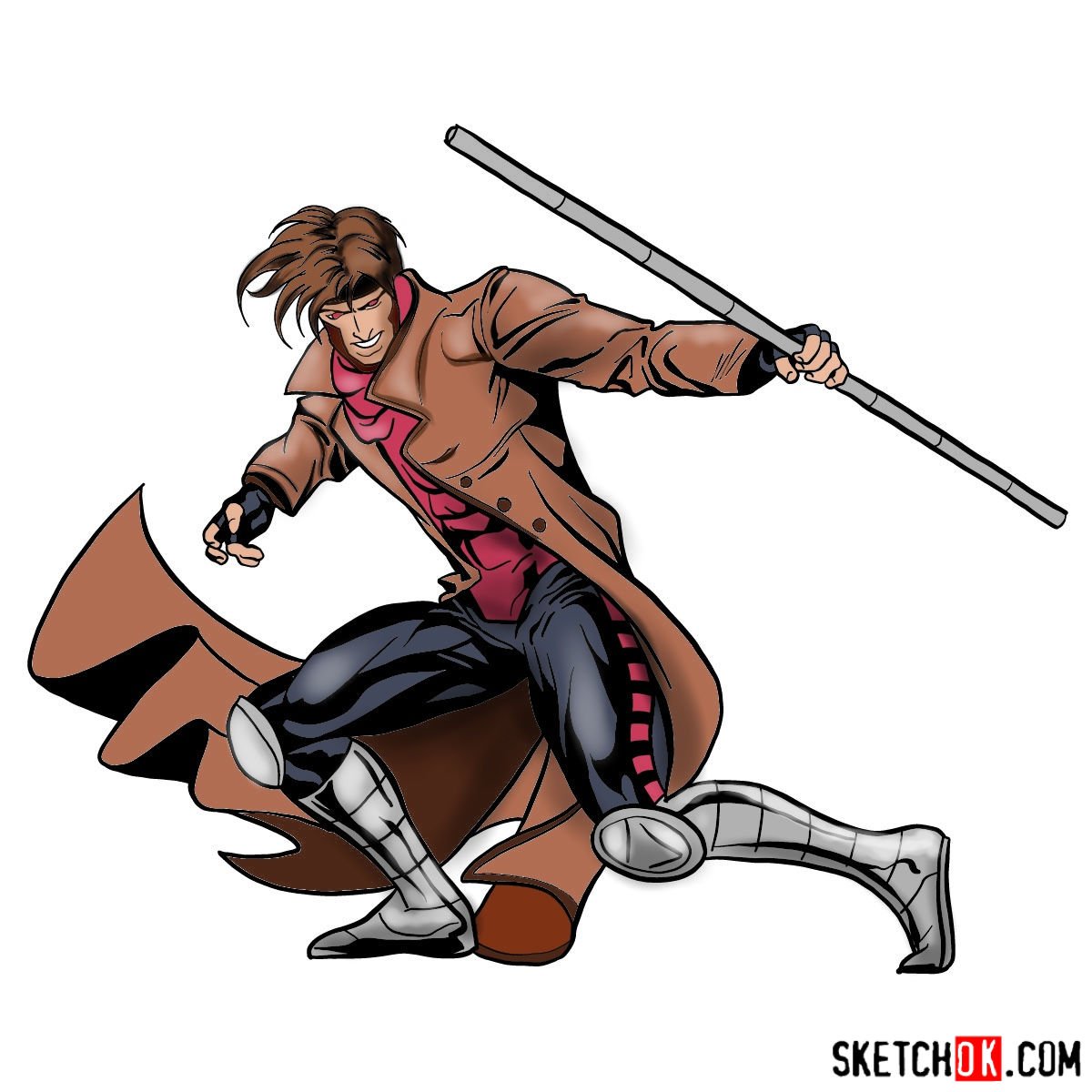 Conclusion: Celebrating Your Artistic Achievement
Congratulations! Now that you've learned how to draw Gambit, you can take pride in your artistic accomplishment. Remember that practice makes perfect, so keep refining your skills and experimenting with different techniques to create even more impressive renditions of this enigmatic X-Men mutant. If you enjoyed this guide and would like to support the artist behind it, consider showing your appreciation by buying me a coffee at buymeacoffee.com/sketchok.
As you continue your artistic journey, feel free to explore the vast world of Marvel characters. Try your hand at drawing other iconic X-Men members such as Storm, Jean Grey, or Beast, or branch out into the larger Marvel universe with characters like Spider-Man 2099, Iron Man, or The Hulk. The possibilities are endless, and your newfound skills will open up a world of creative potential. Happy drawing!