The Cyborg Shipwright: Drawing Franky's Distinct Appearance
Franky, the shipwright of the Straw Hat Pirates, is a character whose design stands out even in the diverse world of One Piece. His bright blue hair, star tattoos, and imposing physique make him one of the most recognizable characters in the series.
Height and Build: With a towering stature of seven feet, Franky is the third-tallest member of the Straw Hat crew. This formidable shipwright possesses massive forearms, a toned chest, and impressive pectoral muscles.
Face: Franky's long, stern eyebrows and his three prominent lower Matsuge on each eye give him a unique look. His chin, angular and split into three pointed clefts, combines with a prosthetic iron nose to complete his distinct facial appearance.
Attire: Despite his intimidating build, Franky's choice of clothing, especially his swim briefs and open Hawaiian "Aloha" shirt, often lightens the mood. However, these choices are more than just fashion statements; his cyborg body's features dictate his wardrobe.
For those looking to expand their drawing horizons, consider adding characters related to Franky, such as members of the Straw Hat Pirates like Shanks, or Luffy in his Snakeman form to complete the scene.
Decoding the Guide to Drawing Franky
Our guide uses a color-coded system to help budding artists bring Franky to life:
Red Color:

Represents the current step in the drawing process.

Black Color:

Showcases the lines from the previous steps.

Grey Color:

Demonstrates the basic proportions and foundation of the sketch.
This guide consists of 11 well-thought-out steps. The initial stages focus on establishing the basic sketch, which is crucial for getting Franky's proportions right. Once you reach the final stage, you have the option of inking your masterpiece. When inking, remember to wait for the ink to dry before erasing any pencil marks. This ensures a cleaner, smudge-free outcome.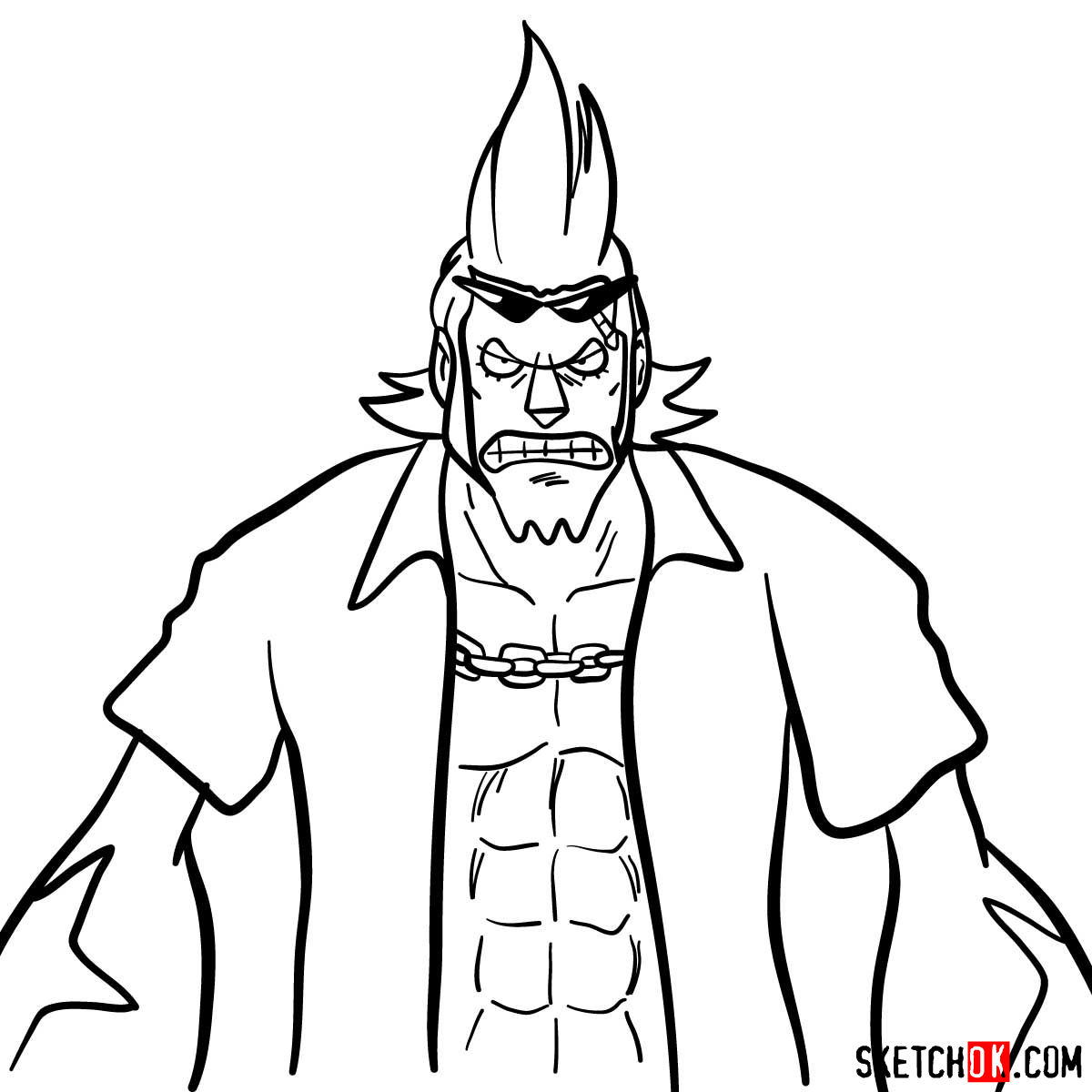 Hey there, fellow artist! If you found this guide on how to draw Franky helpful and wish to support further creations, consider donating at Buy me a coffee. Every contribution not only fuels the creation of more tutorials but also lets you suggest topics for future ones. Your suggestions are invaluable and take priority!
Want to be part of our growing community? Follow us on our social media platforms:
Facebook,
Instagram, and
Pinterest. Share the link to this guide with fellow art enthusiasts and let's keep the world sketching!