"Red-Haired" Shanks, known as the chief of the Red Hair Pirates and one of the Four Emperors ruling the New World, has been a monumental figure in the world of One Piece. From sailing with the Roger Pirates since infancy to inspiring a young Monkey D. Luffy, Shanks' journey is woven deeply into the fabric of this epic tale. In this tutorial, we'll explore how to draw Shanks full body, bringing every aspect of this iconic character to life on your canvas.
A Closer Look at Shanks: Key Features to Capture
The Crimson Locks: True to his name, Shanks boasts a deep crimson hair that stands out, making it a focal point in your drawing.
Facial Marks: A set of three parallel scars over his left eye, a memento from Blackbeard, adds depth and history to his face.
Signature Outfit: His outfit, comprising a high-collared cape, a white shirt, and pants that stop below the knee, encapsulates his free spirit.
The Missing Arm: A testament to his sacrifice, remember to depict him without his left arm below the deltoid.
Expressive Face: Shanks' visage has evolved throughout the series. Focus on capturing his sharp eyes and chiseled nose.
Understanding the Guide: Navigating the Steps
Before diving into the drawing, it's vital to understand the color-coded guide we've provided. Our 37-step guide is structured as follows:
Red Color:

Represents the current step you should be focusing on.

Grey Color:

Displays the basic sketch, which you should draw with light pencil strokes to establish proportions.

Black Color:

Highlights the lines you've drawn in previous steps.
Begin with the basic sketch, capturing the essence of Shanks' stance. As you progress through the stages, remember to patiently ink your sketch at the end. Once the ink dries, gently erase the pencil marks to unveil a clean, detailed depiction of Shanks.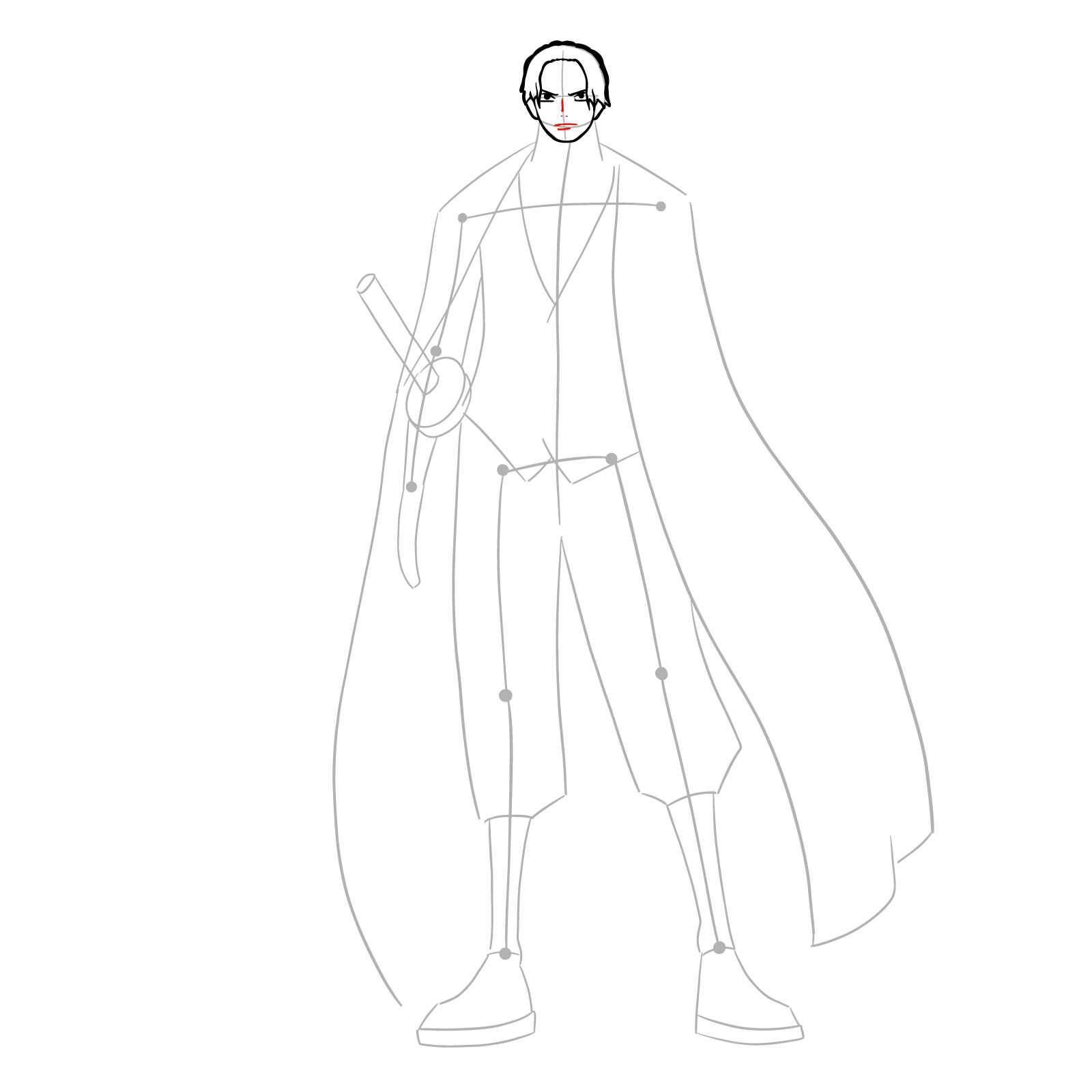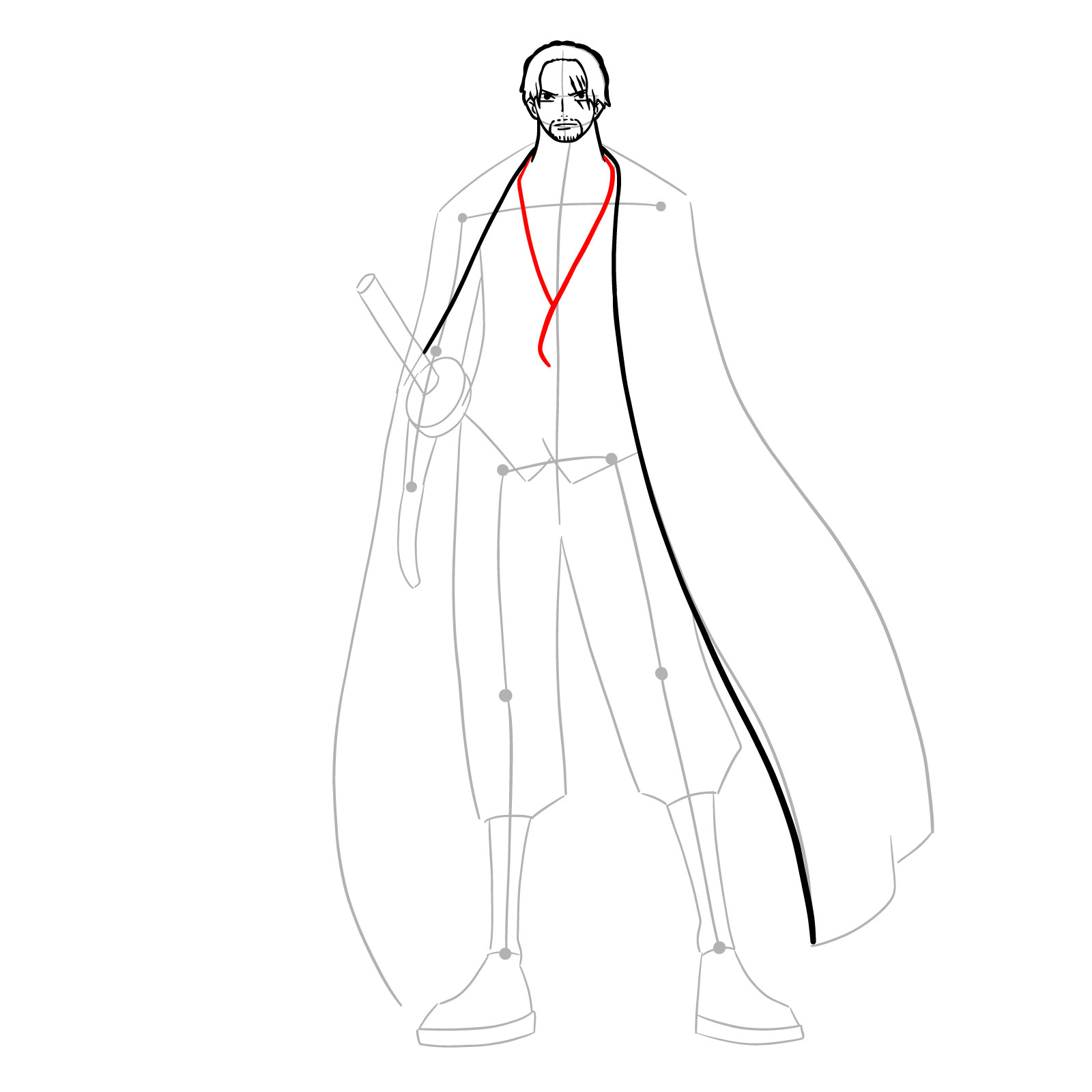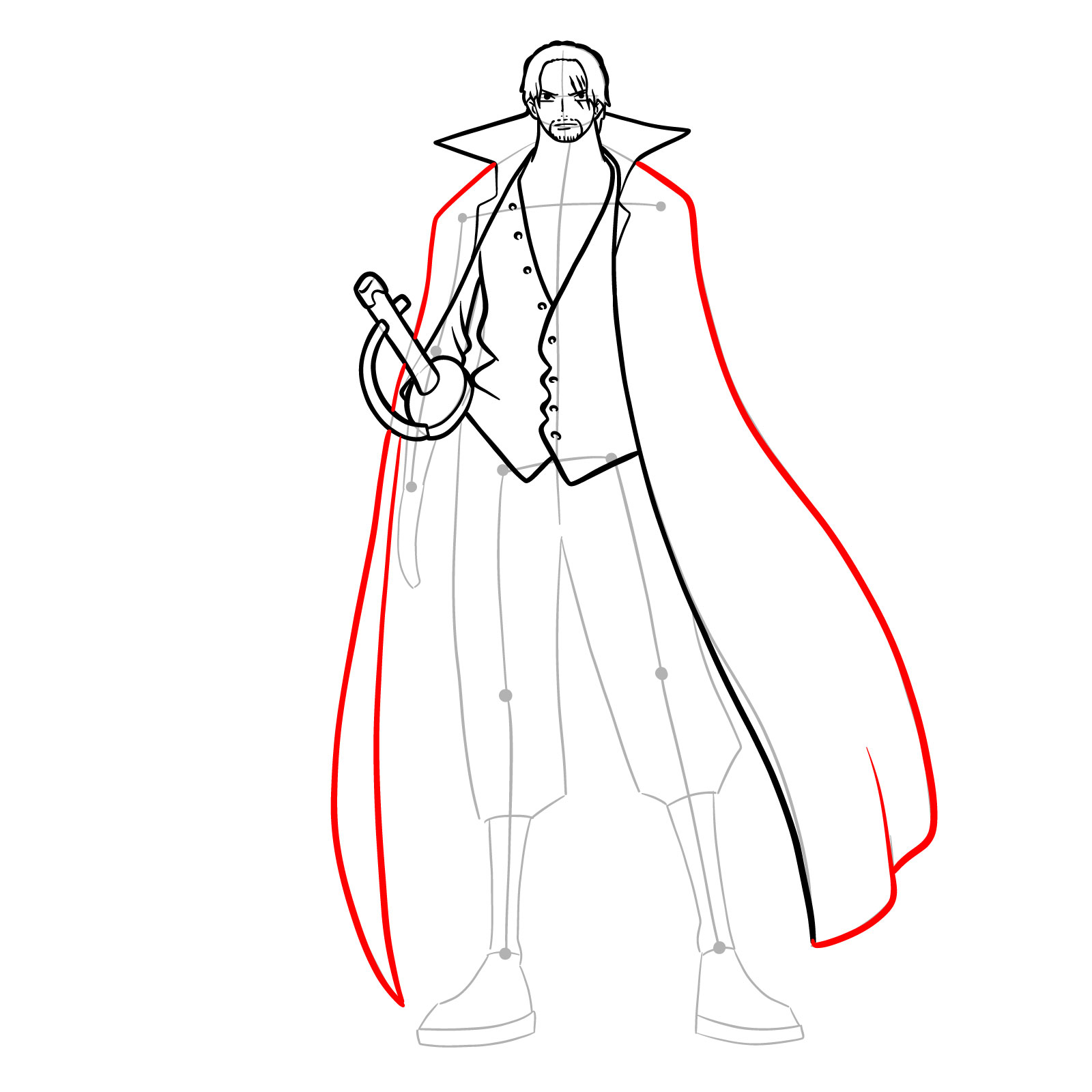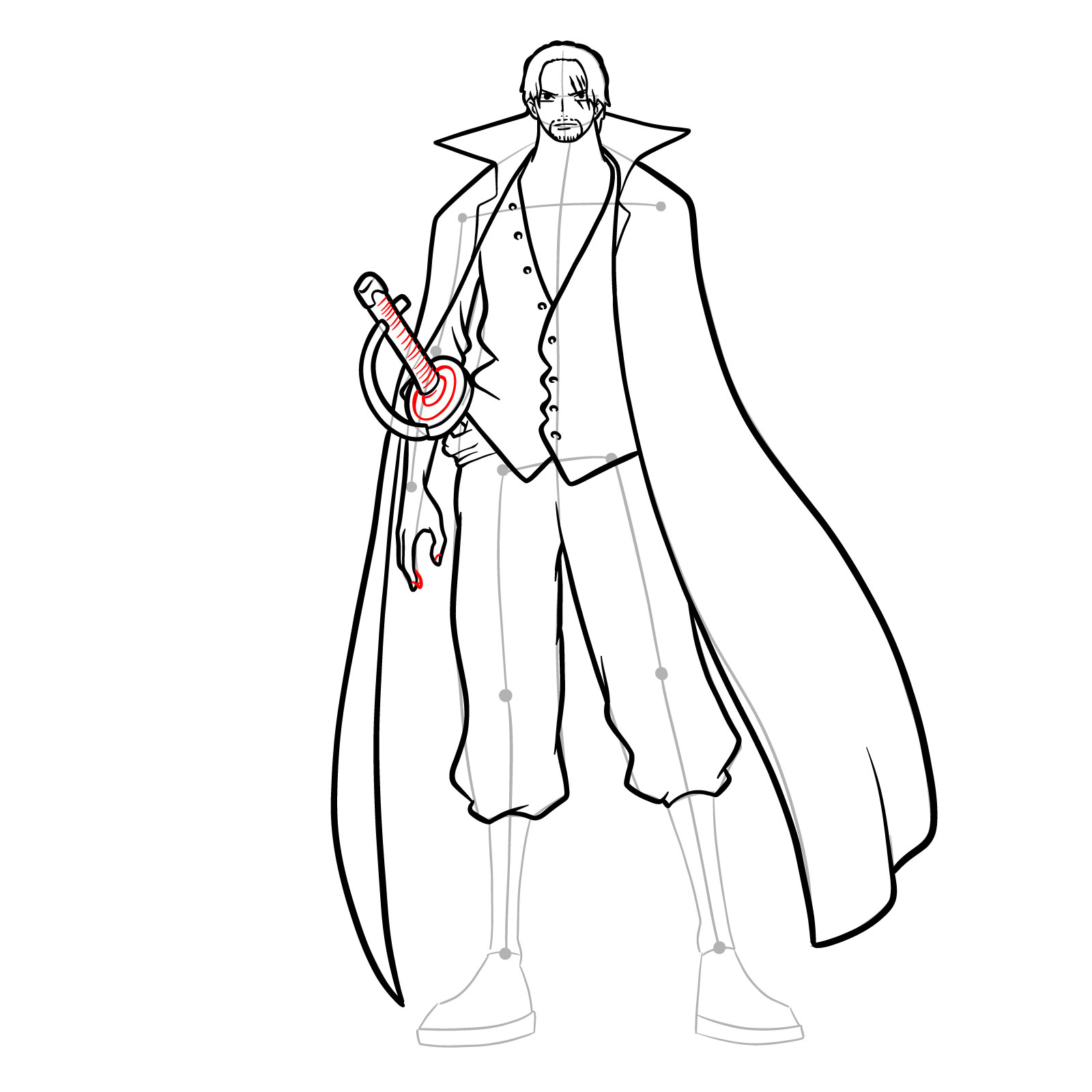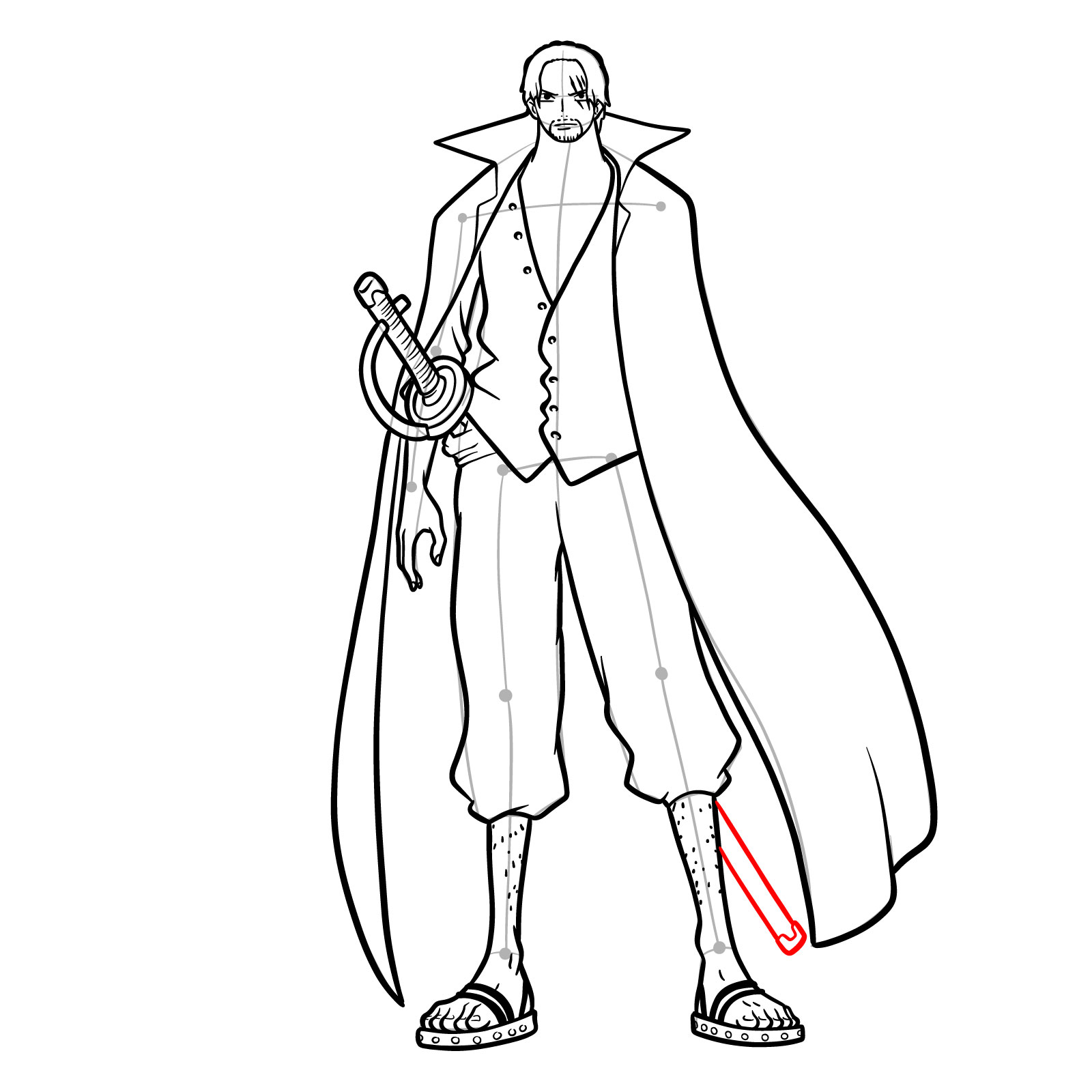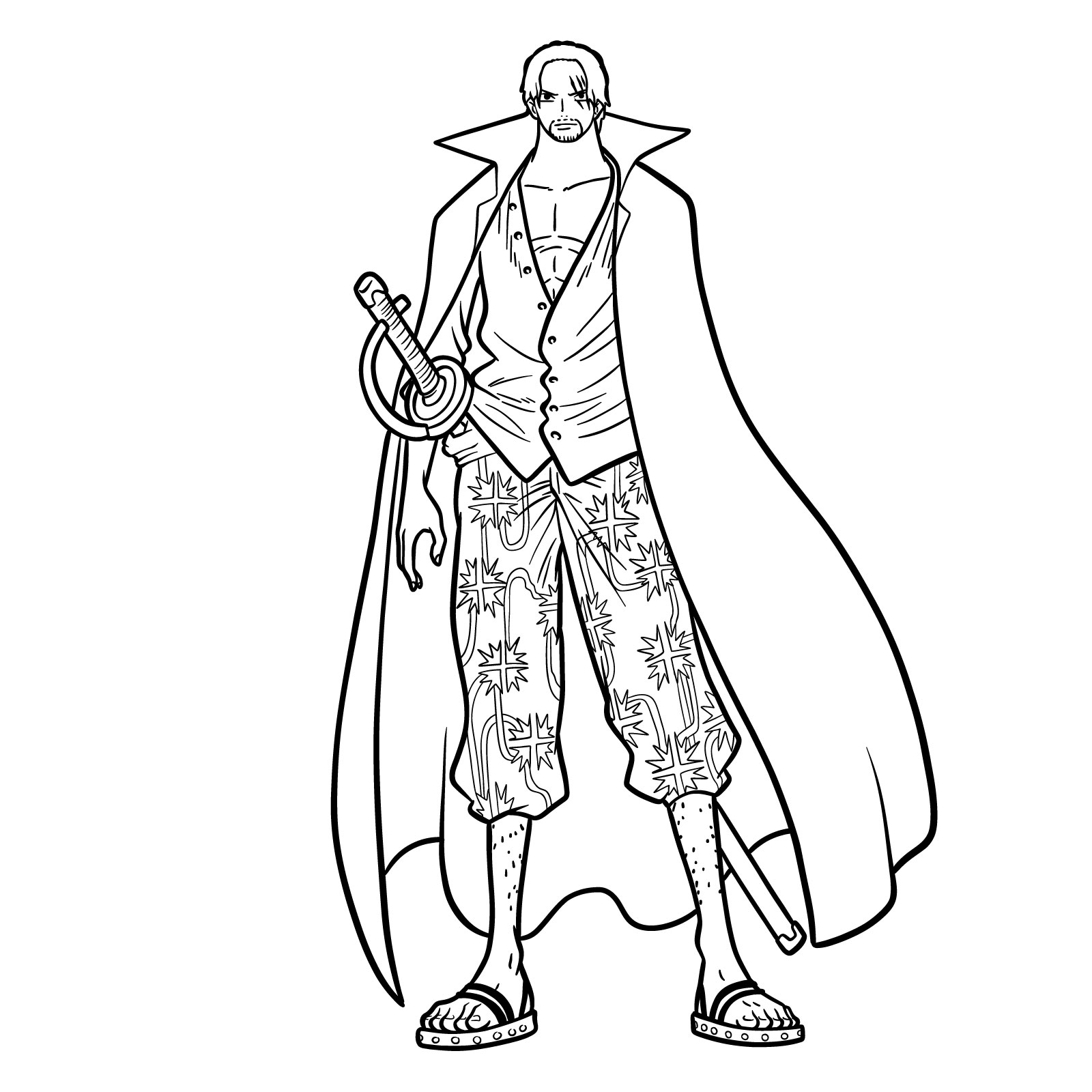 Frequently Asked Questions
What's the best technique to draw Shanks' distinctive red hair?
Shanks' hair is a defining feature, characterized by its deep crimson hue and unique grayscale shading in the manga. Begin with loose lines to outline the flow of the hair. Add volume by sketching layers and consider shading techniques to add depth and texture.
How can I accurately sketch Shanks' outfit and accessories?
Pay close attention to the details. Shanks' outfit, from his high-collared cape to his uniquely patterned pants, is emblematic of his character. Break down each clothing item into basic shapes and then refine, ensuring you capture key elements like the sash, buttons, and his saber.
Any tips for capturing the facial scars and expressions?
Facial details can be intricate. Start by positioning the scars correctly in relation to his eye. For expressions, focus on the eyes and eyebrows, as they convey most emotions. Practice sketching different facial expressions to master Shanks' varied looks throughout the series.
Mastering the art of how to draw Shanks full body can be a rewarding experience. As you hone your skills, remember to share your creations and the guide link with fellow One Piece enthusiasts. If you've found value in this tutorial and wish to support SketchOk further, consider making a donation. Not only will you be supporting future guides, but you can also suggest topics via a donation message on Buy me a coffee. Your suggestions are held in high regard and might be prioritized in upcoming tutorials. Don't forget to stay connected by following SketchOk on Facebook, Instagram, and Pinterest.