Many have been enchanted by the enigmatic aura of Nico Robin, the "Devil Child" and esteemed archaeologist of the Straw Hat Pirates. Known for her unique powers from the Hana Hana no Mi and her ability to decipher Poneglyphs, she has become an iconic figure in the world of "One Piece." This guide provides a structured approach to teach you how to draw Nico Robin, focusing on her distinct features and her famous hat.
Character Highlights and Focal Points
Facial Features: Nico Robin possesses wide, dark pupils set against cerulean eyes. Her slender nose and expressive face often capture attention.
Hair: Shoulder-length black hair that subtly reflects her maternal lineage.
Physique: Tall and slender, her elongated limbs add to her unique silhouette, amplifying her fighting prowess.
Signature Accessories: Don't forget her iconic hat, a hallmark of her attire.
About this Guide
While diving into how to draw Nico Robin, this guide employs a color-coding system to ease your journey:
Red Color:

Indicates the current step you're on.

Black Color:

Represents lines you've previously etched.

Grey Color:

Denotes the initial proportion sketch.
Spanning 13 steps, the tutorial commences with drafting a foundational sketch. Once you complete the intricate details, the last stage offers the opportunity to ink your artwork. Ensure the ink is thoroughly dried before gently erasing the underlying pencil lines, preserving the clarity and precision of your masterpiece.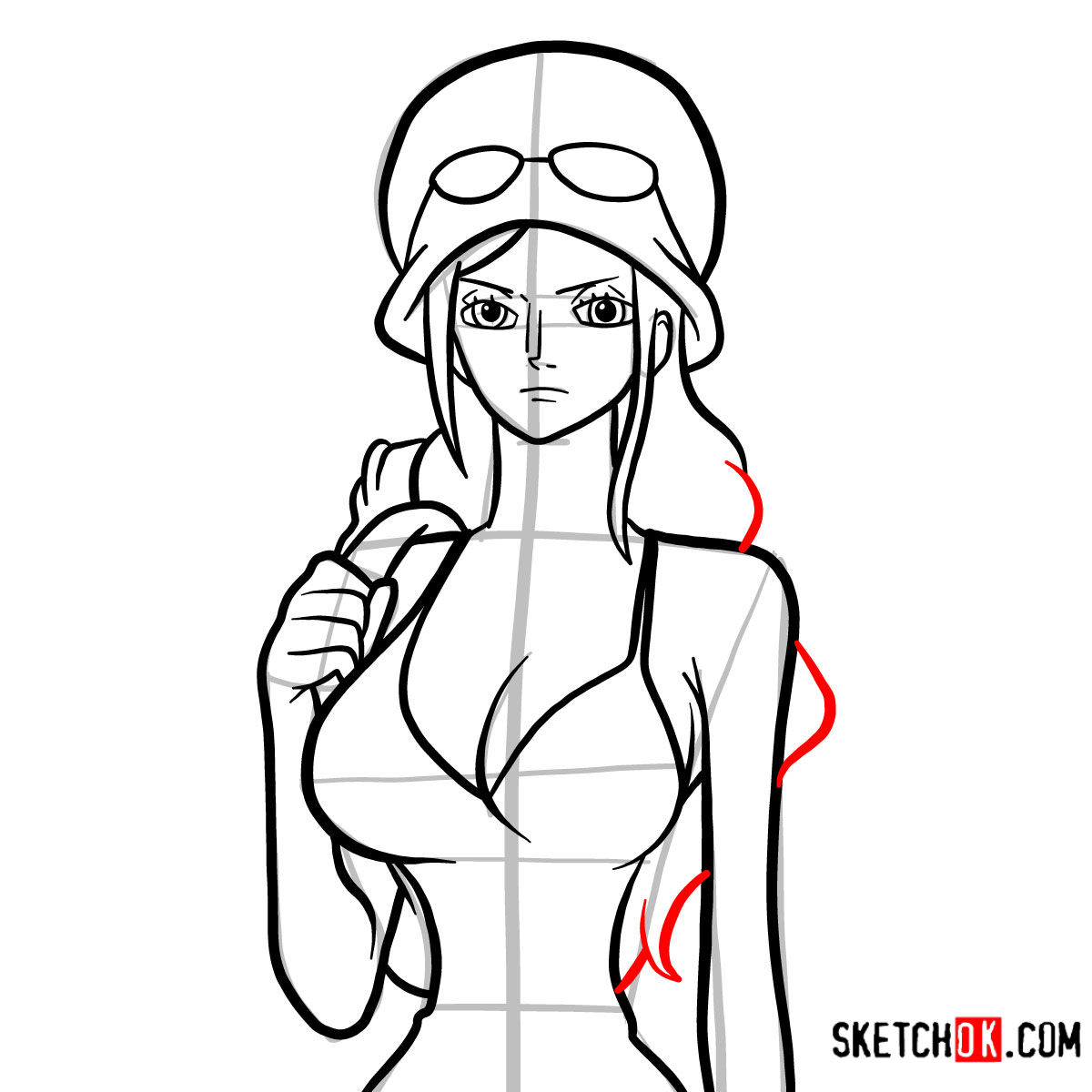 Frequently Asked Questions
What techniques can I employ to effectively draw Nico Robin's hair?
Achieving the sleekness and volume of Nico Robin's hair requires patience and precision. Begin with loose, wavy lines to outline the hair's flow. Gradually add layers and strands, keeping in mind the source of light to appropriately shade and highlight.
How can I best capture the essence of her iconic hat?
Nico Robin's hat is not just an accessory; it's a character trait. Start by sketching a circular base, ensuring it's proportionate to her head. Add texture and shading to give it depth, keeping its shape and orientation consistent with her pose.
Any tips for sketching her elongated limbs?
Long limbs can be challenging but are crucial for Nico Robin's silhouette. Begin with straight lines to establish length, then subtly curve them to add realism. Remember, her limbs are both a reflection of her elegance and her combat capability.
Wrapping Up
Sketching is a voyage, and every artwork is a destination. I sincerely hope this guide aids you in capturing the grace and spirit of Nico Robin. If you've enjoyed this tutorial and want to support SketchOk in crafting more, consider donating here. Every donation opens a portal for you to suggest topics for future tutorials, and I'll prioritize them! Share this guide with fellow enthusiasts, and don't forget to follow us on Facebook, Instagram, and Pinterest. Until next time, keep sketching!