Welcome, aspiring artists and fellow fans of One Piece! In this step-by-step drawing tutorial, we will dive into the captivating world of Nightmare Luffy, the fearsome alter ego of Monkey D. Luffy, and will learn how to draw him.
Appearance and Story: A Colossal Force Unleashed
As Nightmare Luffy, our beloved protagonist takes on a striking transformation. Visualize a colossal figure with a gigantic body, adorned with long, muscular arms and shorter, thinner legs. He proudly wears his classic shorts, while a massive katana rests upon his back, a testament to his formidable strength. The stark contrast between Nightmare Luffy and his regular form showcases the sheer magnitude of his power.
Born in Foosha Village, Luffy, also known as "Straw Hat Luffy," aspires to become the Pirate King, searching for Gol D. Roger's legendary treasure. His unwavering pursuit of freedom and adventure defines his character, captivating audiences with his relentless spirit. With his rubbery abilities granted by the Gomu Gomu no Mi Devil Fruit, Luffy's stretchy limbs add a unique twist to his fearsome appearance as Nightmare Luffy.
Join us as we delve into the mesmerizing world of Nightmare Luffy and translate his imposing presence onto paper!
Materials and Tools: Equipping Your Artistic Arsenal
Before we embark on our artistic voyage, let's ensure we have the necessary materials and tools at our disposal. Here's a list of recommended supplies:
Pencils: Ranging from H to B, for sketching and shading
Eraser: To correct mistakes and refine your artwork
Paper: drawing paper or sketchbook
Inking Pens: Waterproof pens for inking and outlining
Coloring Materials: Colored pencils, markers, or paints for adding vibrant hues (optional)
Step-by-Step Drawing Guide: Unraveling the Nightmare
Now, let's dive into the step-by-step process of on how to draw Nightmare Luffy to life. In the following sections, we'll guide you through each stage of the drawing process.
Part 1: Basic Sketch
The first step involves creating a solid foundation for your artwork. Use light pencil strokes to sketch the basic structure and proportions of Nightmare Luffy. The red color in the accompanying images signifies the current drawing step, while the grey color represents the underlying sketch, and the black indicates the previously drawn lines. Visualize the colossal form taking shape as you carefully outline the muscular arms, shorter legs, and iconic shorts.
Part 2: Refining the Sketch
In this stage, we refine the initial sketch and add intricate details to capture Nightmare Luffy's essence. Pay close attention to the facial features, emphasizing his determined expression. Ensure the proportions align with the character's colossal form. As you progress, you'll witness your artwork come to life, bringing you closer to capturing Nightmare Luffy's powerful presence.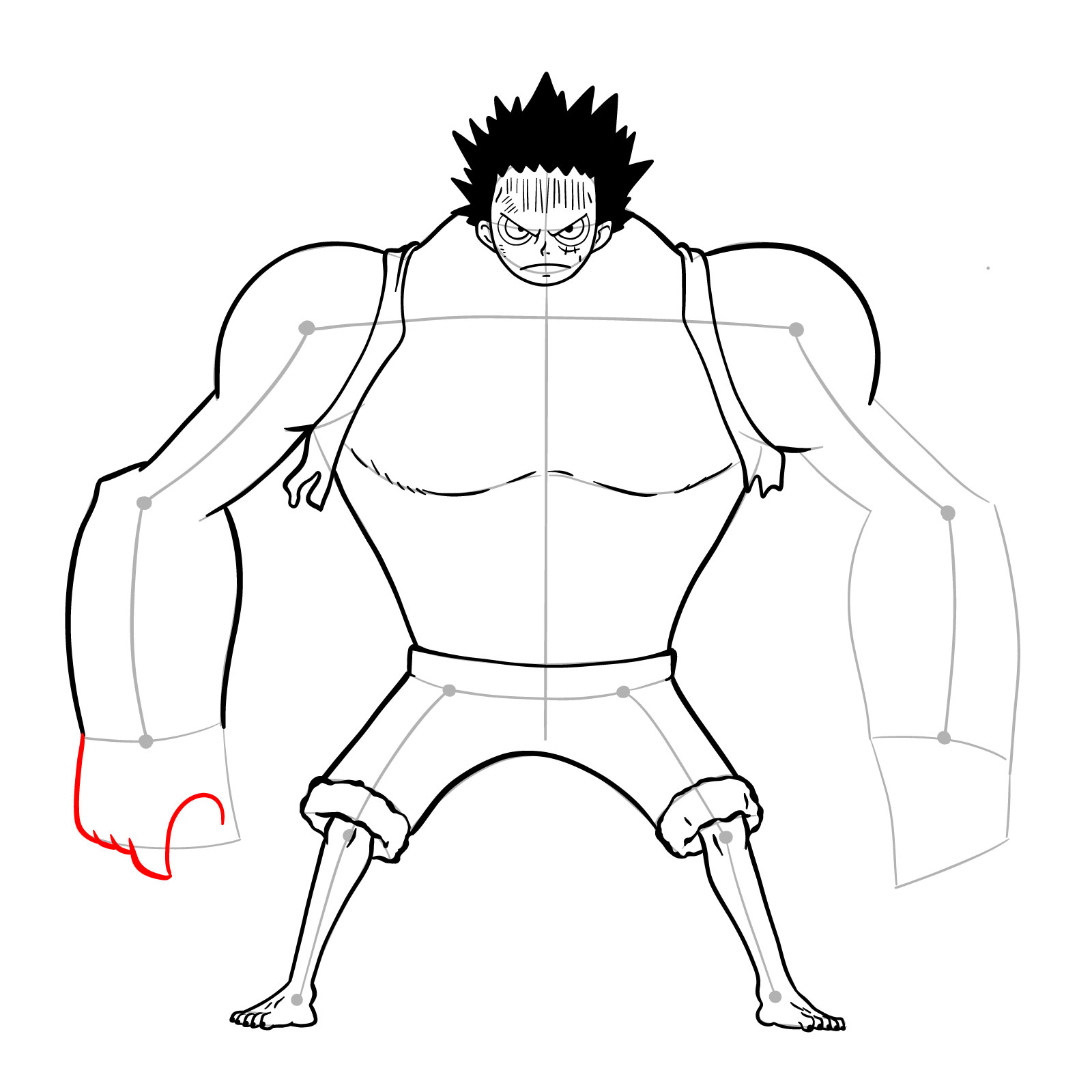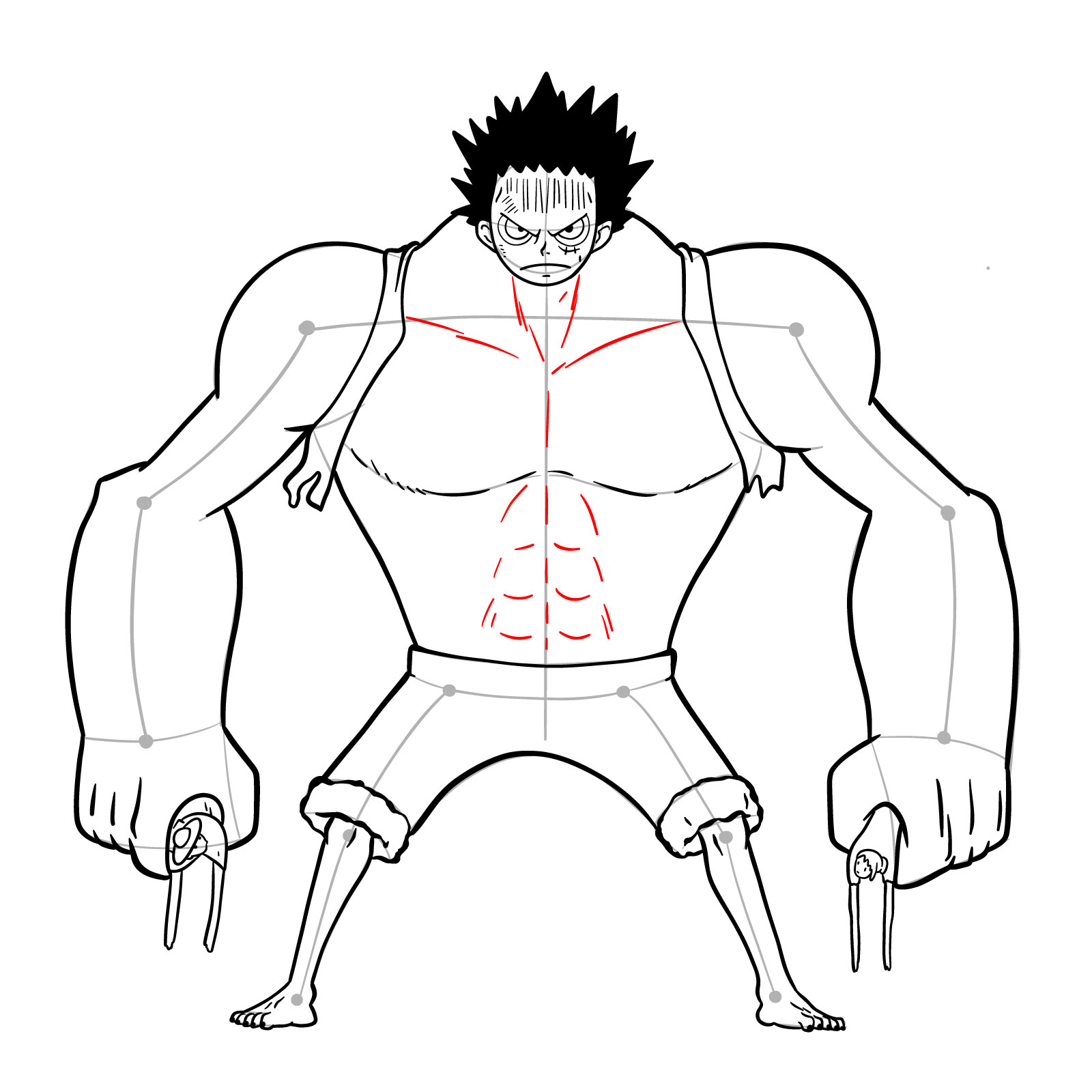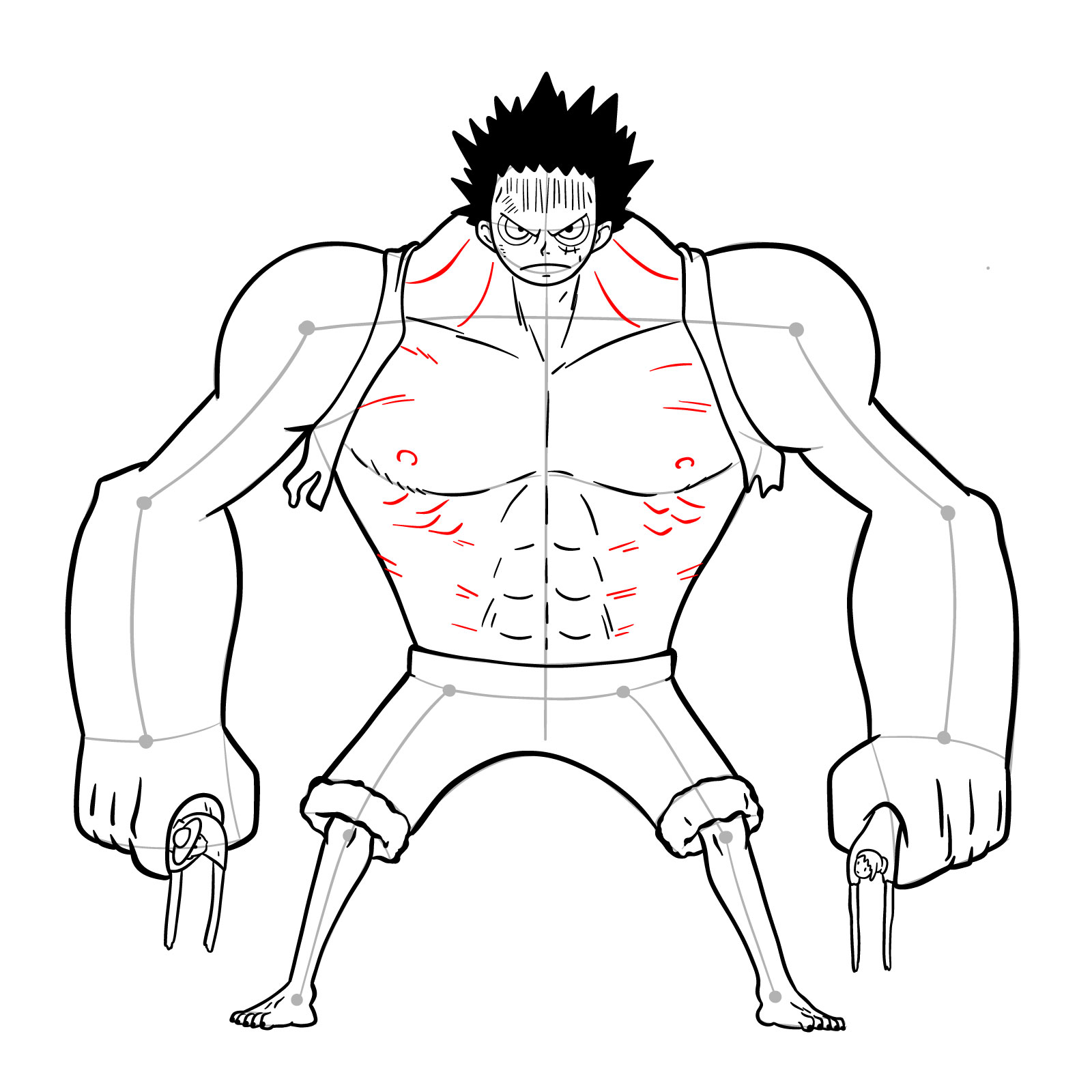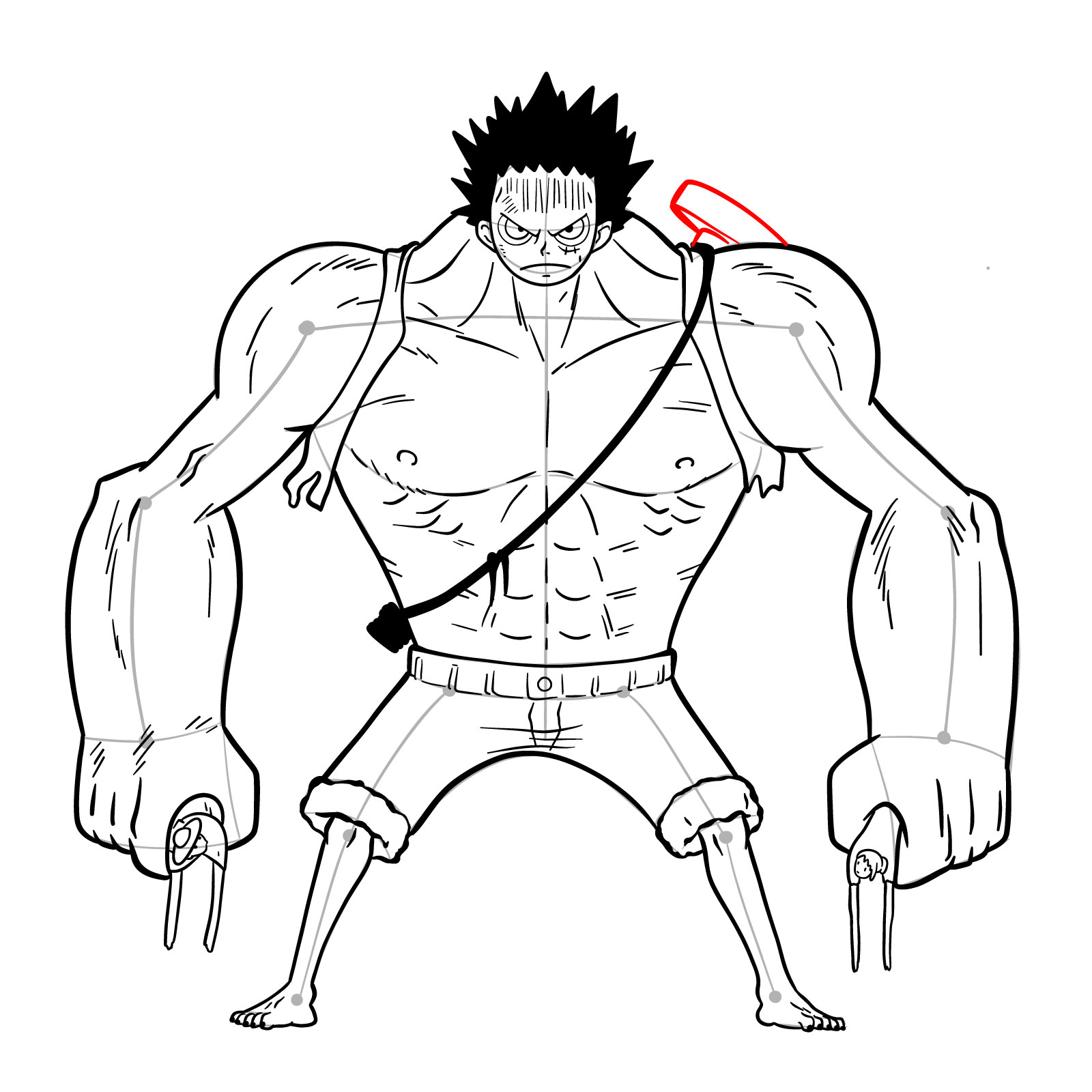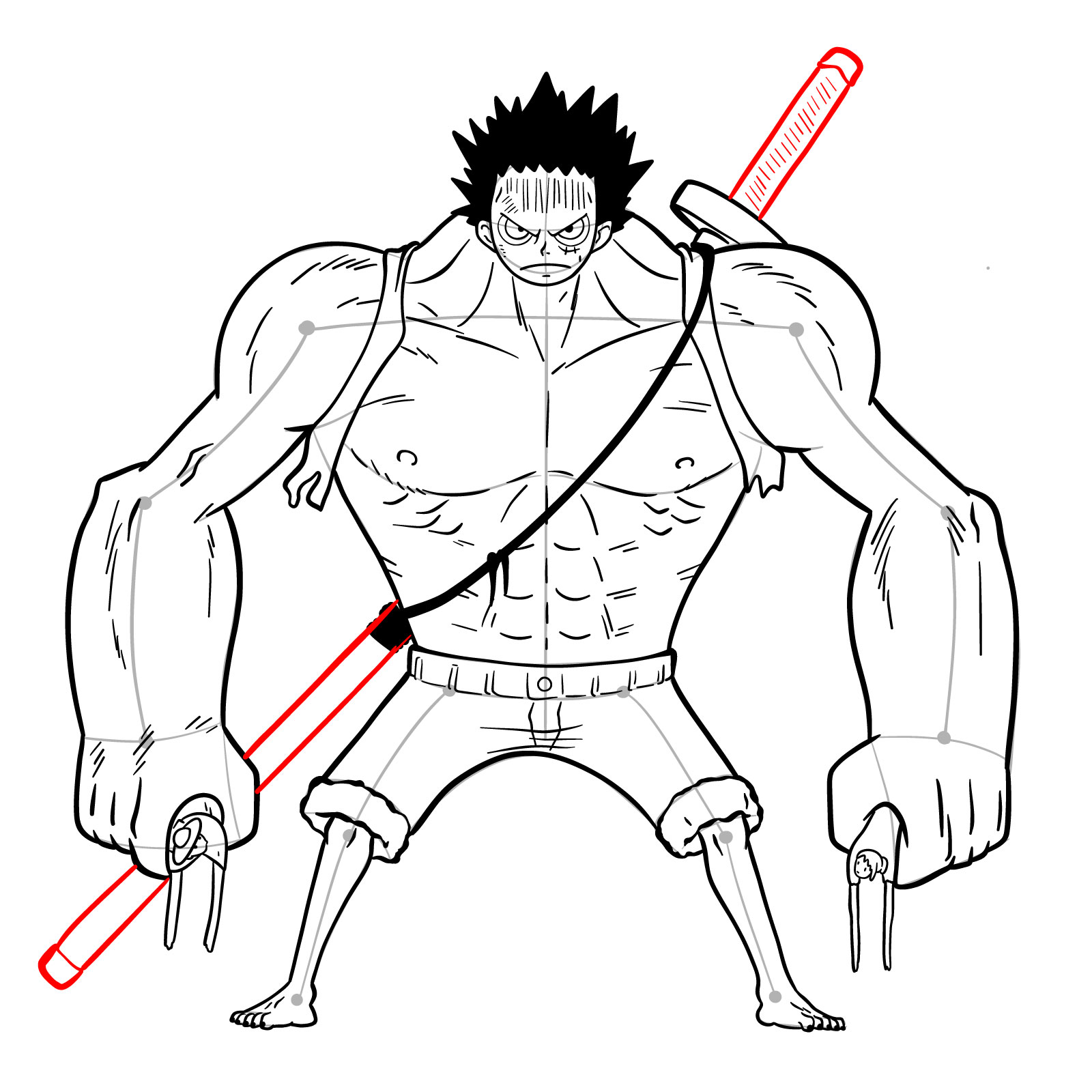 Part 3: Inking
Now, it's time to ink your drawing, giving it a clean and defined appearance. Outline Nightmare Luffy's muscular physique, his shorts, and the colossal katana on his back. Use precise strokes to enhance the overall impact of the artwork. Take your time and enjoy the process as you witness your creation gaining depth and definition.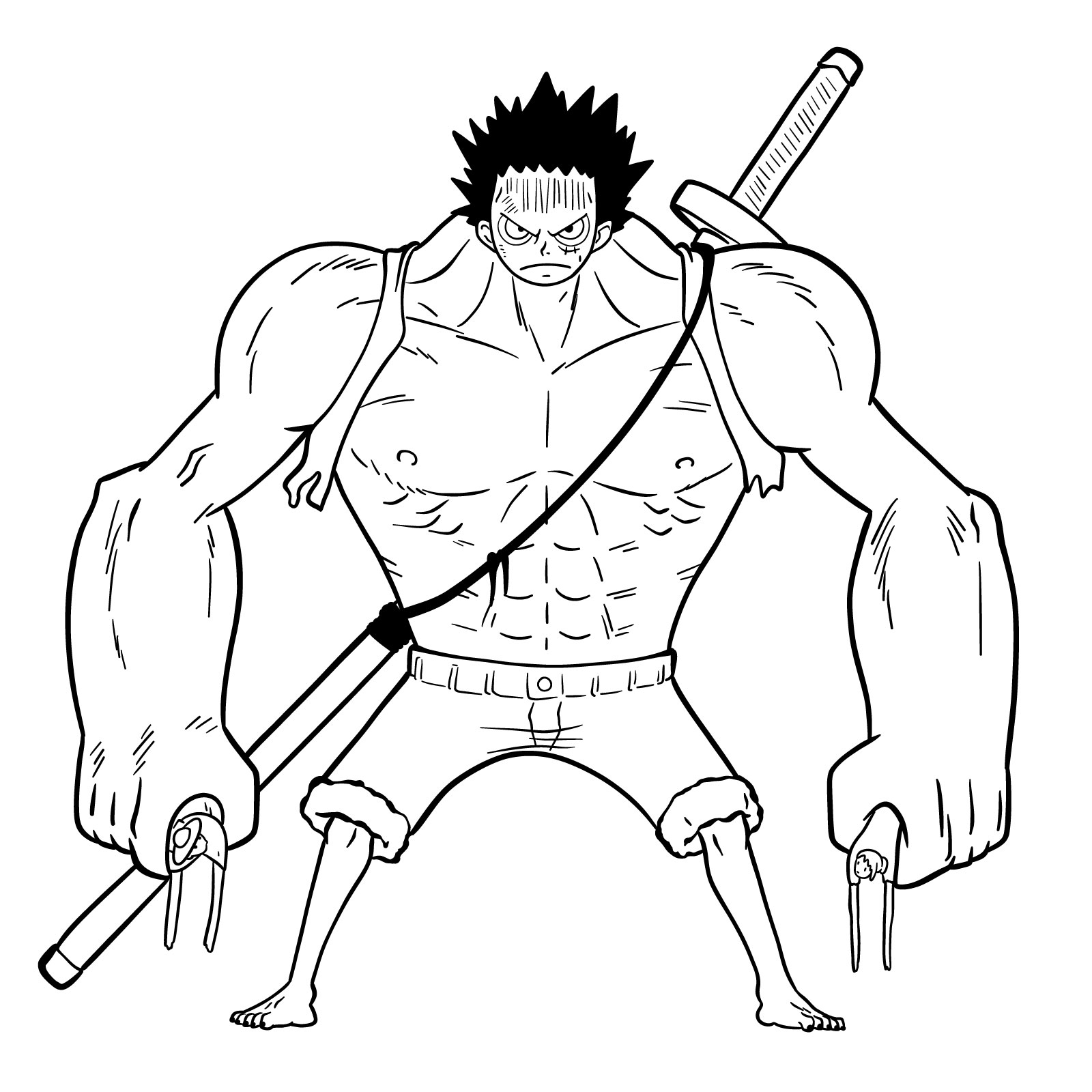 Exercises and Techniques: Enhancing Your Artistic Prowess
Are you ready to take your artistic skills to the next level? Here are ten exercises and techniques to refine your drawing abilities and expand your creative horizons:
Mastering Proportions: Practice sketching characters with varying body proportions to improve your understanding of anatomy.
Dynamic Poses: Experiment with dynamic poses to capture the energy and movement within your artwork.
Emphasizing Shadows: Study light and shadow to add depth and dimension to your drawings.
Texture Exploration: Explore different techniques to depict various textures, such as roughness or smoothness, within your artwork.
Gesture Drawing: Enhance your ability to capture the essence of a character by practicing quick, expressive gesture sketches.
Color Theory: Dive into the fascinating world of color theory and learn how to effectively use color to convey mood and atmosphere.
Anatomy Studies: Focus on specific body parts or features to strengthen your understanding of anatomy and improve your overall character drawings.
Inking Mastery: Hone your inking skills by practicing different line weights and techniques to add depth and definition to your drawings.
Background Art: Experiment with creating captivating backgrounds to complement your character drawings and bring your artwork to life.
Exploring Perspectives: Challenge yourself by drawing characters from different angles and perspectives to enhance your visual storytelling.
Frequently Asked Questions: Unleashing Your Creative Potential
Q: What should I do if I make a mistake while drawing?
A: Mistakes are a natural part of the artistic process. Don't be discouraged! Embrace them as opportunities for growth. Use an eraser to correct minor errors, or consider incorporating them into your artwork and transforming them into intentional elements. Remember, art is subjective, and sometimes mistakes can lead to unexpected creative breakthroughs.
Q: How can I stay motivated to continue drawing?
A: Motivation can fluctuate, but there are several strategies to help you stay inspired. Set achievable goals and reward yourself upon completion. Join an art community or find a drawing buddy to share your progress and exchange feedback. Explore different art styles and subjects to keep your practice diverse and exciting. Above all, remember to enjoy the process and embrace the joy of creating art.
Drawing Luffy's Allies
Once you have mastered drawing Nightmare Luffy, you can further expand your One Piece artwork by drawing Luffy's trusted allies, or even a regular look of Luffy himself. Here are a few characters you can consider:
These characters offer a diverse range of personalities, abilities, and visual designs, providing you with an exciting opportunity to further develop your artistic skills and capture the essence of each character. Enjoy the journey of bringing these beloved characters to life through your art!
Now that you've gained valuable insights and learned how to draw Nightmare Luffy and expanding your artistic abilities, it's time to unleash your creativity! Continue practicing, exploring new techniques, and challenging yourself with exciting projects. Don't forget to support your content creator by sharing this tutorial and checking out other  tutorials on our website. You can also show your appreciation by donating on Buy Me a Coffee.
To stay up to date with our latest tutorials and engage with our creative community, be sure to follow us on:
Remember, art is an incredible journey that allows you to express your unique perspective and connect with others through visual storytelling. So pick up your pencil, unleash your imagination, and let your creativity soar!