Ahoy there, aspiring artists! Are you ready to embark on a thrilling artistic journey and bring the epic power of Monkey D. Luffy to life by learning how to draw Luffy's Third Gear with Armament Haki? Look no further! In this step-by-step drawing guide, we will unravel the secrets of capturing the essence of this incredible technique. So, grab your pencil, unleash your creativity, and let's dive into the world of One Piece!
Embodying the Colossal Power: Luffy's Appearance
Luffy's Third Gear with Armament Haki is a sight to behold. Imagine his arm swelling in size, resembling that of a giant, while maintaining the hardened properties of Haki. In this form, Luffy's arm becomes a fearsome weapon, ready to deliver devastating blows to his opponents. The enlarged arm, combined with Luffy's distinct straw hat and determined expression, creates a visual spectacle that truly captures the spirit of this incredible technique.
The Artist's Challenge: Capturing the Dynamic Proportions
As an artist, capturing the dynamic proportions of Luffy's Third Gear presents an exciting challenge. The key lies in conveying the immense power and mass of his enlarged arm while maintaining a sense of balance and fluidity in the overall composition. Achieving the right proportions requires careful observation, attention to detail, and a firm grasp of anatomy. But fear not! By following the steps in this guide, you'll be able to bring Luffy's colossal power to life on your canvas.
Step-by-Step Drawing Guide: Luffy's Third Gear with Armament Haki
Get ready to dive into the process of drawing Luffy's Third Gear with Armament Haki! This drawing guide will take you through 47 steps, unlocking the secrets behind capturing the immense power of this technique. Let's begin our artistic adventure!
Color Guidelines: Bringing Your Drawing to Life
In this drawing guide, color plays the main role in visualizing the progression of your artwork. Here's how the color scheme is used:
Red:

Indicates the current step you should focus on. Follow the instructions carefully to bring your drawing to the next level.

Black:

Represents the completed steps. As you finish each step, it will be marked in black in the next image to track your progress.

Grey:

Depicts the basic proportional sketch. This initial framework serves as a guide to ensure accuracy in your drawing.
By following these color guidelines, you'll have a visual roadmap to guide you through the intricate process of learning how to draw Luffy's Third Gear with Armament Haki. So, grab your pencils and let's get started!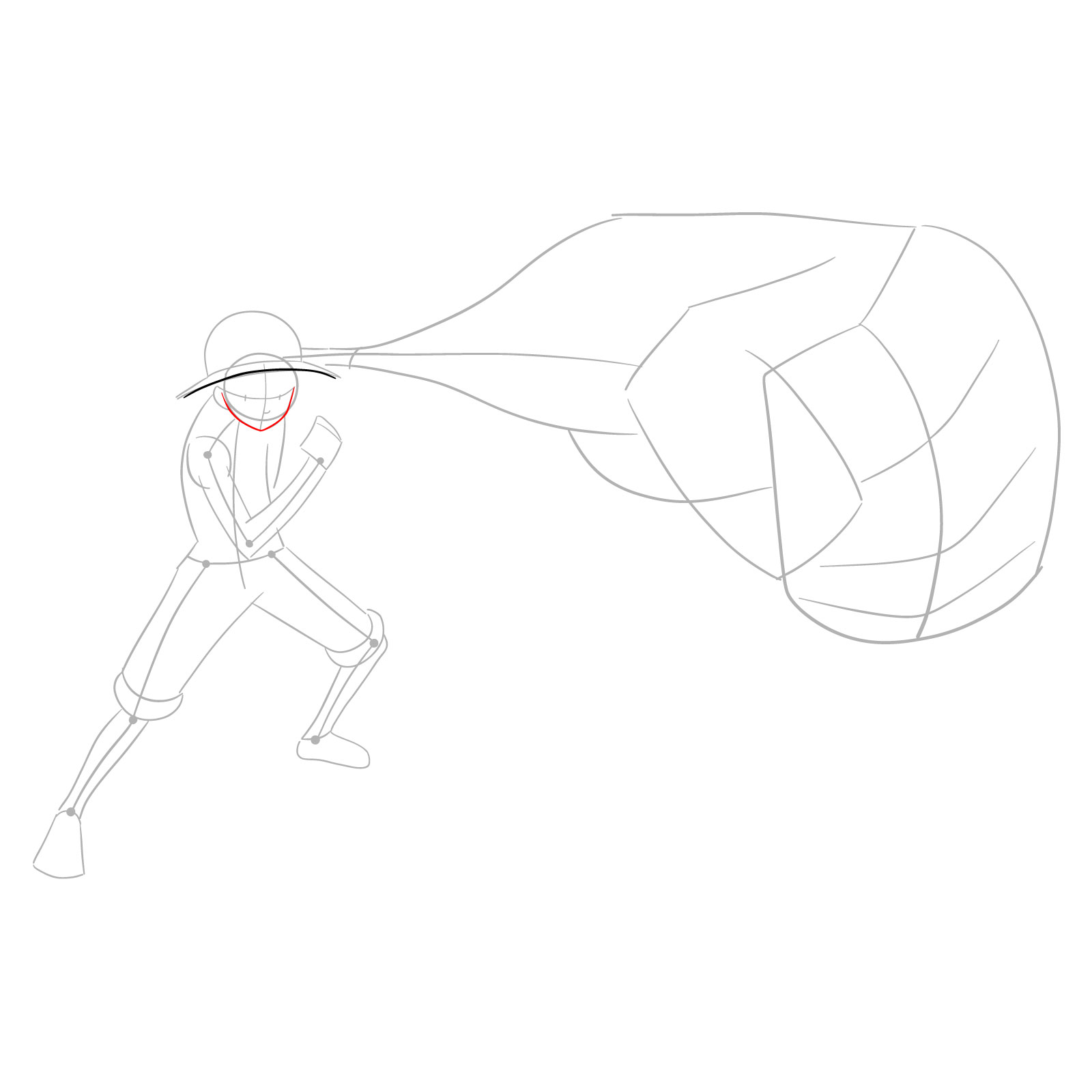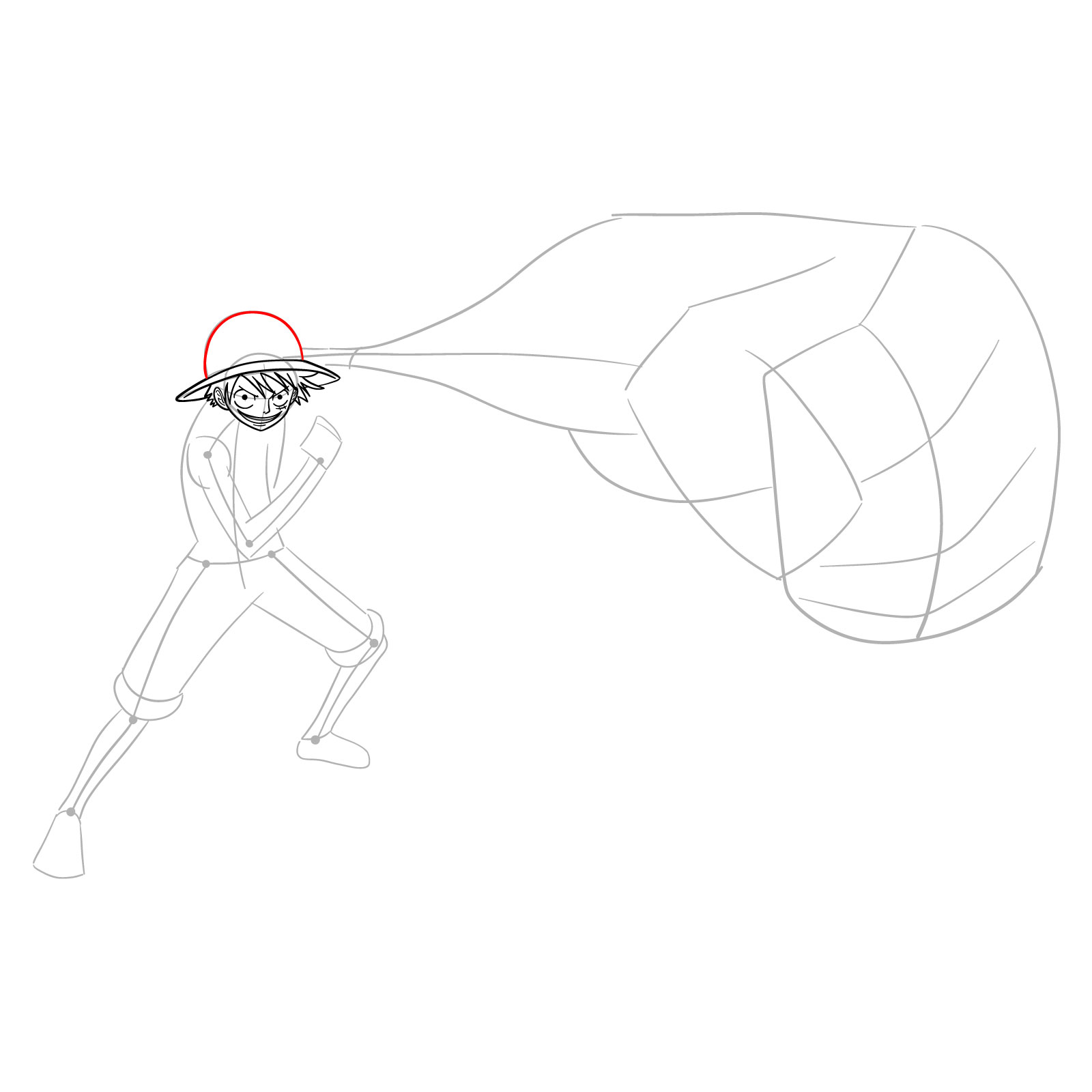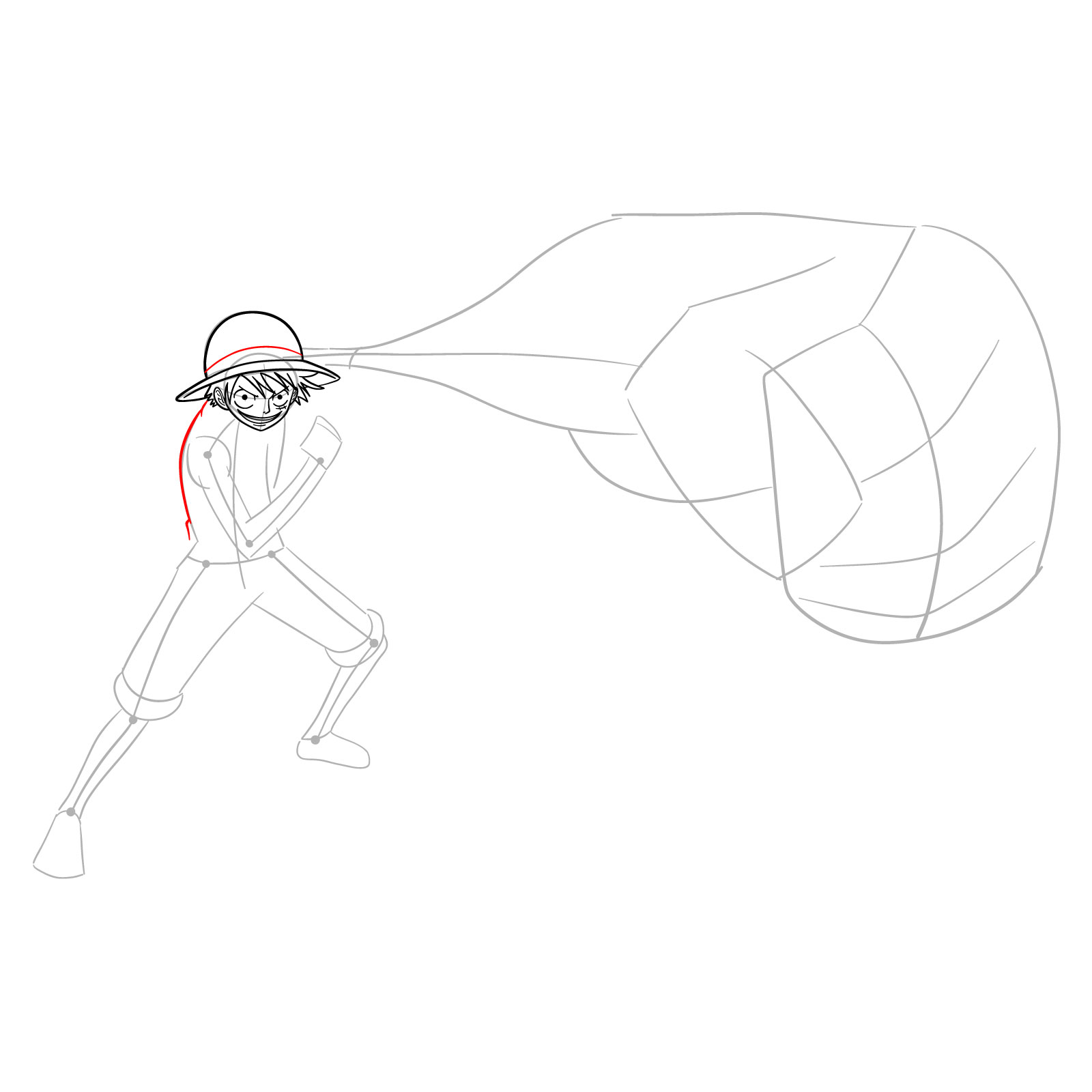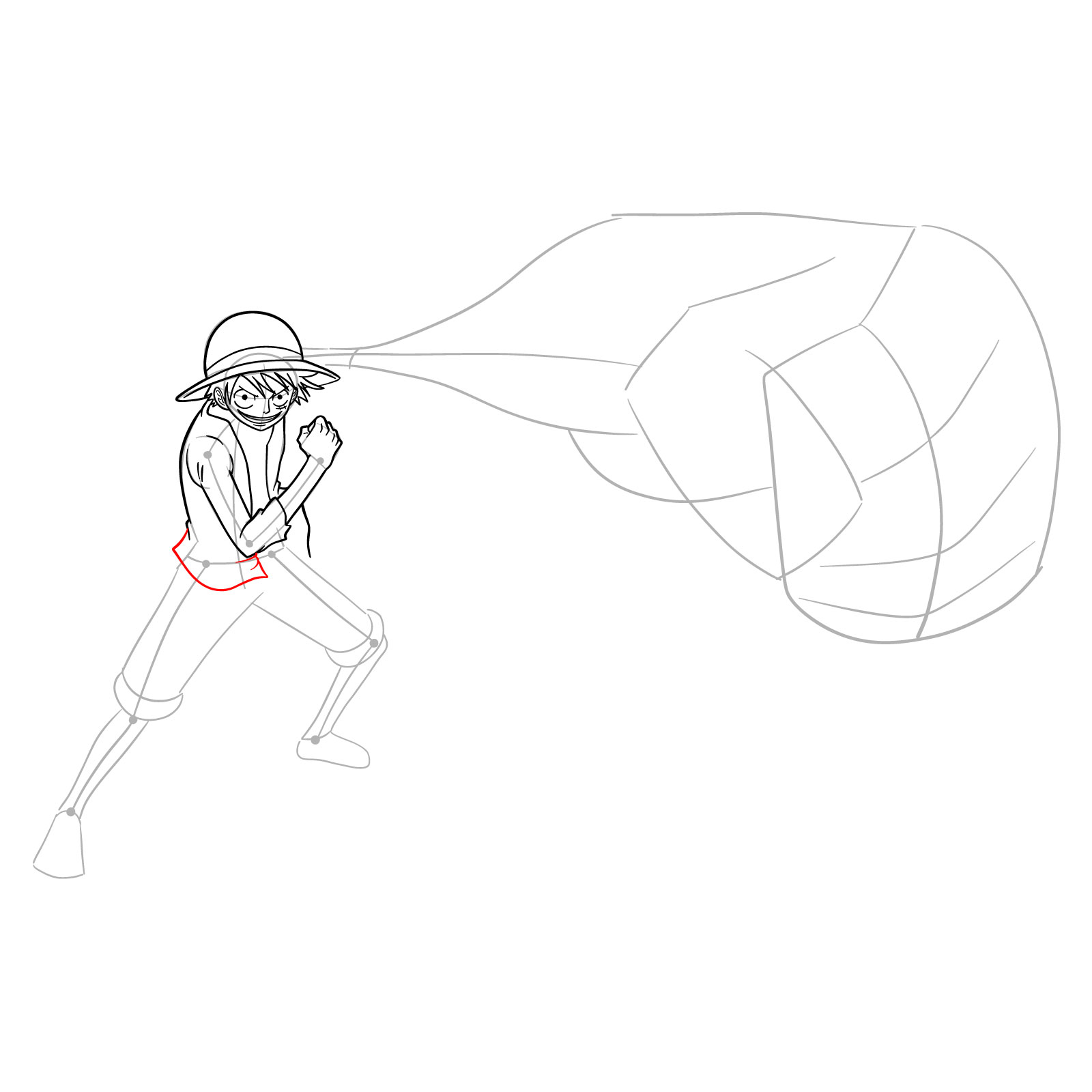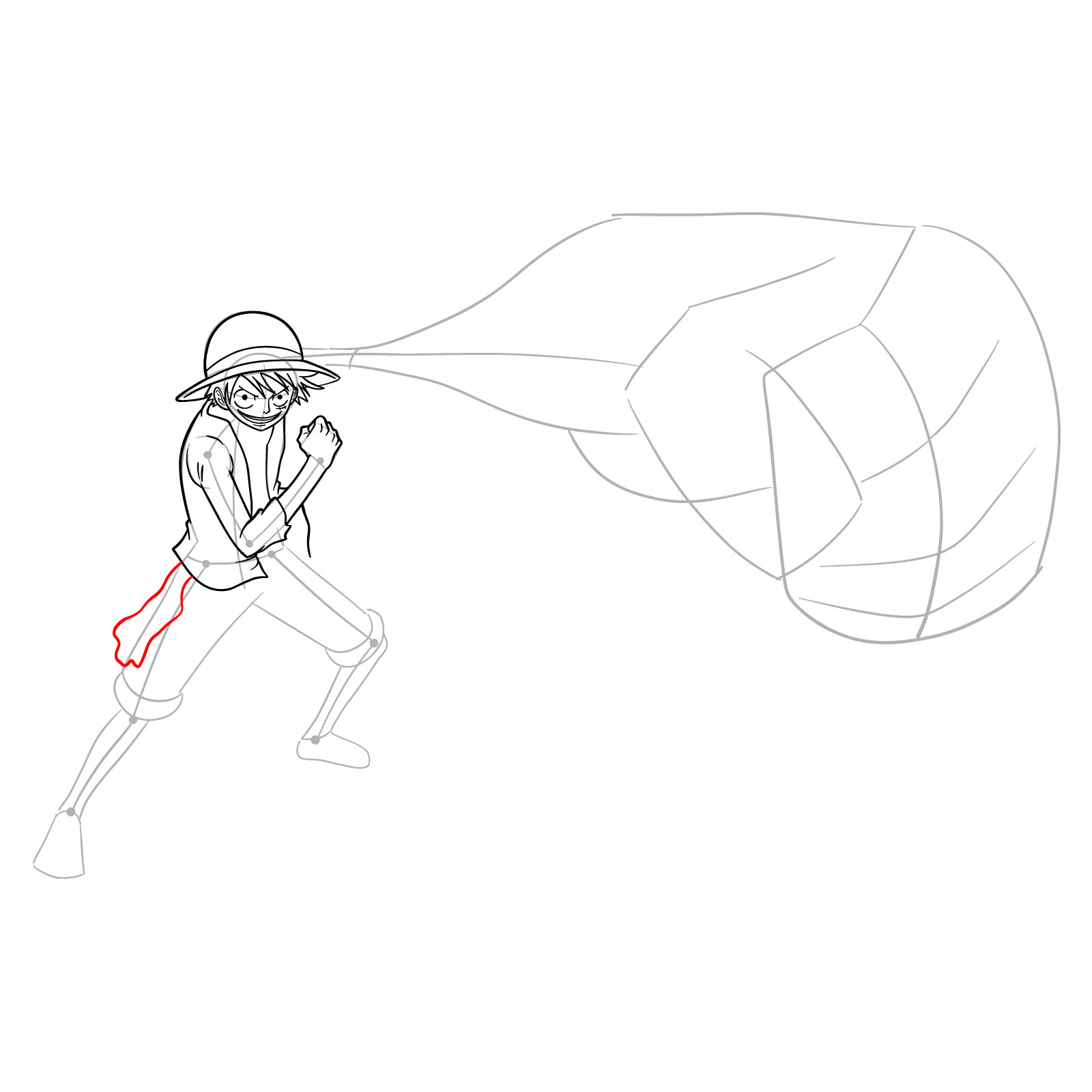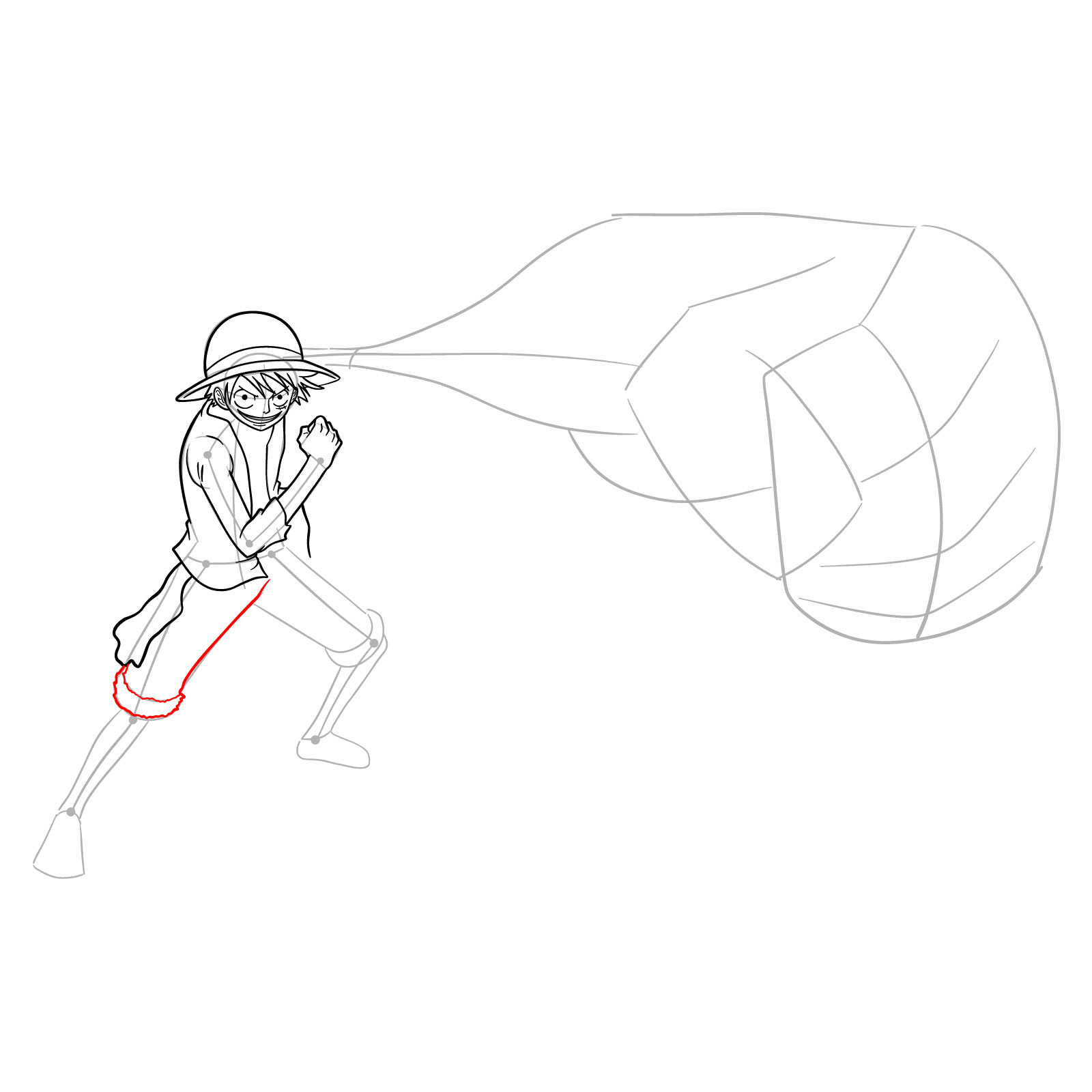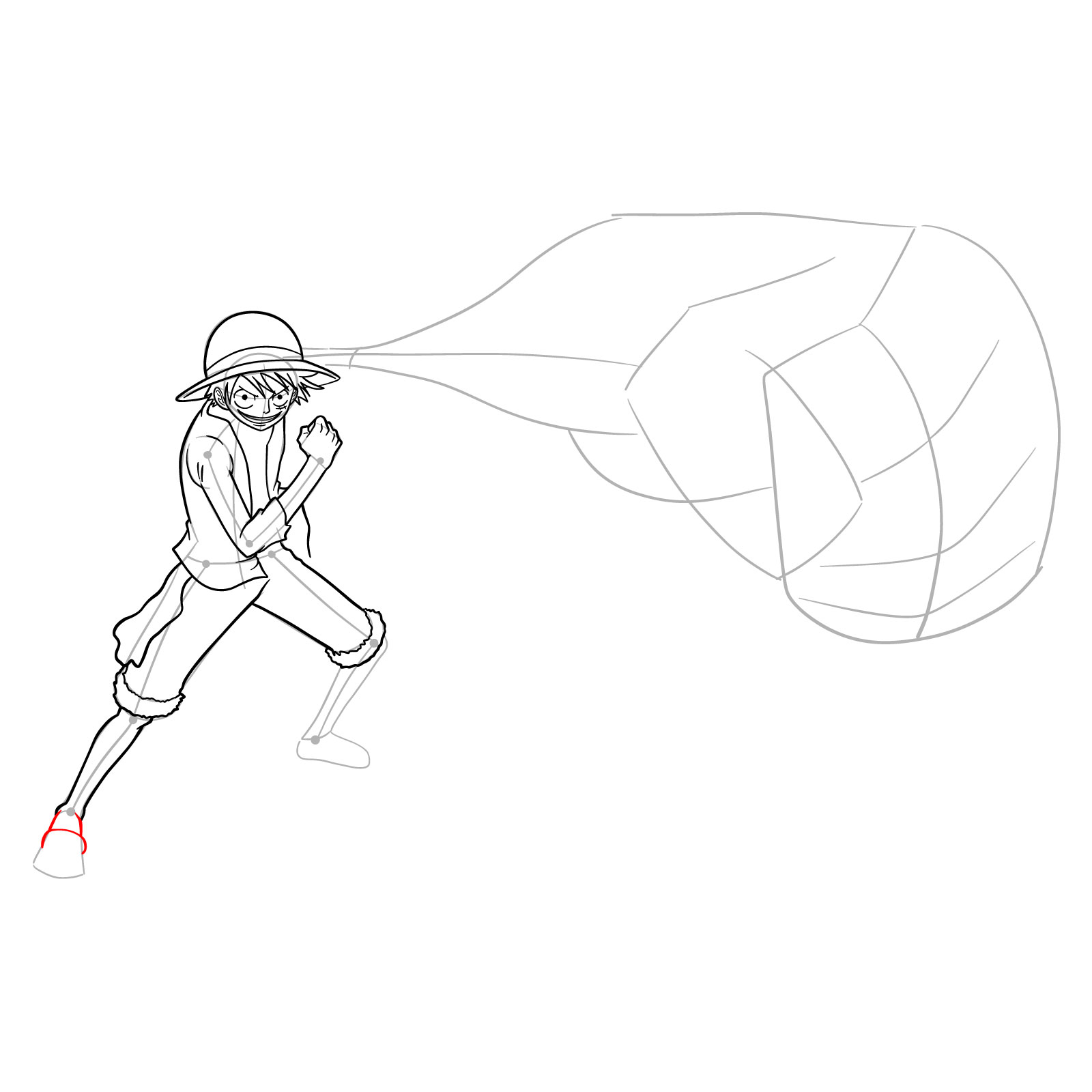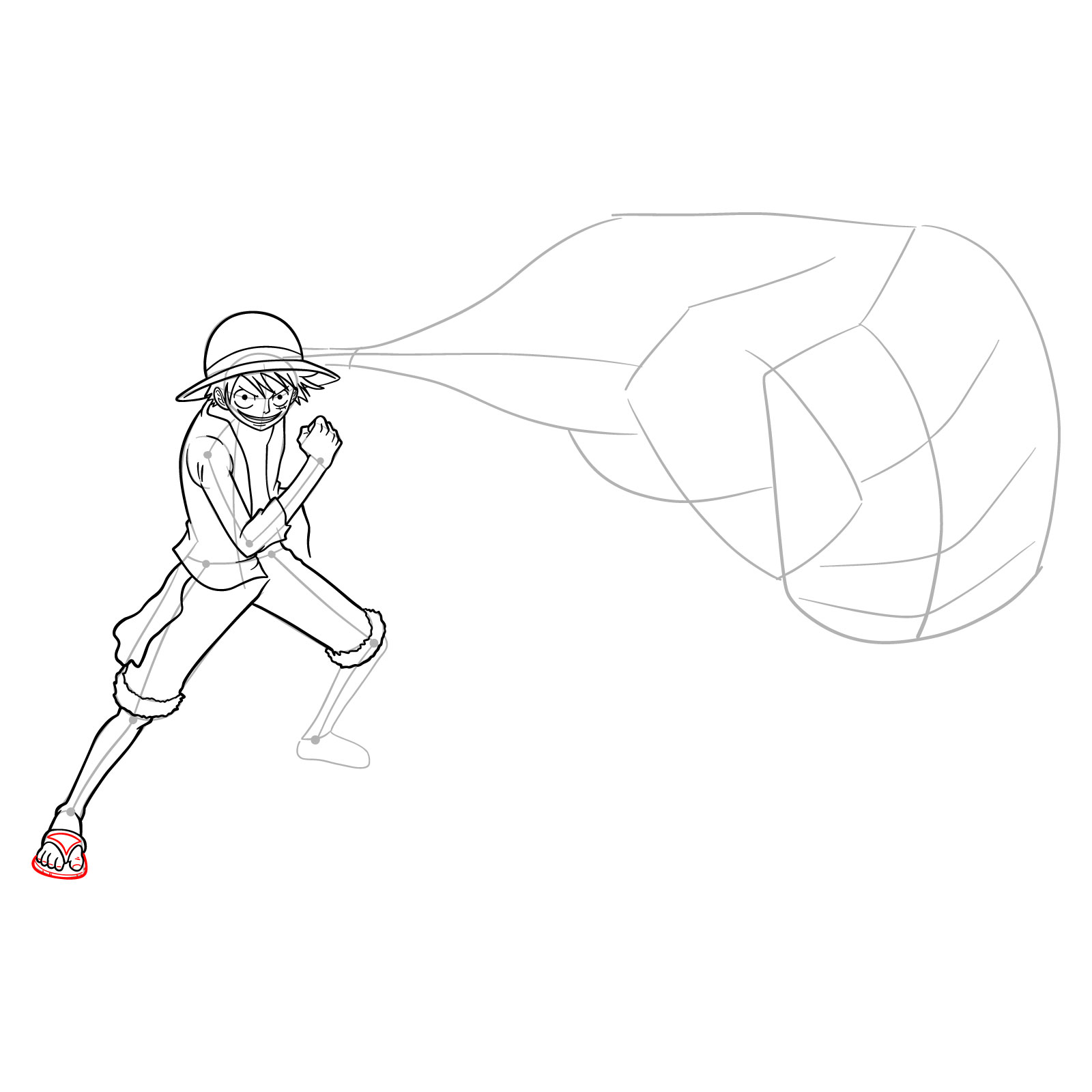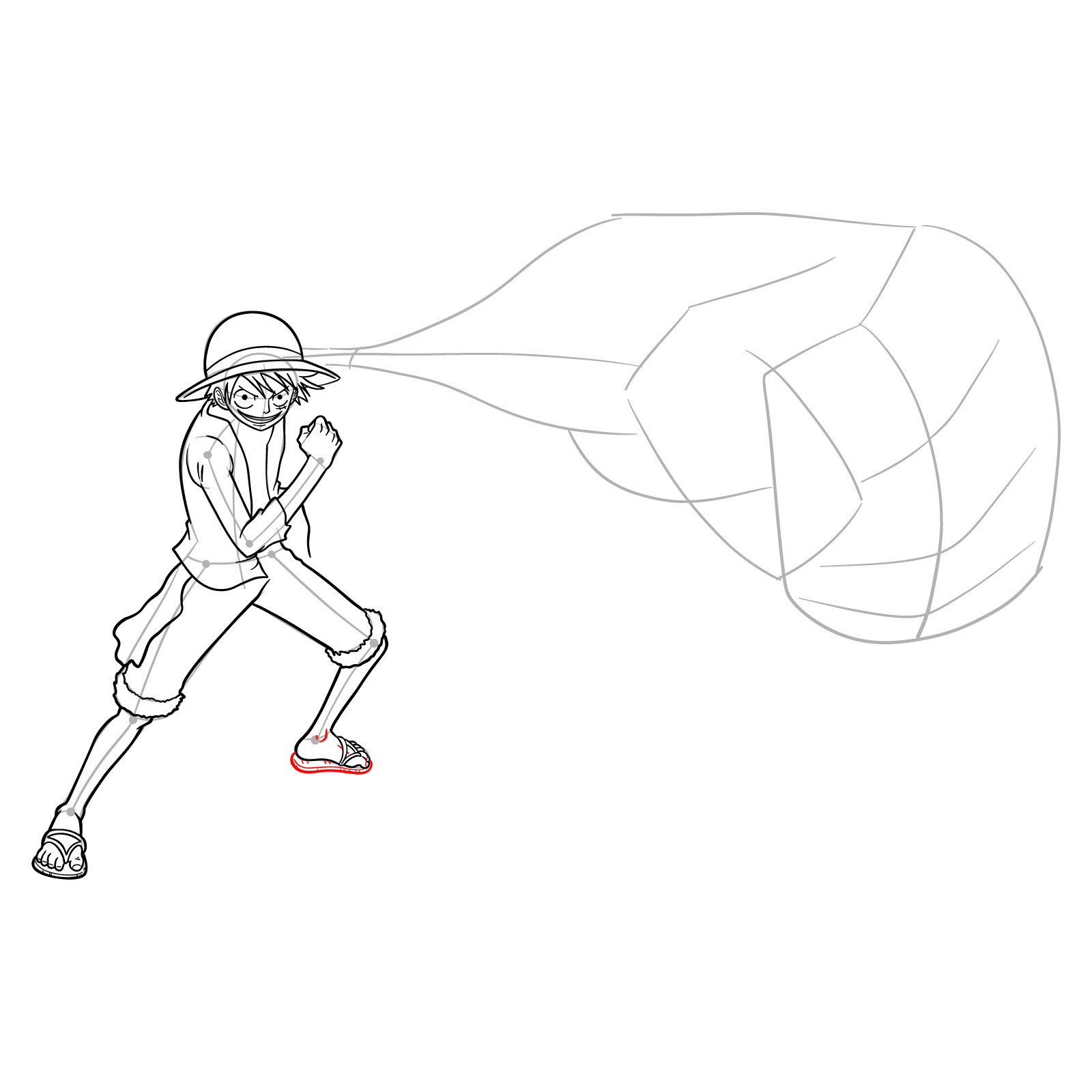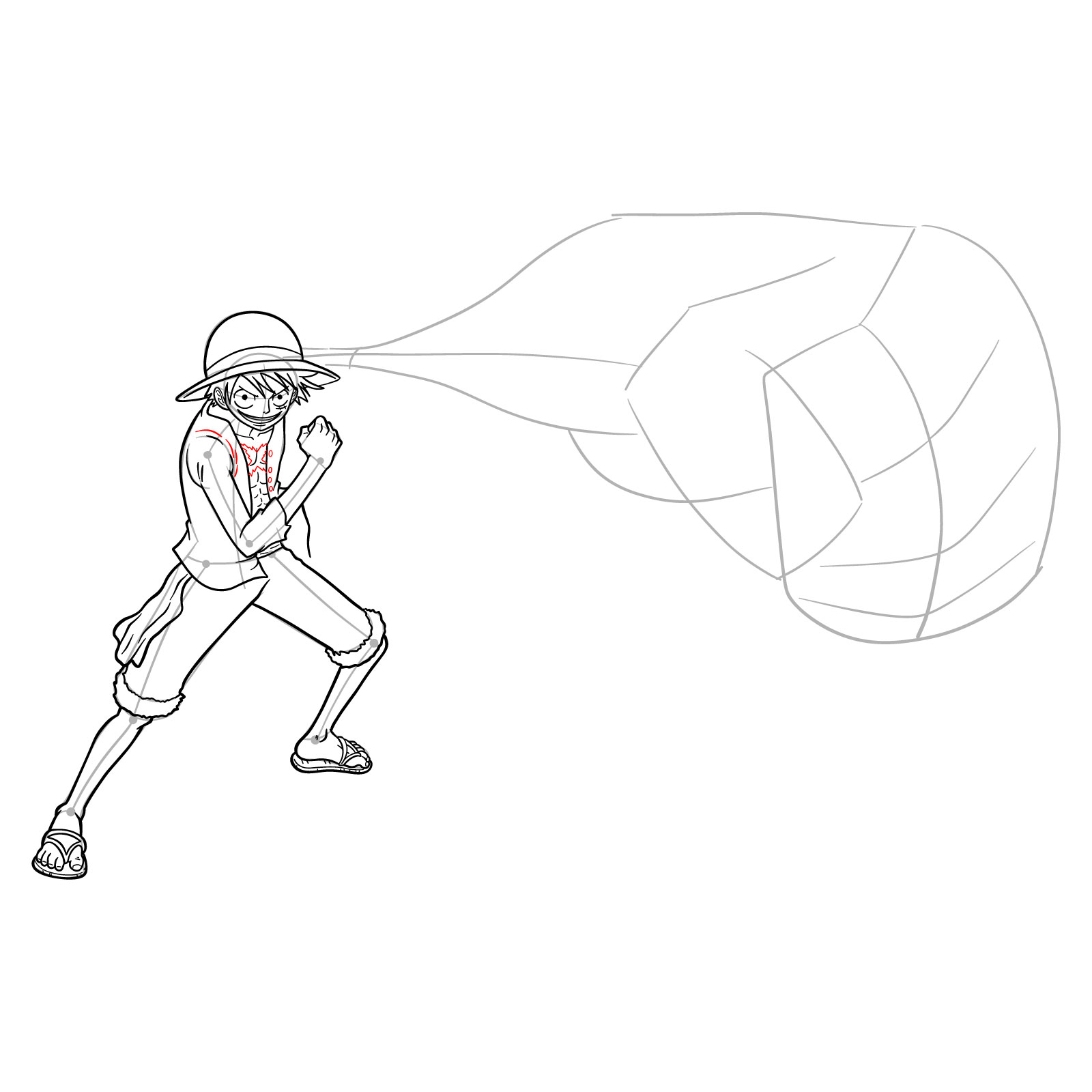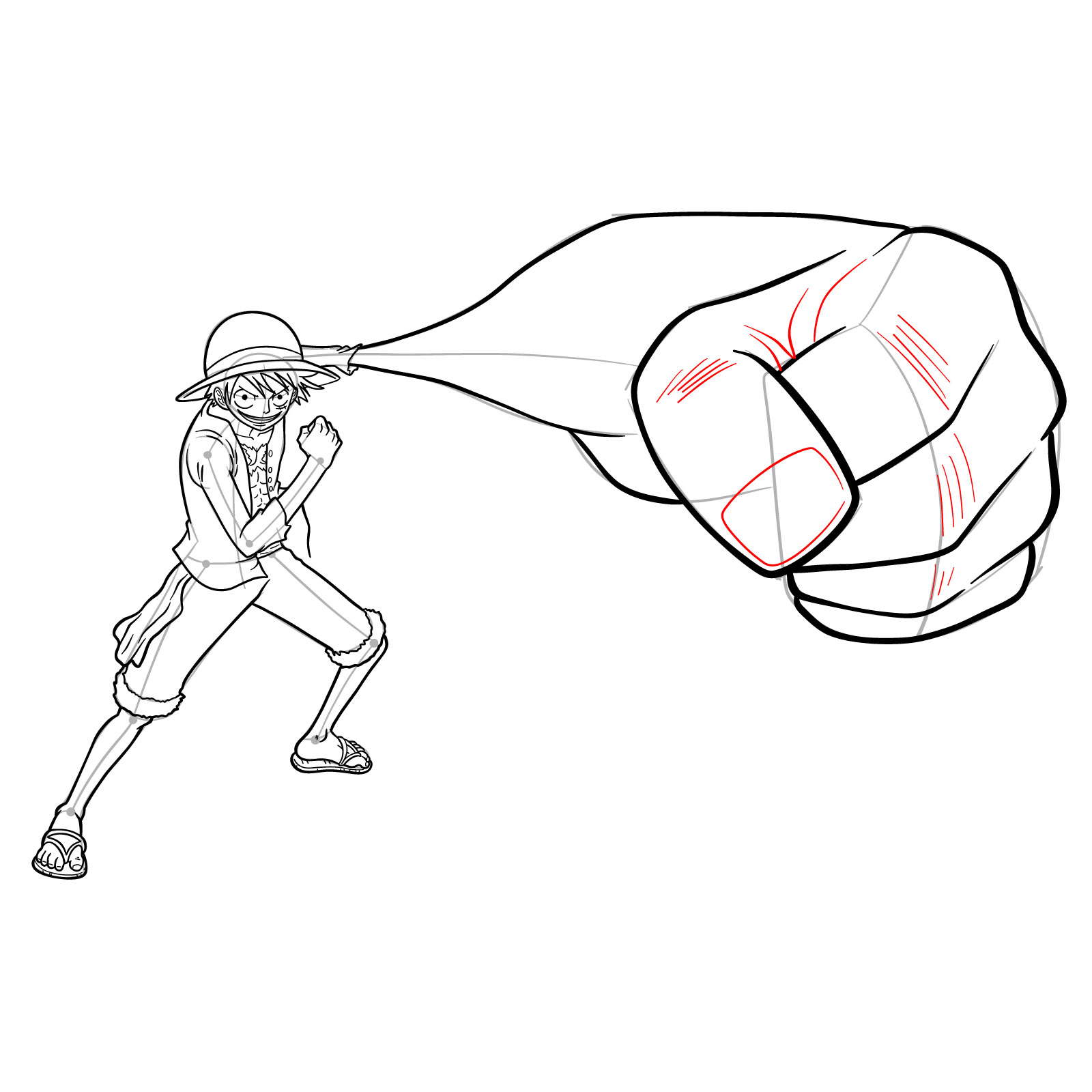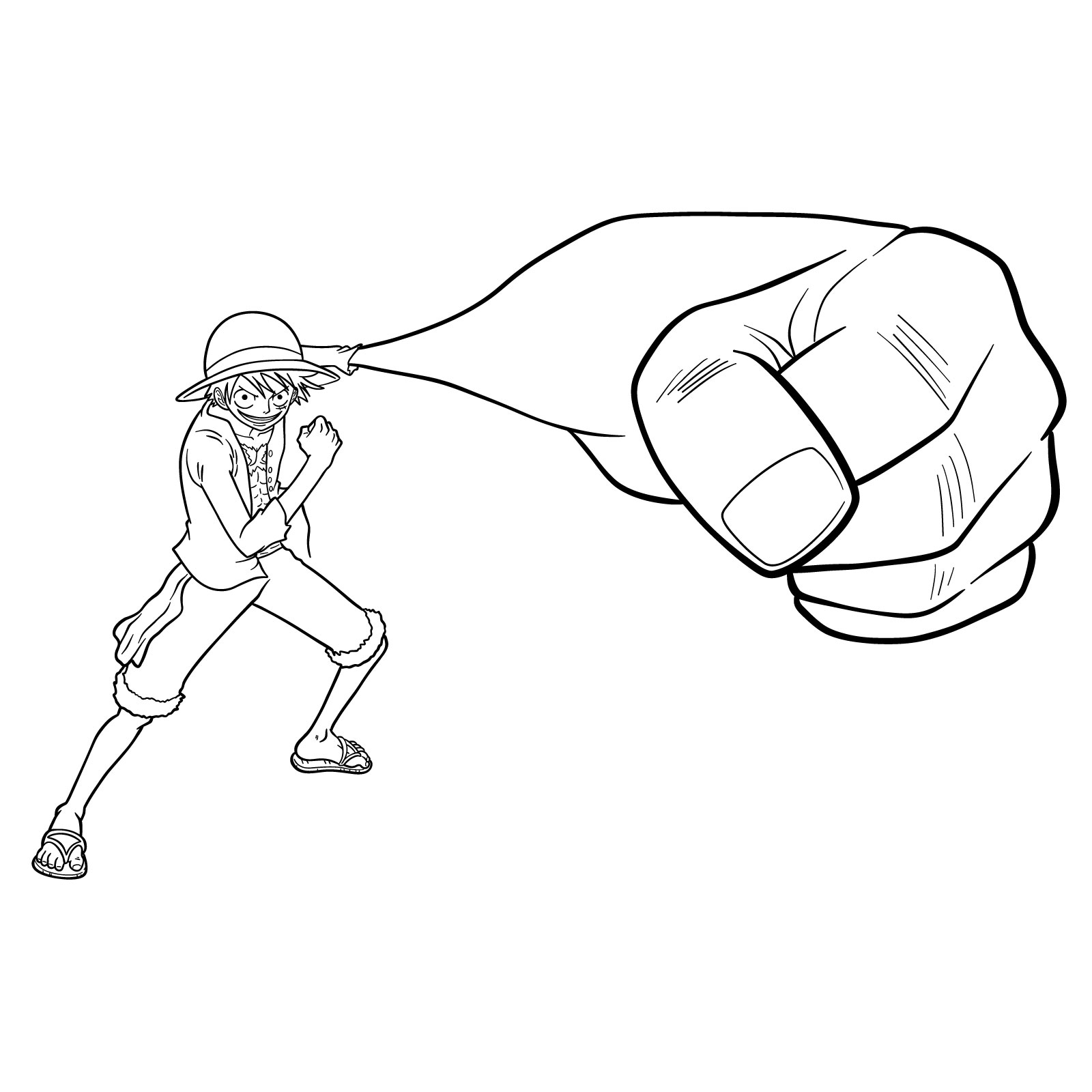 Explore More Characters to Draw Next
If you've enjoyed capturing the dynamic energy of Luffy's Third Gear with Armament Haki, why not take your drawing skills even further? Here are some othe Luffy's forms and related characters you might find exciting to draw:
Nightmare Luffy: Embrace the dark and monstrous side of Luffy's powers with this terrifying form.
Luffy's Fourth Gear Snakeman: Dive into the fast-paced and flexible movements of Luffy's Snakeman form.
Other One Piece Characters: Explore the vast world of One Piece and bring to life beloved characters like Zoro, Nami, or even the enigmatic Trafalgar Law.
By challenging yourself to draw different characters and exploring their unique abilities, you'll expand your artistic horizons and unlock new levels of creativity.
Support SketchOk: Empower the Artistic Community
Creating these drawing guides is a labor of love, and your support can help me continue providing free tutorials for aspiring artists like you. By donating, you can contribute to the development of new drawing guides and suggest ideas for future tutorials.
Additionally, you can help us reach more artists by sharing the link to this drawing guide with your friends, fellow artists, and on social media. The more people we inspire to unleash their creativity, the stronger our artistic community becomes.
Don't forget to follow SketchOk on our social media platforms:
Stay connected with SketchOk to receive updates on new drawing guides, tips, and inspiration. Together, we can nurture a vibrant and supportive community of artists.
Thank you for your support and happy drawing!