Artistry and magic intertwine when we delve into the universe of Winx Club, especially when the spotlight is on Bloom, the Guardian Fairy of Domino. As a central character, her face is a tapestry of emotions and stories. Our guide on how to draw Bloom's face is tailored to help you grasp her intricate features and expressions, ensuring your artwork radiates with the same magic as Alfea College.
Bloom's Face: Distinctive Features to Focus On
Expressive Eyes: Bloom's eyes are reflecting her determination, leadership, and compassion. They're almond-shaped with thick lashes, a hallmark of her charm.
Defined Face Structure: Bloom has a slightly oval face, accentuated by her high cheekbones and slender jawline.
Understanding the Guide
Before we embark on our drawing journey, it's essential to understand the guide's color-coded system. We have devised a strategic color palette to make your drawing process as smooth as possible:
Red Color:

Highlights the step you should currently focus on.

Black Color:

Denotes lines you've already drawn in previous stages.

Grey Color:

Represents the basic proportional sketch that acts as your roadmap.
Our guide consists of 12 distinct steps, starting with creating a fundamental sketch to capture Bloom's proportions. Upon reaching the final stage, budding artists can choose to ink their sketch. Once the ink settles and dries, gently erase the initial pencil strokes, revealing a refined and clean drawing.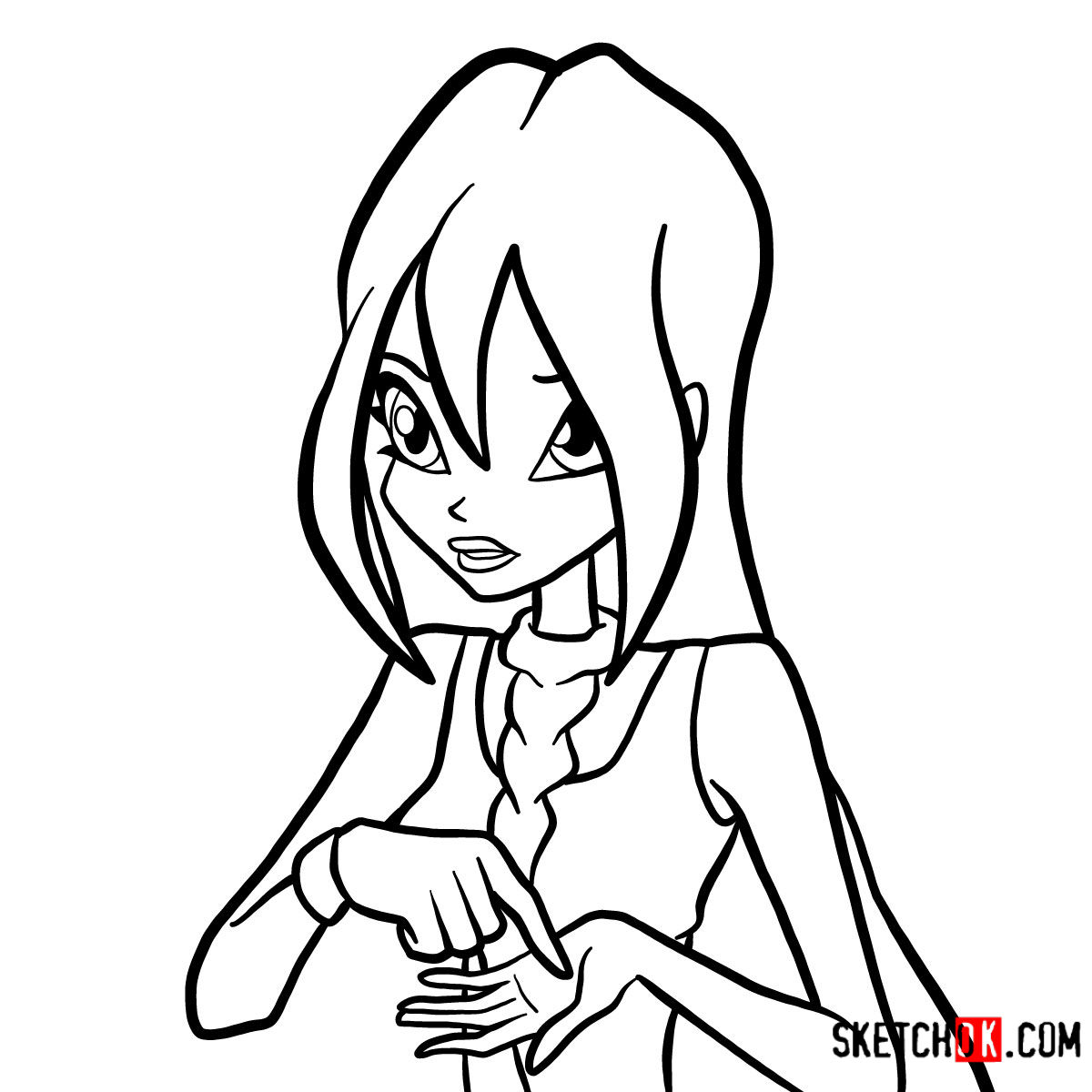 As we reach the end of our artistic journey, I want to take a moment to thank all budding artists who chose to bring Bloom to life on paper. Sharing your masterpieces with the world adds to the collective beauty of the art community. Consider sharing this guide with others and helping them embark on a similar magical journey. If you found this guide helpful and wish to see more like it, consider donating. Every contribution aids us in creating free, high-quality drawing tutorials. By donating, you can also suggest new tutorial ideas, helping us cater better to our community's needs.
For daily inspiration and updates, don't forget to follow us on Facebook, Instagram, and Pinterest. Together, let's continue creating, sharing, and celebrating art.