Riven, the lone wolf of Winx Club, with his signature magenta hair and mysterious aura, has always been an intriguing figure. But have you ever thought of bringing him alive on your drawing board? If yes, this step-by-step guide on how to draw Riven is the perfect start for you.
The Essence of Riven: Key Features to Sketch
Short, spiked, magenta hair that defines his rebellious spirit.
Intense violet eyes, a window to his complicated emotions.
An athletic build, symbolizing his prowess in sports.
While sketching Riven, consider adding some characters close to him like Musa, his love interest, or even Bloom and Brandon, to bring more depth and dynamics to your art.
Decoding the Guide: Color Indicators and More
Every artist, be it a newbie or seasoned, benefits from guidance. Our guide uses a strategic color-coding system to simplify the process for you:
Red Color:

Represents the current step of drawing.

Black Color:

Denotes the lines you've drawn in the previous steps.

Grey Color:

Showcases the foundational sketch for proportion accuracy.
This guide breaks down the drawing process into 13 logical steps. The journey starts with a foundational sketch, crucial for nailing those proportions. By the end, artists have the choice to ink their masterpiece. Remember to wait for the ink to dry to avoid smudging, and gently erase the pencil lines thereafter.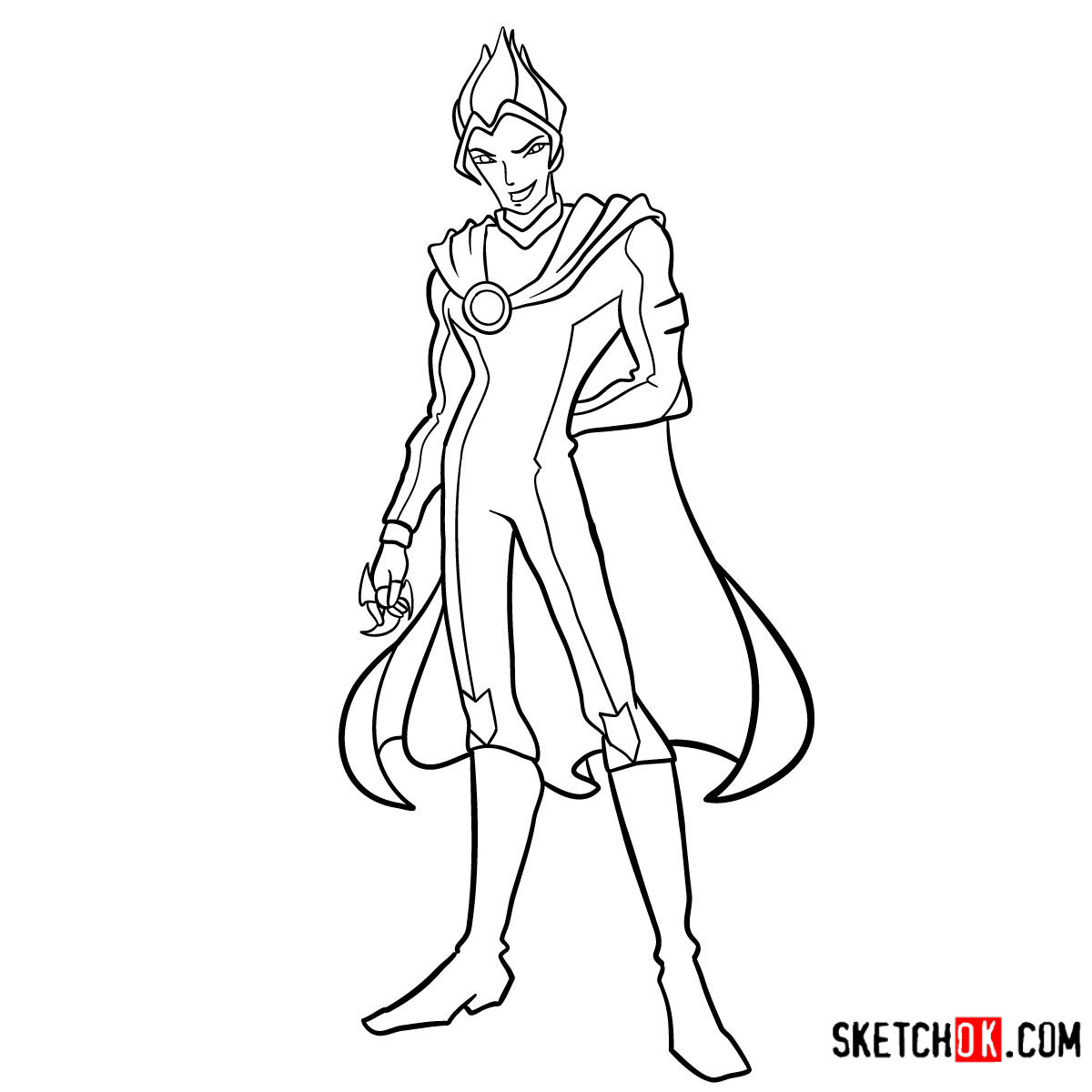 Thank you for diving into the world of Winx with this guide on how to draw Riven from Winx. If this tutorial sparked a creative flame, share it far and wide, letting fellow artists benefit too. For those inclined, consider supporting the SketchOk project with a donation. Your contributions help us craft more such free drawing tutorials and consider your suggestions for future guides. Don't forget to follow us on Facebook, Instagram, and Pinterest to stay updated. Your support keeps the art alive!