Are you a fan of Monster High and its incredible cast of characters? If so, you'll love learning how to draw Gigi Grant, the sweet and charming genie who has captured the hearts of many. In this article, we'll take you on a journey to discover Gigi's story, her relationships, and her appearance. Follow along as we guide you through the drawing process in a series of images, showcasing the different stages of creating your masterpiece.
Gigi Grant's Story and Relationships
Before we dive into the drawing process, let's take a closer look at Gigi's backstory. As a genie, Gigi spent most of her life confined to a lantern, granting wishes to those who discovered her. However, when her shadow sister, Djinni "Whisp" Grant, took over her duties, Gigi was set free to explore life outside the genie realm. Now, with her wish-granting powers greatly diminished, Gigi is still adapting to her new environment, but she's excited for the opportunity to experience life on her own terms.
One of Gigi's most notable relationships is with Howleen Wolf, the monster who found her lantern. They quickly became friends, and Gigi also developed friendships with Twyla Boogeyman and Iris Clops due to their shared passion for astronomy. Additionally, Gigi admires Catty Noir for her ability to make her dreams come true.
Appearance and Drawing Guidelines
Gigi is a genie with pink skin, freckles across her nose, and hot pink hair styled like a scorpion's tail. She has a unique and fascinating appearance that sets her apart from other Monster High characters. As you learn how to draw Gigi Grant, keep in mind the distinct features that make her truly special.
Throughout the drawing guide, you'll find a series of images representing a step-by-step process. The red color in each image shows the current drawing step, the grey color displays the basic proportions sketch, and the black color highlights the previously drawn lines. Start by making a basic sketch, then add details to bring Gigi to life. Once the sketch is finished, proceed to inking and coloring your masterpiece.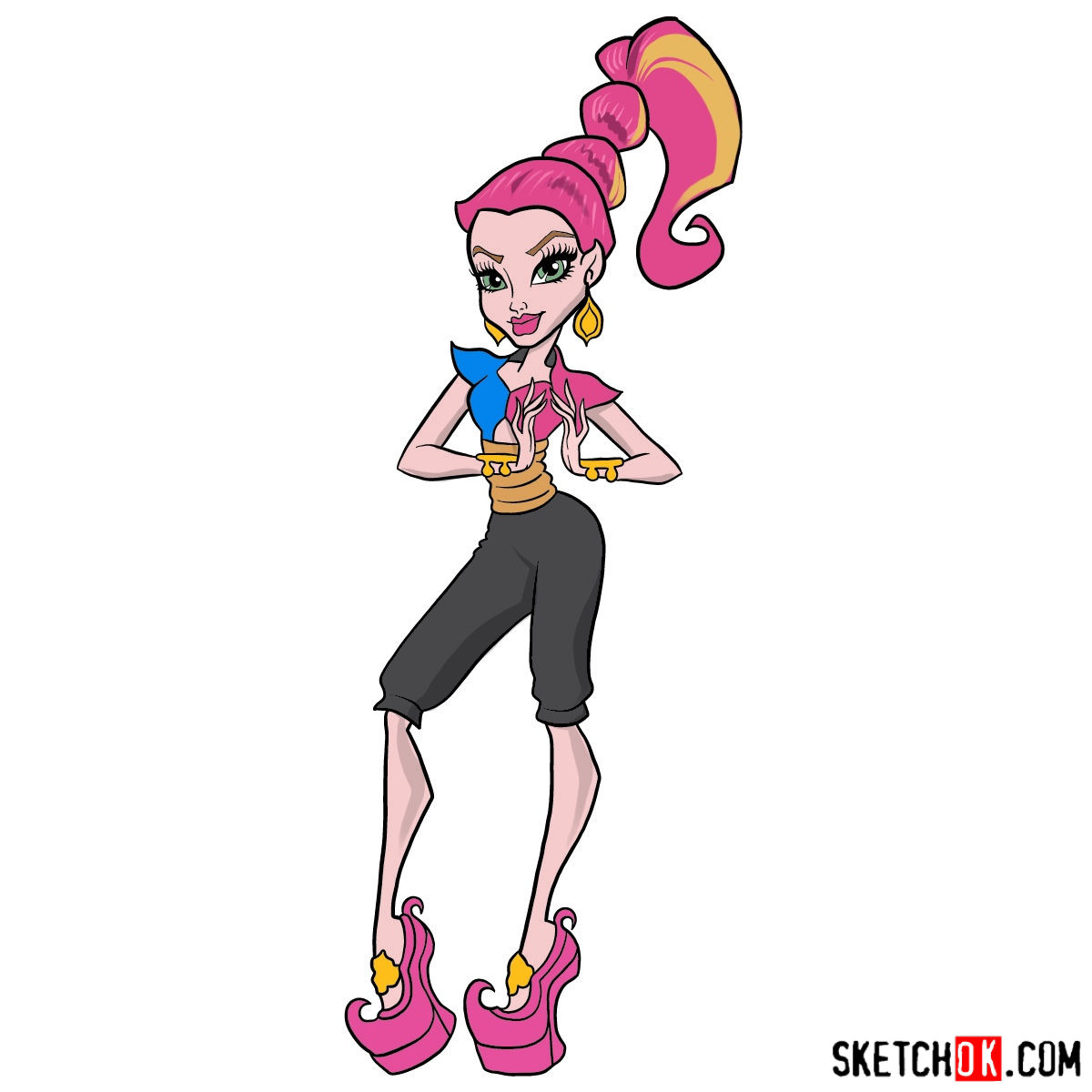 By following this guide, you'll be well on your way to mastering how to draw Gigi Grant. Remember to pay attention to her unique appearance and capture her magical essence in your drawing. Most importantly, have fun and let your creativity shine as you bring this beloved genie to life!