Welcome to our guide on how to draw Lagoona Blue, one of the most beloved characters from the Monster High franchise. With her stunning sea-inspired looks, Lagoona is a popular choice for fans who want to explore their creativity and artistic skills. In this guide, we'll take you through the step-by-step process of drawing Lagoona, from the basic sketch to the final colored version. Whether you're a seasoned artist or just starting out, our guide will help you bring Lagoona to life on the page.
Getting to Know Lagoona Blue
Lagoona Blue is a fan-favorite character from the popular Monster High franchise. She is the daughter of a sea monster and is known for her love of water and aquatic life. Lagoona is a loyal friend to those around her and is often seen hanging out with her besties, including Cleo de Nile and Draculaura.
As an artist, it's important to understand the unique features and personality traits of the character you are drawing. Lagoona's distinctive blue skin, webbed hands, and fish-like fins are just a few of the traits that make her stand out from the crowd. But beyond her physical appearance, it's also important to capture her playful and adventurous spirit in your artwork. Whether she's exploring the ocean or hanging out with friends, Lagoona is always up for a good time.
So, before you start drawing, take some time to get to know Lagoona Blue and the world she lives in. Watch some episodes of Monster High, read up on her backstory, and really try to understand who she is as a character. This will help you create a more accurate and engaging depiction of her in your artwork.
Making a Splash: Draw Lagoona Blue Step by Step
Are you ready to take on the challenge of drawing the fierce and fabulous Lagoona Blue? Don't worry, with this step-by-step guide, you'll be able to create a stunning portrait of the Monster High fashionista in no time. Here are some key benefits of using our guide:
Our guide breaks down the drawing process into 17 easy-to-follow steps, making it simple for even beginner artists to get the hang of it.
Each step is accompanied by a detailed illustration, so you can see exactly what you need to do at each stage.
By the end of our guide, you'll have a beautiful drawing of Lagoona Blue that you can be proud of. So grab your pencils and let's get started!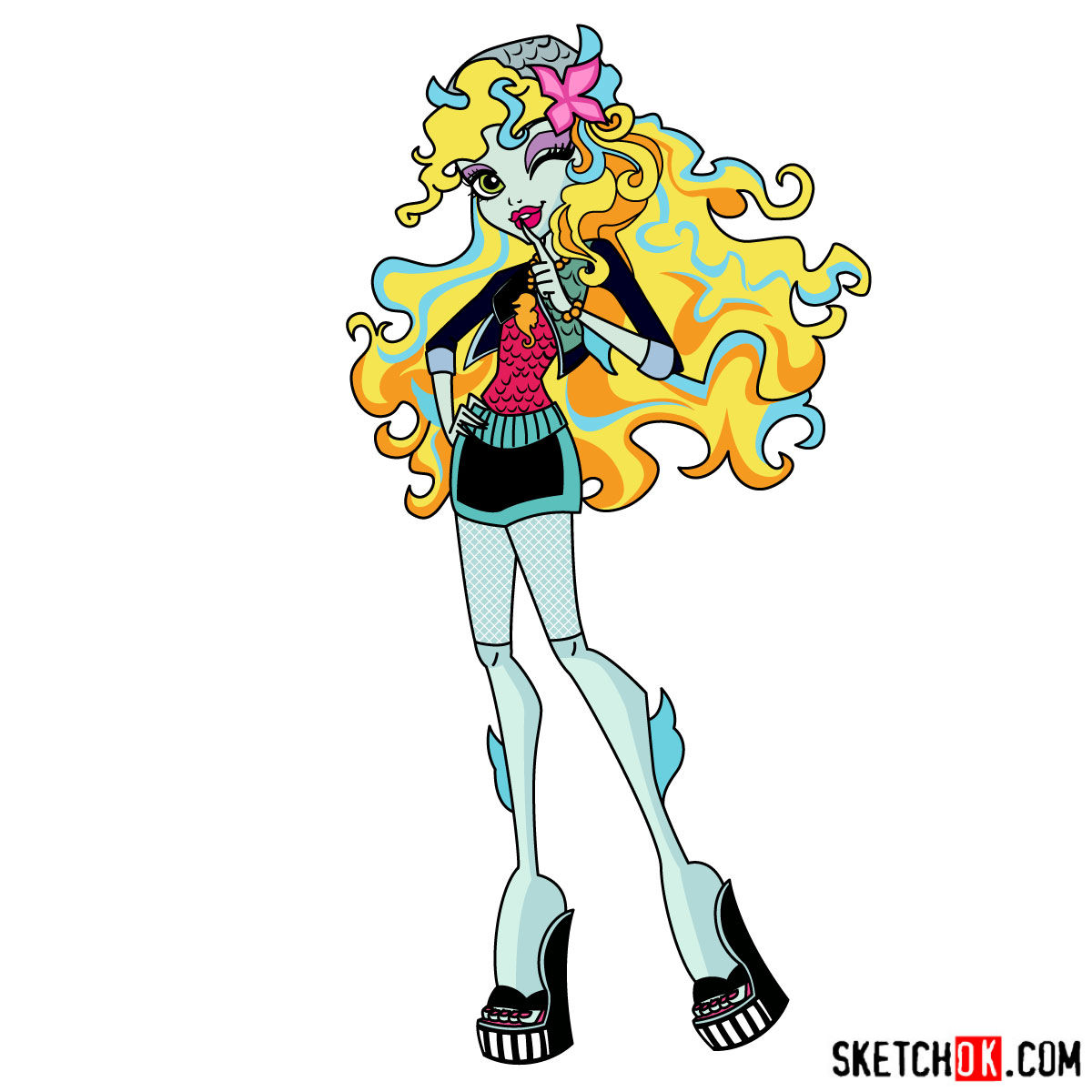 Other Monster High Characters to Draw
While Lagoona Blue is a fan favorite, there are plenty of other Monster High characters to draw using similar techniques. Here are a few more characters to consider:
These characters offer a range of unique features and challenges for artists to explore. So don't be afraid to try drawing them and see what creative twists you can add to your artwork!
Time to say Sea You Later: Closing Thoughts on Drawing Lagoona Blue
In conclusion, we hope this guide has been helpful in teaching you how to draw the spooktacular Lagoona Blue. From learning about her character to following our step-by-step instructions, we hope you were able to bring this Monster High favorite to life on the page. But don't stop there! Keep practicing and exploring your creativity, and you'll be surprised at how far your art skills can take you. Who knows, maybe you'll even create your own monster character someday!
If you've enjoyed this guide and want to see more content like this, be sure to follow our blog and share your artwork on social media with the tag #drawwithus. We love seeing the amazing creations our readers come up with! And if you're feeling extra generous, you can also support us by checking out our other art resources or making a donation to help us continue creating fun and educational content for aspiring artists like you. Thank you for joining us on this ghoulishly good artistic adventure!