Welcome to our in-depth guide on how to draw Avea Trotter. Known for her vibrant hybrid nature, Avea is an iconic character introduced in 2014 at Monster High. Her unique blend of harpy and centaur has made her an enchanting character for artists to recreate. And now, it's your turn to bring her to life on your canvas!
Embarking on Avea's Aesthetic Journey
Before we embark on this artistic adventure, let's delve deeper into the enigmatic and charismatic presence of Avea Trotter:
Personality: Avea's stubborn and opinionated demeanor, complemented by her leadership qualities, makes her a figure of authority and charm. Her journey from feeling outcast to finding acceptance at Monster High is a tale many resonate with.
Appearance: A striking blend of feathery wings, vibrant hair, and a centaur's majesty, Avea's appearance is both challenging and rewarding to recreate. Her pale purple skin and the darker shade on her horse part add depth to her design. The blue ruffles, the iconic black top hat, and the skull tattoos on her flank elevate her style.
Cracking the Color Code of our Guide
Our guide is structured to ensure an intuitive and smooth sketching experience. Here's a quick run-through:
Red Color:

Focus on this! This is your current step in the drawing process.

Grey Color:

This depicts the basic sketch and proportions. It sets the foundation for your drawing.

Black Color:

These lines represent the portions you've previously sketched.
The guide comprises 20 steps. Remember, the initial image aims to set the basic structure. Use gentle strokes for these foundational sketches. Once your sketch is ready, consider inking it. Let the ink dry completely before erasing any pencil marks to ensure a clean final piece. The concluding image will provide you with a colored reference for Avea Trotter's majestic persona.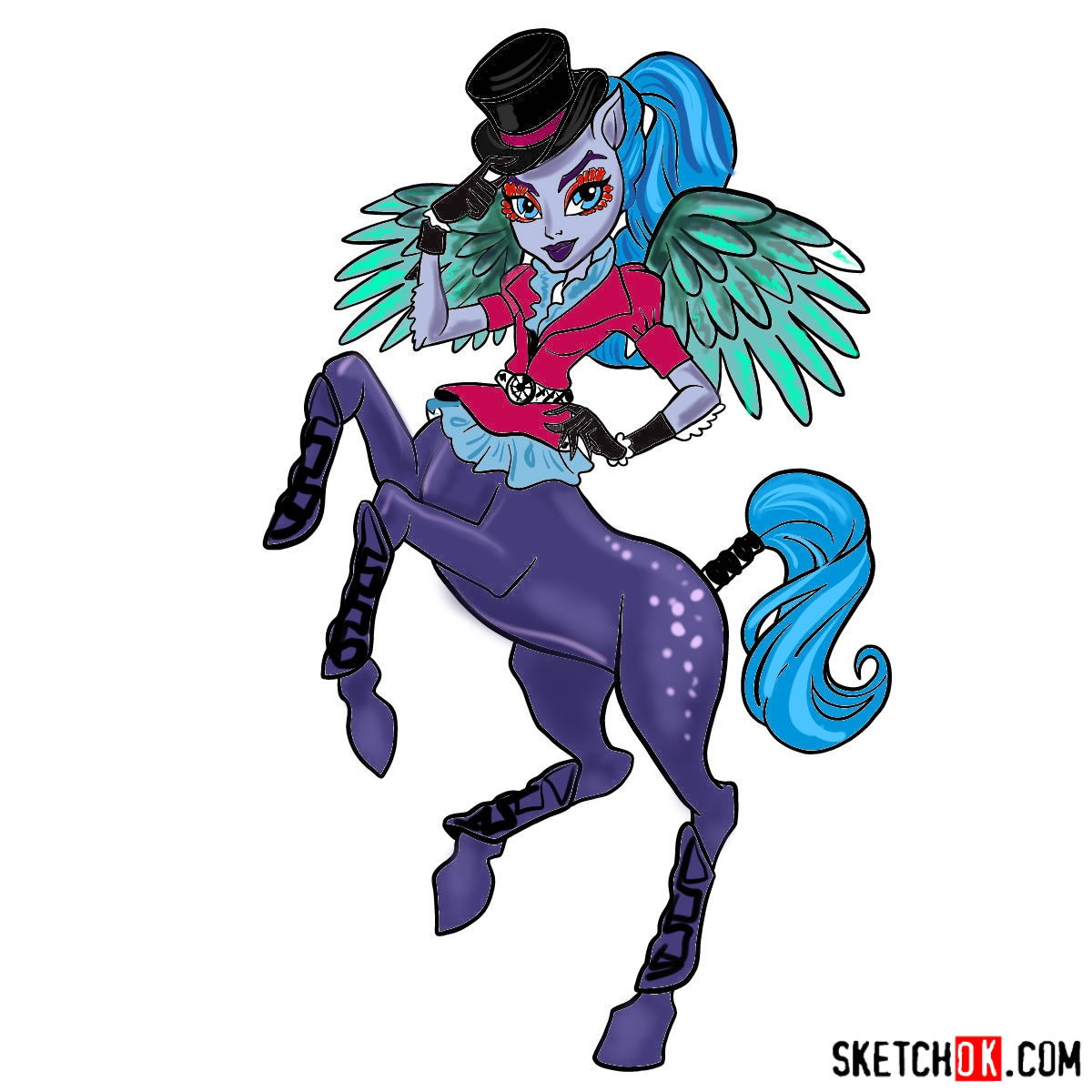 Having completed your drawing of Avea Trotter, you've not just honed your skills but also imbibed a part of Monster High's magical universe. I passionately curate these guides and, by donating, you empower the creation of more such free drawing tutorials. Your support helps in brainstorming new ideas and maintaining the SketchOk project.
If you found this how to draw Avea Trotter tutorial beneficial, consider sharing the link on your preferred platforms. Let others in on the magic of drawing!