Unleash your creativity by learning how to draw HooDude VooDoo, the endearing and dramatic ragdoll character from Monster High. In this tutorial, we'll provide you with color guidelines and essential character information to help you create an amazing HooDude drawing. We'll give you the necessary tools to bring this unique character to life on your own.
HooDude VooDoo:  Story, Appearance, and Relationships
HooDude VooDoo is a human-sized living voodoo doll, created by Frankie Stein to be her emergency boyfriend. However, Frankie soon realized she wasn't ready for a relationship and broke it off, leaving HooDude heartbroken. After some time, he found other things to enjoy in life and became a kind soul, always willing to help and maintain a positive outlook.
As a walking rag doll, HooDude has grey skin with patches of various hues of blue and visible stitches. He has blue felt strands for hair, a black nose, and two differently colored button eyes, just like his creator, Frankie Stein. Additionally, he has various nails sticking out of his body.
Frankie Stein, Heath Burns, and Scarah Screams are among the characters that have had significant interactions with HooDude. While Frankie is his creator, he has also formed friendships with Heath and Scarah. He was even Elissabat's date at one point, though the status of their relationship remains unclear.
Color Guidelines and Drawing Tips
Keep these color guidelines in mind while working on your HooDude VooDoo drawing:
Red color in the image represents the current drawing step.
Grey color signifies the basic proportions sketch.
Black color in the image shows the previously drawn lines.
Begin by creating a basic sketch to establish the proportions and overall pose. Next, add details to HooDude's features, clothing, and accessories. Once your sketch is complete, proceed to inking and finally, coloring your artwork.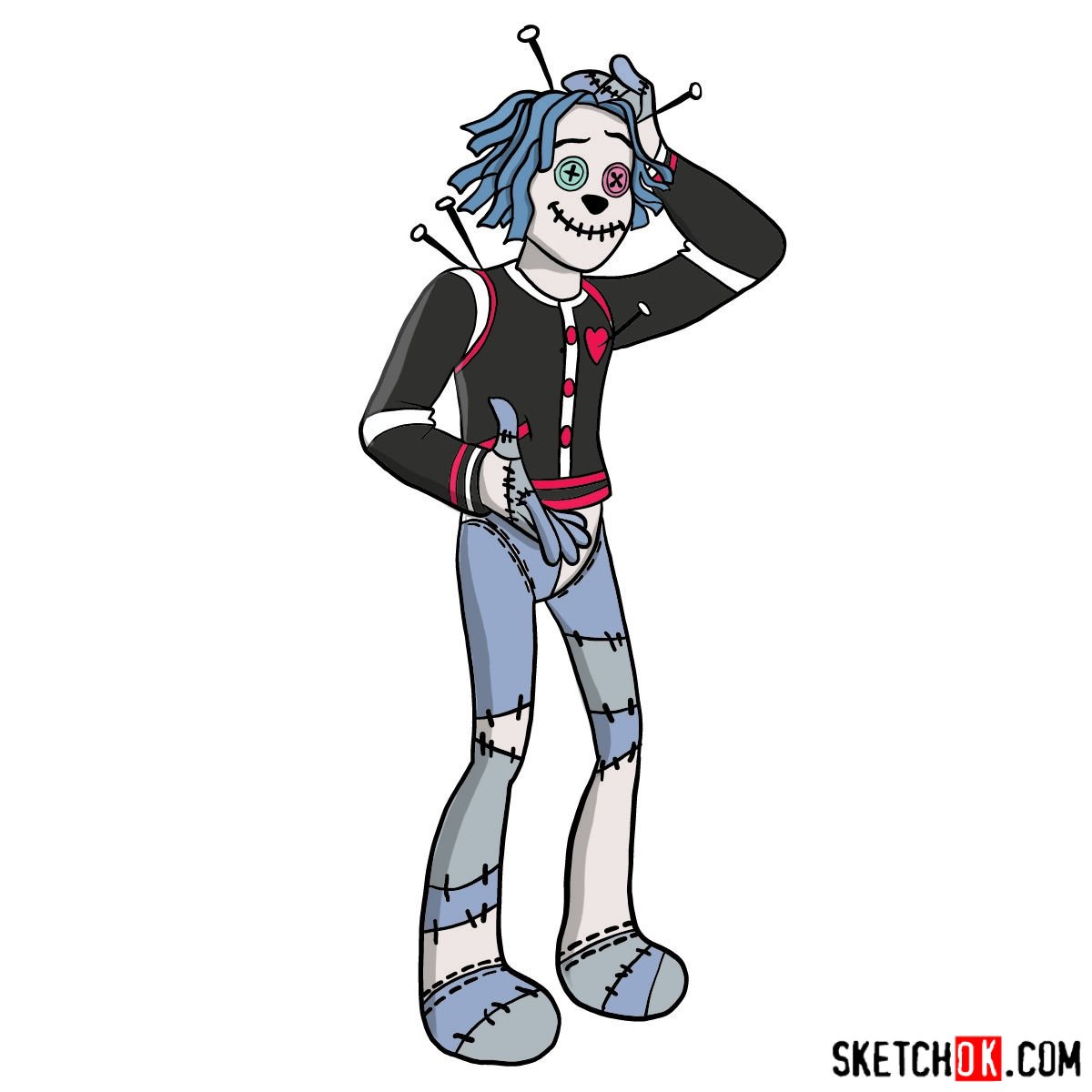 Conclusion
Congratulations on learning how to draw HooDude VooDoo. Practice your sketching, inking, and coloring skills as you bring this lovable and dramatic ragdoll character to life in your sketchbook.