The Snow Wraith Dragon, a magnificent medium-sized Strike Class dragon, has captured the imagination of many from its first appearance in "Dragons: Race to the Edge." If you've been fascinated by its captivating beauty and intricate details, you're in the right place. Learn how to draw the Snow Wraith Dragon and bring this creature to life on your canvas.
Character Traits to Take Note of
Drawing the Snow Wraith Dragon is a delightful challenge, given its unique characteristics. Here are some crucial aspects to focus on:
All-white coloration for natural snowy camouflage
Thermal vision eyes that have a mysterious glow
Distinct teeth structure, especially the tusks
Unique wing structure that distinguishes it from other dragons
Long tail covered with menacing spikes
While you're mastering the Snow Wraith, why not consider adding characters like the Night Fury to your drawing repertoire? They not only share a mystical aura but were once conceptualized to be closely related.
Tips for Sketching the Snow Wraith
Always remember to start with a light hand, sketching the basic proportions first. This foundational sketch, although not the final drawing, serves as a guide for your masterpiece. Also, paying attention to the Snow Wraith's unique features, such as its eyes and wings, can bring more authenticity to your artwork.
Navigating the Drawing Tutorial
Our guide offers 14 comprehensive steps to lead you through sketching the Snow Wraith Dragon. The first stage focuses on crafting the foundational sketch. Remember the color codes to make your journey smoother:
Red Color:

The current drawing step you're on.

Black Color:

Lines drawn in previous steps.

Grey Color:

The basic proportions and foundational sketch.
After completing the sketch, you might wish to ink it for added clarity and sharpness. However, ensure that the ink dries completely before erasing the pencil lines. This not only preserves your hard work but also gives a clean, professional finish.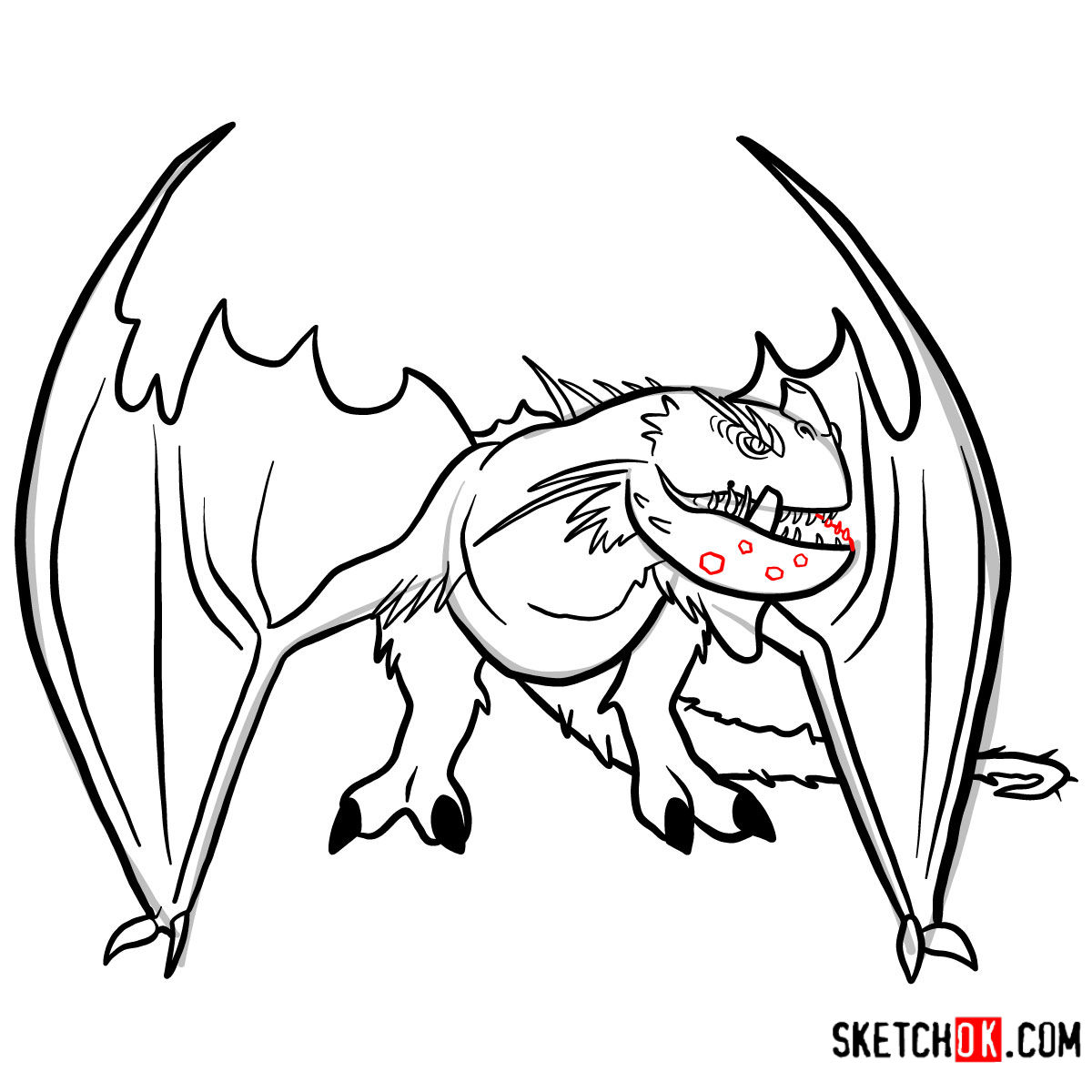 Did You Know?
The Snow Wraith Dragon was originally named the Snow Fury, intended to be a relative of the Night Fury. However, to maintain the uniqueness of Night Furies and Light Furies, the Snow Wraith underwent a transformation, both in name and design.
Mastering how to draw the Snow Wraith Dragon is a rewarding experience. If you found value in this guide, consider sharing the link with fellow art enthusiasts. Your support keeps the creative flames at SketchOk burning bright. And if you wish to propel us further, donations are always appreciated. By donating, you also get the chance to suggest future tutorial topics, ensuring your favorite subjects get prime attention.
Stay Connected: Follow us on Facebook, Instagram, and Pinterest. For those eager to support, here's the donation link. Happy drawing!