Discover the fascinating world of How to Train Your Dragon as we delve into the intricate details of sketching one of its most enigmatic creatures, The Whispering Death. This guide is your ultimate roadmap on how to draw The Whispering Death with finesse and precision.
Key Characteristics of The Whispering Death
Distinctive snake-like body, reaching approximately ninety-five feet in length.
Bulging eyes and a spiny face.
Six rotating rows of sharp teeth.
Spines and a horn protruding from various parts of its body.
The eerie sound it produces, reminiscent of hundreds of people whispering.
Drawing this dragon also gives you an edge to illustrate similar characters from the series, like the Screaming Death or the Skrill. And remember, while the Whispering Death has a fearsome reputation, capturing its essence through sketching can be a gratifying experience.
Tips for Sketching The Dragon
Always start with light pencil strokes for the basic sketch to ensure proportions are accurate. Focusing on the detailed description and understanding the dragon's anatomy will be your key to a successful drawing.
Understanding the Sketching Guide
Our guide is meticulously designed with high-quality images that sequentially take you through 20 pivotal steps to master the Whispering Death's sketch. These images, when followed attentively, promise to render an impeccable drawing.
Color Coding Deciphered
Red Color:

Represents the current step of your drawing.

Black Color:

Denotes the lines you've previously sketched.

Grey Color:

Highlights the basic proportionate sketch to guide you.
Starting with a fundamental structure to getting the proportions right, you'll find yourself engrossed in the world of dragons. The concluding steps involve inking the sketch, a technique that breathes life into your drawing. Remember, post inking, allow the ink to dry before you erase the pencil marks to prevent smudging.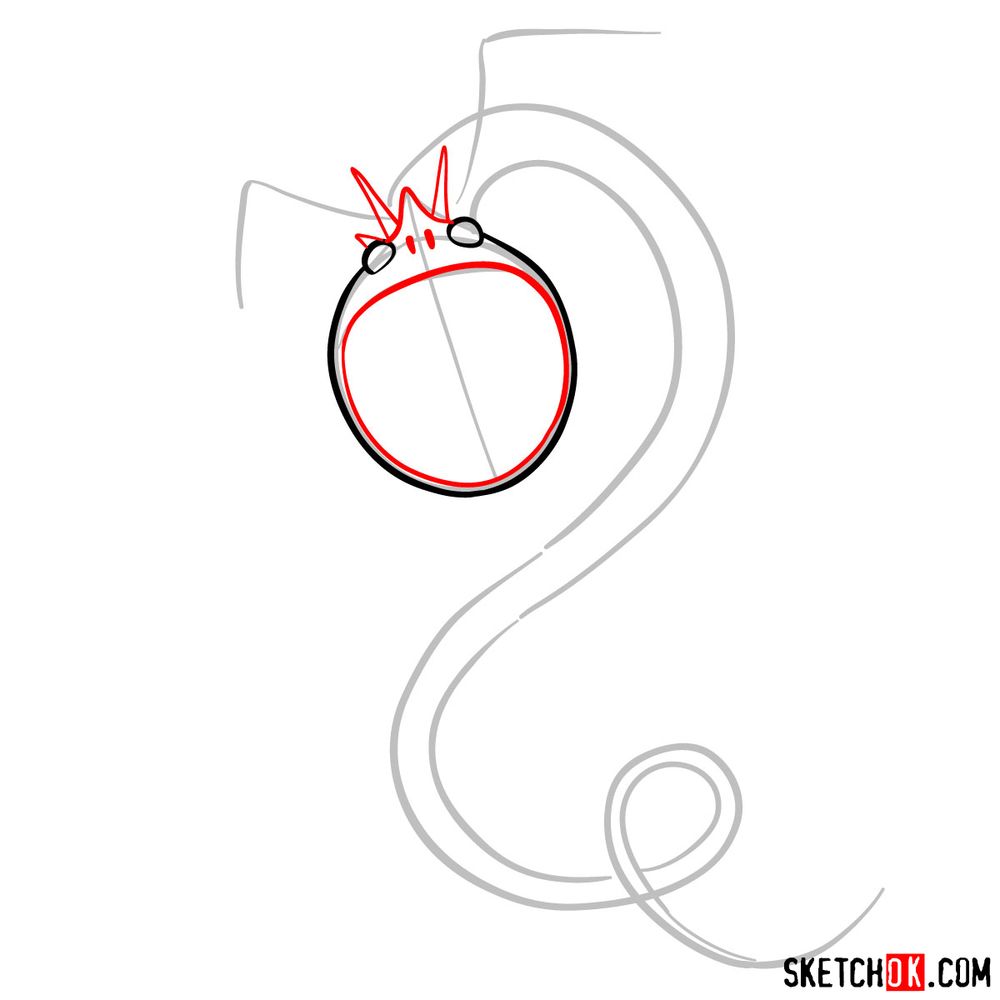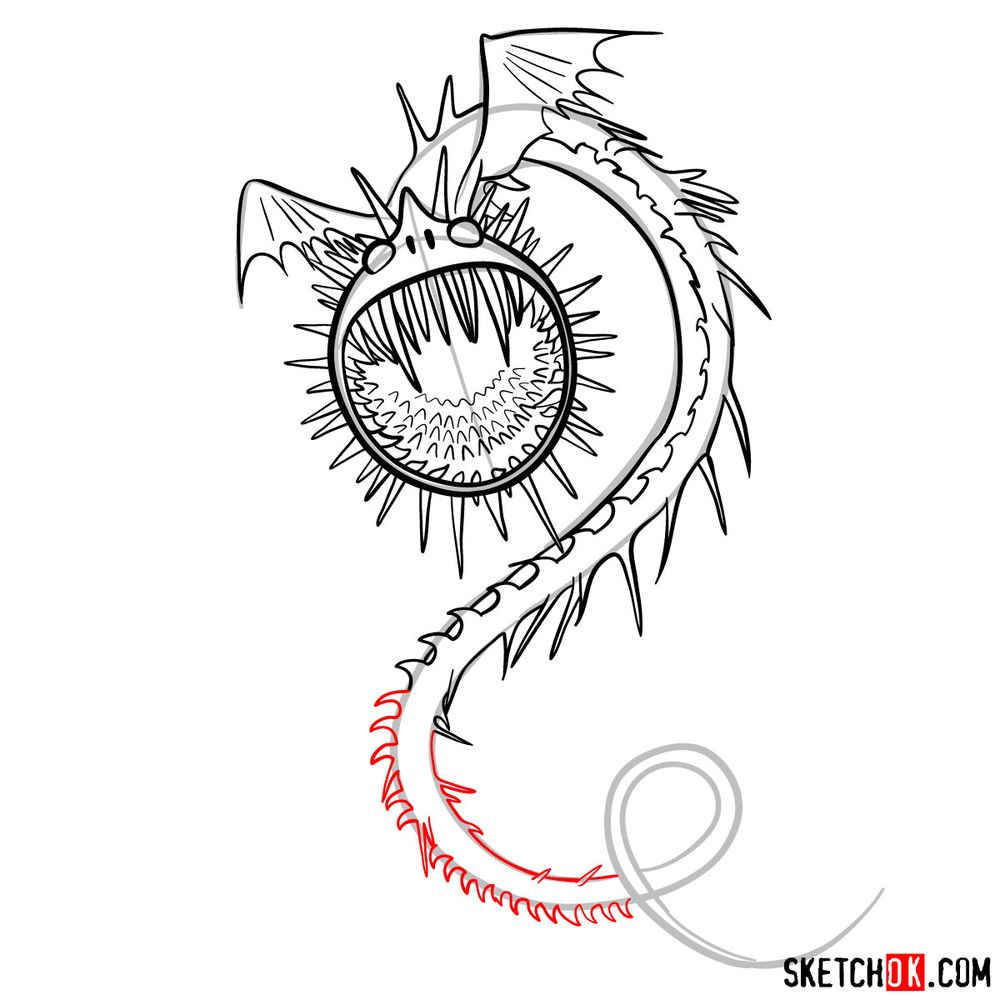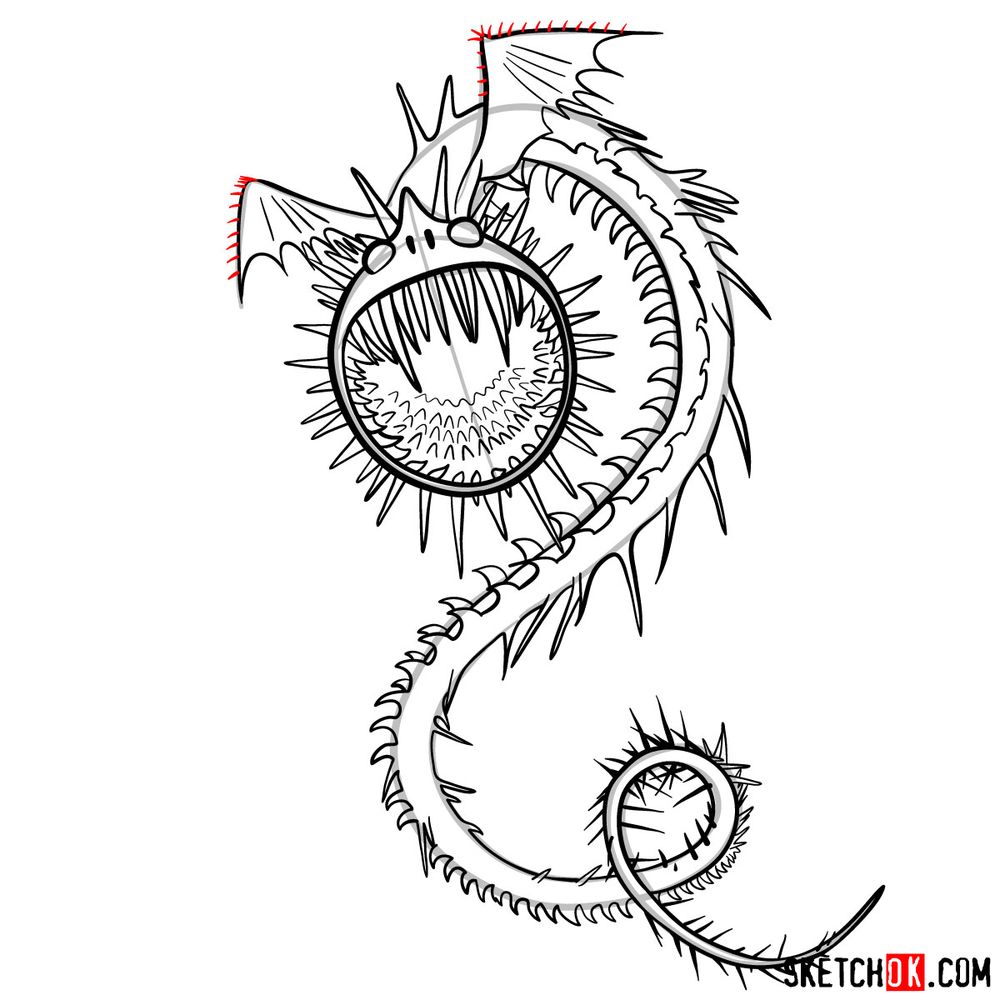 Congratulations on successfully journeying through the guide and mastering the art of sketching The Whispering Death!
Whispering Insights for a Detailed Sketch
Capturing the Whispering Death's essence becomes easier when you know it inside out. This dragon's strength lies in its powerful jaw, enabling it to move through solid rock. While its intimidating teeth are a force to reckon with, its inability to cut through steel and sensitivity to sunlight are its primary weaknesses. Keeping these details in mind will not only assist you in sketching but also in understanding the creature's very nature.
Thank you for allowing me to guide you through this artistic journey. If you found this tutorial beneficial, consider sharing the guide link to this guide with fellow enthusiasts. And for updates on drawing tutorials, don't forget to follow and subscribe to our social channels: