The world of "How to Train Your Dragon" is vast, with an array of mesmerizing dragons that capture the imagination. Among these dragons, the Fireworm stands out, not just because of its fiery aura, but also its unique appearance. In this guide, learn how to draw the Fireworm Dragon, capturing its essence in every sketch.
Character's Unique Features
The Fireworm Dragon is more than just a creature of flames. It has distinctive characteristics that set it apart:
Size and Shape: Unlike many other dragons, common Fireworms are only a few inches in length, resembling lizards with wide heads and elongated bodies.
Scales: Hexagonal orangish-brown scales that light up, giving the dragon its radiant glow.
Legs: Possesses ten legs, distributed as five pairs, a peculiar trait for dragons.
Eyes: White, glowing eyes that pierce through the dark.
Firecomb: The flammable gel nest, unique to the Fireworm Queen, can serve as an intriguing backdrop to your drawing.
If you're feeling ambitious, consider adding other dragons from the series, like the Night Fury or the Snow Wraith, to create an ensemble sketch.
Sketching Tips
Before diving into the actual drawing, remember:
Use light pencil strokes initially, making it easier to correct any errors.
Pay attention to the intricate details, especially the Fireworm's patterns and eyes.
Practice sketching the dragon's unique body structure to get comfortable with its form.
About the Guide
This guide utilizes a simple color-coding system to ease the drawing process:
Red Color:

Indicates the current step.

Black Color:

Shows the lines previously drawn.

Grey Color:

Represents the basic sketch for proportion.
With 14 well-defined steps, start with the basic sketching and move towards adding the intricate details. Once satisfied, you may choose to ink your sketch. Remember, patience is key! Allow the ink to dry completely before erasing the pencil lines to avoid any smudges.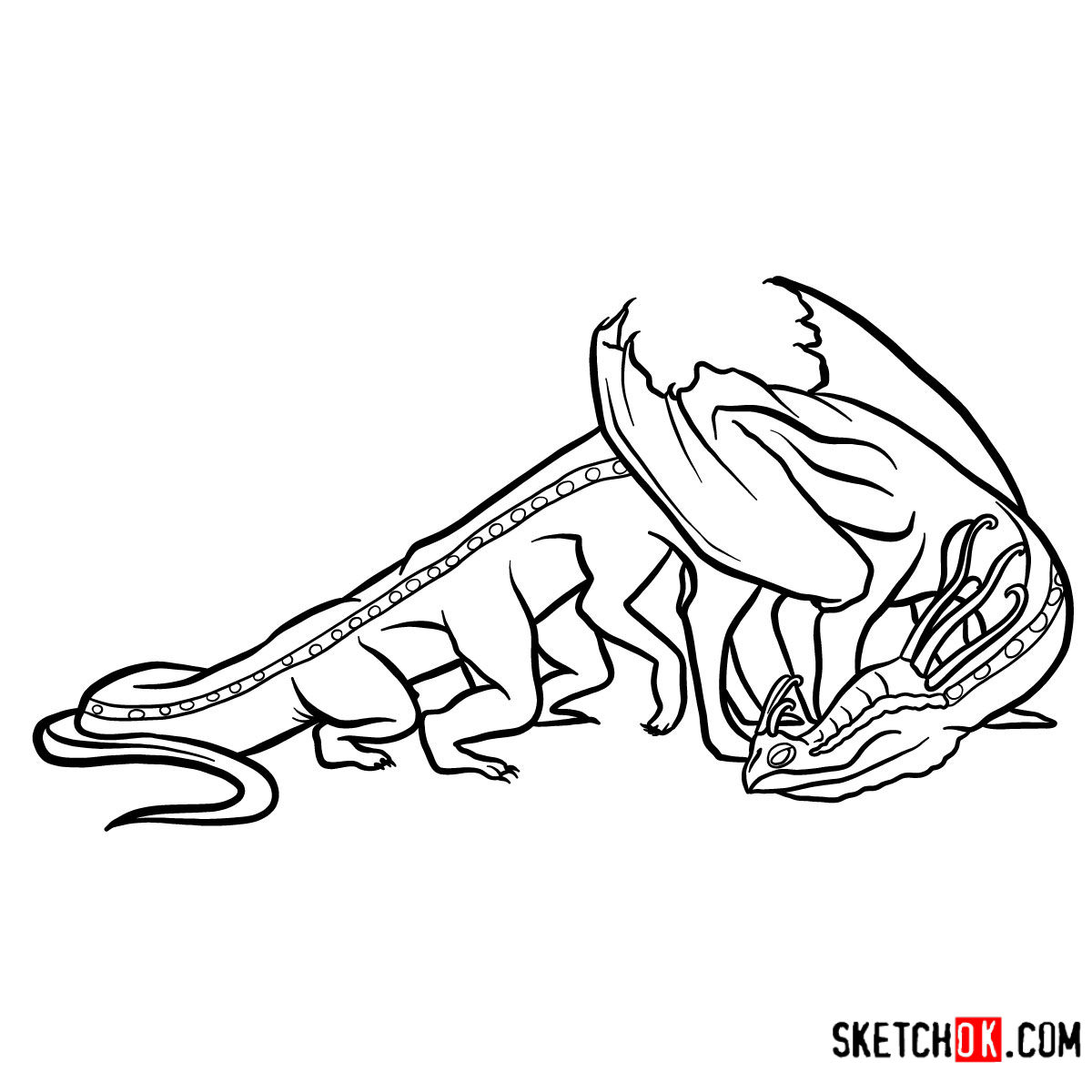 I'm thrilled to share this journey of artistry with you. If you've found this guide useful, do consider supporting my work. Your donations not only help keep the platform running but also allow you to suggest topics for future tutorials. These suggestions always receive top priority, and it's wonderful to know what you're eager to learn next. If you're not in a position to donate, simply sharing this guide or following SketchOk on social platforms like Facebook, Instagram, or Pinterest means the world to me. Let's keep the passion for drawing alive!
If you wish to support, you can donate here. Remember, every drawing starts with a simple line, and every artist starts with a simple guide. Here's to drawing the Fireworm Dragon and many more!