Embarking on a drawing journey can be as thrilling as setting off on an adventurous quest with Dora. One character that has certainly left a mark in the hearts of many is the Grumpy Old Troll. Before we delve into the nuances of how to draw him, it's crucial to familiarize ourselves with the essence of this character.
Character's Appearance and Key Drawing Focus Points
Overall Appearance: Primarily yellow, with distinct white eyes having black pupils.
Facial Hair: A long orange beard and matching mustache are his signature facial features.\
Facial Expression: Almost always grumpy but occasionally happy, especially in The Happy Old Troll episode.
The Grumpy Old Troll's character draws inspiration from the troll in the Norwegian folk tale 'Three Billy Goats Gruff'. Drawing enthusiasts can also think of sketching other similar characters like the goats from 'Dora's Fairytale Adventure' or perhaps Oscar The Grouch from 'Sesame Street' to complement their artwork.
About the Guide
This tutorial will lead you through a 8-step process to recreate the Grumpy Old Troll. The color coding will be an essential guide:
Red Color:

Represents the current step.

Black Color:

Shows previously drawn lines.

Grey Color:

Highlights the basic sketch for proportions.
The initial stage involves drafting a basic proportionate sketch using light pencil strokes. Towards the end, you can opt to ink the sketch. Ensure you wait for the ink to dry before erasing the pencil lines to avoid smudging.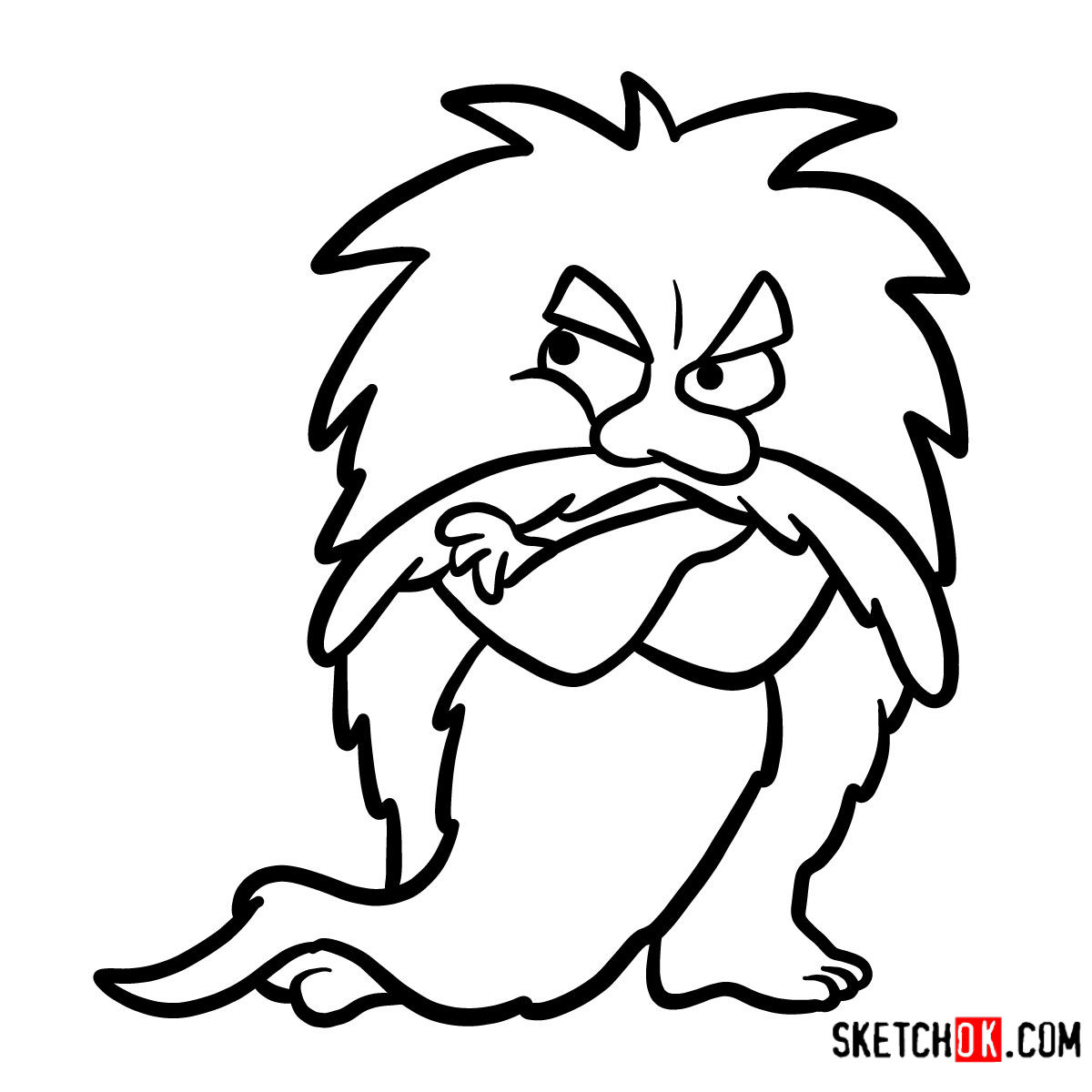 So there you have it, a detailed guide on how to draw the Grumpy Old Troll. If you've enjoyed this tutorial and want to support more of such content, consider donating to SketchOk. Your contribution won't just be a donation; it's an opportunity for you to suggest topics for future tutorials. And guess what? Your suggestions will take the front seat, speeding up their creation. Share this guide with fellow art enthusiasts and subscribe to SketchOk on Facebook, Instagram, and Pinterest. Your support keeps the art flowing!
Donate to SketchOk and together, let's continue the beautiful journey of art.