Introduction: The Power of Fusion Awaits Your Pencil
Aspiring artists and Dragon Ball fans, unite! This tutorial will show you how to draw one of the most powerful fused warriors in the Dragon Ball universe: Gogeta Super Saiyan Blue. With our step-by-step guide, you'll bring this powerful character to life and hone your drawing skills along the way. So, grab your pencils and paper, and let's get started!
A Fusion of Strength and Artistry: Gogeta Super Saiyan Blue
Gogeta, the Metamoran fusion of Goku and Vegeta, is a formidable character with unparalleled power. As Super Saiyan Blue, Gogeta takes on a whole new level of strength and agility, making him an exciting subject for artists looking to capture the essence of Dragon Ball's intense battles. Gogeta's first appearance in the Dragon Ball franchise was in the movie Fusion Reborn, and he later appeared in Dragon Ball GT and the Broly movie. The fusion of Goku and Vegeta creates a powerful warrior with a unique combination of their voices, making him an intriguing character to explore.
Super Saiyan Blue Gogeta is not only known for his immense power, but also for his striking appearance. He dons the traditional Metamoran fusion attire, with the addition of the iconic Super Saiyan Blue hair, giving him a unique look that sets him apart from other characters in the series.
When drawing Gogeta Super Saiyan Blue, it's essential to capture the intensity and power that this fusion embodies. By following our detailed tutorial, you'll be able to create a dynamic and accurate depiction of this mighty warrior, impressing both fellow artists and Dragon Ball fans alike.
Essential Tools for a Mighty Drawing
Before we start learning how to draw Gogeta Super Saiyan Blue, let's gather the necessary tools for creating your powerful masterpiece. While you're free to use any drawing materials you prefer, we recommend the following:
Pencils (HB and 2B)
Eraser
Sharpener
Drawing paper
Colored pencils or markers (optional, for coloring)
Follow the Path to Fusion: Step-by-Step Drawing Guide
In this tutorial, we will walk you through the process of drawing Gogeta Super Saiyan Blue in a series of easy-to-follow steps. Remember that our images use red for the current step, gray for the basic proportions sketch, and black for previously drawn lines.
Part 1: Laying the Foundation
Start by creating a basic sketch of Gogeta's proportions, using light pencil strokes. This initial step is crucial for establishing the character's structure and ensuring that your drawing is accurate and well-balanced.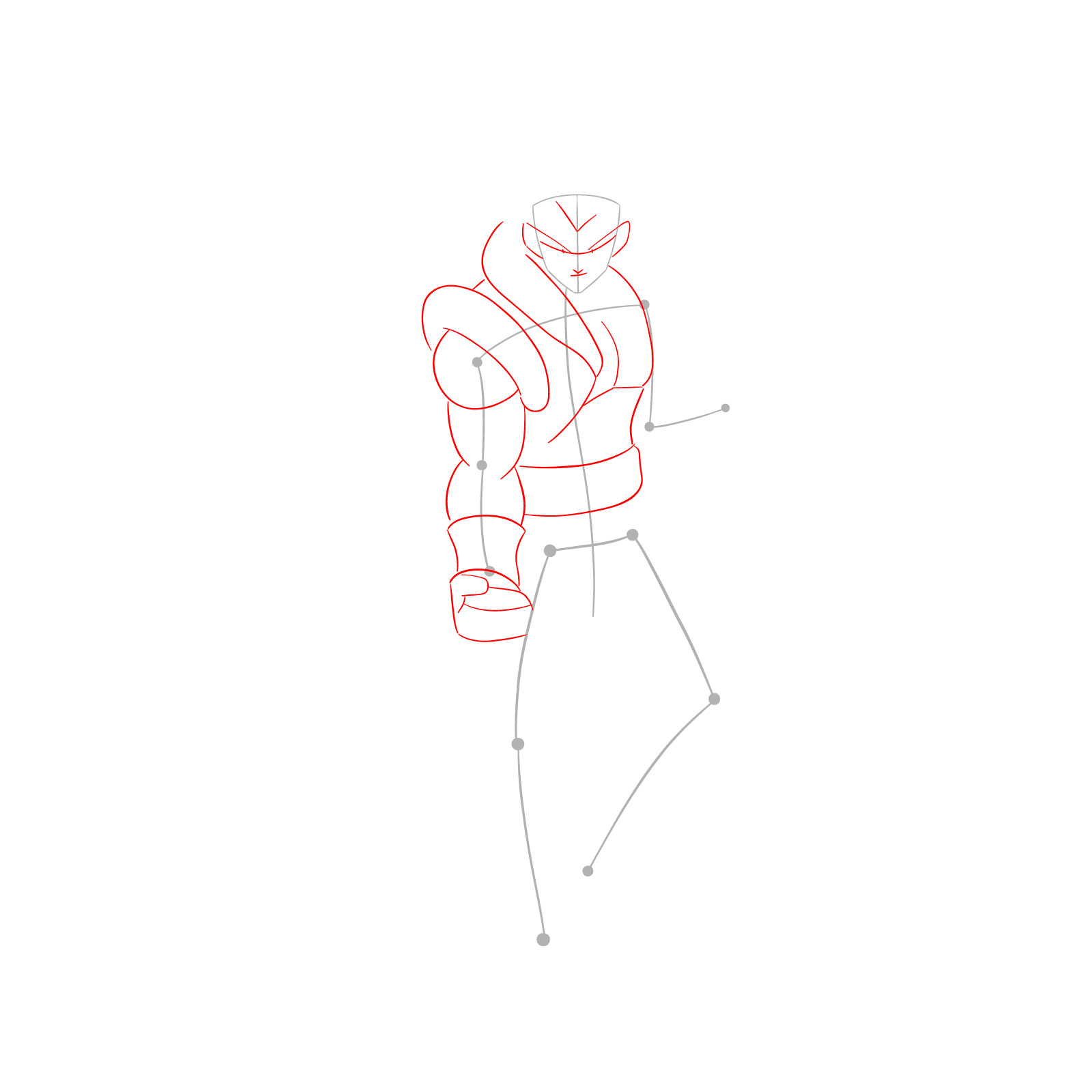 Part 2: Refining the Warrior
Once you have a solid foundation, refine your sketch by adding details to Gogeta's face, hair, and clothing. Pay close attention to the character's unique features, such as the Super Saiyan Blue hairstyle and the fusion attire.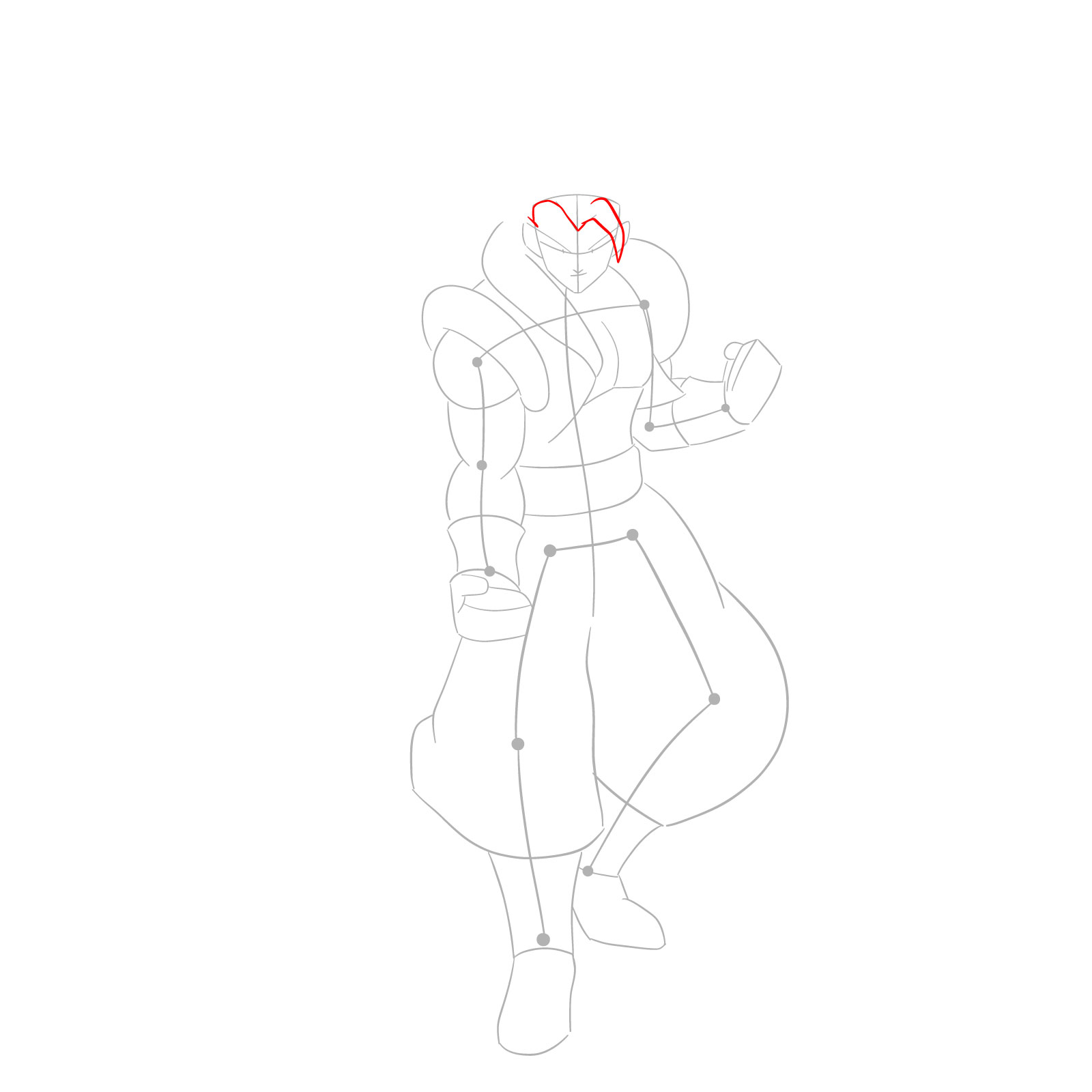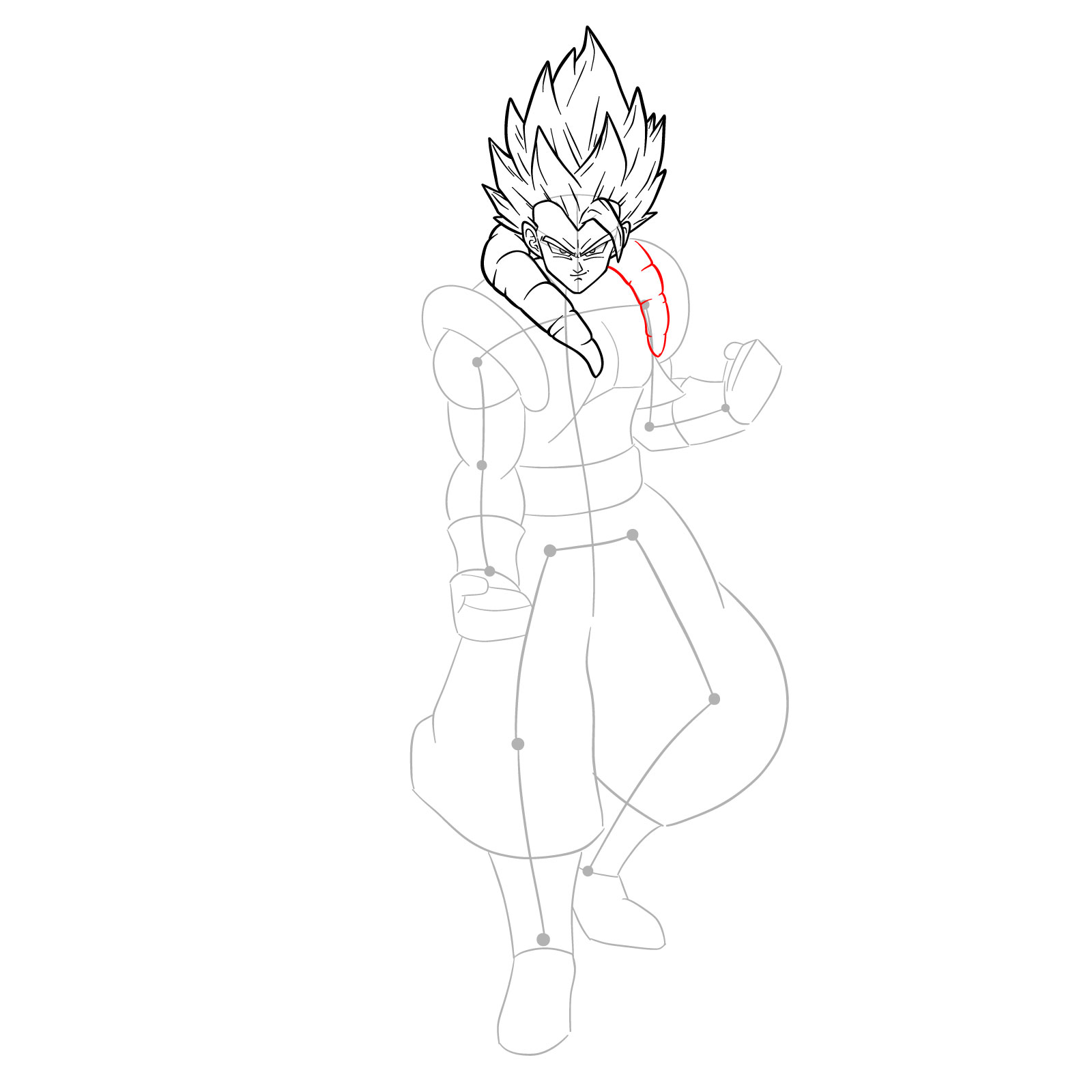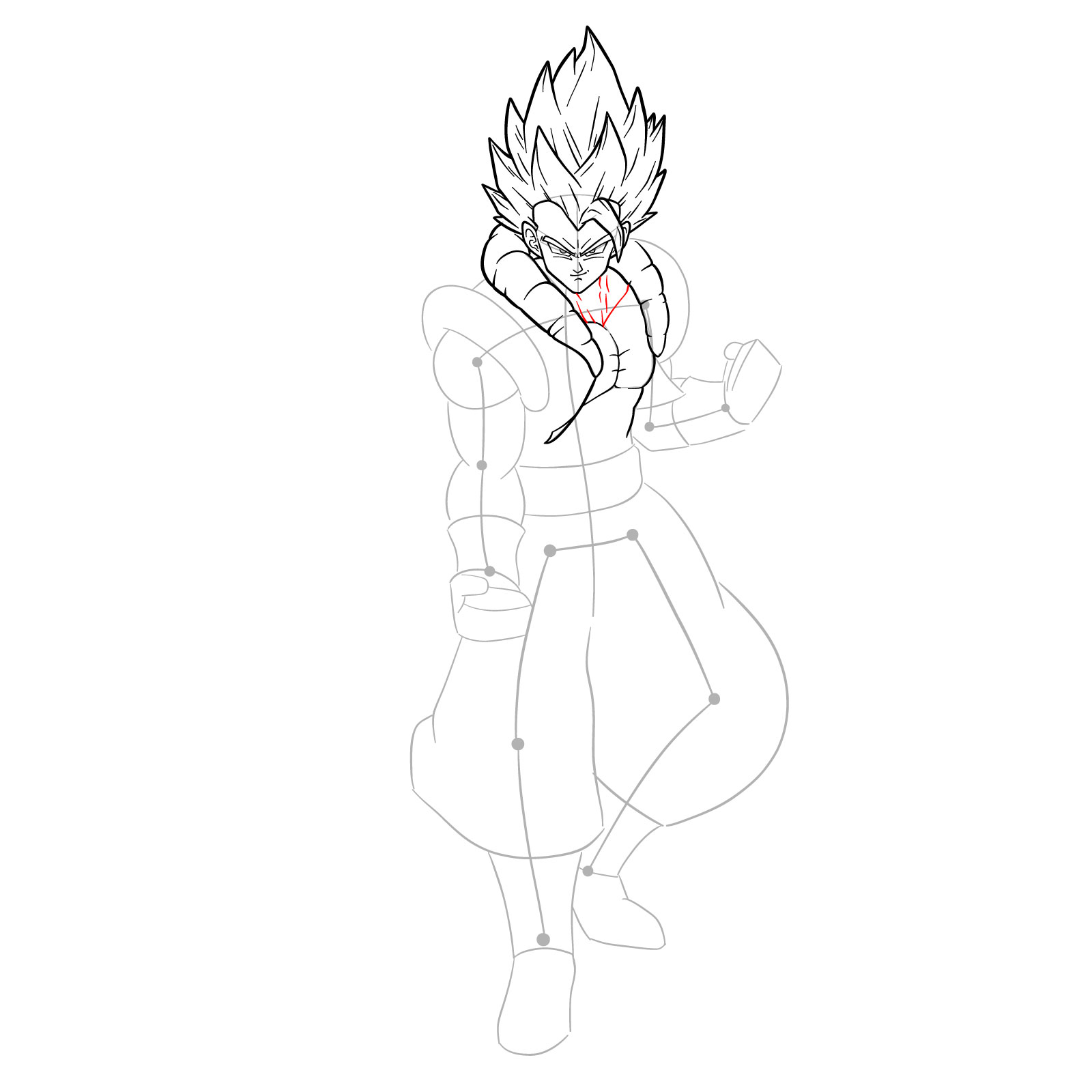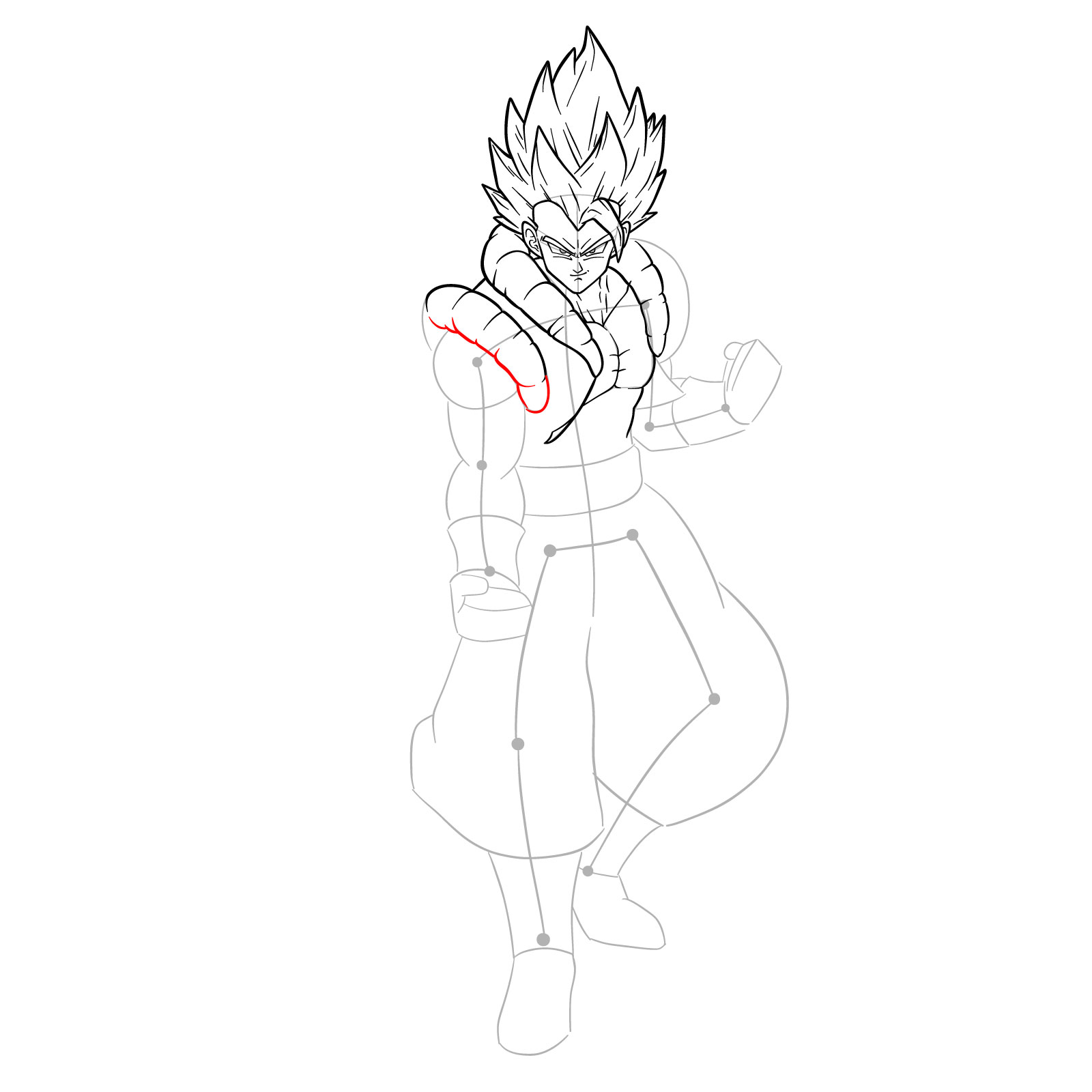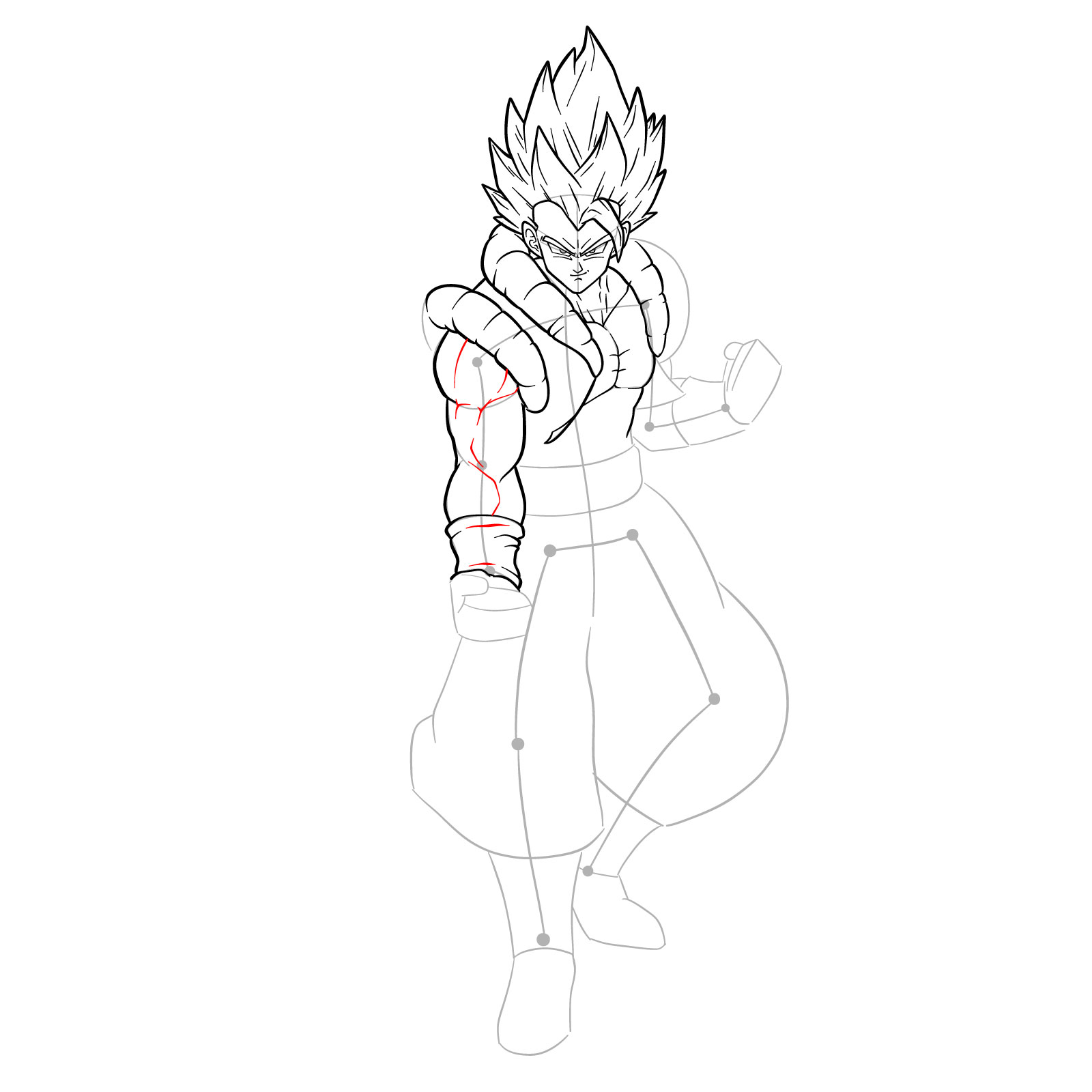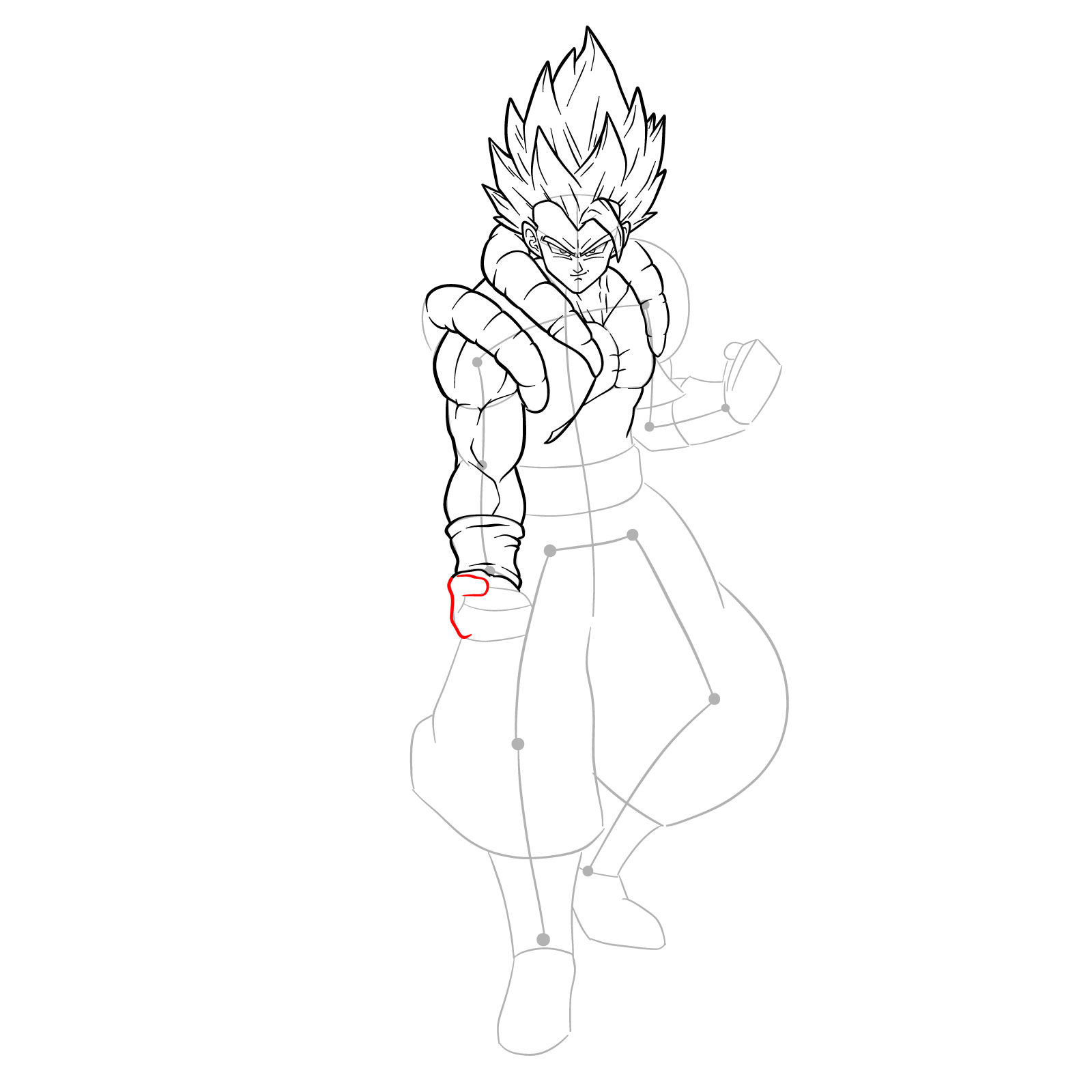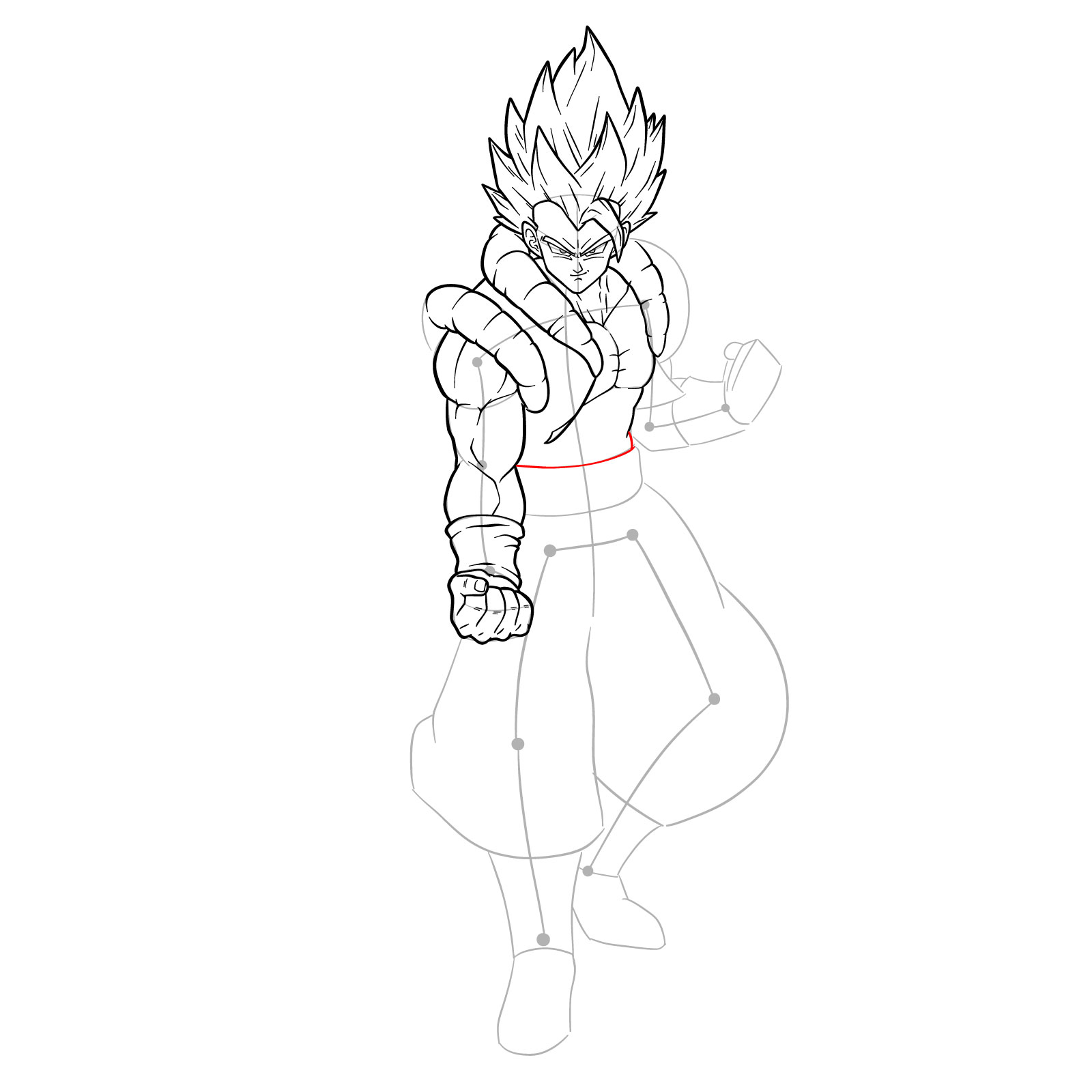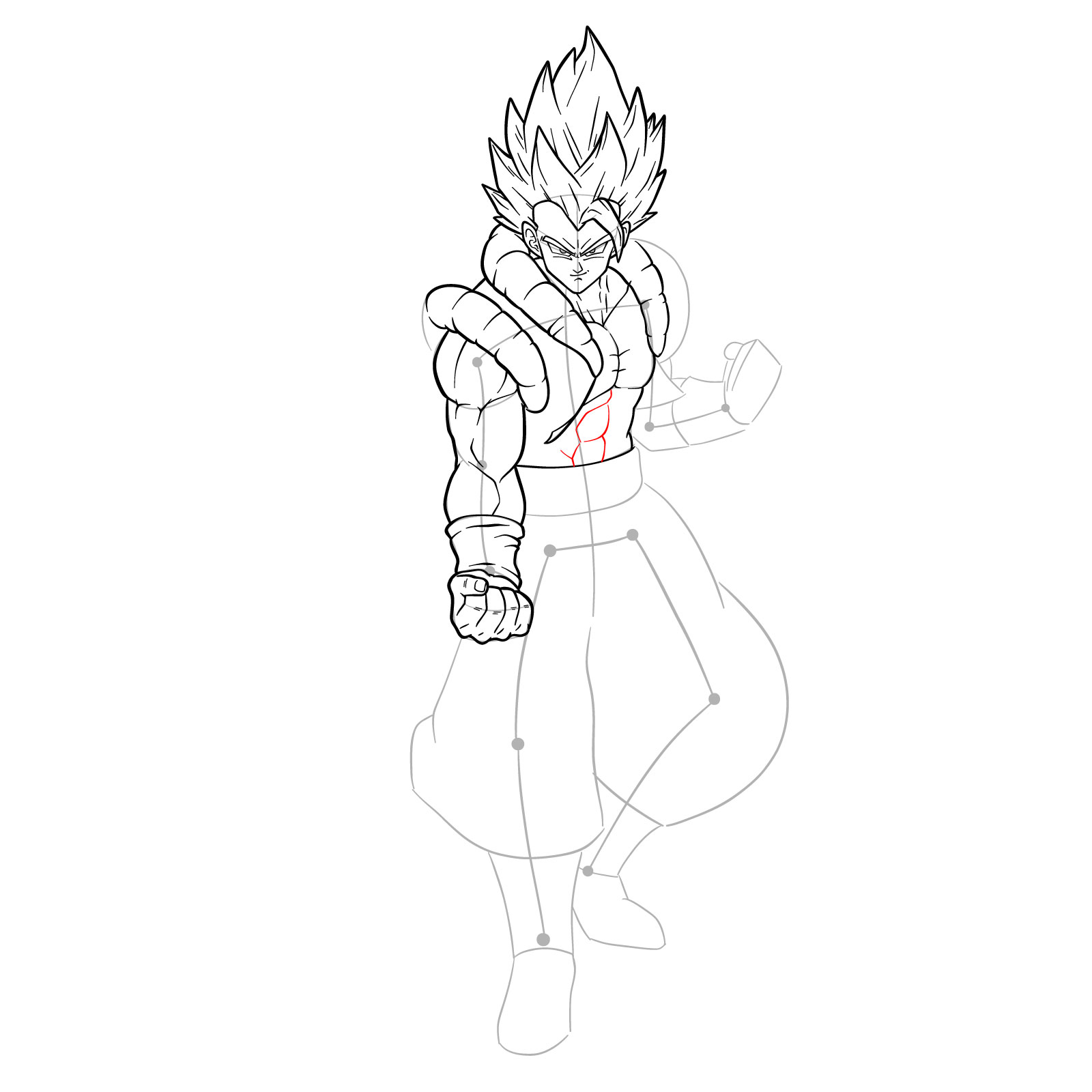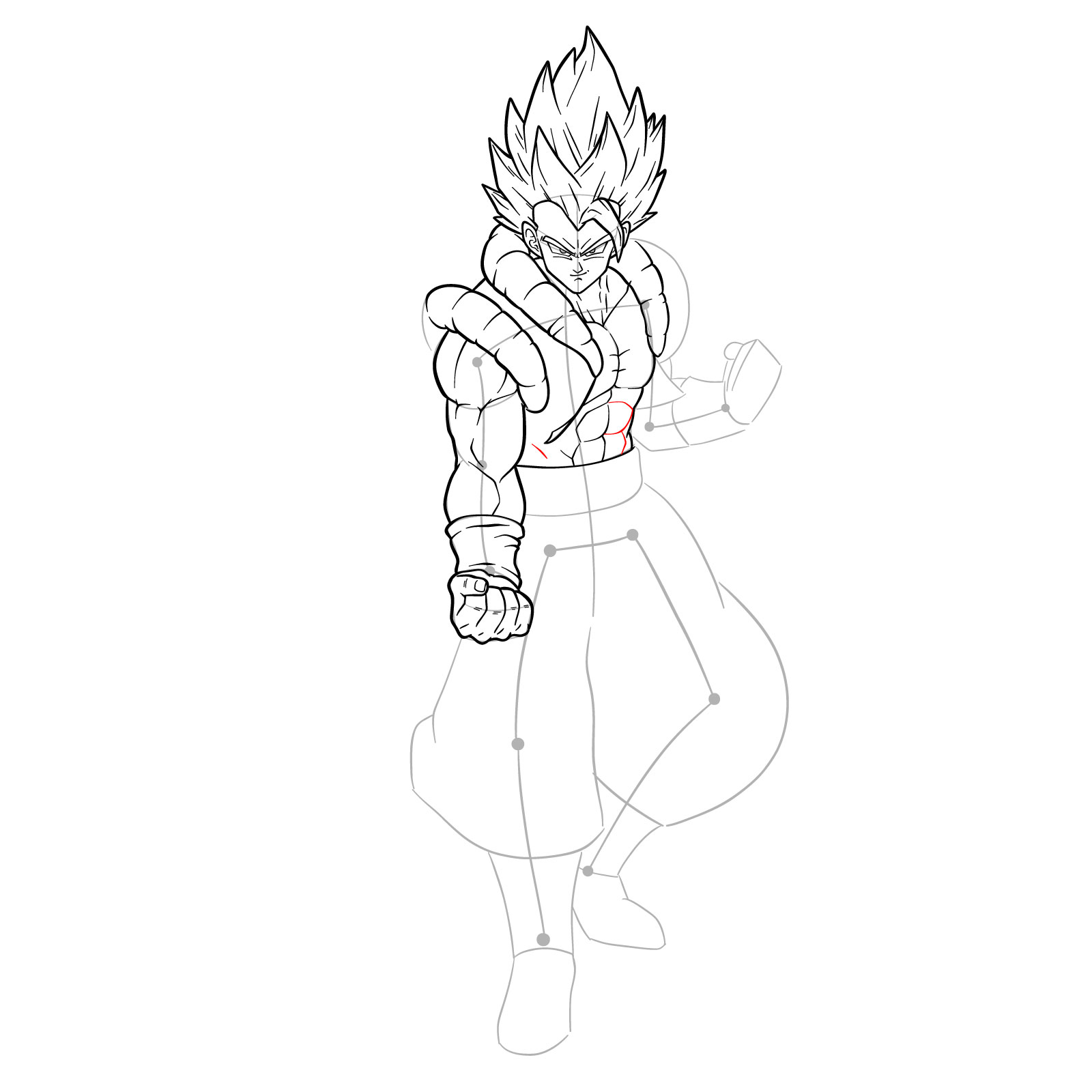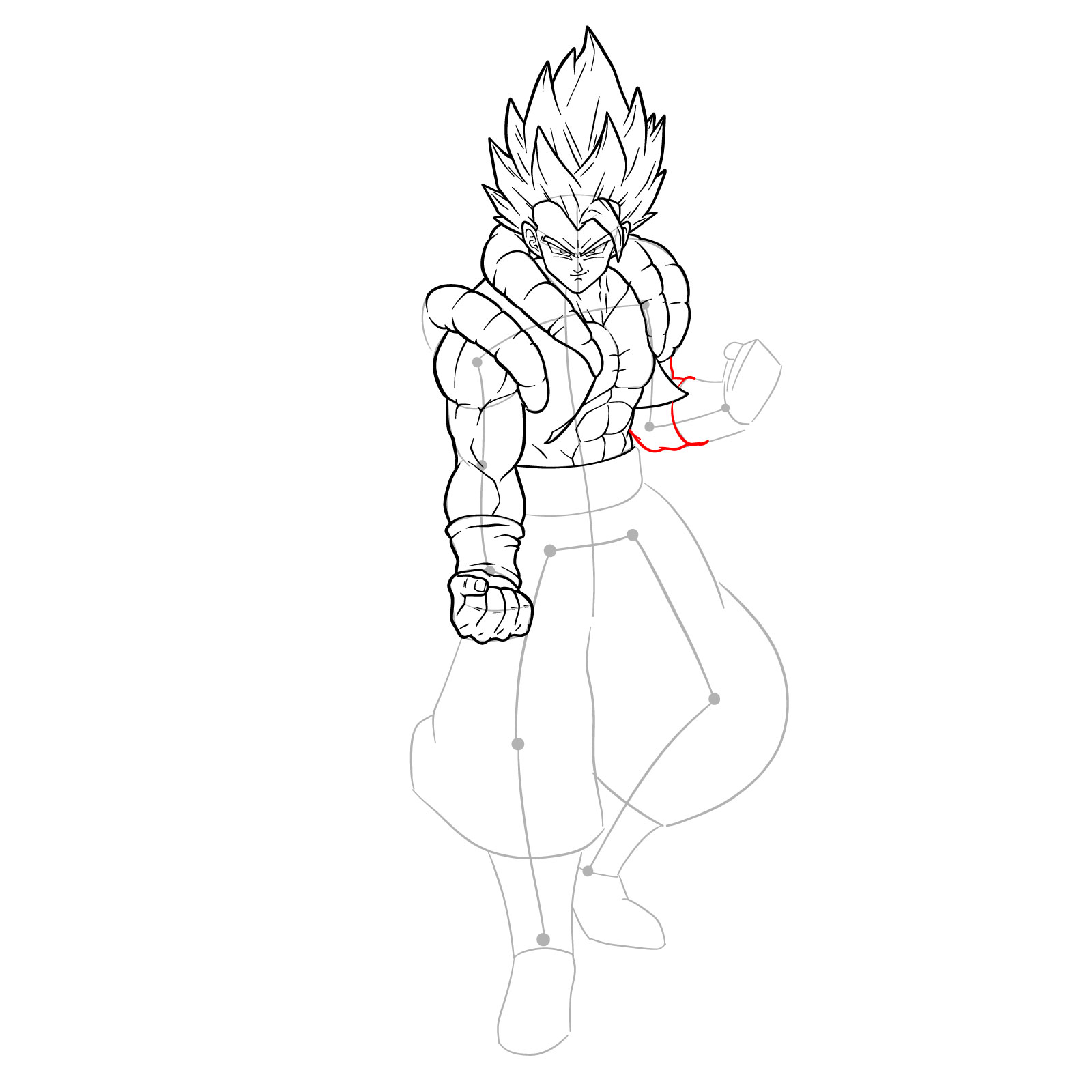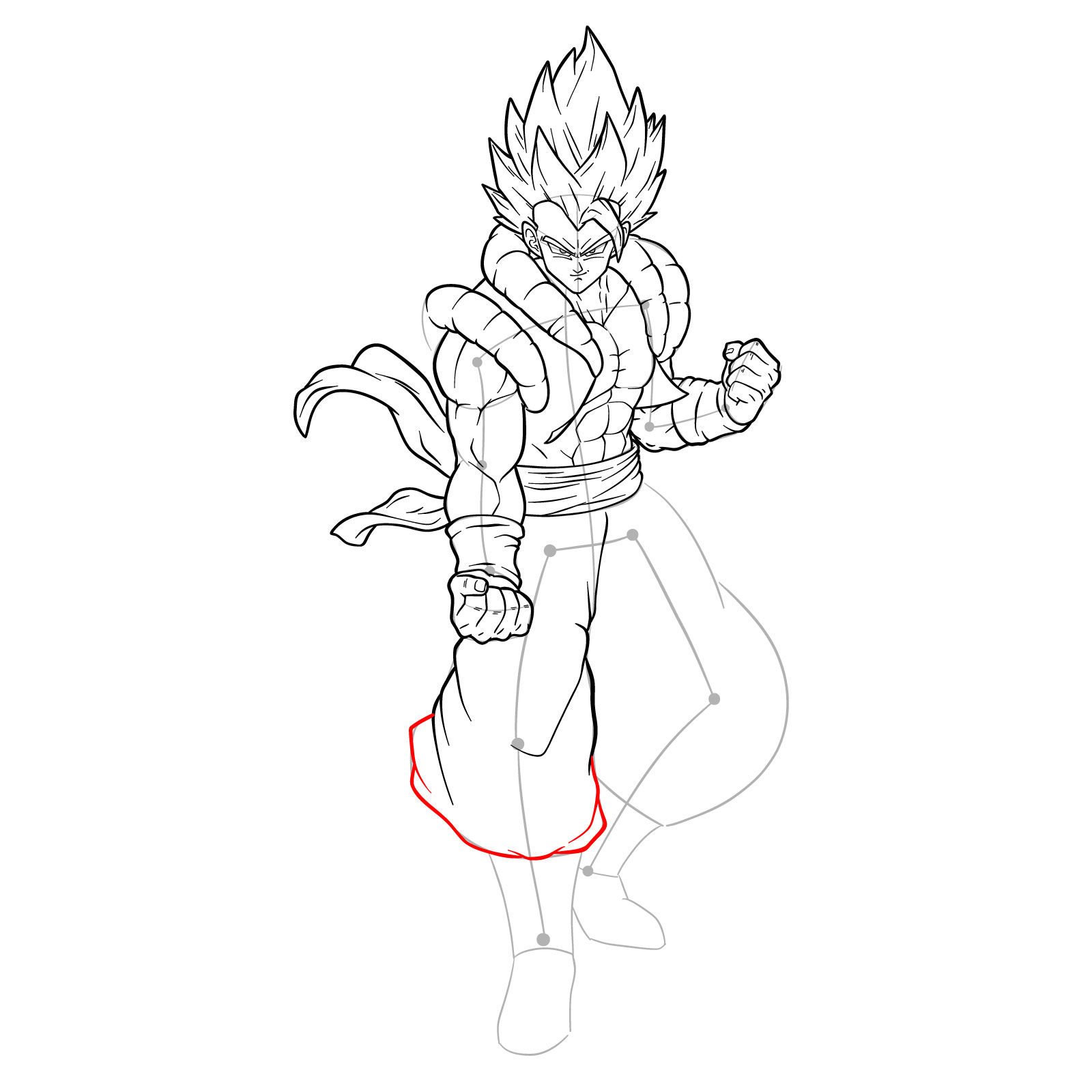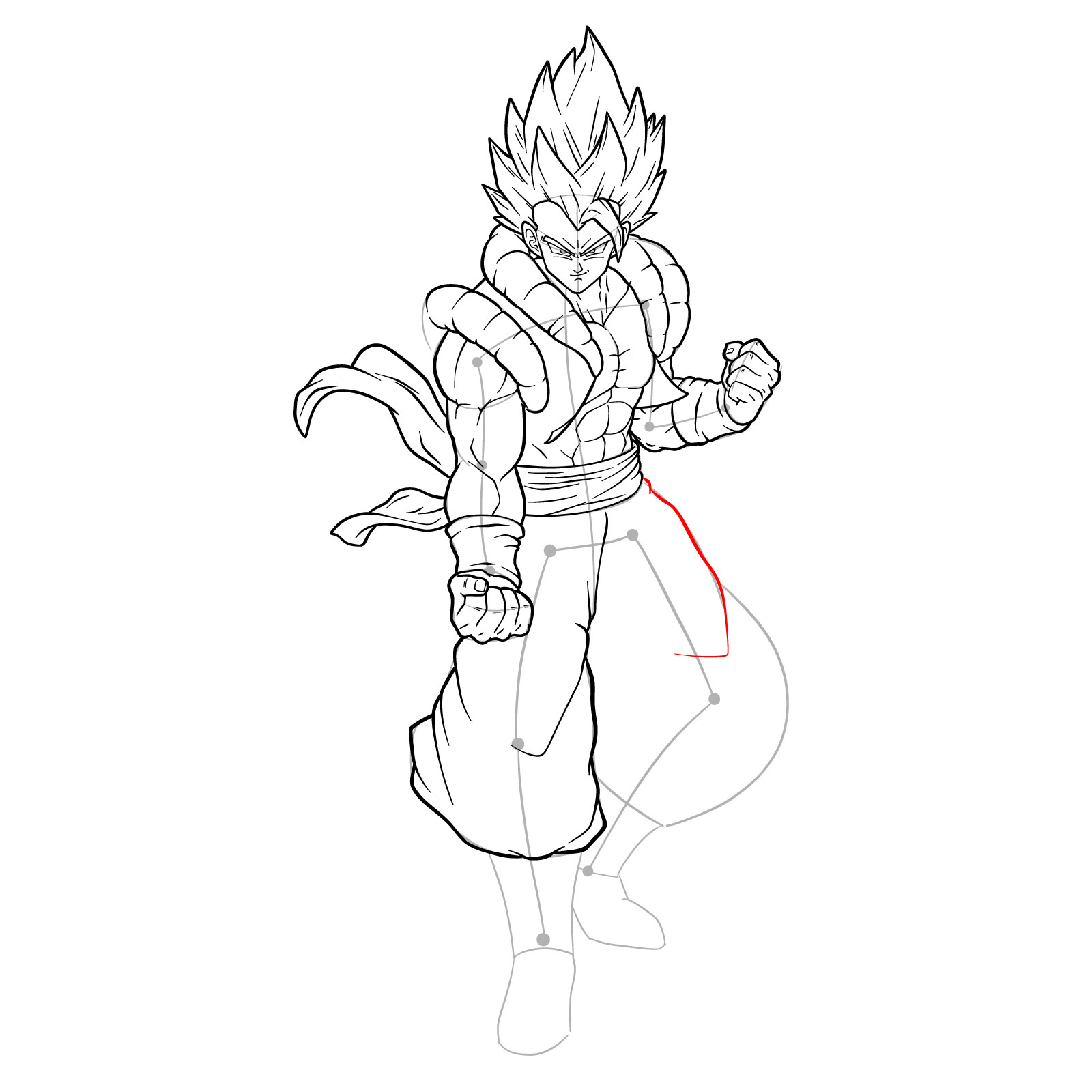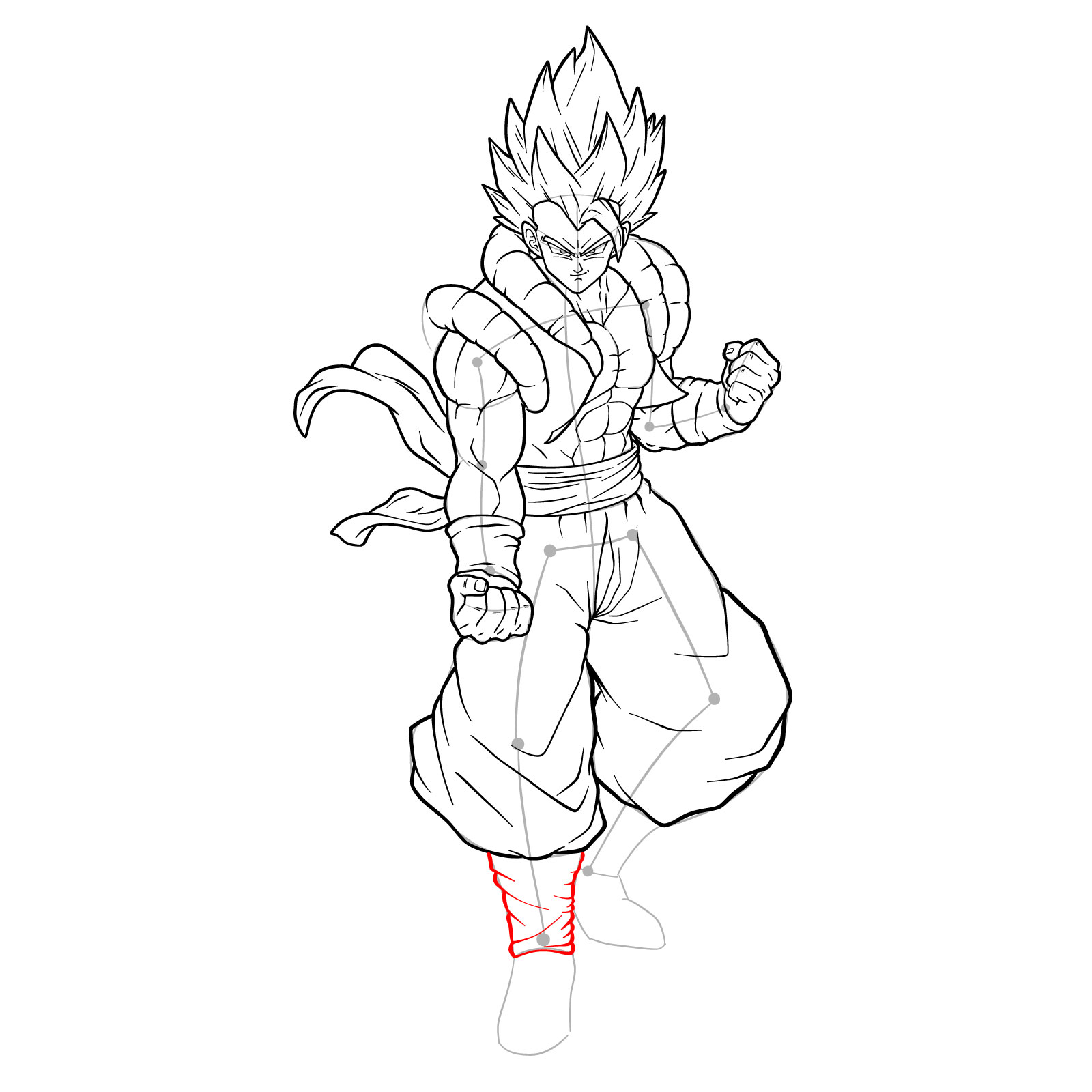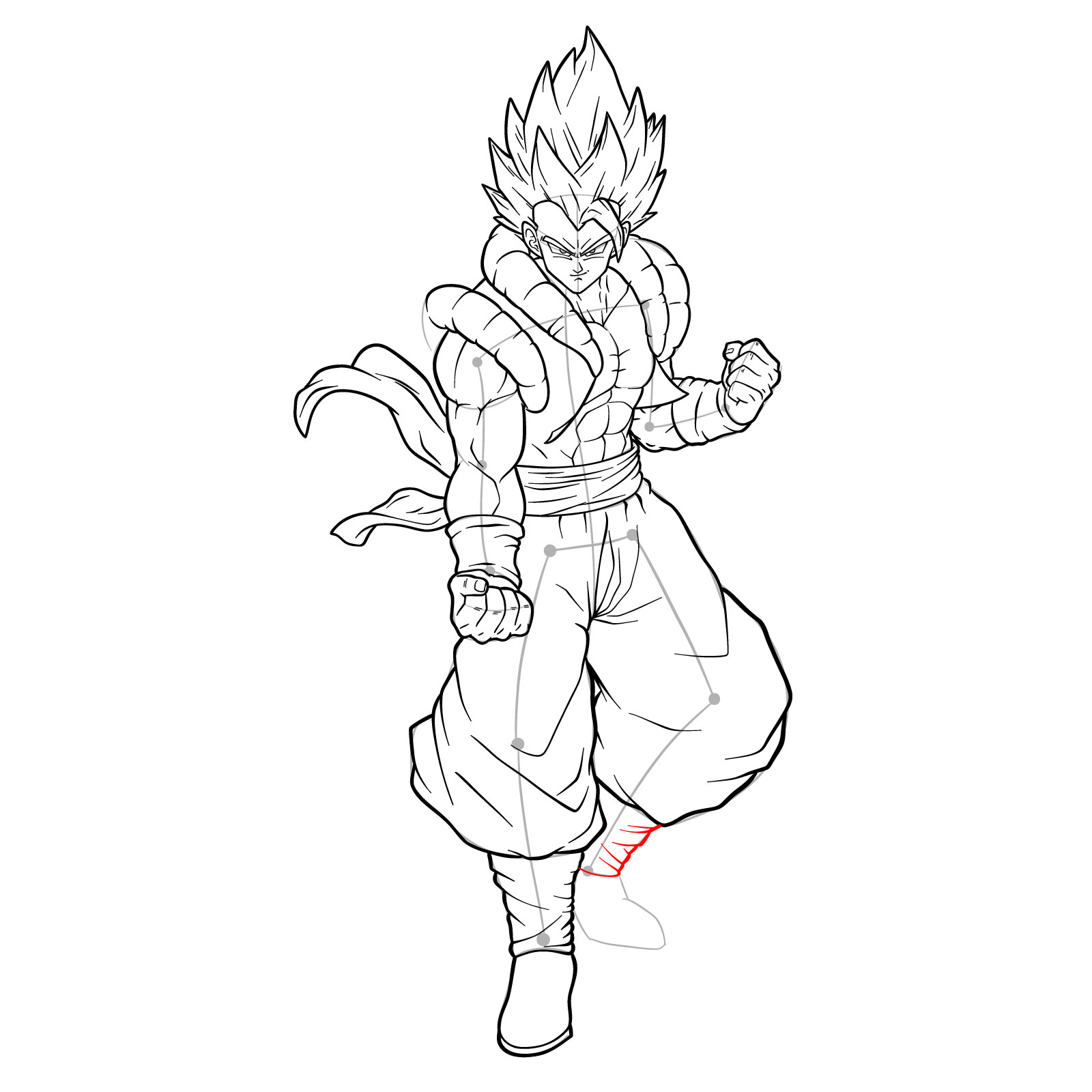 Part 3: Inking the Fusion
With your refined sketch complete, it's time to ink your drawing. Carefully outline Gogeta Super Saiyan Blue, adding depth and definition to his features. Be sure to use smooth, confident strokes to create clean, crisp lines that capture the character's powerful presence. Give some time for ink to dry and gently erase any remaining pencil marks.
Master the Art of Fusion: Tips and Techniques
As you practice drawing Gogeta Super Saiyan Blue, keep these helpful tips and techniques in mind:
Study reference images of the character to ensure accuracy and consistency in your drawing.
Pay attention to the unique features of Gogeta's fusion attire and Super Saiyan Blue hairstyle.
Practice drawing dynamic poses to capture the intensity of Dragon Ball's epic battles.
Experiment with different shading techniques to add depth and dimension to your artwork.
Don't be afraid to make mistakes – practice makes perfect!
Frequently Asked Questions
Q: How can I improve my drawing skills?
A: The best way to improve your drawing skills is through consistent practice. Start by drawing simple shapes and gradually work your way up to more complex subjects. Study reference images, take art classes, and learn from other artists to enhance your abilities. Most importantly, be patient and persistent!
Q: How can I make my Gogeta Super Saiyan Blue drawing more dynamic?
A: To create a more dynamic drawing, try experimenting with different poses and angles. Study the character's movements in the anime or manga and incorporate those poses into your artwork. Also, focus on adding depth and dimension through shading and highlights.
Q: How do I know when my drawing is finished?
A: Knowing when your drawing is complete can be subjective. However, once you've followed the steps in the tutorial, you can consider your drawing complete. If you feel there's room for improvement, take a step back, evaluate your work, and make any necessary adjustments.
Now that you've learned how to draw Gogeta Super Saiyan Blue, it's time to share your masterpiece with the world! Encourage your friends and fellow artists to try their hand at drawing this powerful character, and don't forget to support our content by sharing the link to this guide or checking out our other tutorials. If you enjoyed this tutorial, consider showing your appreciation by donating on Buy Me a Coffee.
Remember, practice makes perfect, so keep drawing and exploring the world of Dragon Ball. Who knows, you might even find yourself tackling other powerful characters like Gogeta himself in Base form, Gohan Beast, or even Trunks. Good luck, and happy drawing!