Introduction: Jump into the World of My Hero Academia
Aspiring artists and My Hero Academia fans, it's time to put your pencils to work! In this tutorial, we'll show you how to draw Izuku Midoriya, also known as Deku, in his impressive Costume Epsilon unmasked. Follow our step-by-step instructions to bring this beloved character to life on your sketchpad.
Unmasking Izuku's Costume Epsilon: A Journey Through Design and Evolution
Izuku's Costume Epsilon is the latest version of his hero outfit, born from the ashes of the Paranormal Liberation War. This fifth iteration features several nods to his mentors and predecessors, such as Gran Torino's cape and Nana Shimura's influence. With the addition of the mask, the shadows cast over Izuku's eyes create an iconic look reminiscent of All Might himself.
Throughout My Hero Academia, Izuku's hero costume has undergone numerous transformations, reflecting his growth and development as a character. From the original design to the latest Costume Epsilon, each iteration showcases Izuku's commitment to becoming a hero and protecting those he cares about.
Tool Up: Assemble Your Drawing Arsenal
Before we dive into the step-by-step guide, let's talk about the materials and tools you'll need. While you're free to use your favorite drawing instruments, we recommend the following:
Pencil (preferably a 2B or an HB)
Eraser
Pencil sharpener
Sketchpad or drawing paper
Inking pen or fine-tipped marker
Step into Izuku's World: Your Step-by-Step Drawing Guide
Now that you're all set with your tools, let's begin our journey to draw Izuku in costume Epsilon without mask! Our guide is divided into three main parts, with each part focusing on a specific aspect of the drawing process. Remember, the red color in the guide images represents the current step, the grey color signifies the basic proportions sketch, and the black color indicates the previously drawn lines.
Part 1: Laying the Foundation
In this first step, you'll create a basic structure for your drawing using light pencil strokes. This initial sketch serves as a guideline for proportions and helps you set the stage for Izuku's static pose.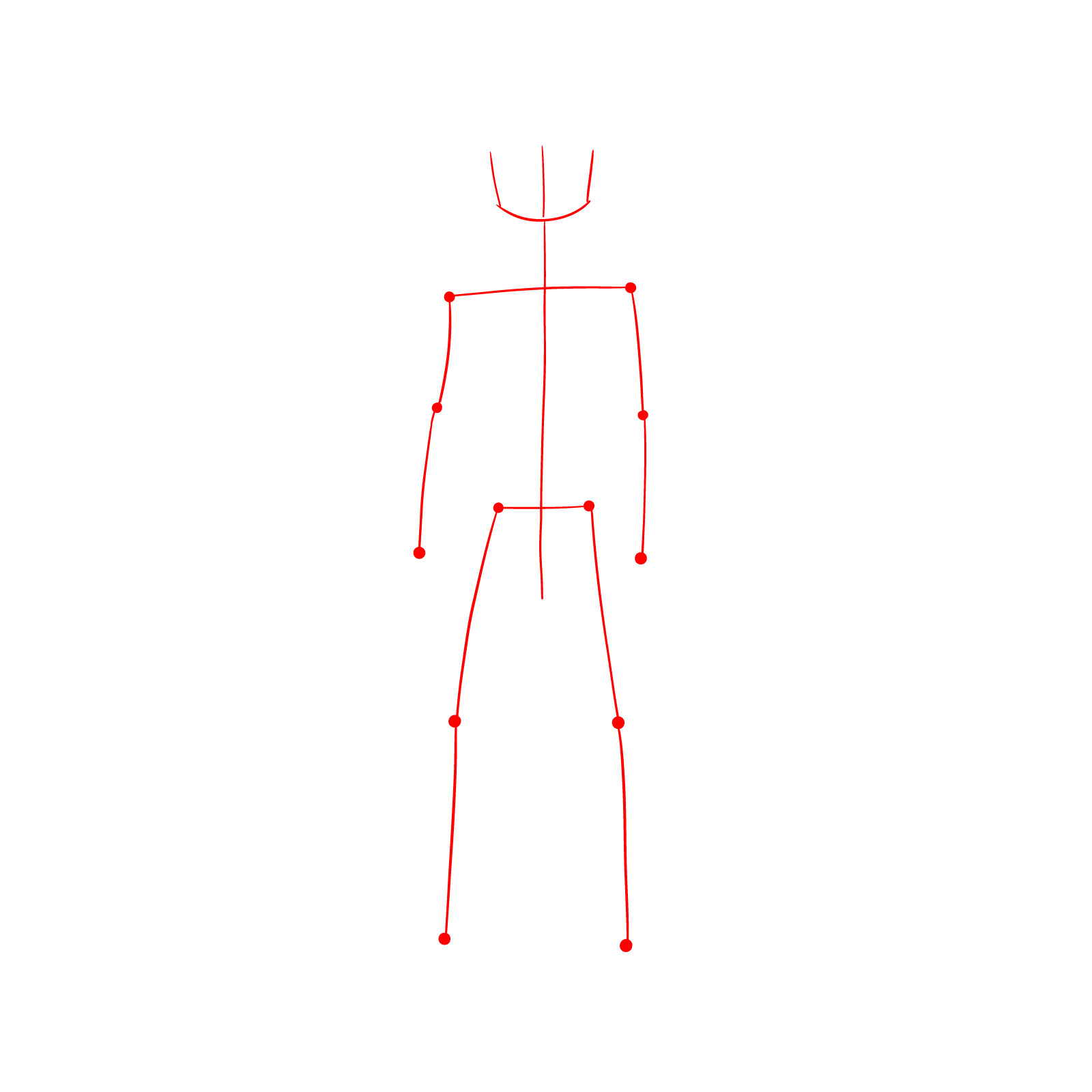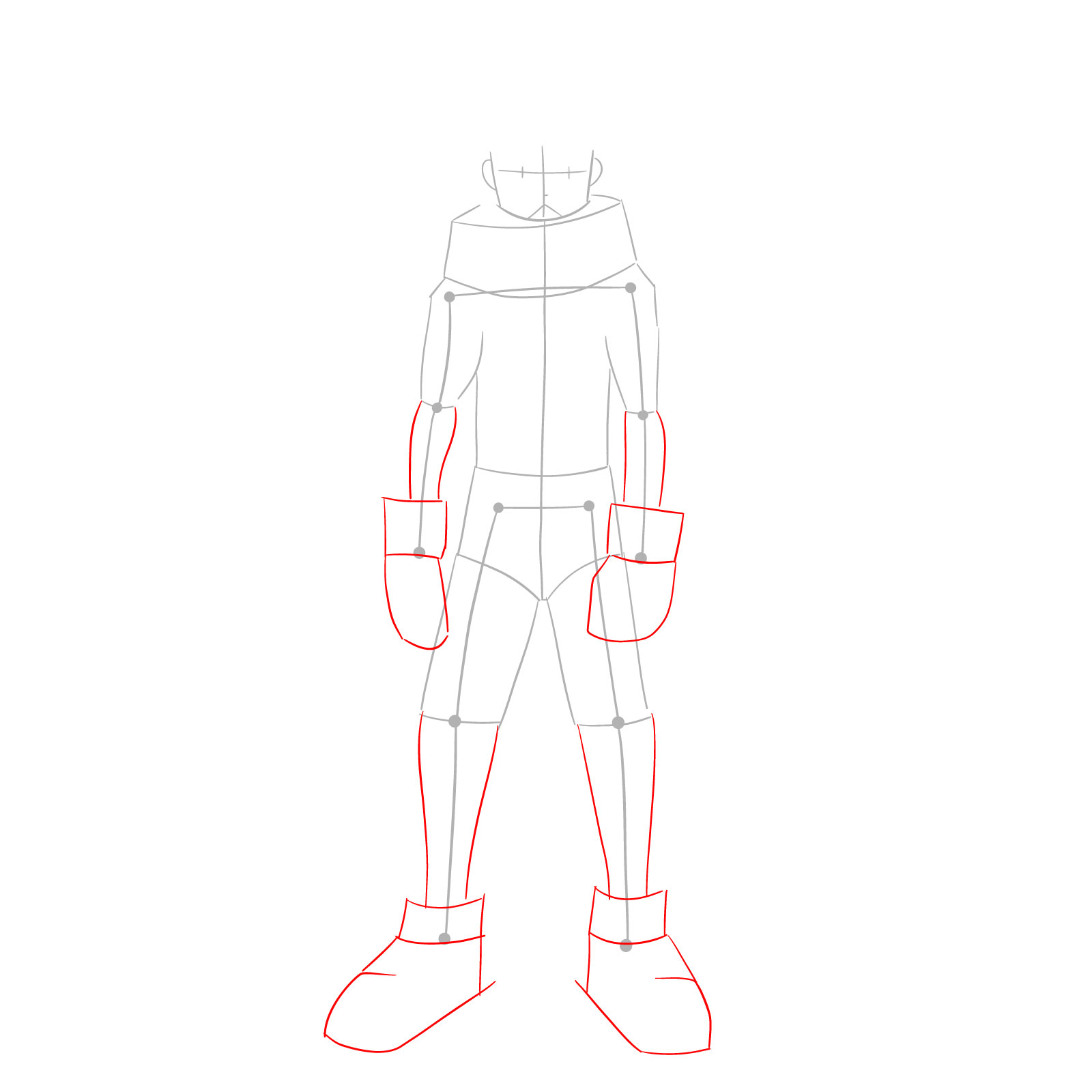 Part 2: Refine and Define
With your basic sketch in place, it's time to add detail and finesse to your drawing. In this phase, you'll refine the sketch, focusing on Izuku's facial features, costume, and overall form. This is where your drawing starts to come to life!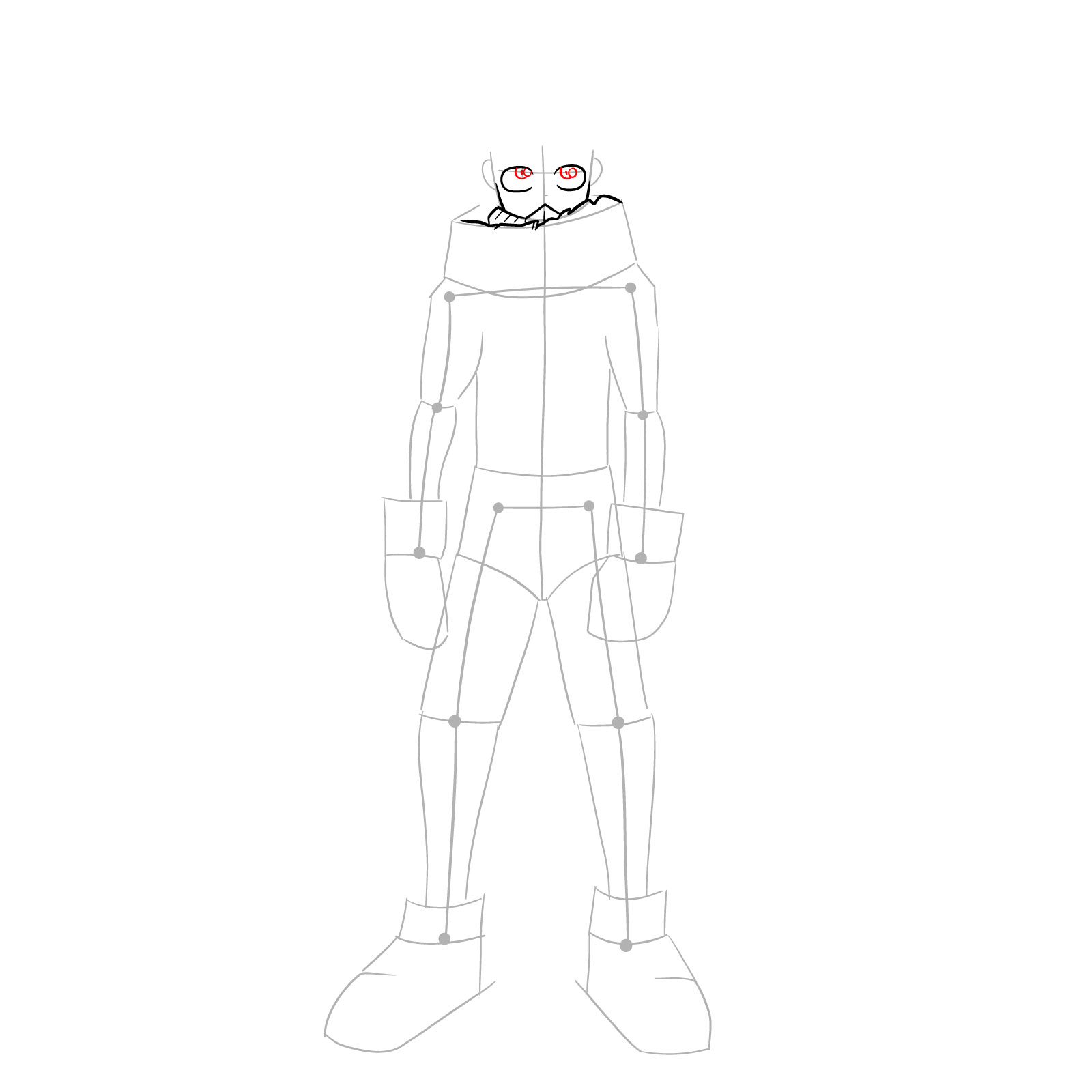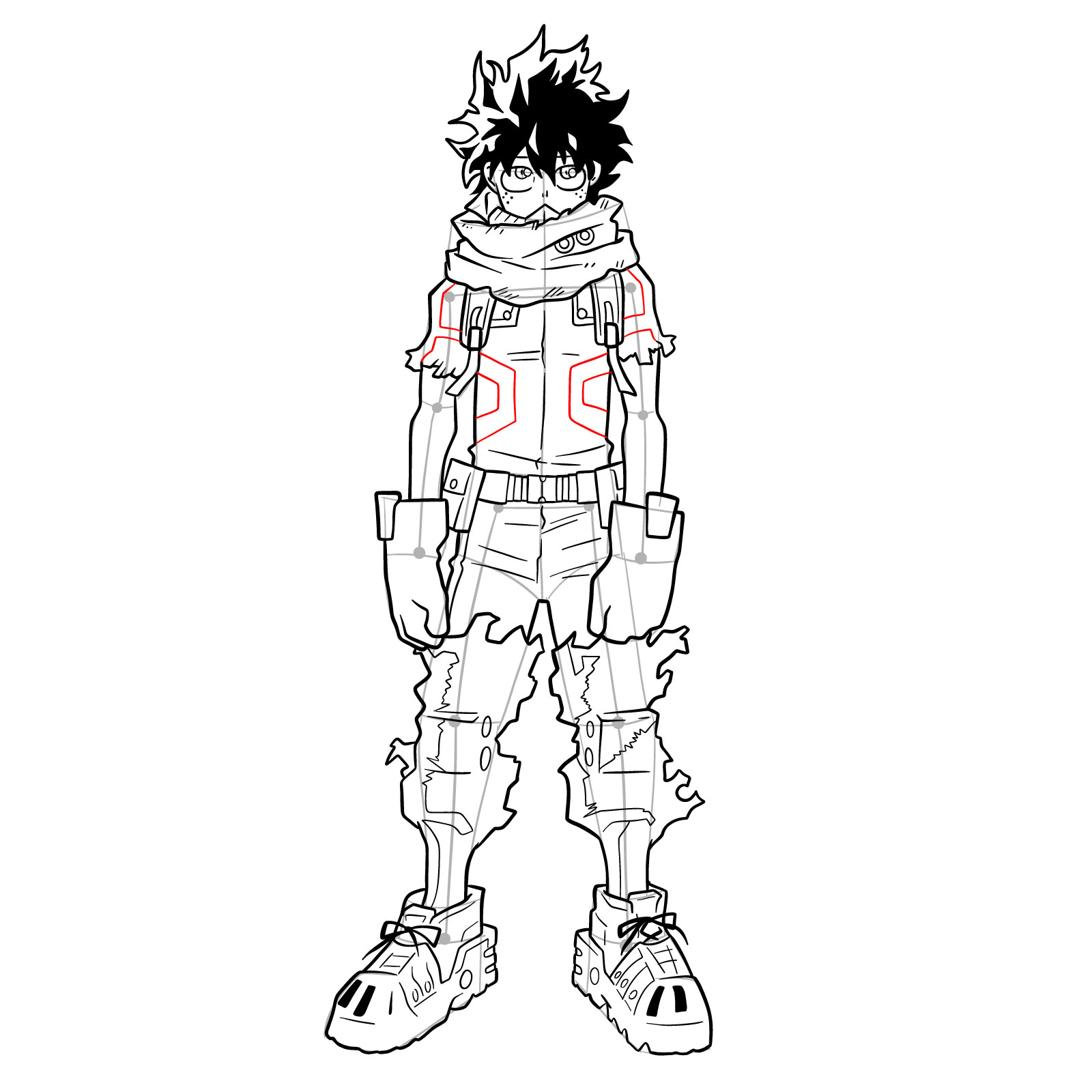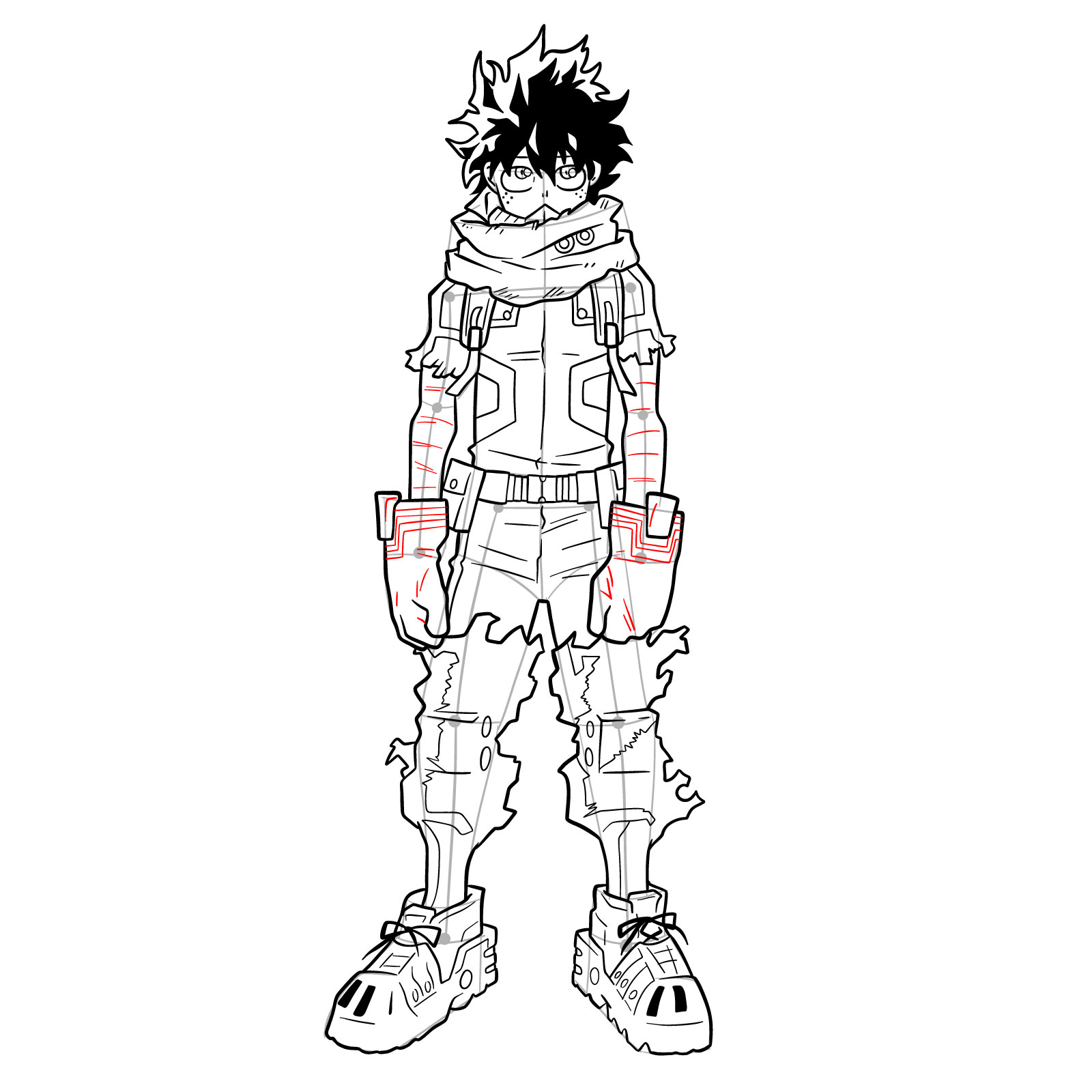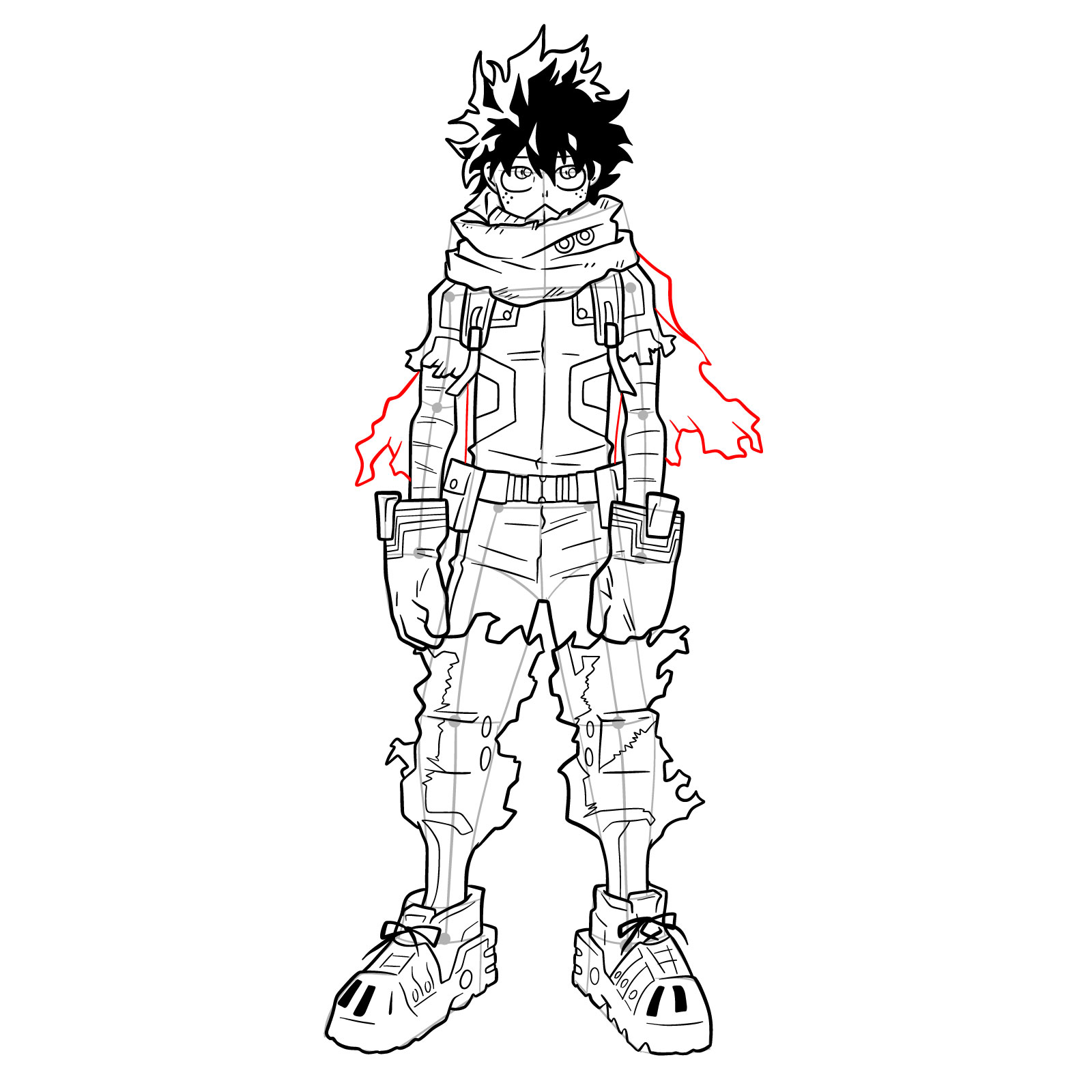 Part 3: The Final Touch
In the last step, grab your inking pen or fine-tipped marker and begin outlining your refined sketch. This stage involves adding depth, final touches, and crisp lines to your drawing, bringing unmasked Izuku in costume Epsilon to its full glory. Wait when ink dries and erase the pencil lines. This step is optional, as you may want to stay with just the pencil sketch and gently erasing the basic form and any pencil marks.
Unlock Your Artistic Potential: Tips and Tricks for Drawing Izuku
As you work on your drawing, consider these helpful tips and creative ideas to take your artwork to the next level:
Pay attention to the details in Izuku's costume, such as the plates on his shoulders, the staps and patterns.
Experiment with different shading techniques to give your drawing a more realistic and dynamic appearance.
Consider adding a background to your drawing, such as a scene from the My Hero Academia universe or a simple pattern to emphasize Izuku.
Don't forget to sign and date your artwork, as it's a testament to your progress as an artist.
Frequently Asked Questions
Q: How can I improve my drawing skills and create more accurate proportions?
A: Practice makes perfect! The more you draw, the better you'll become at understanding proportions and creating realistic representations. Try breaking your subject into simple shapes, like circles, rectangles, and triangles, to make it easier to draw accurately. Also, don't be afraid to use references, such as screenshots or other drawings, to help you perfect your skills.
Q: I'm struggling with drawing Izuku's mask and the shadows it creates. Any tips?
A: Here's the drawing of Izuku in Costume Epsilon wearing his mask. When drawing the mask and shadows, start by sketching the mask's overall shape, and then fill in the shadow area with black color.
Summing Up: Share Your Art and Keep Drawing!
With this step-by-step guide, you're now equipped to draw Izuku in costume Epsilon unmasked. Remember to practice, experiment, and most importantly, have fun with your art! If you enjoyed this tutorial and found it helpful, consider supporting us by sharing the link to this guide, exploring our other tutorials, or donating on Buy Me a Coffee. Keep honing your skills and exploring the world of My Hero Academia through your artwork. Happy drawing!