Are you ready to unleash your inner artist and learn how to draw Goku in Super Saiyan? This step-by-step drawing tutorial will guide you through the process of creating an amazing piece of art featuring this iconic character. So, grab your pencils and let's get started!
Goku's Super Saiyan Legacy
Goku, the legendary hero of the Dragon Ball series, has captivated fans worldwide with his incredible strength and endearing personality. His Super Saiyan form, inspired by martial arts legend Bruce Lee, embodies the essence of power and determination. This form, marked by Goku's golden hair and piercing eyes, has become an iconic symbol in the world of anime. Goku's legacy extends beyond himself, as other characters from the Dragon Ball series have also achieved this powerful transformation, such as Vegeta, Gohan, and Future Trunks. The Super Saiyan form has continued to evolve and develop throughout the series, showcasing the limitless potential of the Saiyan race.
The Super Saiyan transformation has its roots in a legend that predates Goku's first transformation by over a thousand years. However, Goku's groundbreaking achievement during his battle with Frieza reignited the legend and opened the door for other Saiyans to follow in his footsteps. Characters like Vegeta, who initially struggled to achieve the form, eventually found their own path to becoming a Super Saiyan. Other powerful Saiyan warriors, such as Gohan, Future Trunks, and even the hybrid clone Cell, inherited the ability to transform thanks to their Saiyan heritage and unique circumstances.
Prepare Your Artistic Arsenal
Before we dive into the drawing process, let's gather the necessary tools for your artistic journey. While you may use any materials you prefer, we recommend the following:
Pencils: HB for sketching
Eraser: for correcting mistakes and refining your drawing
Inking pen: for outlining and adding final touches
Colored pencils or markers: for bringing your drawing to life (optional, as we don't cover coloring in this tutorial)
Mastering the Art of Drawing Goku in Super Saiyan
Stage 1: Basic Sketch
Start by creating a basic structure for Goku's Super Saiyan form using light pencil strokes. Make a simple stick figure first. This will help you establish accurate proportions and guide you as you add more details to your drawing. Remember, the red color in the tutorial images indicates the current step, while the gray and black colors represent the underlying sketch and completed lines, respectively.
Stage 2: Refining the Sketch
Once you have the basic structure in place, it's time to refine your sketch. Focus on Goku's distinctive features, such as his spiky hair, muscular physique, and powerful expression. Pay attention to the details and make any necessary adjustments to ensure accurate proportions and a dynamic appearance.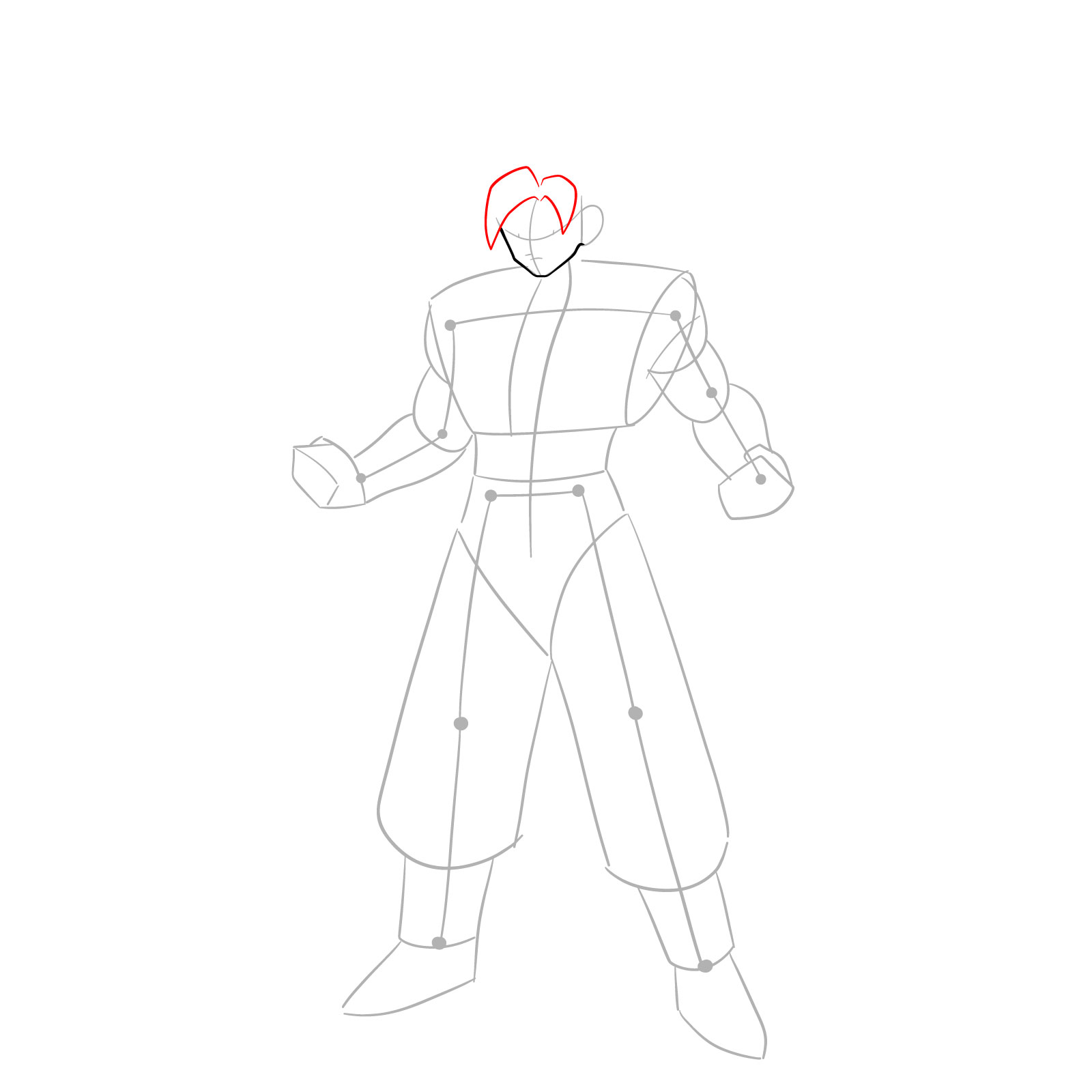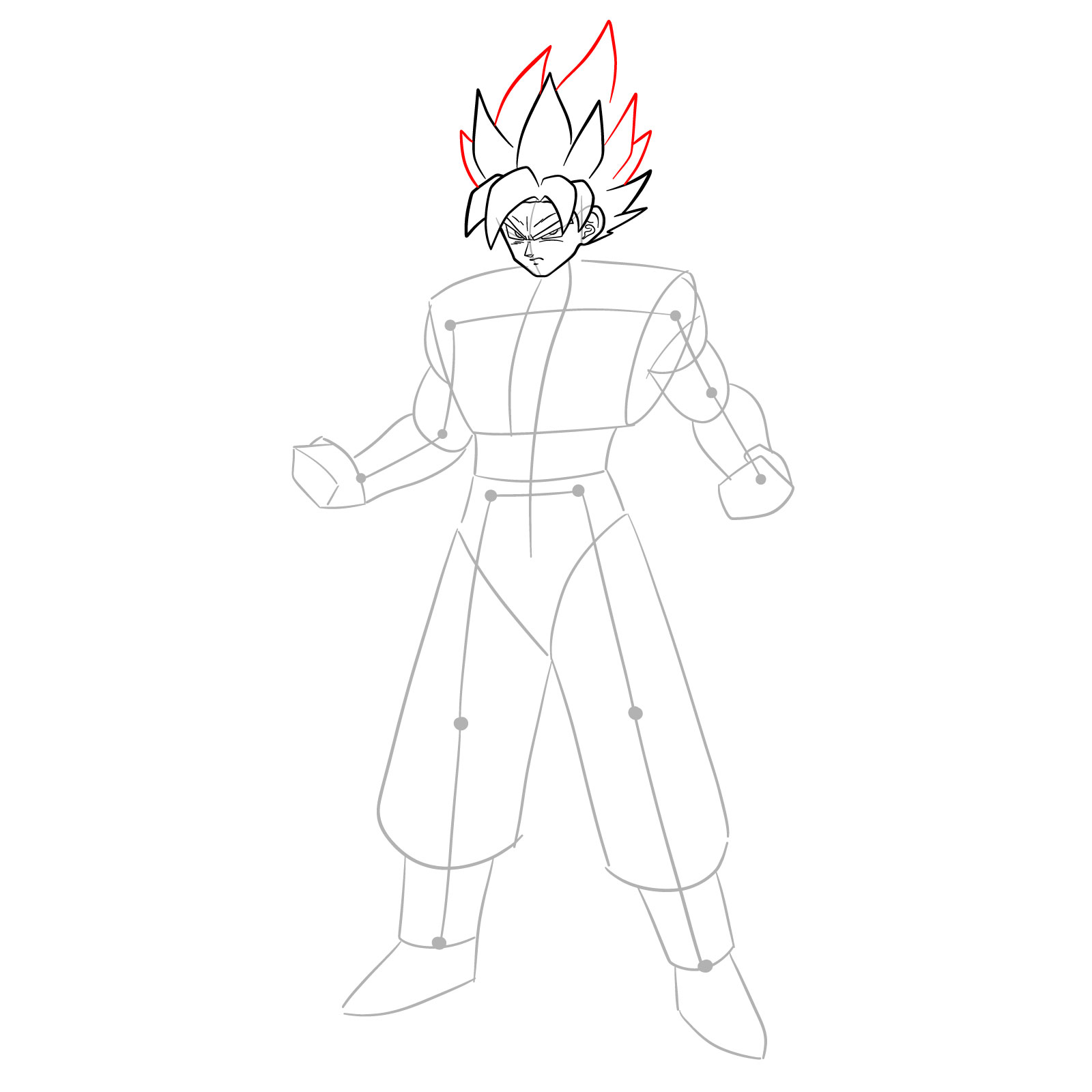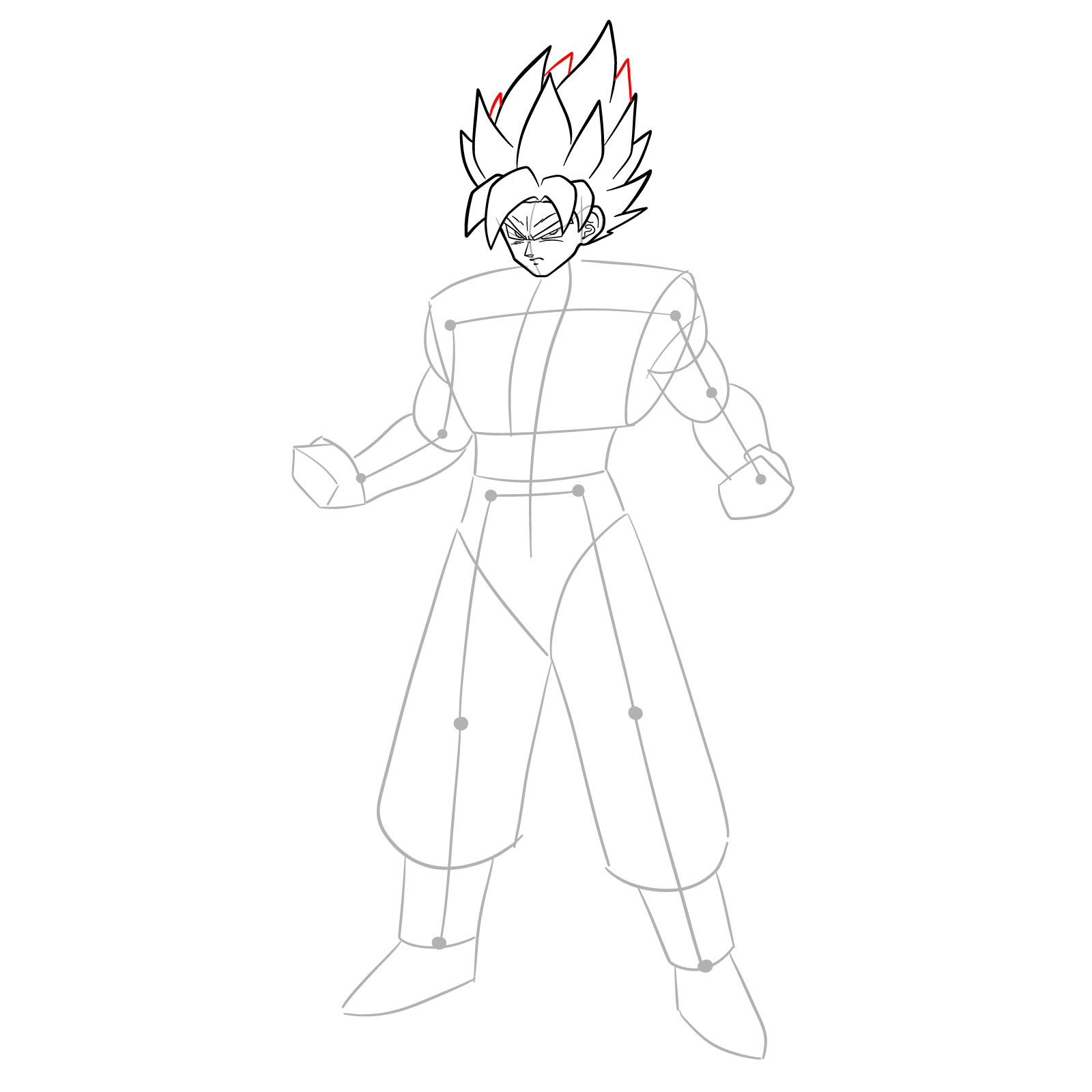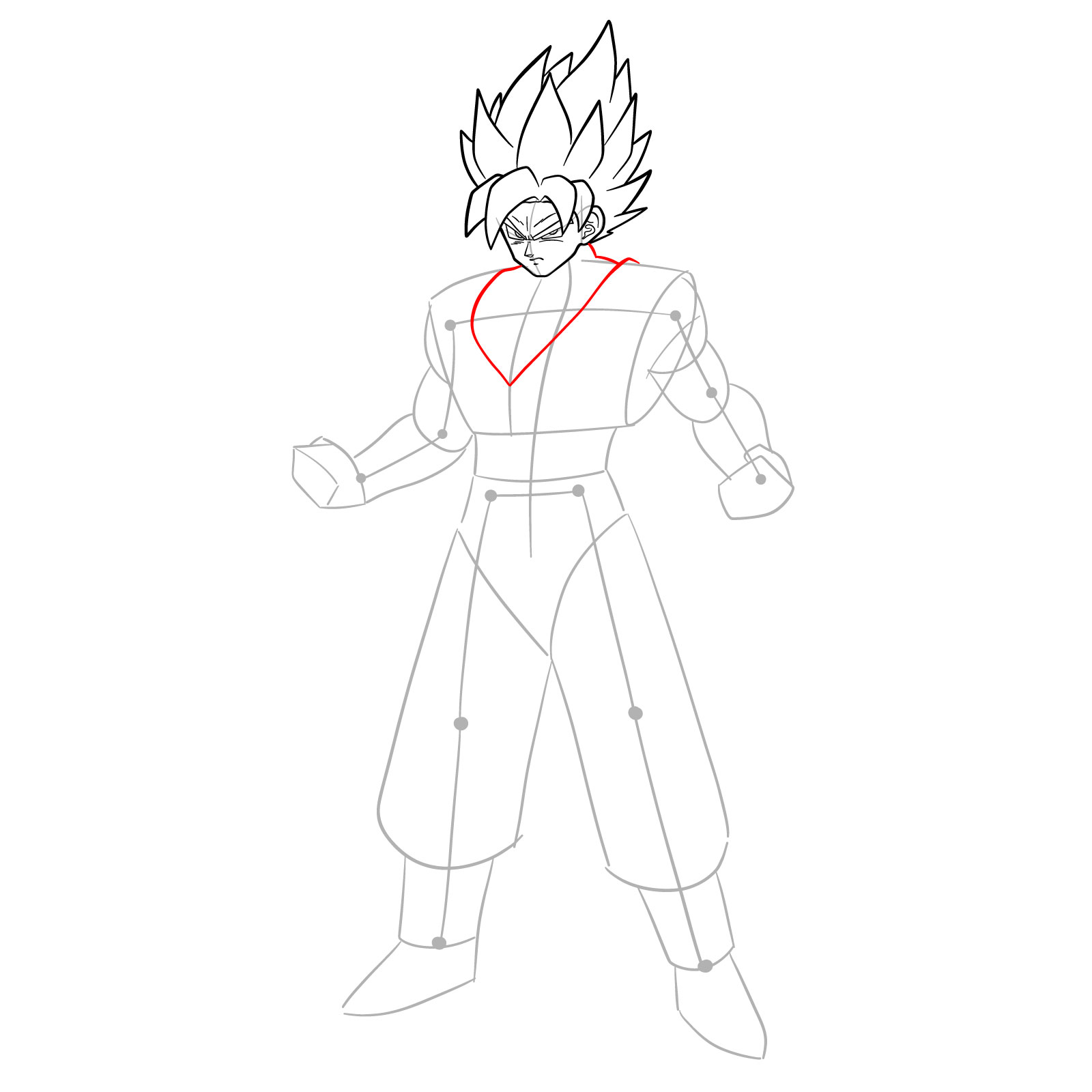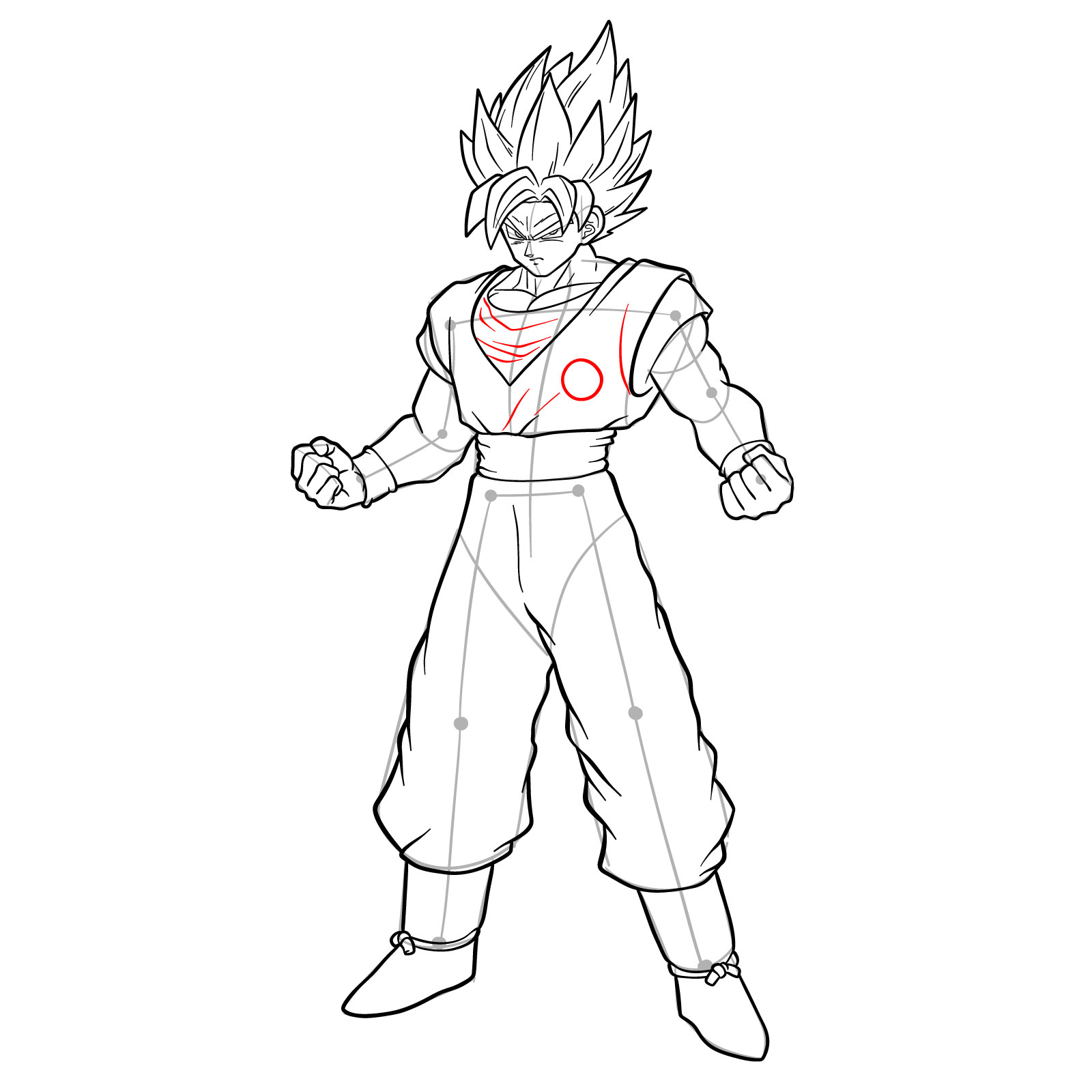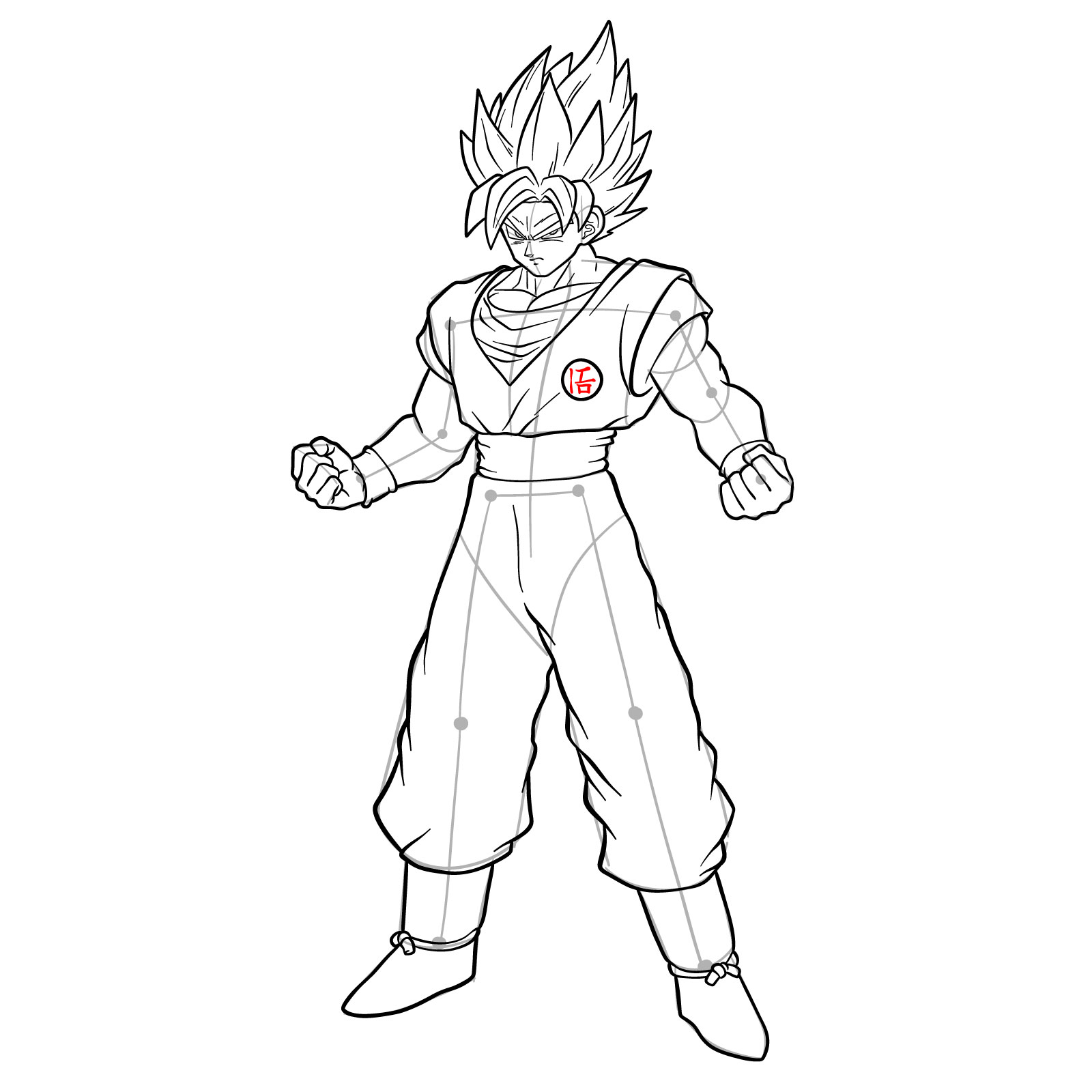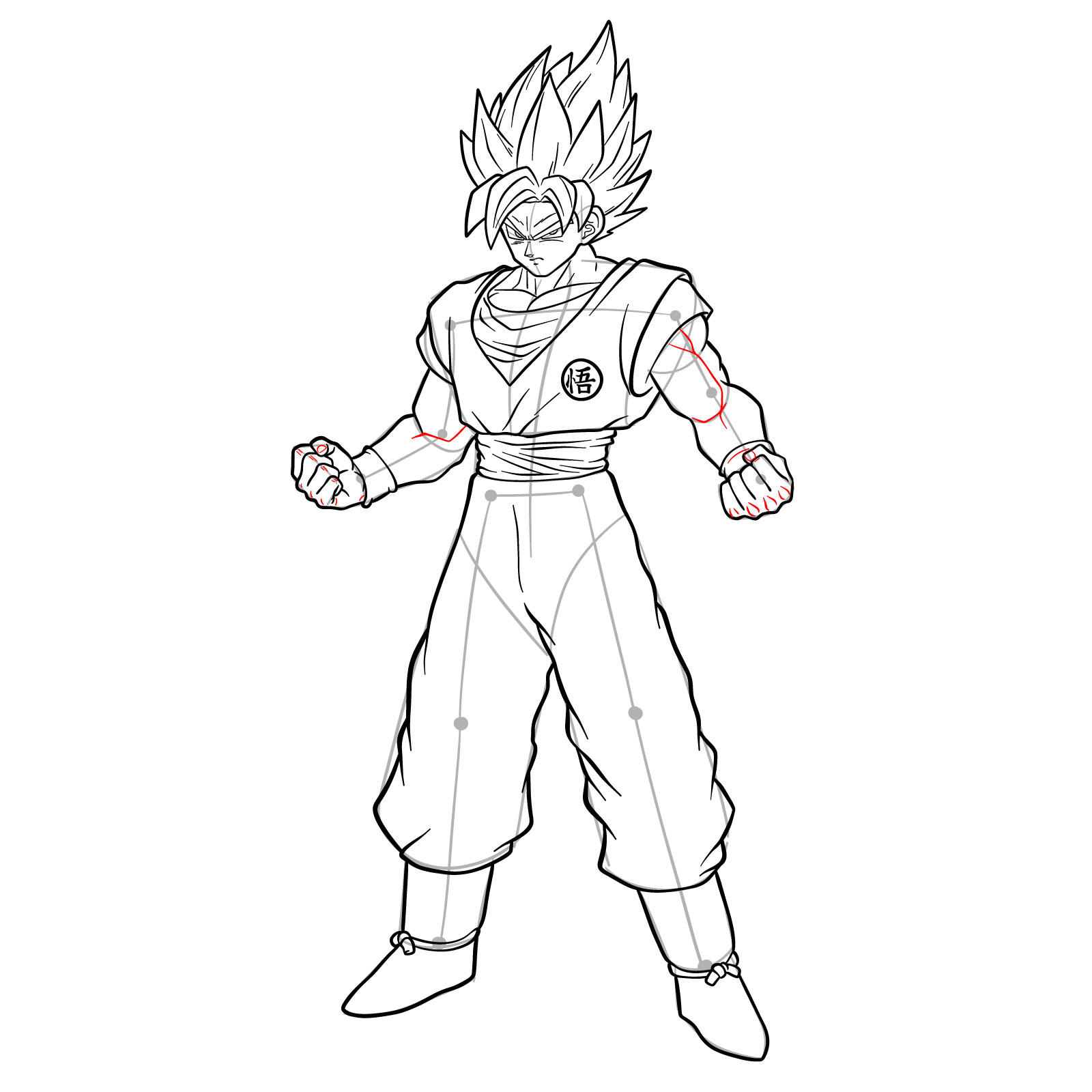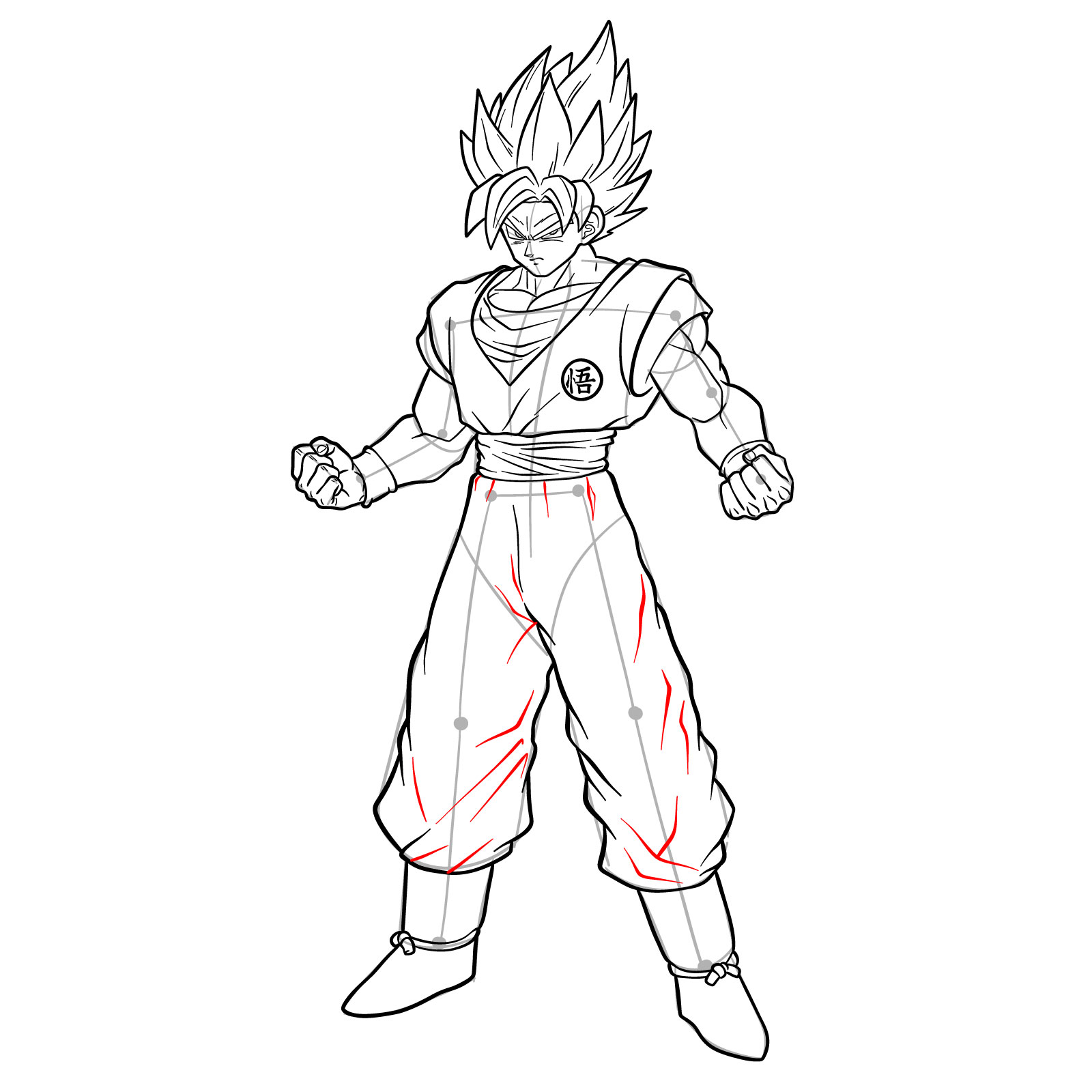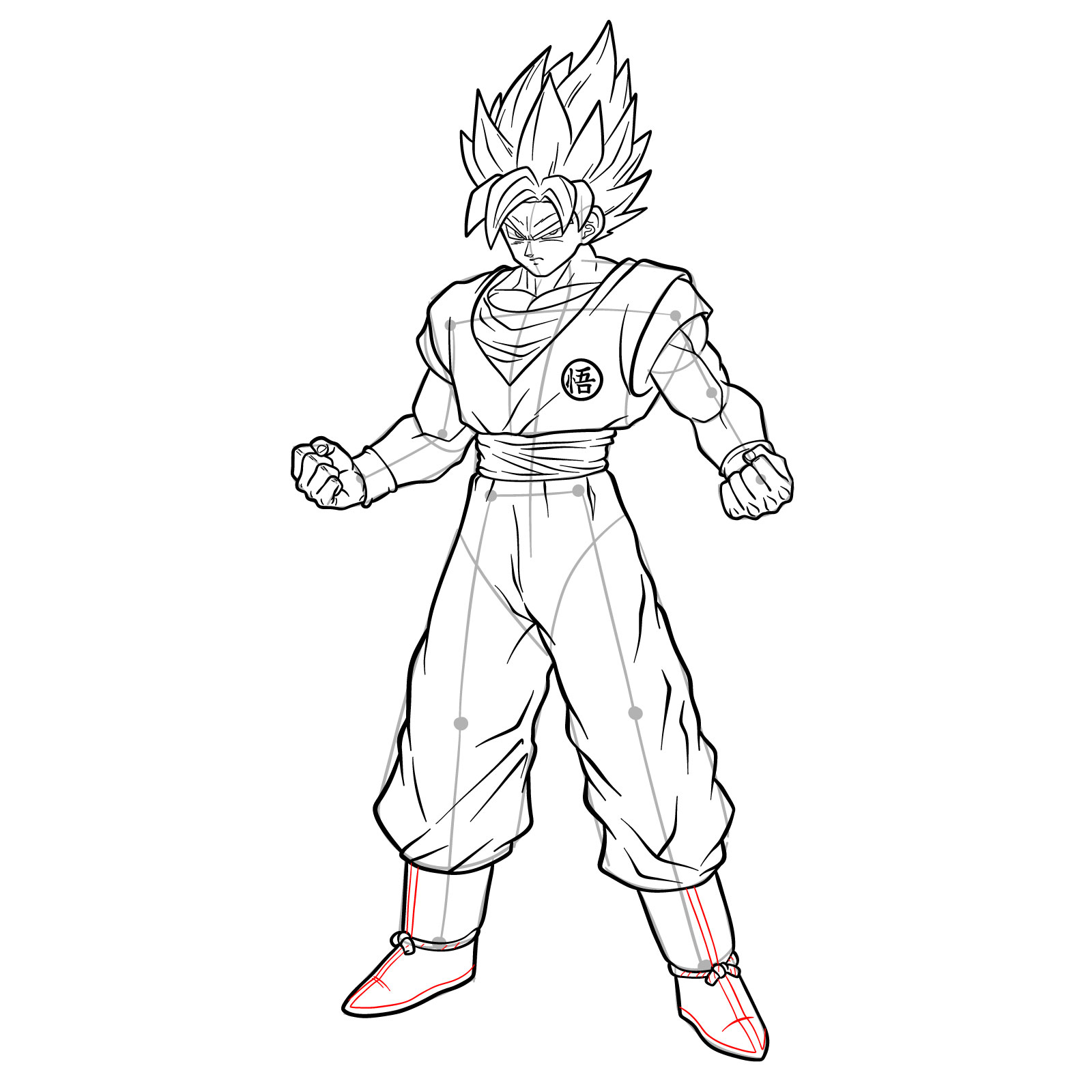 Stage 3: Inking
With your refined sketch complete, it's time to bring your drawing to life with ink. Carefully outline Goku's Super Saiyan form, adding depth and definition to your artwork. Be sure to emphasize his striking features and powerful stance, capturing the essence of this legendary character.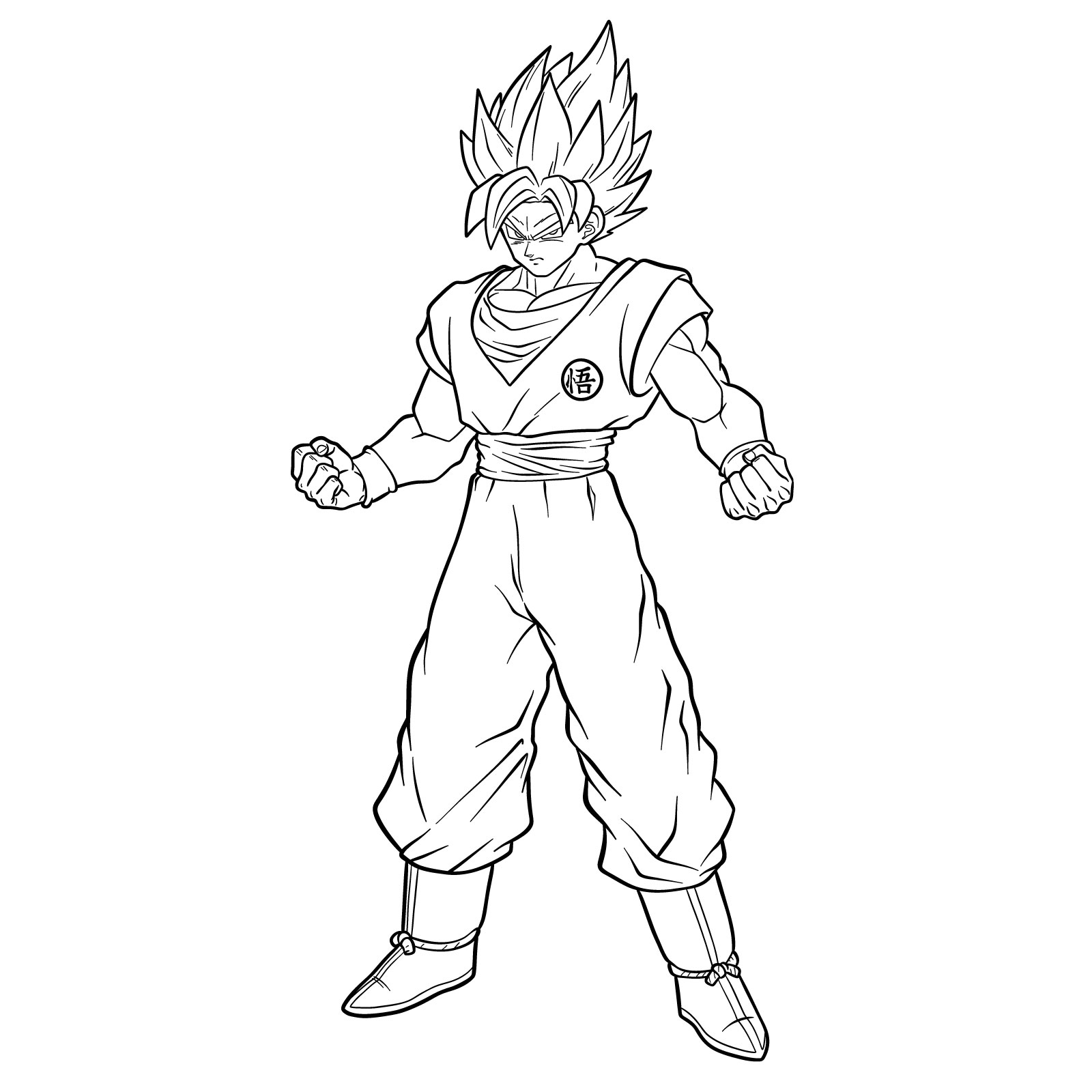 Unlocking the Secrets of Drawing Perfection
To elevate your Goku's Super Saiyan drawing to new heights, consider these expert tips and techniques:
Practice drawing basic shapes and forms to strengthen your foundation
Study reference images and the character's design for accuracy
Experiment with different shading techniques to create depth and dimension
Don't be afraid to make mistakes; use them as learning opportunities
Frequently Asked Questions
How can I improve my sketching skills for drawing Goku in Super Saiyan?

Practice drawing basic shapes, forms, and anatomy. Studying reference images and understanding the character's design will help you create more accurate and dynamic drawings.

What drawing techniques can I use for sketching Goku's Super Saiyan form?

Experiment with various techniques like hatching, cross-hatching, and stippling for shading and texture. These methods can add depth and dimension to your drawing, making it more engaging and realistic.

How do I create a sense of movement in my drawing?

Focus on capturing Goku's dynamic pose and powerful expression. Use lines and shading to emphasize the direction and energy of his movement, creating a sense of motion in your drawing.
Congratulations! You've now learned how to draw Goku in Super Saiyan, capturing the essence of this iconic character. We hope this tutorial has inspired you to continue refining your artistic skills and exploring the world of Dragon Ball. If you found this guide helpful, consider supporting the regular release of free drawing guides on SketchOk by making a donation at buymeacoffee.com/sketchok. Don't forget to share your artwork with fellow artists and keep challenging yourself to achieve new heights in your artistic journey. Happy drawing!