Are you a fan of aviation history and want to bring your passion to the canvas? Get ready to embark on a creative adventure with our step-by-step tutorial on how to draw McDonnell Douglas F-4 Phantom II, an iconic fighter jet that has left its mark in history. Grab your pencils and let's begin!
A Legend of the Skies: The McDonnell Douglas F-4 Phantom II
The McDonnell Douglas F-4 Phantom II is an American fighter jet that has played a significant role in military history. Initially developed for the United States Navy, it quickly became an essential part of the air forces of the United States Marine Corps and the United States Air Force. With a total of 5,195 aircraft built, it remains the most produced American supersonic military aircraft in history.
Not only is the Phantom II a symbol of American air superiority, but it also holds 15 world records for in-flight performance, making it a fascinating subject to draw. This versatile aircraft has been in service for more than six decades, serving various roles such as air superiority fighter, ground-attack, aerial reconnaissance, and even flight demonstration for both the United States Air Force Thunderbirds and the United States Navy Blue Angels.
Prepare for Takeoff: Materials and Tools
To get started with our Phantom II drawing tutorial, you'll need the following materials and tools:
Pencil
Eraser
Pen or fine liner for inking
Quality paper
A ruler or straight edge for straight lines
Reference images of the McDonnell Douglas F-4 Phantom II
Colored pencils, markers, or any other coloring tools of your choice (optional, if you decide to color the sketch)
Capturing the Essence of the F-4 Phantom II: Step-by-Step Drawing Guide
In this tutorial, we'll guide you through the process of drawing the McDonnell Douglas F-4 Phantom II using a series of images. Each image will represent a step in the drawing process, with red lines indicating the current step, grey lines for the basic proportion sketch, and black lines for previously drawn lines.
Part 1: Laying the Foundation
Start by sketching the basic structure of the F-4 Phantom II using light pencil strokes. This initial sketch will help you establish accurate proportions and a solid foundation for your drawing. Don't worry about adding details at this stage; focus on the overall shape and form of the aircraft. Next 4 images will guide you through the basic form creation.
Part 2: Refining the Sketch
With the basic structure in place, begin refining your sketch by adding details to the F-4 Phantom II. Pay attention to the various components of the aircraft, such as the cockpit, wings, and landing gear. Be sure to maintain the correct proportions as you enhance the sketch.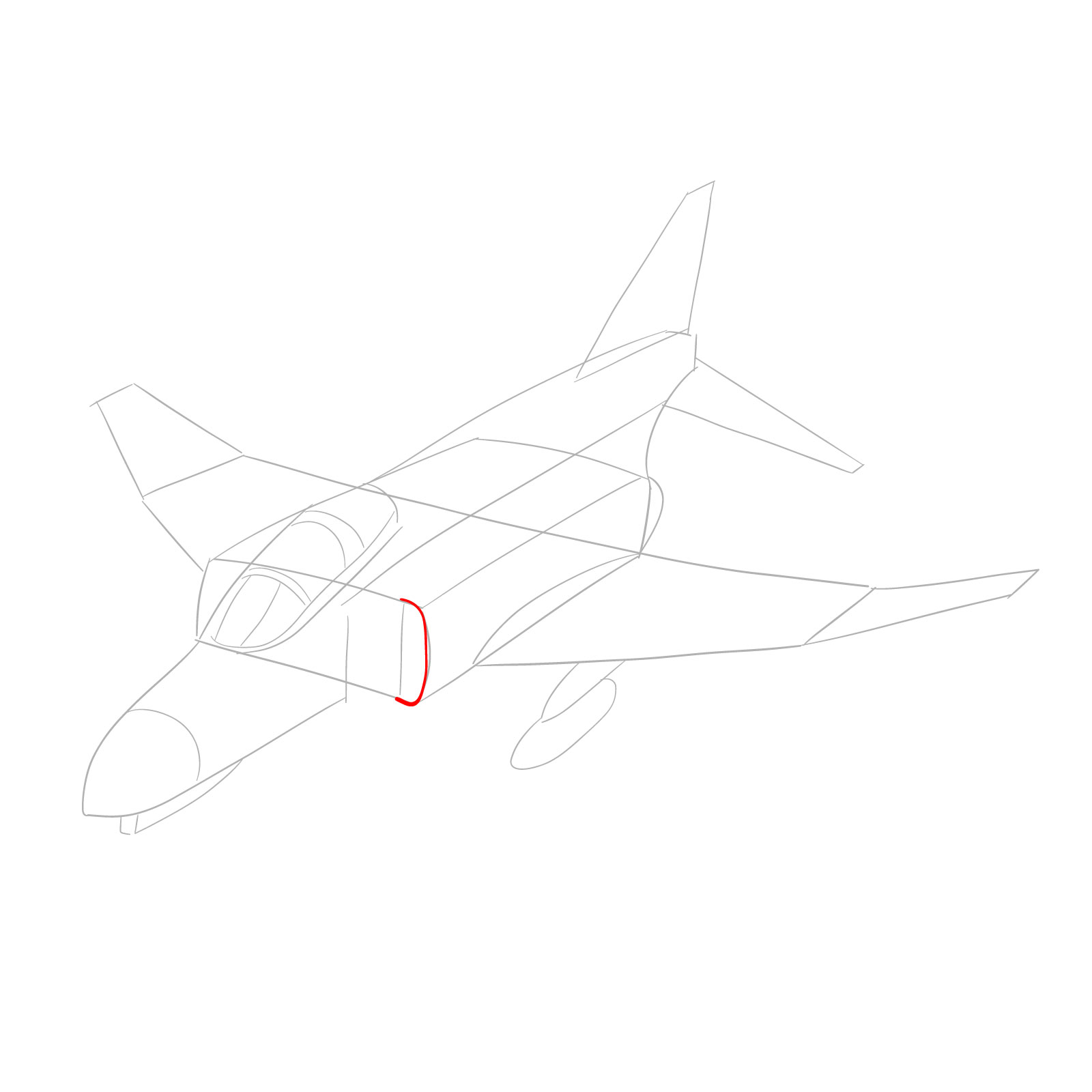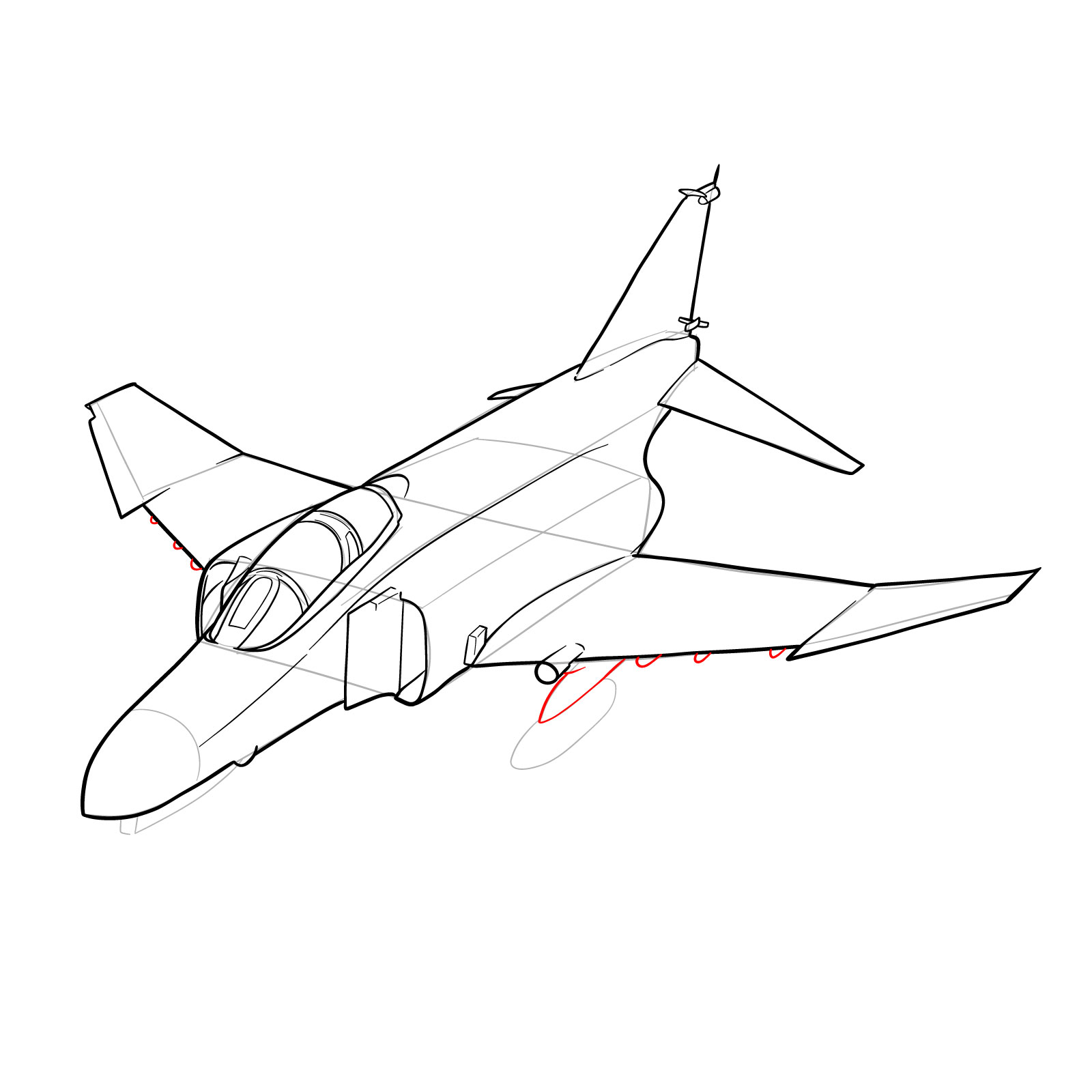 Part 3: Inking Your Masterpiece
Once you're satisfied with your refined sketch, it's time to add the finishing touches with ink. Using a pen or fine liner, carefully outline your drawing and add any additional details to make the F-4 Phantom II come to life. Be sure to let the ink dry completely before erasing any pencil marks.
Unlocking Your Inner Artist: Tips and Techniques
As you continue to practice drawing the F-4 Phantom II and other aircraft, consider these helpful tips and techniques to elevate your artwork:
Study reference images of the aircrafts to understand their unique features and characteristics.
Practice drawing basic geometric shapes to improve your accuracy and confidence in drawing complex aircraft structures.
Experiment with different drawing tools and techniques to find the ones that work best for you.
Learn about the history and functionality of the F-4 Phantom II to provide context and inspiration for your drawings.
Share your artwork with others and seek feedback to improve your skills and grow as an artist.
Frequently Asked Questions
Q: How can I improve the accuracy of my proportions when drawing the F-4 Phantom II?
A: To improve the accuracy of your proportions, start by breaking down the aircraft into basic geometric shapes. This will help you establish the correct size and placement of each component. Additionally, using reference images and practicing regularly will help you develop a better understanding of the aircraft's proportions and features.
Q: What coloring techniques should I use to make my F-4 Phantom II drawing more realistic?
A: To create a more realistic appearance in your F-4 Phantom II drawing, focus on adding shading and highlights. This will give your artwork depth and dimension, making it appear more three-dimensional. Experiment with different coloring tools and techniques to find the ones that work best for your style and desired effect.
Congratulations on completing your McDonnell Douglas F-4 Phantom II drawing! Remember, practice makes perfect, so continue to draw and explore other aircraft, such as the Hawker Siddeley Harrier, F-16 Fighting Falcon, or Dassault Rafale. If you found this tutorial helpful, please consider supporting our content by sharing the link to the guide, checking out other tutorials, or donating to us on Buy Me a Coffee. Happy drawing!