Do you have a passion for aviation and love to sketch? If so, you're in for a treat! In this tutorial, we will guide you step-by-step on how to draw the Boeing 747-8, the largest variant of the iconic 747 series. Known for its impressive size, unique design, and advanced features, the Boeing 747-8 is an exciting challenge for artists of all levels. So grab your drawing tools and let's embark on this artistic journey together!
A Brief History of the Boeing 747-8
The Boeing 747-8, a wide-body airliner developed by Boeing Commercial Airplanes, is a testament to modern technology and aerodynamic advancements. Launched on November 14, 2005, the 747-8 was designed as an alternative to the double-deck Airbus A3XX, later known as the A380. With a stretched fuselage and a plethora of improvements compared to its predecessor, the 747-400, the 747-8 has earned a special place in aviation history.
Measuring an impressive 250 feet in length, the 747-8 was the longest airliner until the 777X came into existence. This magnificent aircraft is powered by the General Electric GEnx turbofan, which is a smaller, more efficient version of the engine used in the 787 Dreamliner. Available in both a cargo version (747-8F Freighter) and a passenger version (747-8I Intercontinental), this airliner serves a diverse range of purposes in the aviation industry.
A total of 155 Boeing 747-8 aircraft were built, with the last one being delivered to Atlas Air on January 31, 2023. The 747-8's impressive design and features have made it a popular choice for airlines and aviation enthusiasts alike, ensuring its legacy will continue for years to come.
Drawing the Boeing 747-8: Tips and Advice
Before we dive into the step-by-step tutorial, let's go over some essential tips and advice to help you draw the Boeing 747-8 with precision and ease:
Start with a basic structure: In the first three steps of the tutorial, focus on creating a basic structure for your sketch to ensure accurate proportions.
Pay attention to details: The Boeing 747-8 is known for its intricate design features, such as its raked wingtips and carbon-fiber composite components. Be sure to capture these elements in your drawing.
Use reference images: To achieve the most accurate sketch, refer to images of the Boeing 747-8 while drawing. This will help you understand the aircraft's complex shapes and features better.
Remember, practice makes perfect! The more you draw, the better you'll become at capturing the essence of the Boeing 747-8 in your artwork. Don't be afraid to experiment with different techniques and approaches, as this will help you develop your unique artistic style.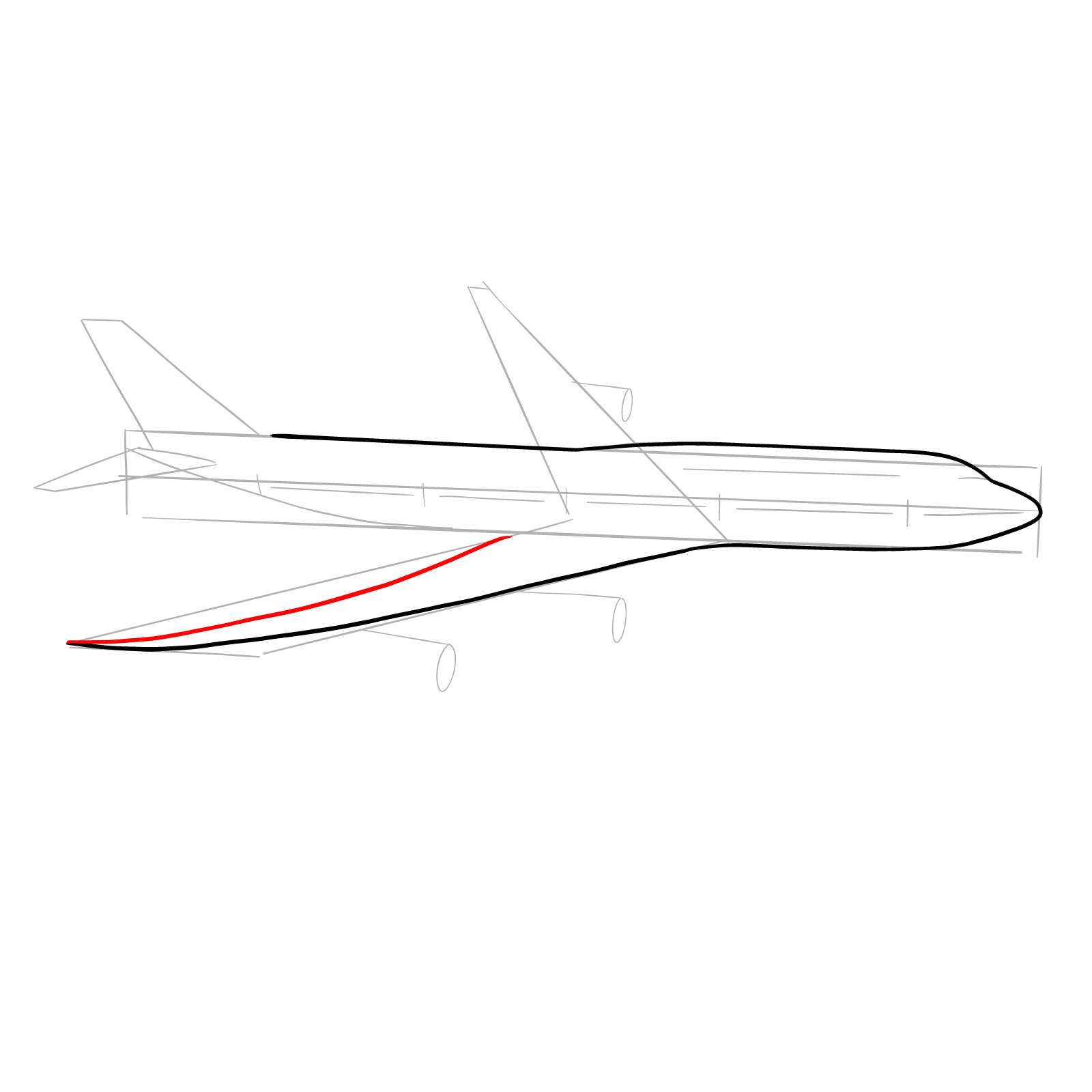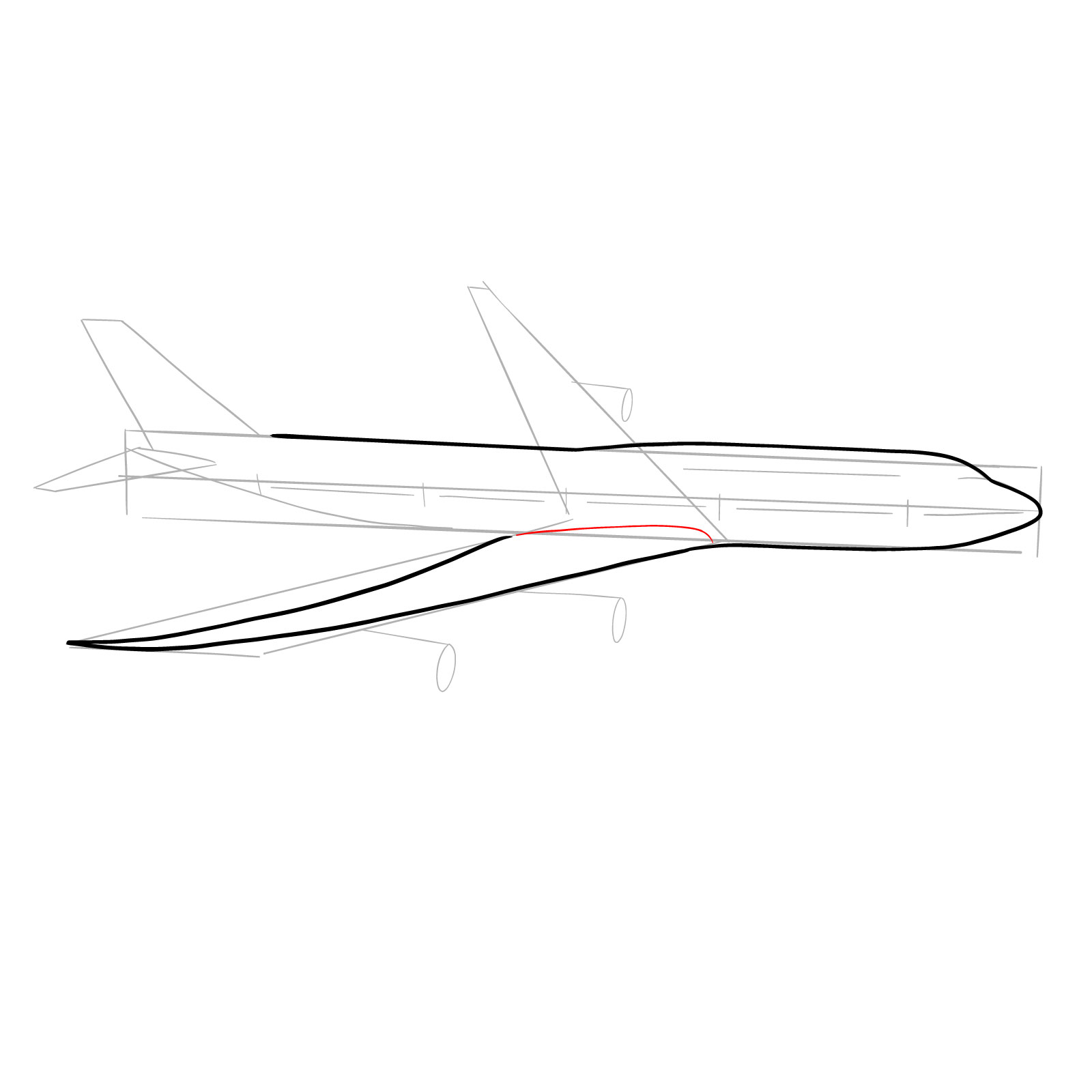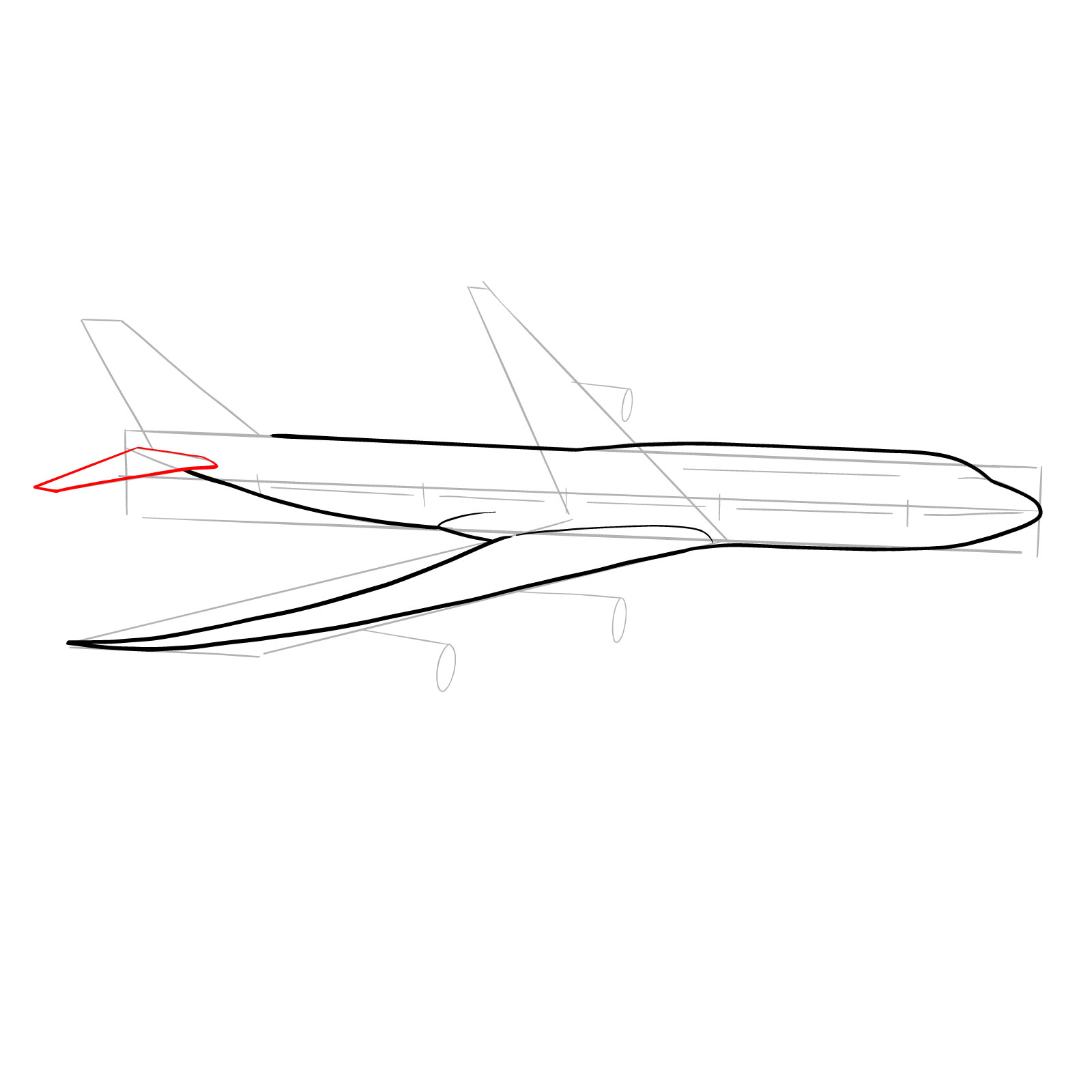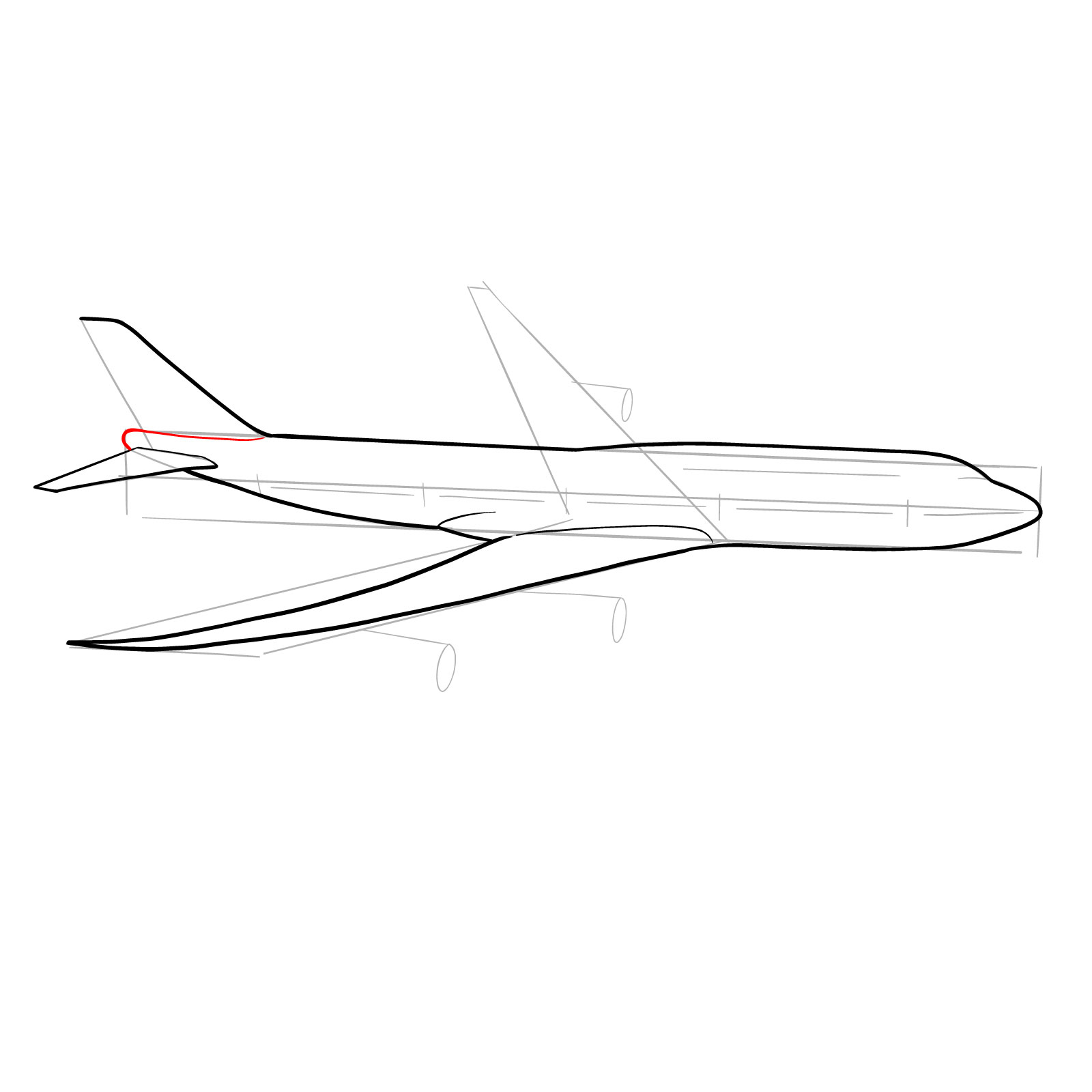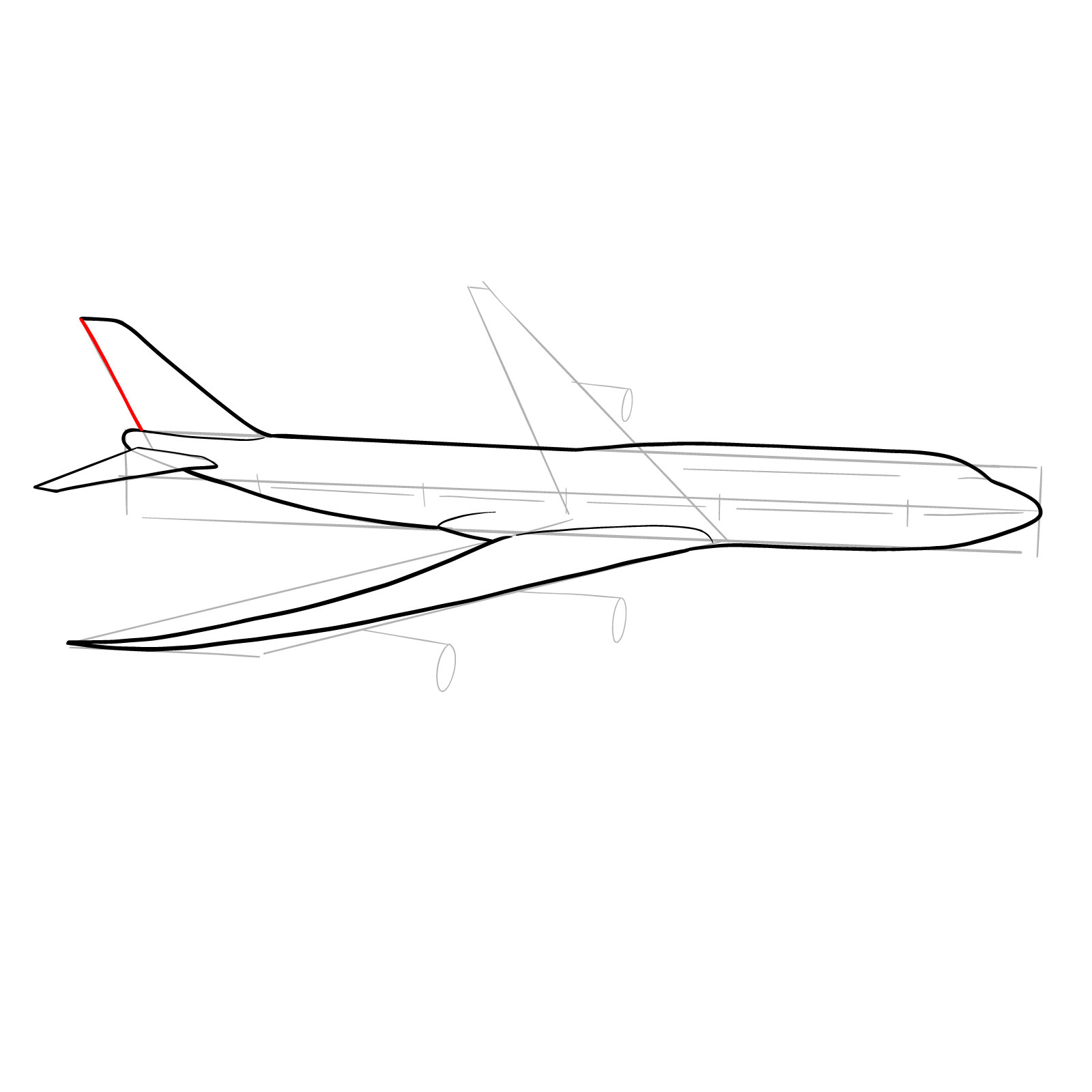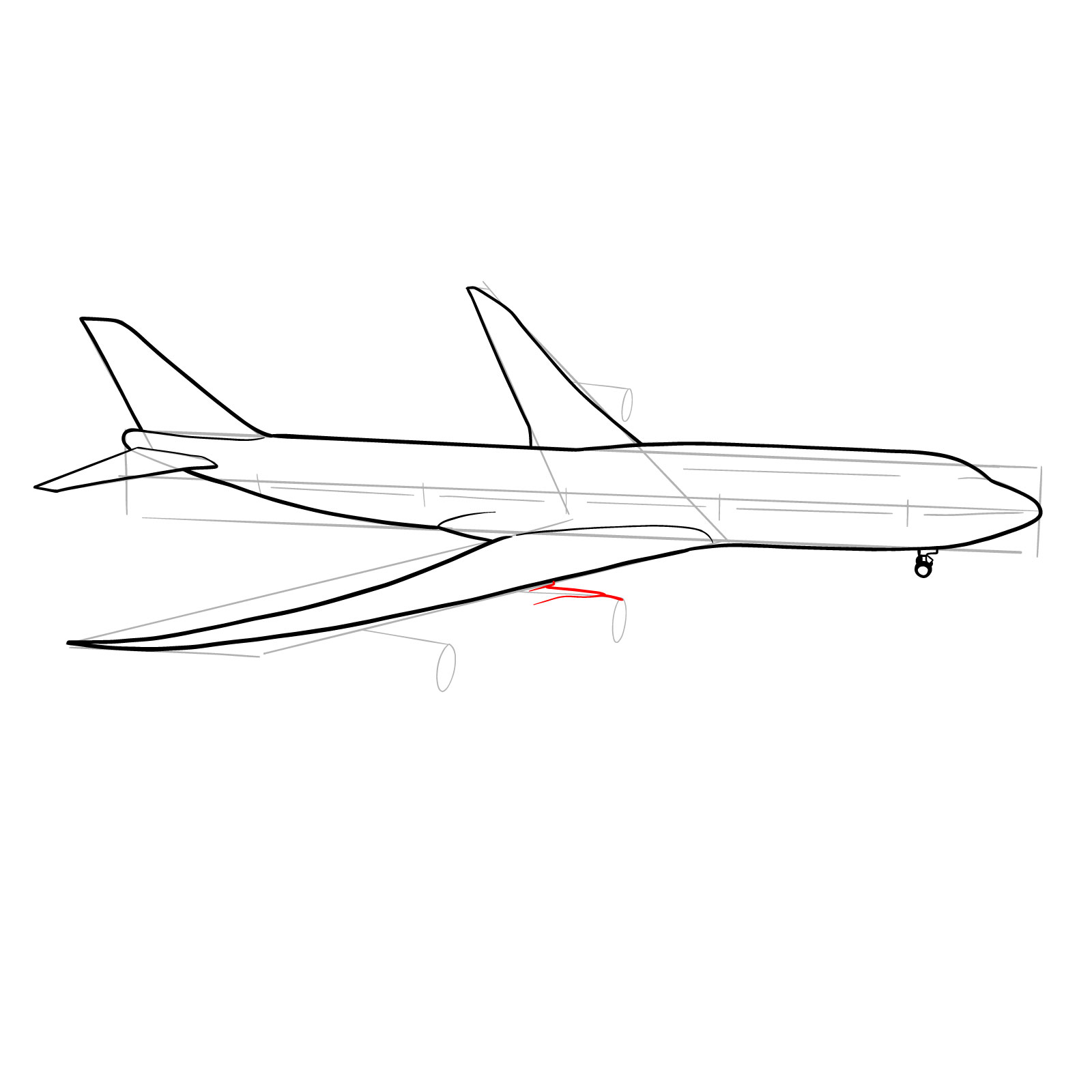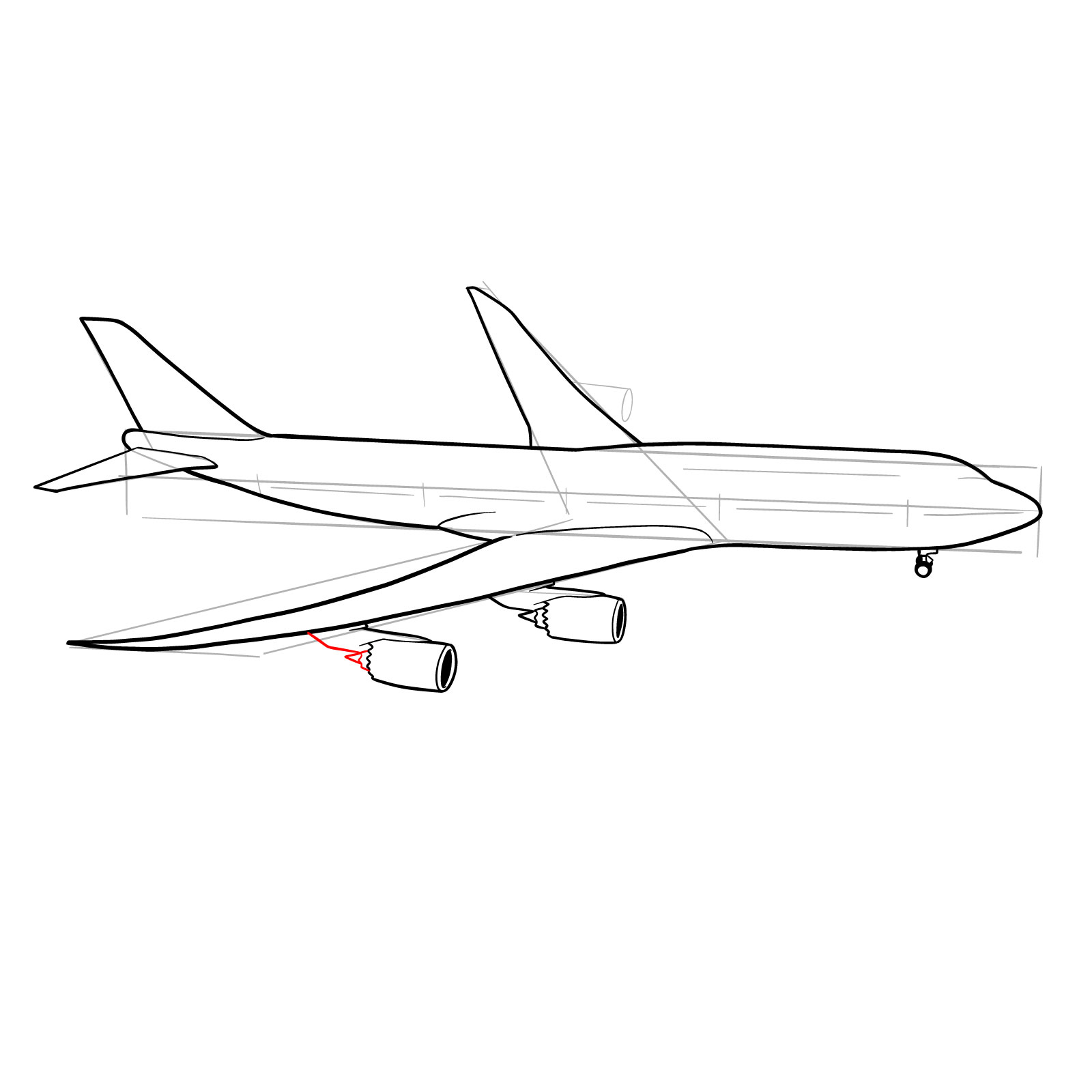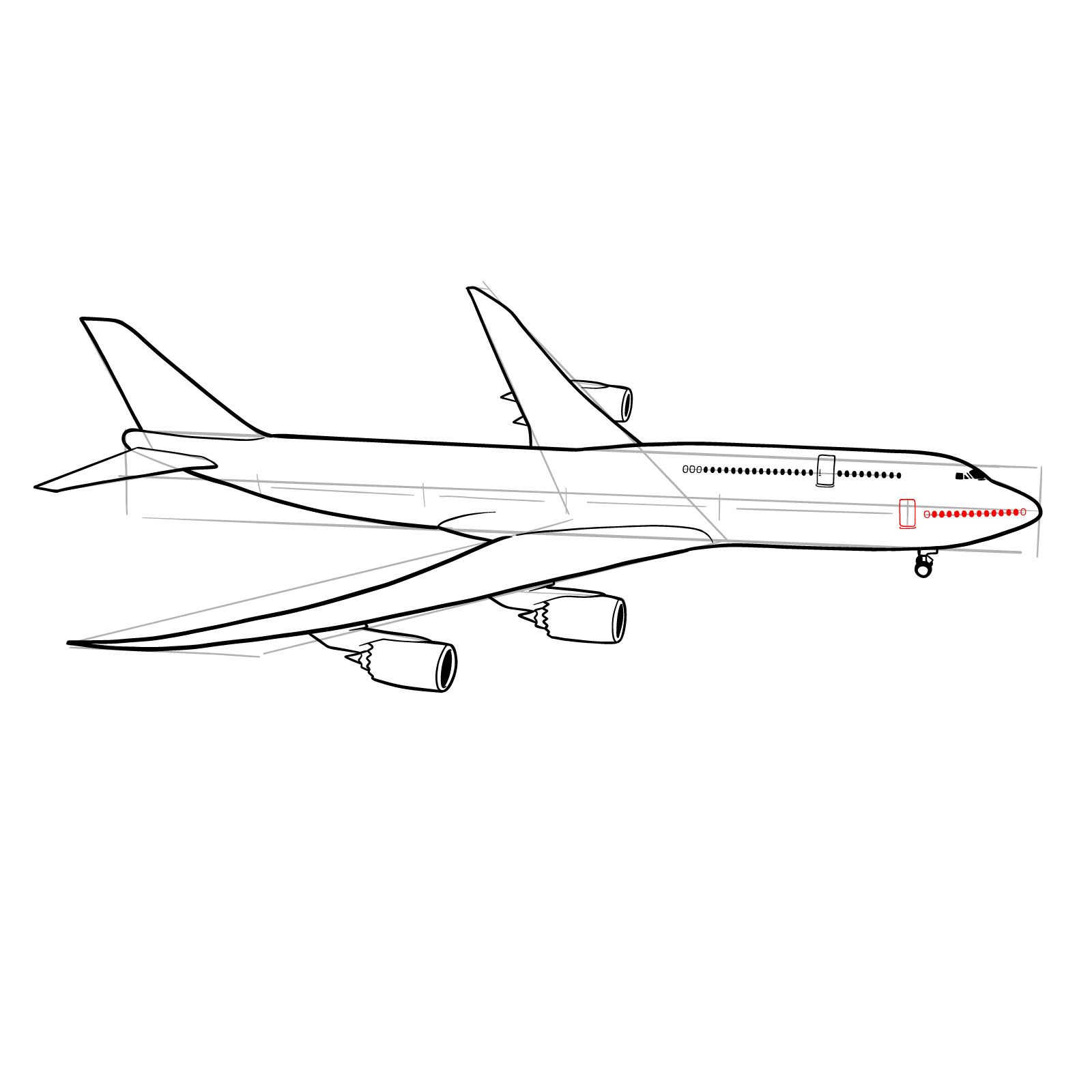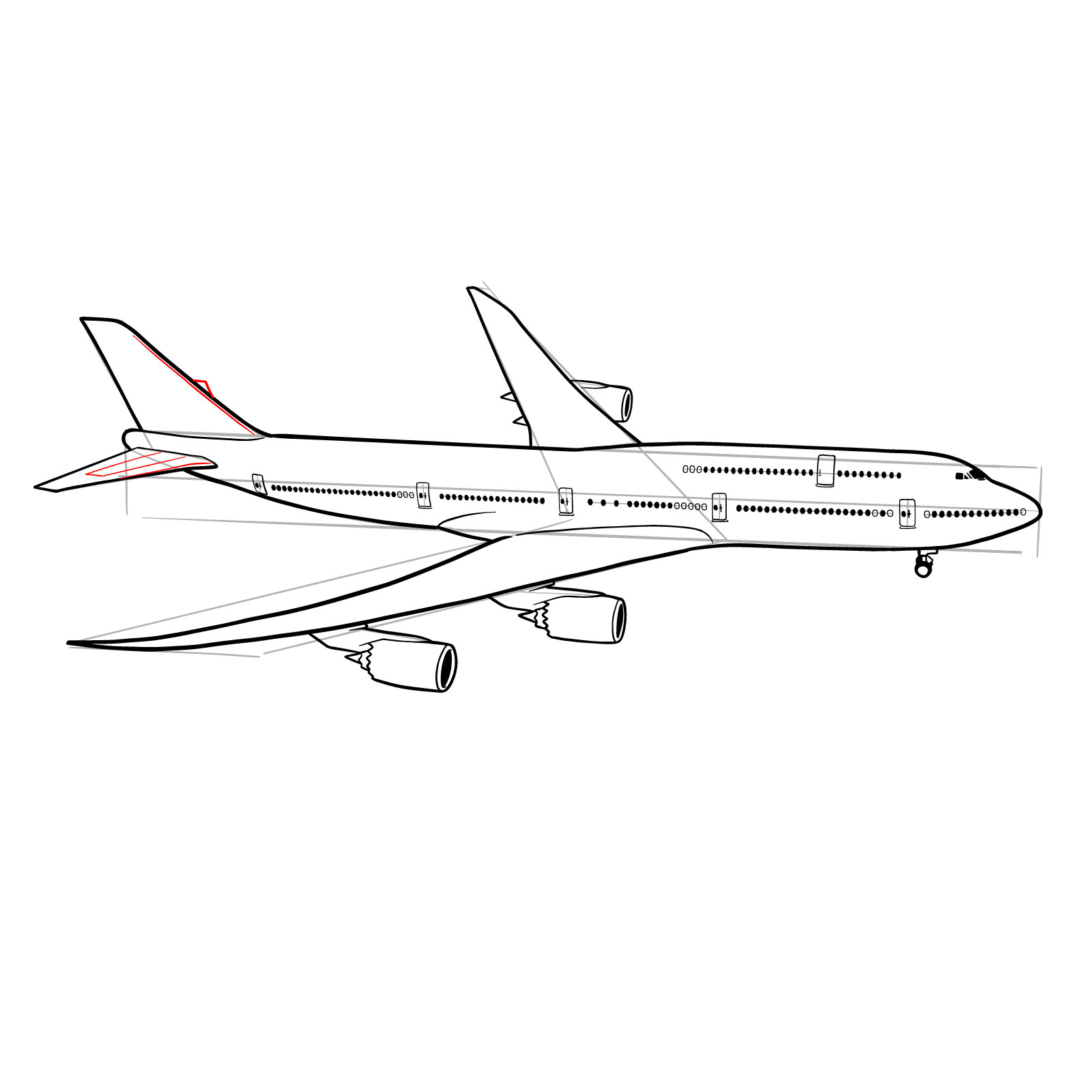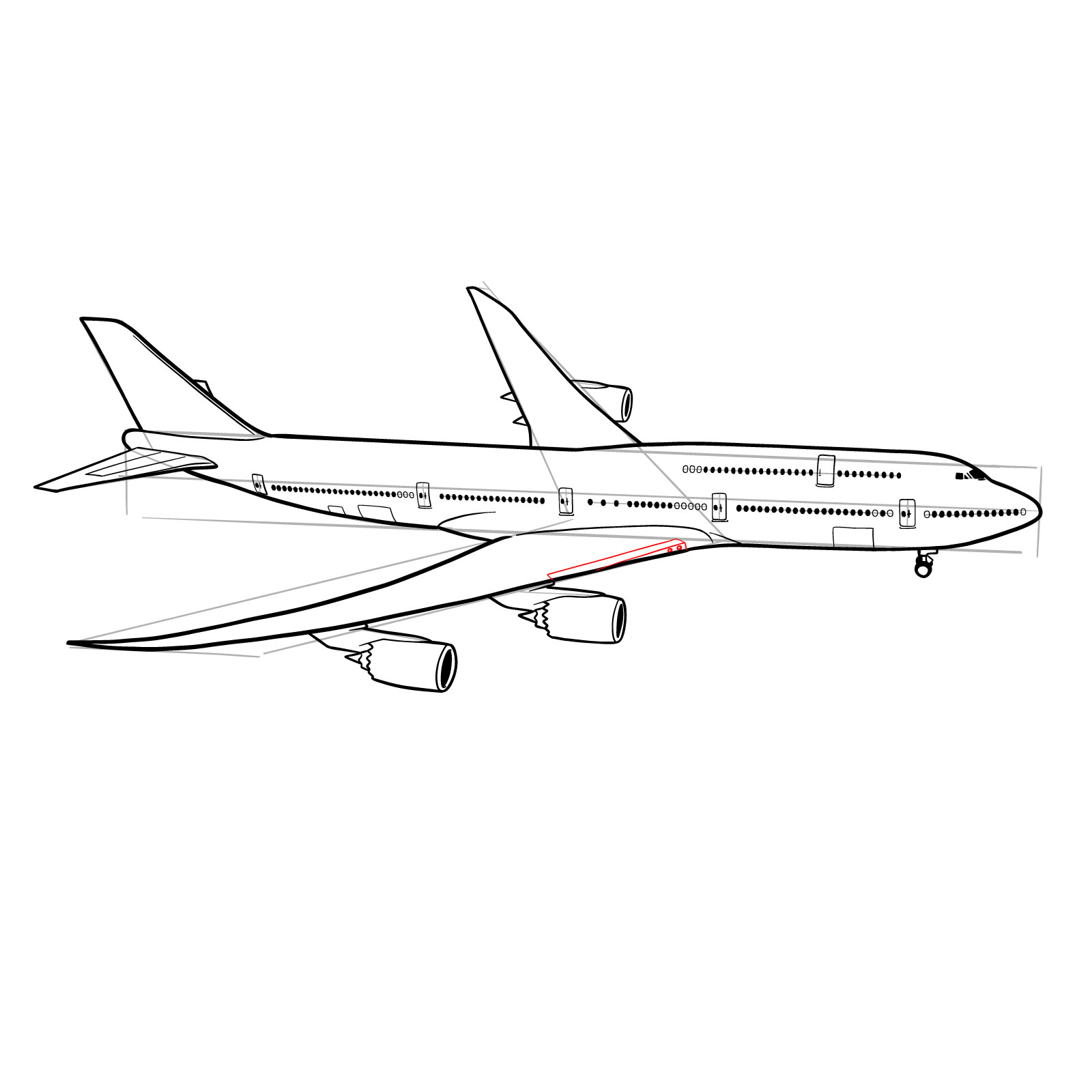 Other Iconic Aircraft to Draw
Once you've mastered drawing the Boeing 747-8, why not try your hand at sketching some other iconic aircraft? Here are three more popular aircraft you may want to consider drawing:
Airbus A380: Known as the world's largest passenger airliner, the Airbus A380 is a double-deck, wide-body aircraft that offers a unique drawing challenge.
Concorde: This supersonic passenger jet, with its distinct delta wing and slender fuselage, was a symbol of luxury and speed during its time in service (coming soon).
Lockheed SR-71 Blackbird: As a high-speed, high-altitude reconnaissance aircraft, the SR-71 Blackbird features a sleek and futuristic design that is sure to inspire your creativity (coming soon).
Show Off Your Boeing 747-8 Masterpiece
Now that you know how to draw the Boeing 747-8, it's time to showcase your artistic talent! Share your masterpiece with friends, family, and fellow aviation enthusiasts to inspire others and celebrate your achievements. Remember, practice is key when it comes to mastering any skill, so keep drawing and exploring the world of aviation art. Happy sketching!
If you found this tutorial helpful and would like to support me, please consider buying me a coffee by following this link: buymeacoffee.com/sketchok. Your support is greatly appreciated and helps me continue creating informative and engaging content for aspiring artists like you. Thank you!