Welcome to the our guide on how to draw grown-up version of Amity Blight from The Owl House Epilogue episode. In this tutorial, we will explore the intricate details of Amity's appearance and provide step-by-step instructions to help you capture her unique charm and personality. Whether you're a beginner or an experienced artist, this guide will equip you with the skills and techniques needed to create an amazing portrayal of Amity. So, let's dive in and unleash your creativity!
What Did Amity Look Like in the Epilogue
In the epilogue of "Watching and Dreaming," Amity Blight undergoes notable changes in her appearance. To accurately depict her, it's essential to focus on the following key features:
Hairstyle: Amity's hair is worn up in a stylish ponytail. The bangs retain their faded lavender color from the Human Realm, while the ponytail itself is lavender. Don't forget to highlight her brown undercut, adding depth and dimension to her hairstyle.
Tattoo: Amity proudly displays a Flapjack tattoo on her left forearm, symbolizing her strong bond with her friends. Pay attention to the intricate details of the tattoo to make it stand out in your artwork.
Figure: Amity has inherited her mother Odalia's curvier figure, giving her a more mature appearance. Emphasize the subtle changes in her body proportions to accurately represent her growth.
Outfit: In the epilogue, Amity wears a stylish ensemble. This includes a dark gray button-up shirt with golden buttons and rolled-up sleeves. Don't forget to add the spots of abomination goo on the shirt for authenticity. She accessorizes with brown gloves, a lavender cross-body belt with a golden adjuster, and a brown belt with a rectangular golden buckle. The outfit is completed with dark purple abomination-style pants and black high-heeled boots adorned with her iconic moon symbols.
By paying attention to these details and incorporating them into your artwork, you can effectively capture the essence of adult Amity Blight's appearance and bring her to life on paper or canvas.
Let's Sketch Adult Amity: The Guide
Let's delve into the drawing guide for capturing the essence of grown-up Amity Blight. This step-by-step tutorial will take you through the process of creating a representation of the character. Here's an overview of the color guidelines used in each step:
Red:

Indicates the current step, guiding you through the ongoing process of drawing Amity Blight.

Black:

Represents previously drawn lines or elements, helping you build upon the existing framework of the artwork.

Grey:

Depicts the basic proportional sketch, serving as a foundation for the final drawing.
In this drawing guide, we will focus on creating a basic sketch in the first three steps. This initial sketch will help establish the pose and proportions of Amity Blight accurately. As you progress through the remaining steps, you will gradually add details and refine the artwork, breathing life into your depiction.
With a total of 38 steps, this guide will walk you through each stage of the drawing process, providing clear visual references along the way. You will gain insights to capture Amity's unique features, expressions, and attire.
Once you reach the final step, you will have the opportunity to ink your drawing, giving it a clean and polished appearance. Remember to erase the basic sketch lines carefully, ensuring that your finished artwork showcases the intricacies and details you've worked so hard to capture.
Now, let's embark on this artistic journey and bring grown-up Amity Blight to life on your canvas or paper.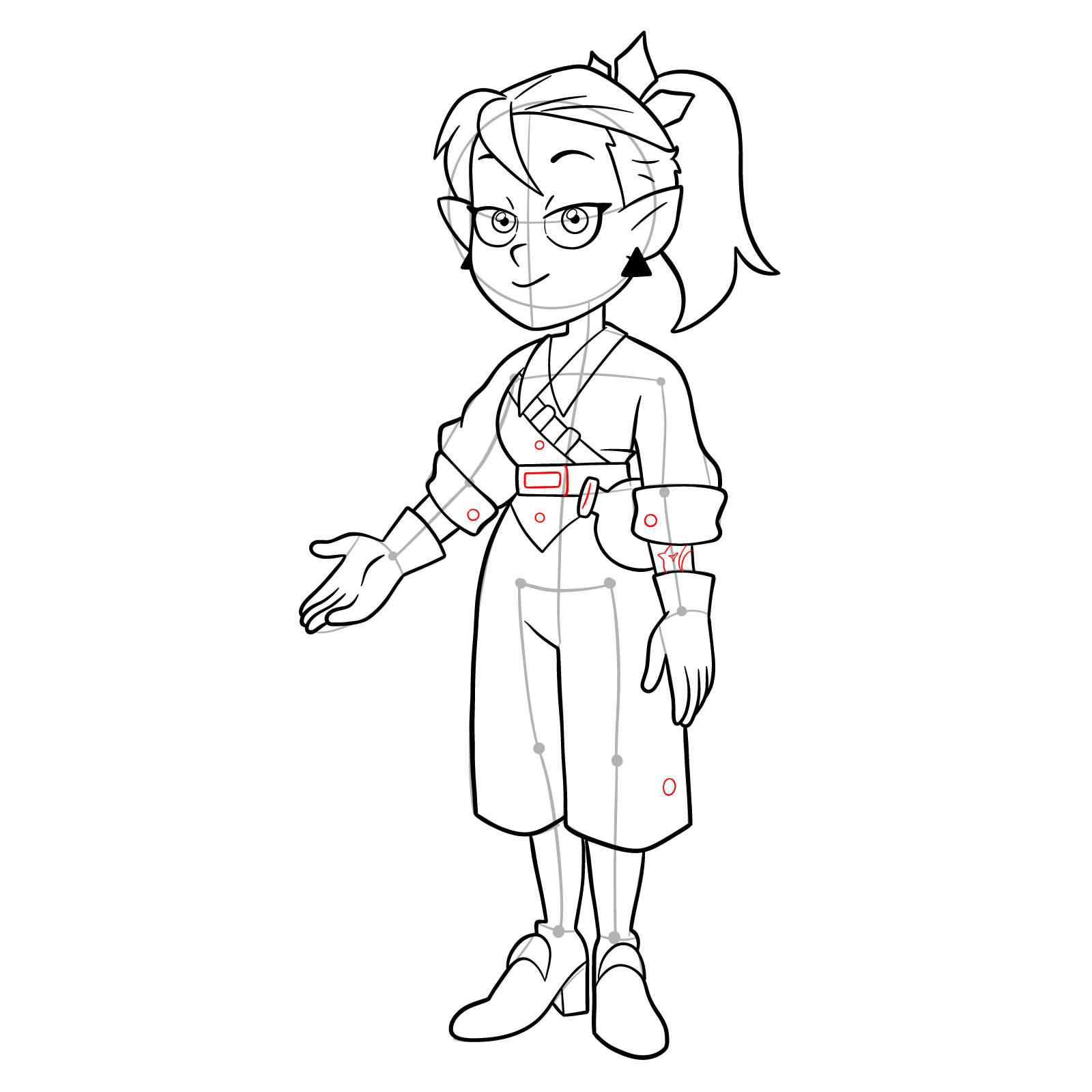 Explore More Characters to Draw
Once you have mastered how to draw grown-up Amity Blight, there are several other fascinating characters you can bring to life on your canvas. Expand your artistic repertoire and try your hand at capturing the essence of these characters:
Adult Luz Noceda: Dive into the world of "The Owl House" and depict the vibrant and courageous Luz Noceda from the Epilogue. Explore her unique personality and showcase her captivating style.
Eda Clawthorne: Immerse yourself in the world of "The Owl House" and portray the charismatic and powerful witch, Eda Clawthorne. Explore her intricate details and create a captivating illustration that captures her enchanting presence.
Amphibia: Venture into the fantastical world of "Amphibia" and draw the fearless and resilient Anne Boonchuy. Let her expressive personality shine through as you depict her in action-packed scenes or peaceful moments.
Steven Universe: Enter the world of "Steven Universe" and bring to life the titular character, Steven Universe. Capture his endearing nature, his connection with the Crystal Gems, and the magical gemstone on his belly.
Star Butterfly: Dive into the whimsical realm of "Star vs. the Forces of Evil" and portray the energetic and mischievous Star Butterfly. From her iconic wand to her distinctive attire, there's plenty to explore in capturing her charm.
Gravity Falls: Unlock the mysteries of "Gravity Falls" and depict the dynamic duo of Dipper and Mabel Pines. Embrace the supernatural elements of the show and showcase the twins' adventurous spirit in your artwork.
By exploring a diverse range of characters, you'll not only refine your artistic abilities but also expand your creativity and artistic vision. Each character offers a unique set of features, expressions, and attire, allowing you to further develop your artistic style.
Final Thoughts
Congratulations on completing the drawing guide for grown-up Amity Blight! You have taken a significant step towards honing your drawing skills and expressing your creativity. But don't stop here! Continue to nurture your passion for art and unlock your full artistic potential.
We encourage you to share your artwork, progress, and experiences with us. Your support and engagement mean the world to us! Consider donating to support the creation of more free drawing guides and resources like this. Your contribution enables us to continue providing valuable content to aspiring artists like yourself.
You can also help us by sharing the link to this drawing guide with fellow art enthusiasts who may find it helpful. Spread the joy of art and inspire others to embark on their own creative journeys.
Lastly, don't forget to subscribe to our social media accounts to stay updated with the latest drawing tutorials, tips, and announcements. Join our artistic community and connect with fellow artists from around the world.
Thank you for joining us on this artistic journey. Keep drawing, exploring, and pushing the boundaries of your creativity. We can't wait to see the amazing artwork you create!