Rocky, the eco-conscious pup from PAW Patrol, has won the hearts of many with his innovative spirit and dedication to recycling. Drawing inspiration from his green initiatives, we're here to guide you on how to draw Rocky, capturing his unique charm and essence.
The Rocky Rundown: Key Features to Focus On
Character Overview: Rocky is a clever and resourceful Eco-puppy. He's the mastermind behind turning trash into treasure in the PAW Patrol team.
Physical Attributes: Rocky boasts a gray coat with distinctive white paws, a white-tipped tail, and notable white fur tufts around his face.
Unique Features: Pay special attention to the darker gray circle around his left eye. Also, remember his floppy right ear and a small nick on the left one.
Expression: Rocky's orange-ish brown eyes often reflect his intelligence and inventive mind. His face showcases his unwavering determination and focus.
Considering drawing other PAW Patrol members? Characters like Marshall, with his firefighting enthusiasm, or Zuma, the water-loving chocolate Lab, could be great additions alongside Rocky.
About This Drawing Guide
This guide is here to pave your way to a perfect sketch of Rocky. It has been divided into 12 comprehensive steps. To make it easy:
Red Color:

Indicates the current drawing step.

Black Color:

Highlights the lines you've previously drawn.

Grey Color:

Represents the basic sketch and proportion guidelines.
The first part of this guide helps you set the foundation with a basic sketch, ensuring correct proportions. It's essential to start with light pencil strokes. By the time you reach the final stage, you have the option to ink your sketch. Ensure the ink dries completely before you erase the pencil sketch to avoid smudging.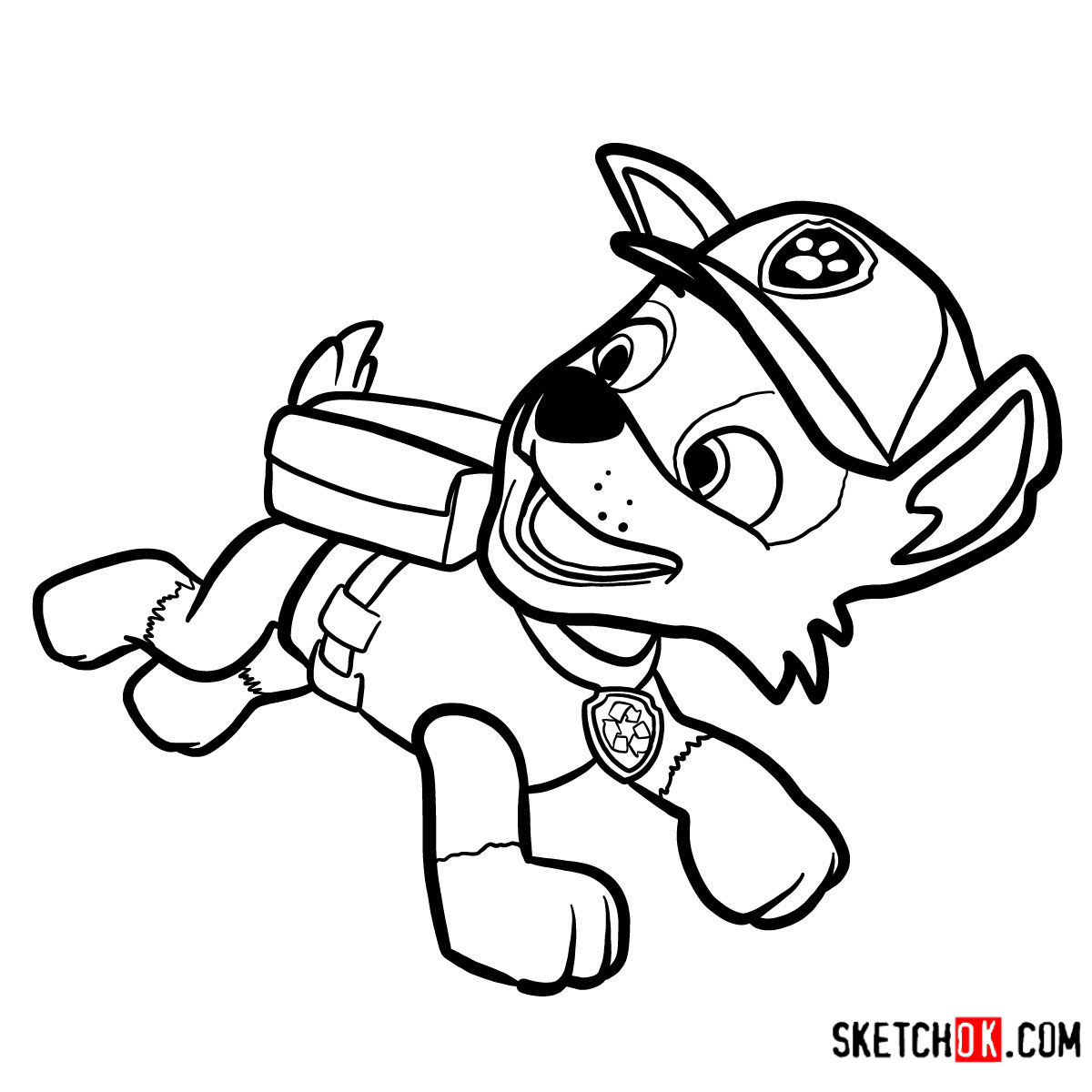 So, you've embarked on the artistic journey of learning how to draw Rocky from PAW Patrol, and we're thrilled to have guided you through it! If you've enjoyed this tutorial and wish to support SketchOk further, donate here. Every donation comes with the special perk of suggesting topics for future tutorials. Your ideas are our priority and inspire us to craft even more valuable guides. Also, stay connected! Follow us on Facebook, Instagram, and Pinterest. Share this guide with fellow enthusiasts, and let's keep the art community thriving!