Welcome to our celestial guide on how to draw Astranova, the enchanting Comet Alien from the TV special, Boo York, Boo York. With a captivating tale rooted in cosmic encounters and ancient Egyptian mysteries, Astranova is a unique character that captures the imagination. By the end of this guide, you'll be drawing her with as much brilliance as the stars she originates from.
Shining Star: Astranova's Distinct Features
Dark Blue Skin: Astranova has a distinctive dark blue skin with a crystal-like texture.
Starry Eyes: Deep blue eyes that resemble the vastness of space.
Stellar Hair: Long black hair intertwined with purple streaks that mimic the night sky filled with stars.
Alien Anatomy: Her unique physiology includes having four long, needle-thin fingers on each hand and a slightly larger head compared to the average monster.
Star Markings: The markings on her face mirror the constellations, adding to her extraterrestrial charm.
As you delve into how to draw Astranova, consider adding other characters from Boo York, Boo York or even from Ever After High, given her hinted connection with the school. Drawing multiple characters can offer a rich narrative context to your artwork.
Guide Overview: Navigating the Stars
This tutorial consists of 20 illuminating steps that will guide you in creating a mesmerizing depiction of Astranova. Before we start, here's a quick rundown on the color-coded guidelines you'll encounter:
Red Color:

Represents the current drawing step. Focus here!

Black Color:

Showcases the lines you've previously drawn.

Grey Color:

Indicates the basic sketch for proportions. Use light pencil strokes for these.
Once your sketch is complete, you can proceed to ink your drawing. Ensure the ink dries thoroughly before erasing any underlying pencil marks. This will prevent any smudging and will give your artwork a neat finish. The final image in this guide showcases a colored version of Astranova which can be used as a reference to bring life and vibrancy to your drawing.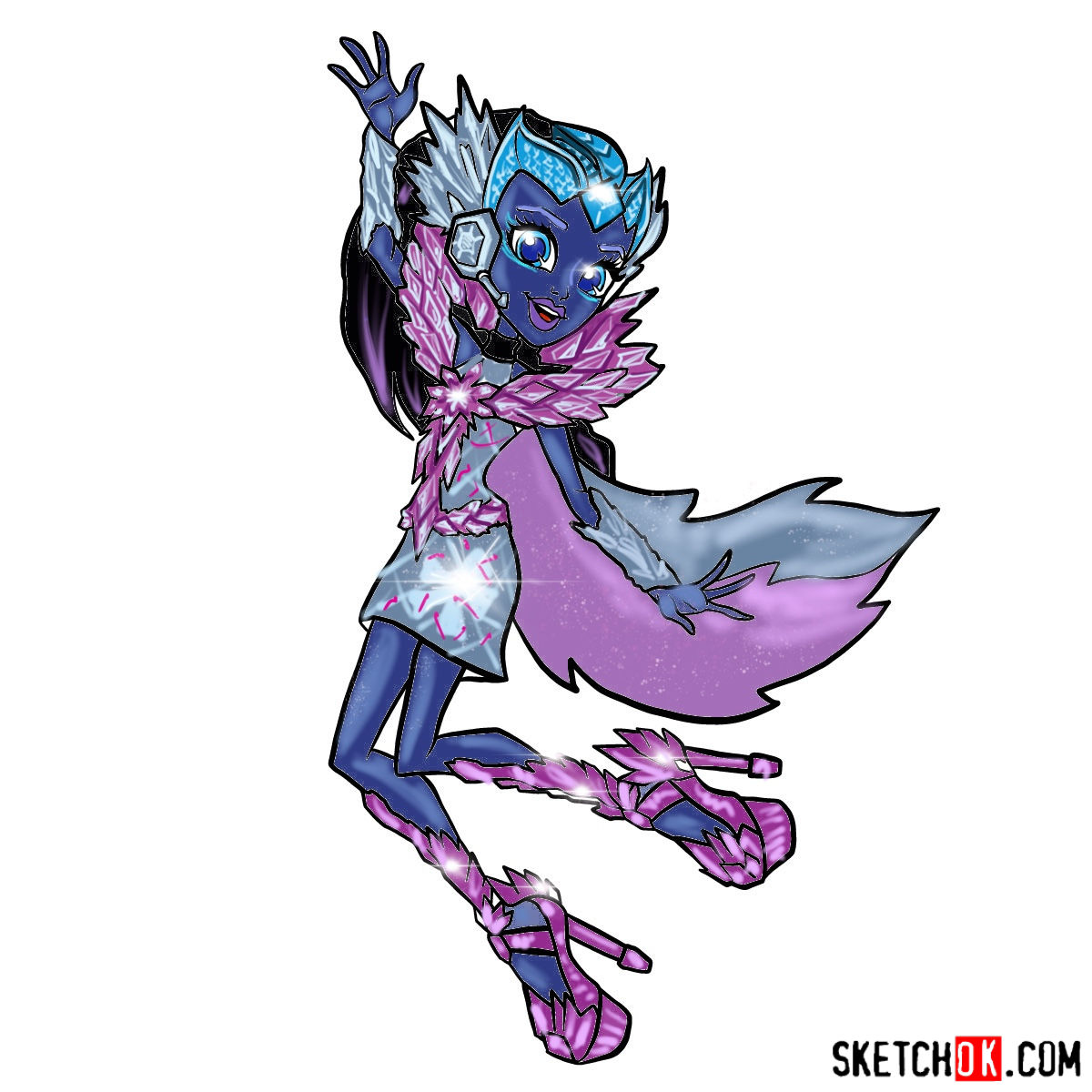 The Stellar Conclusion
I hope this guide on how to draw Astranova has taken you on an interstellar artistic journey. If you've enjoyed this cosmic experience, consider donating to support the creation of more free drawing tutorials. Your contribution will allow budding artists, like yourself, to suggest ideas for new tutorials and keep the SketchOk project shining as brightly as a star.
Feel free to share the link to this guide with other aspiring artists or anywhere on the web. Let's spread the word and share the cosmic love! Don't forget to subscribe and stay connected with us on our Facebook, Instagram, and Pinterest pages.
Remember, every time you pick up your pencil or pen, you're embarking on a journey. So, keep sketching, keep exploring, and most importantly, keep reaching for the stars!