In this article, we will guide you on how to draw Isi Dawndancer, the deer spirit from Boo Hexico and an exchange student at Monster High. Follow our color guidelines and immerse yourself in her story, relationships, and appearance to create a captivating drawing.
Isi Dawndancer's Story and Relationships
Isi is a peaceful, animal-loving girl who adores dancing so much that she might spontaneously break into a dance sequence. Following a vision, Isi came to Monster High, bringing her love for traditional dancing and sharing it with the Fearleaders. With a playful yet wise demeanor, she is eager to teach her fellow students about her culture through dance.
Among Isi's friends are Twyla Boogeyman, whom she met in Boo Hexico, and Gilda Goldstag, another deer creature at Monster High. Back in her homeland, Isi also has a contentious relationship with Coyote, a trickster who lacks boundaries. Isi's wise grandmother is an important figure in her life, though she can become angry if provoked.
Isi Dawndancer's Appearance
Isi has brown fur with a large white spot on her face, long straight turquoise hair, and deer-like features, such as ears, antlers, and a deer-like nose. Her eyes are brown, and she has white freckles on her cheeks and forehead. She wears a dull-sepia-colored headband, an orange necklace, a red long-sleeved shirt with Aztec designs, and black pants featuring the same designs. Isi's teal ruffled shoes and hoofed feet with heels in the back complete her unique look.
Drawing Isi Dawndancer: Color Guidelines and Drawing Process
To start your Isi Dawndancer drawing, create a basic sketch using light pencil strokes. You will notice the proportions sketch in grey in later steps. After establishing the outline, begin adding details to capture her unique features and outfit. The step-by-step drawing process is represented by a series of images, with red color indicating the current drawing step and black color for the previously drawn lines.
Once the sketch is complete, proceed with inking and coloring to bring your Isi Dawndancer drawing to life.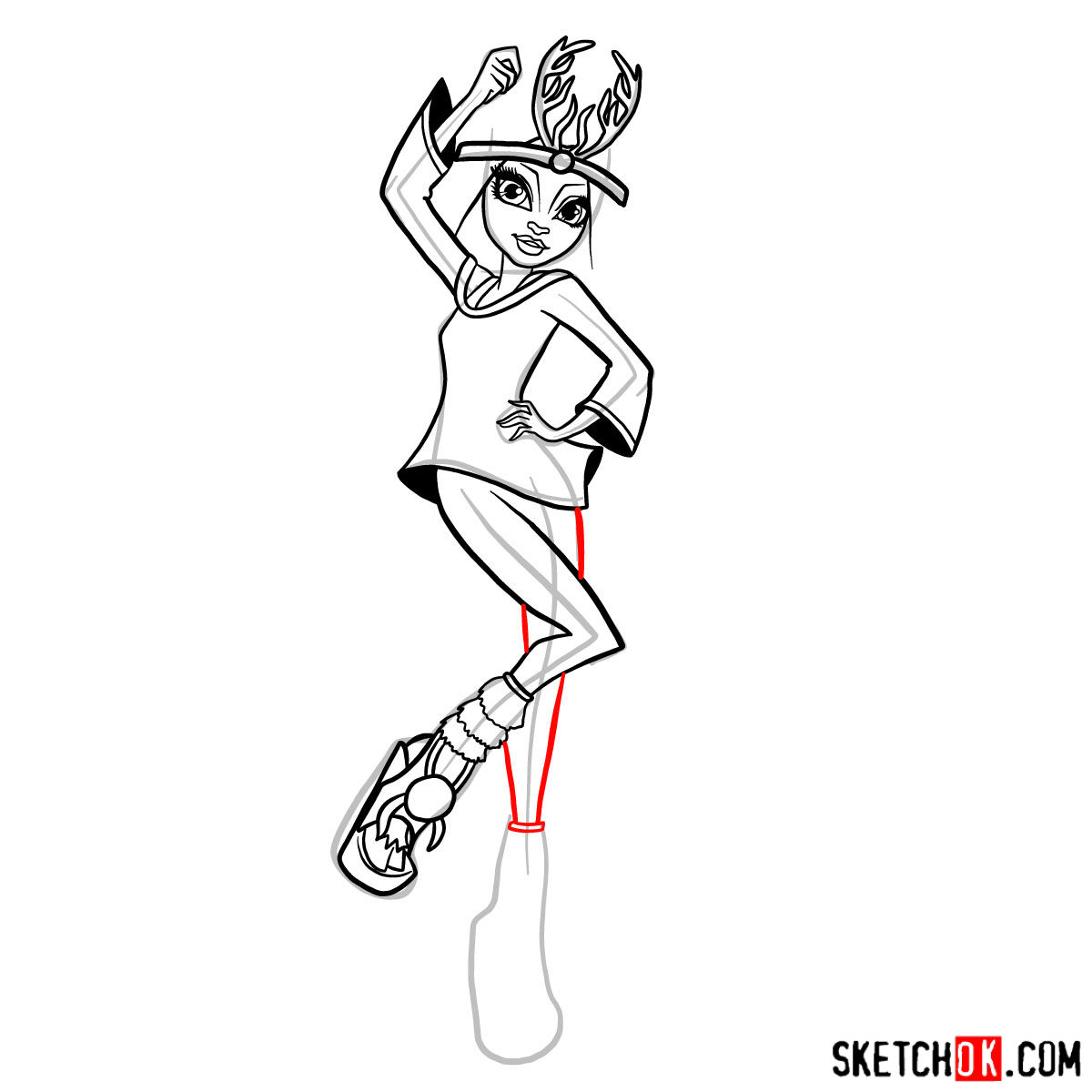 Conclusion
By following our color guidelines and learning more about Isi Dawndancer's story, relationships, and appearance, you can create a stunning drawing of this beloved Monster High character. Remember, practice makes perfect, so keep trying until you're satisfied with your Isi Dawndancer drawing.