Welcome budding artists! If you're keen on learning how to draw Skelita Calaveras, you've landed at the right spot. Born amidst the vibrant traditions of Hexico, Skelita's distinct skeletal charm offers a unique drawing experience, merging culture with creativity.
Delving into Skelita's Distinctive Features
Face Structure: Skelita's visage is reminiscent of a sugar skull, blending tradition with a touch of Monster High flair.
Eyes: Unlike traditional skeletons, Skelita boasts warm brown eyes, bringing depth and emotion to her character.
Hair: Jet black with marigold-orange streaks, her hair cascades in soft curls, echoing the colors of the Dia de Los Muertos celebrations.
Attire: Infused with Mexican imagery, her clothing fuses traditional and modern, showcasing her proud heritage.
When sketching Skelita, consider incorporating related Monster High characters like Clawdeen Wolf and Jinafire Long to enhance the narrative and depth of your artwork.
Navigating the Drawing Guide
Drawing is more than just lines; it's about understanding and following a process. Here's what to expect:
Red Color:

This is the main attraction! Focus on these lines, as they represent the current step in your drawing journey.

Black Color:

These lines indicate what you've drawn in previous steps. They act as a foundation and guide as you progress.

Grey Color:

Representing the basic proportionate sketch, these light strokes are crucial for maintaining the right balance and structure in your drawing.
The guide comprises 17 steps, with the first dedicated to sketching out the basic structure. Pro-tip: Always start with light pencil strokes for better control and adaptability.
Once you've nailed the sketch, consider inking for a defined look. But patience is key! Wait for the ink to dry completely before erasing any pencil marks. This ensures a neat, smudge-free outcome. The final image provides a colored version, acting as an ideal reference to bring Skelita to life in vibrant hues.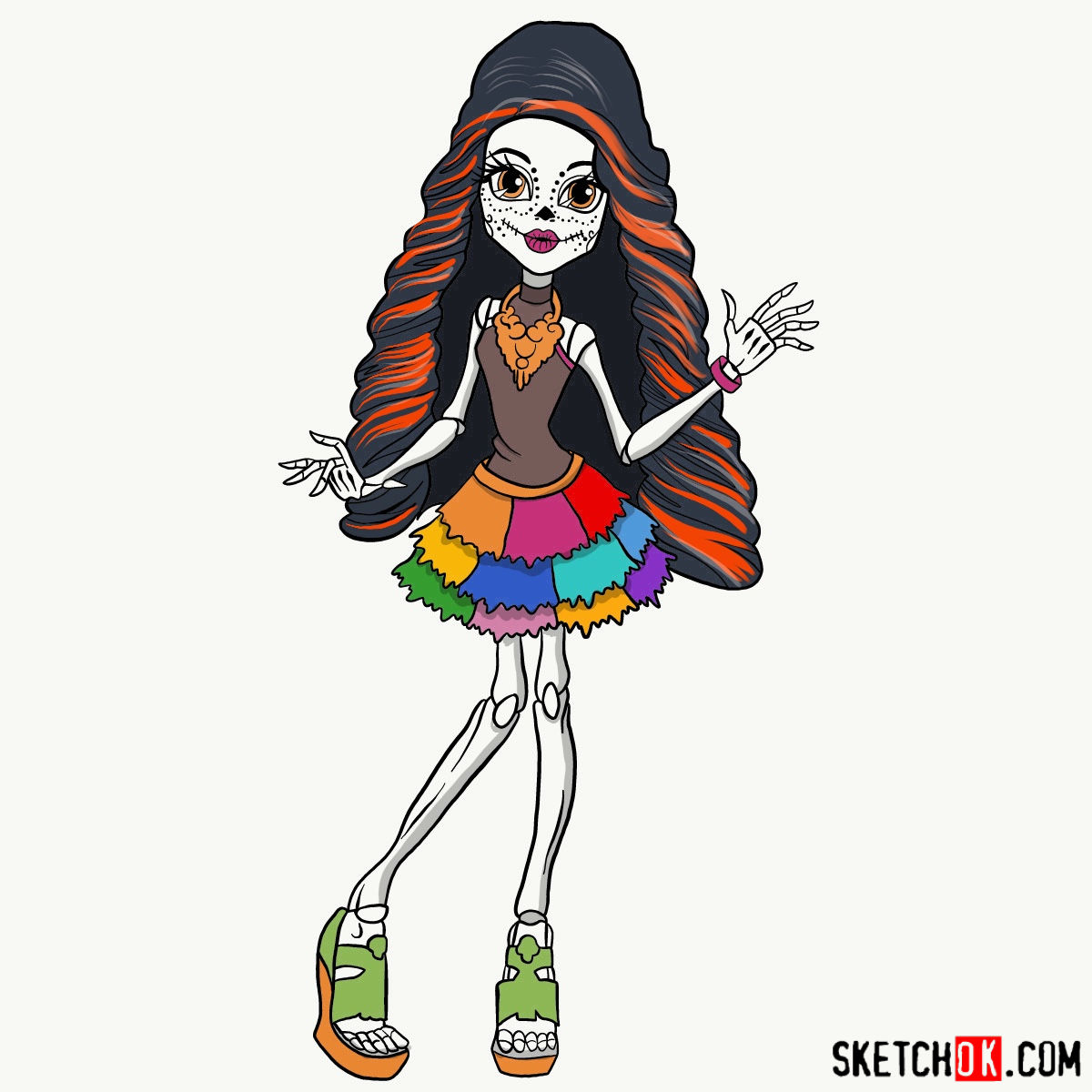 Dear artists, your support has been monumental in fueling the passion and purpose of SketchOk. By sharing this how to draw Skelita Calaveras guide, you're not just spreading art but also promoting a cultural appreciation. Let the world witness your masterpieces and inspire others.
Considering donating? Your contributions go a long way. They help create free drawing guides and allow you to suggest ideas for new tutorials. Each donation keeps the heartbeat of SketchOk alive and roaring.
Stay connected and fuel your artistic soul:
In the name of art and culture, thank you for being a part of this journey. Keep drawing, keep exploring!