Welcome to the ultimate guide where we dive into the intricate process of learning how to draw Anya Forger full body, the beloved character from the SPY x FAMILY series. Before you immerse yourself into the journey of capturing Anya's personality and visual traits on paper, let's get acquainted with this young prodigy.
Understanding Anya's Appearance:
Anya Forger's distinct physical features form a vital element in capturing her persona accurately. Keeping an eye on the following key aspects will assist you in drawing a well-proportioned sketch of her:
Face: Anya's large, oval-shaped green eyes are adorned with prominent eyelashes, embodying innocence and curiosity. Accompanied by light pink shoulder-length hair curling inwards and a small ahoge strand at the top, her face tells a story of her playful and endearing personality.
Height: Portraying Anya's shorter stature compared to her peers will bring authenticity to your sketch.
Outfit: Dressed in the Eden Academy's standard uniform, the outfit includes black Mary Janes and a knee-length black dress adorned with golden details. Remember to include her signature hair ornaments which are always on, even during her sleep.
Relating to similar characters like Damian could potentially give you the idea to expand your art piece by adding additional figures that share a connection with Anya, portraying a vivid scene from their daily life at Eden Academy.
Your Guide to the Anya Forger Sketch
This step-by-step guide, consisting of 35 substantial steps, is designed to make the process of drawing Anya Forger an absolute breeze for artists of all levels. In the early stage, you will construct a basic sketch utilizing light pencil strokes to outline the proportions. As you delve further, pay attention to the following color codings which will aid you in every step of the way:
Red Color:

Indicating the current step you should be focusing on.

Black Color:

Illustrates the lines drawn in the previous steps.

Grey Color:

Helps visualize the basic proportion sketch that you crafted in the initial stage.
Upon reaching the final stage, you have the choice to ink your sketch to give it a finished look. Remember to wait for the ink to dry fully before gently erasing the pencil lines to prevent smudging and to achieve a neat output.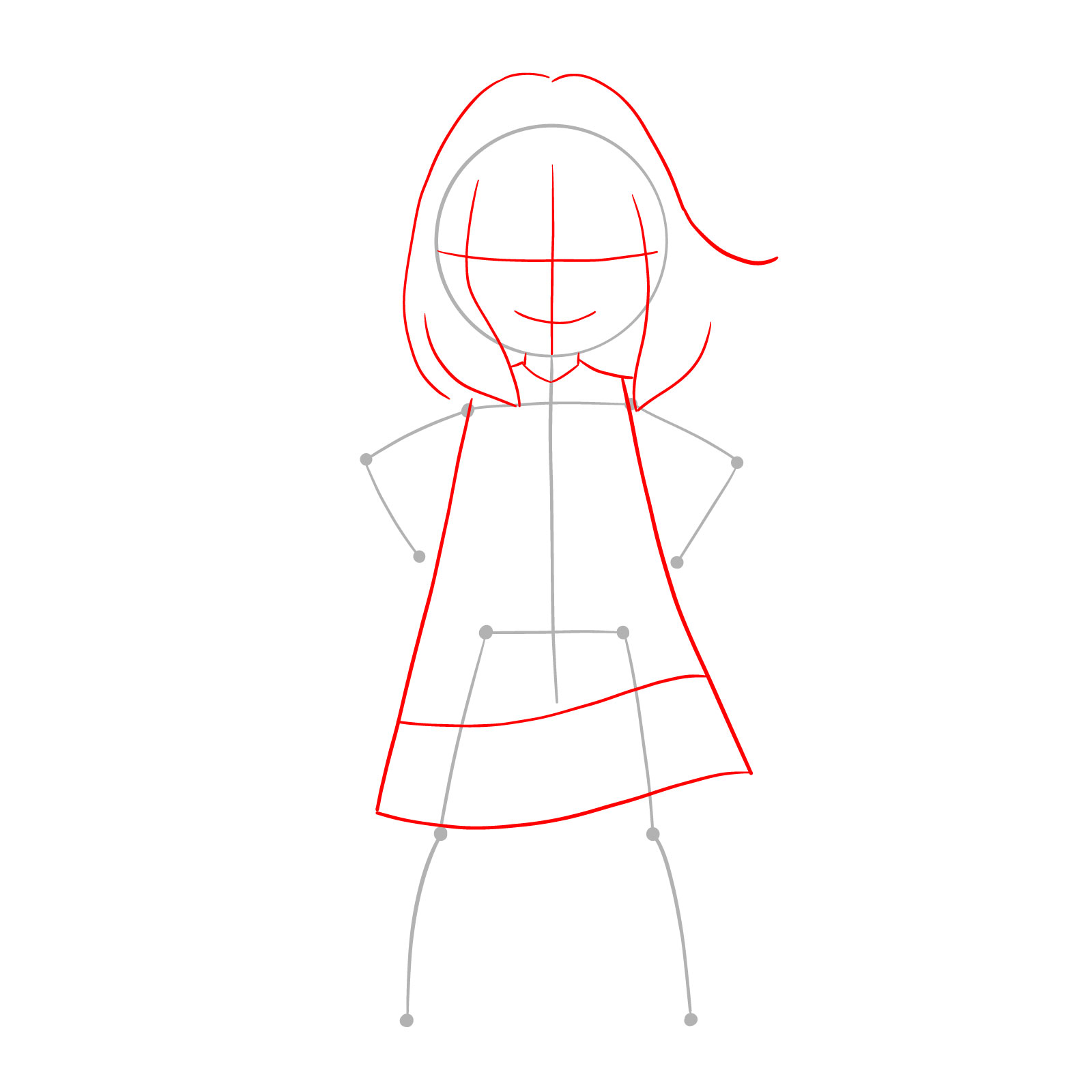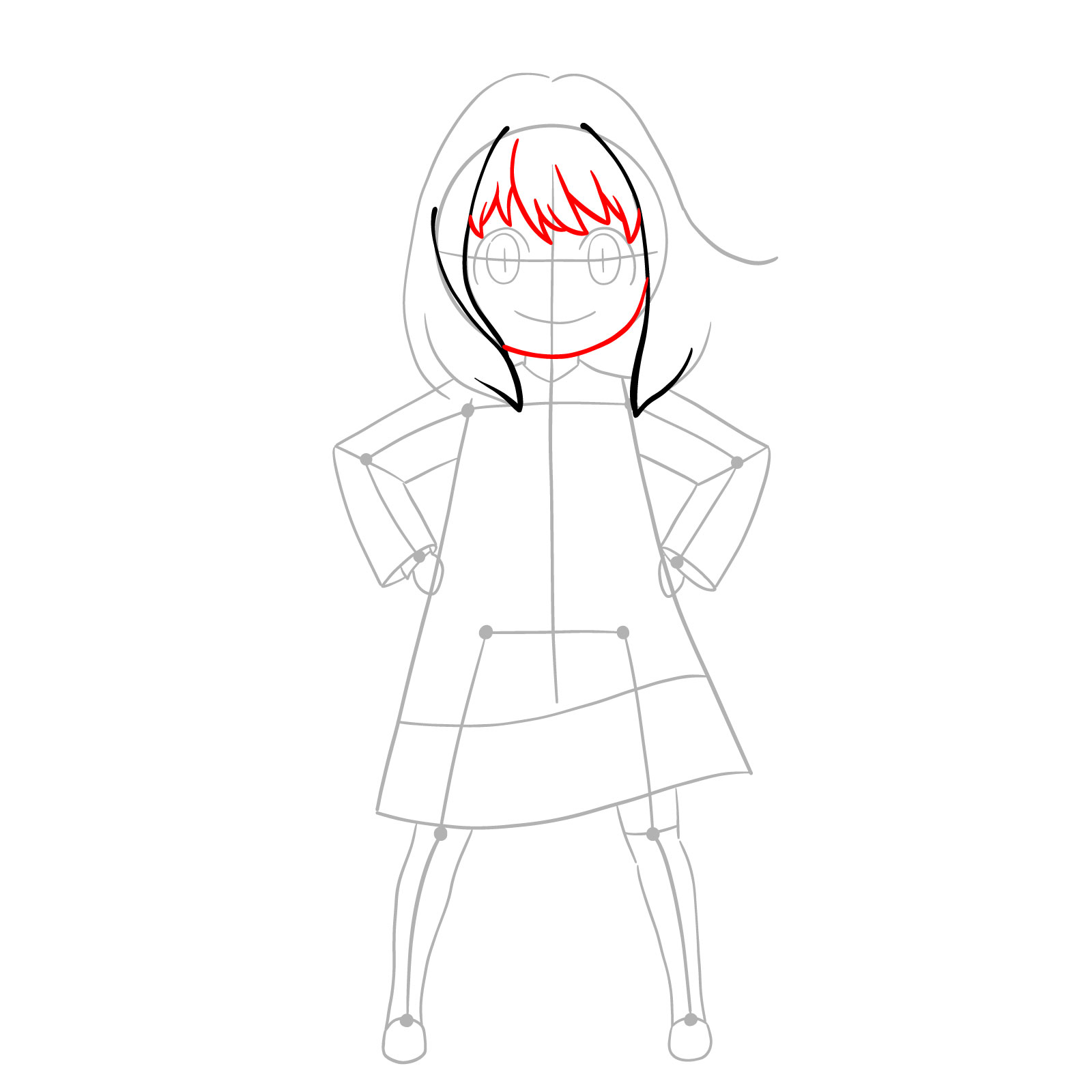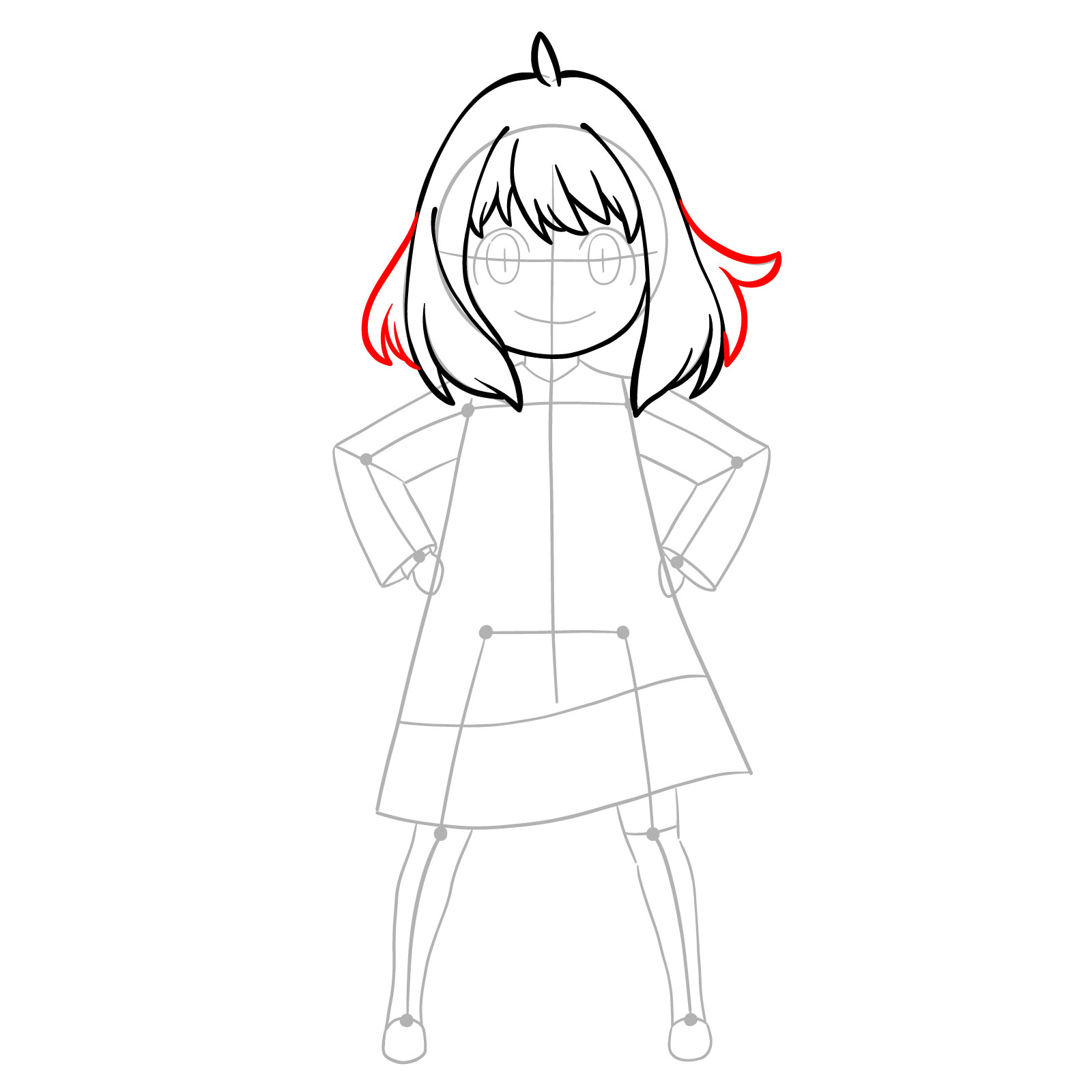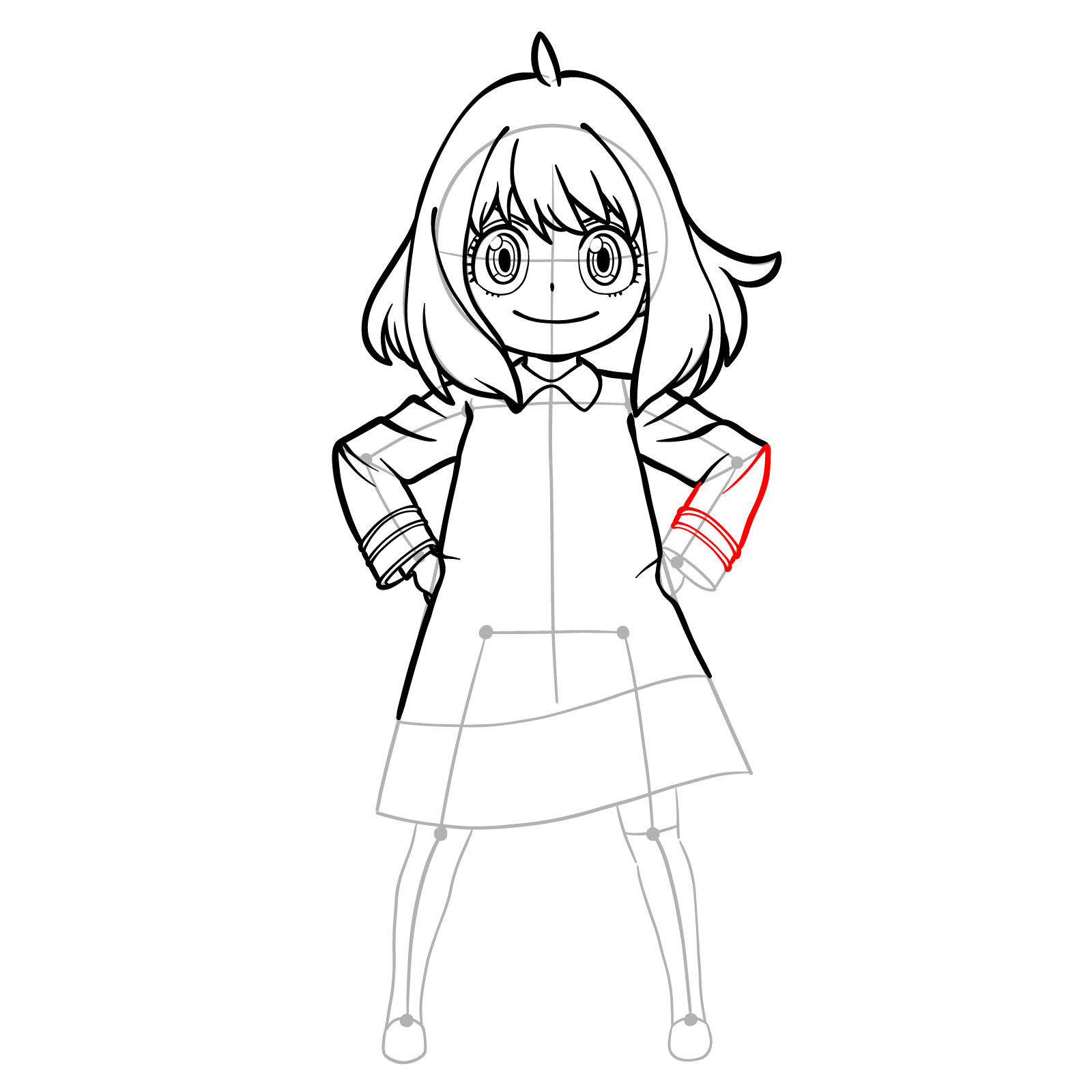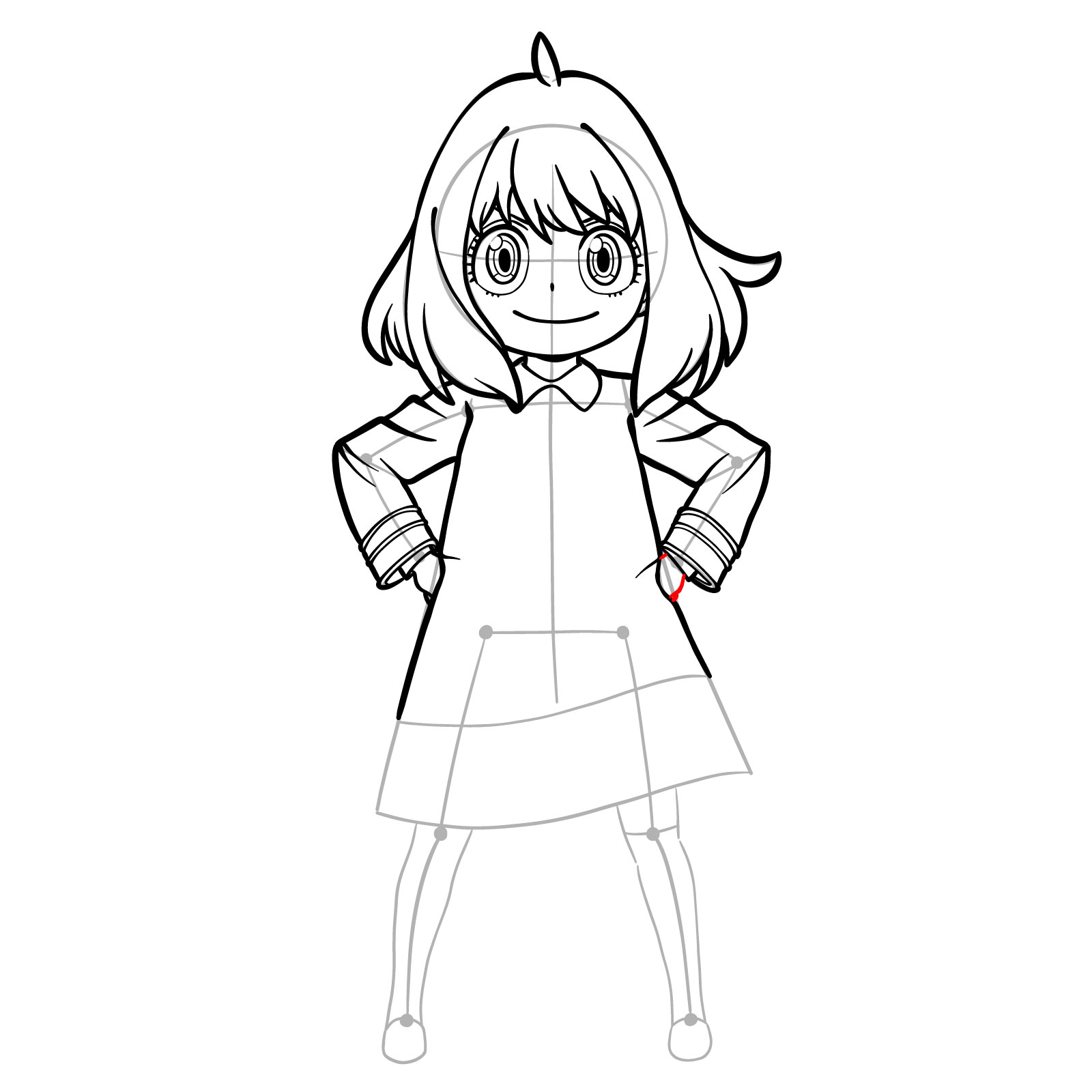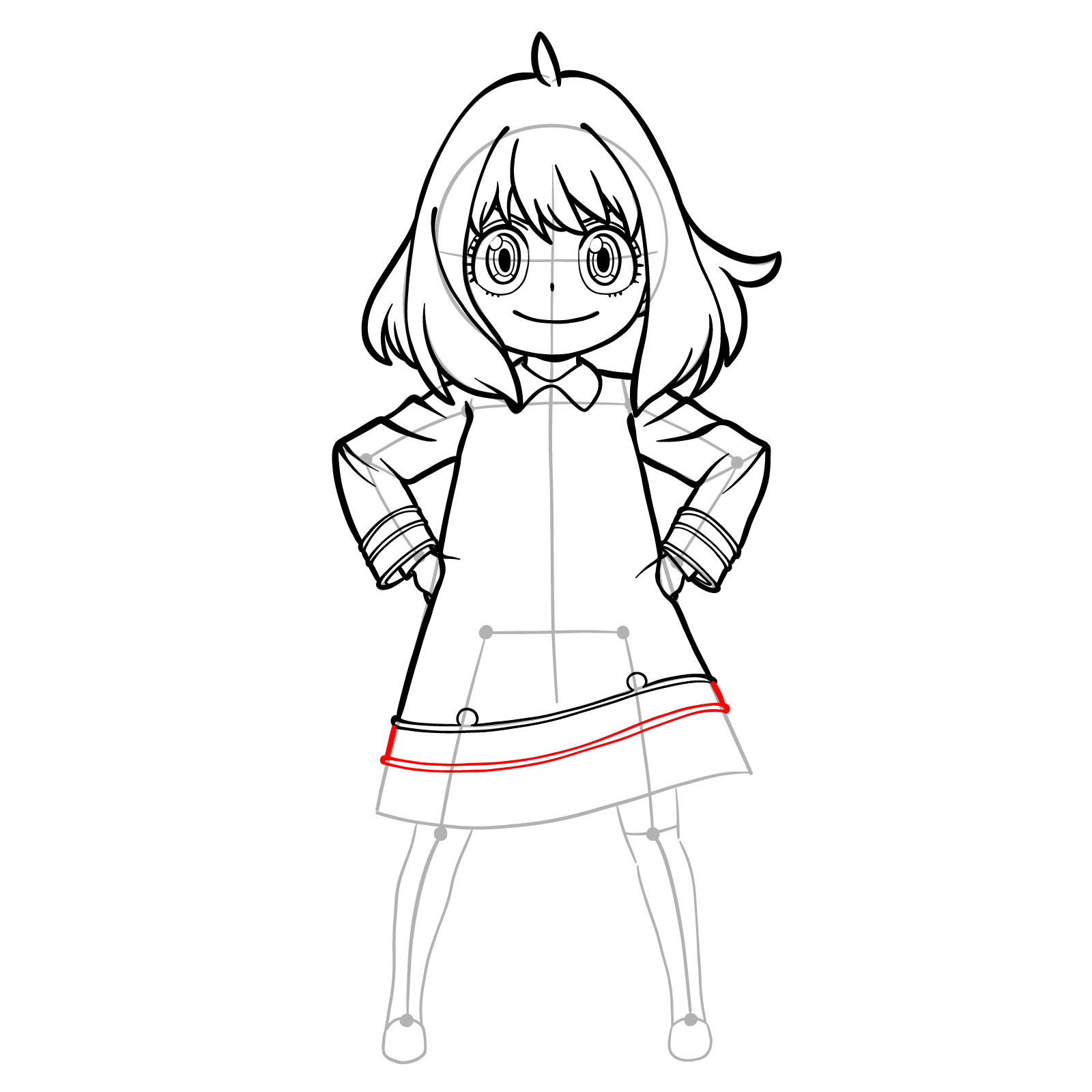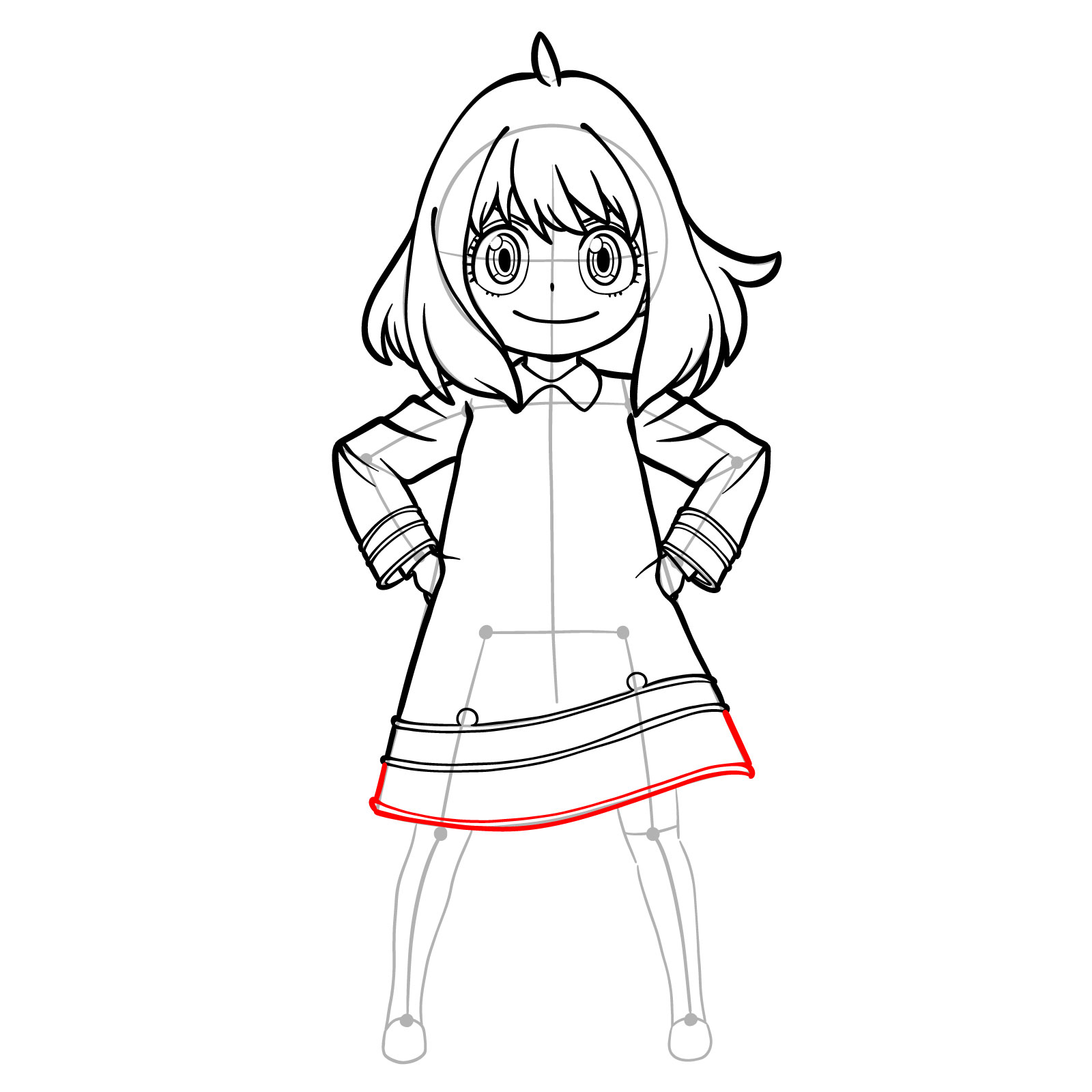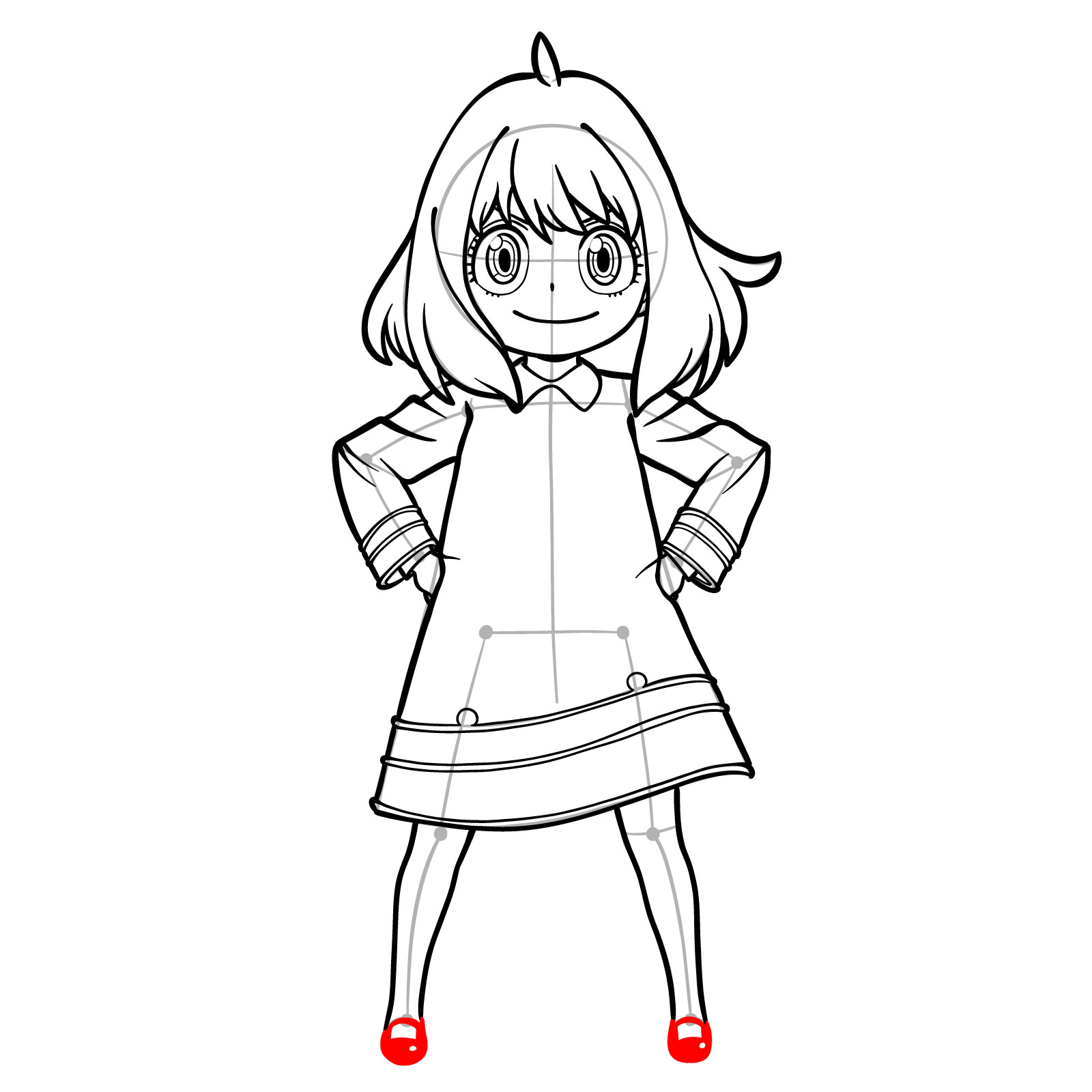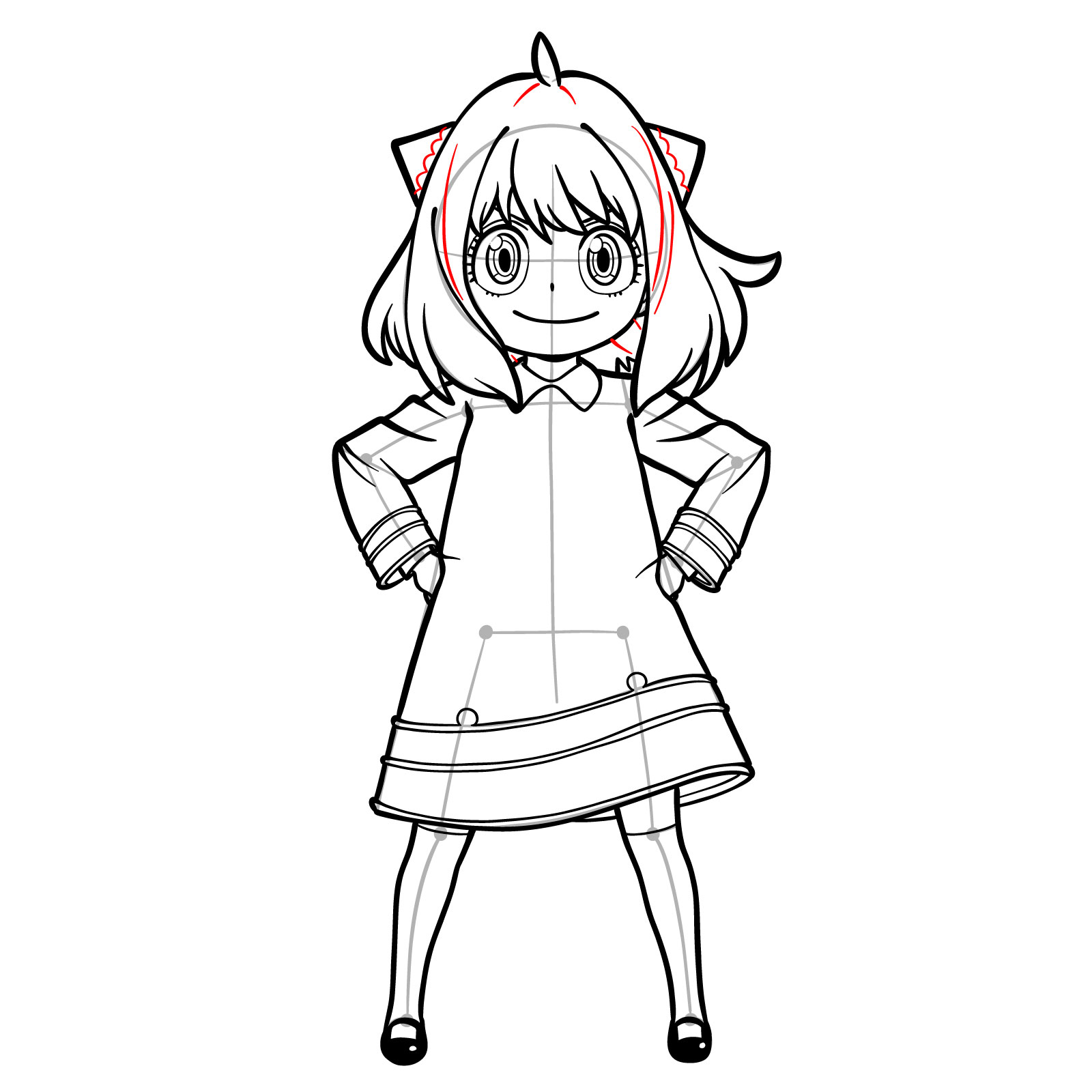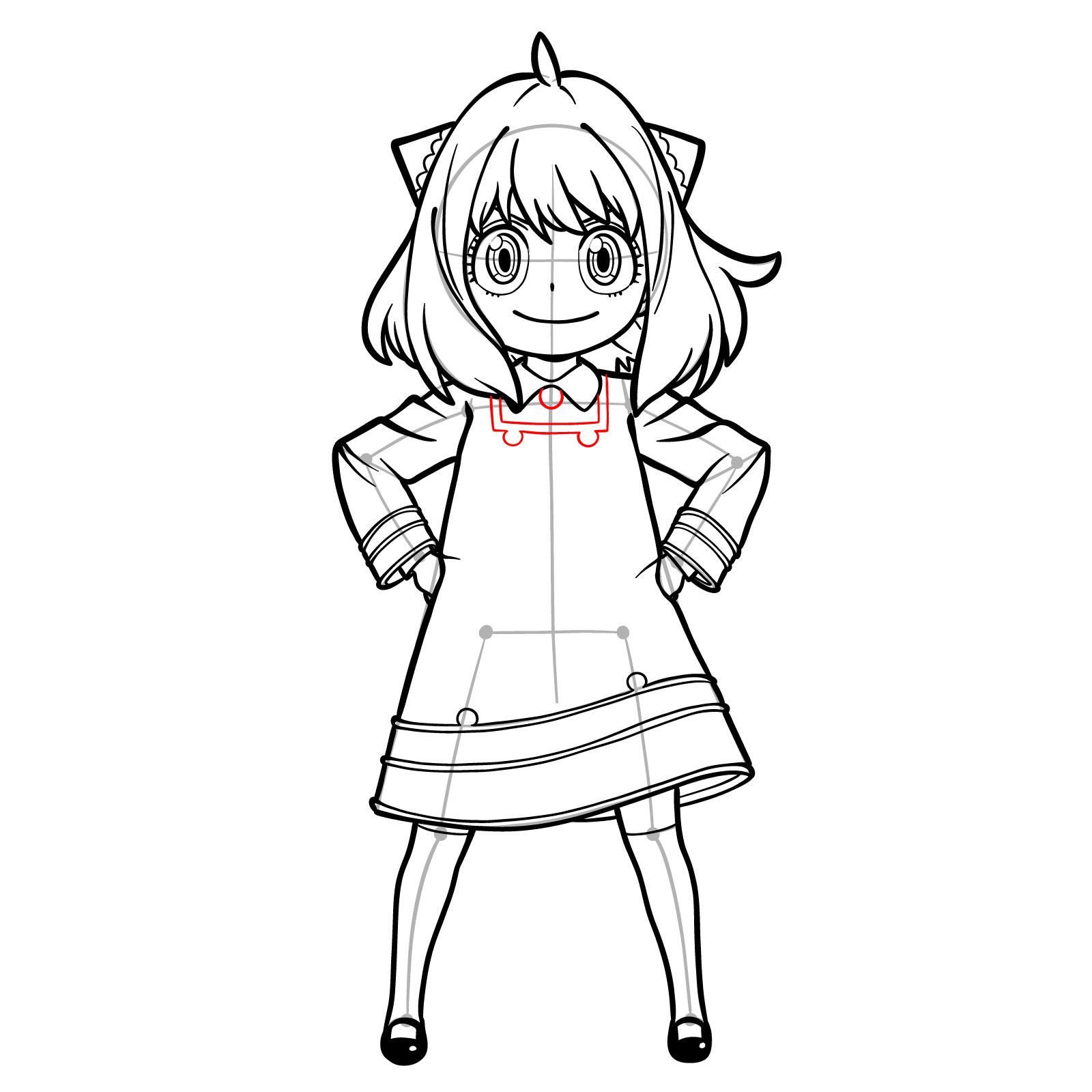 Frequently Asked Questions
What is the best technique to draw Anya's hair?
To capture Anya's light pink shoulder-length hair, focus on illustrating the curls inwards, giving a soft, delicate look. Include a small strand of ahoge at the top to complete her iconic hairstyle. Ensure to portray the volume and depth by adding varied strokes for a natural appearance.
How to sketch Anya's unique green eyes?
Anya's eyes are one of her standout features. Begin with an oval shape, filling them with big, sparkling green irises that exhibit her innocence and curiosity. Accentuate with prominent eyelashes to bring life to her expressive eyes. Pay attention to the distance between the eyes to maintain proportion.
What details should be emphasized in her Eden Academy uniform?
While drawing the Eden Academy uniform, focus on the golden detailing at the bottom and the cuffs area of the black knee-length dress. Pair it with white knee-high socks and black Mary Janes to reflect her daily attire accurately. Remember to illustrate the dress with correct proportions to Anya's small stature.
Did this guide help you in understanding how to draw Anya Forger full body? Fantastic! Your journey with SketchOk doesn't have to end here. Share this guide with fellow artists and encourage them to craft their masterpiece.
If you find joy and value in what SketchOk creates, consider supporting the venture by making a donation. Your donations not only help in keeping the art alive but also allow you to suggest topics for future tutorials through a message on Buy me a coffee. Your suggestions will be our primary focus, helping in crafting tutorials faster and better.
Let's continue creating beautiful art, and remember to follow SketchOk on Facebook, Instagram, and Pinterest to stay updated with the latest tutorials and tips. Happy drawing!