Welcome to our comprehensive drawing guide, where we will explore the mesmerizing world of Demon Slayer: Kimetsu no Yaiba and delve into the process of learning how to draw Tamayo's captivating face. In this step-by-step tutorial, we will provide you with the tools and techniques to create a stunning sketch of this skilled doctor and powerful demon.
Tamayo's Appearance and Focus Points
Tamayo's appearance is characterized by her unique charm and elegance. When sketching her face, pay close attention to the following focus points:
Face Shape: Begin by sketching the delicate shape of Tamayo's face with a sharp chin, capturing her petite features.
Eyes: Emphasize the gentle allure of Tamayo's eyes. Sketch the large, captivating eyes with no pupils Add subtle curvature to the eyebrows to convey her gentle expression.
Lips and Complexion: Highlight the contrast between Tamayo's pale complexion and her alluring lips. Pay attention to the details of her lips to capture their captivating nature.
Hairstyle: Portray Tamayo's hair with intricate detail. Sketch the hair parted in the sides.
By focusing on these key points, you will capture the essence of Tamayo's captivating face and bring her character to life in your sketch.
Sketching Guide: Color Guidelines
Our sketching guide for Tamayo's face is designed to help you bring this captivating character to life on paper. Here's an overview of the color guidelines:
Step Highlight: In each step, we use a red color to highlight the current drawing phase. This color helps you differentiate the progress and easily identify the step you're working on.
Basic Sketch: The basic sketching phase is represented in a light grey color. These initial lines establish the proportions and overall structure of Tamayo's face.
Finished Steps: As you progress through the guide, the finished sketching phase is represented in black.
With the help of these color guidelines, you can navigate through the 17 steps of the guide with ease. Remember, the first three steps focus on creating a solid foundation through the basic sketch. Take your time during this phase to ensure accuracy and capture the essence of Tamayo's face.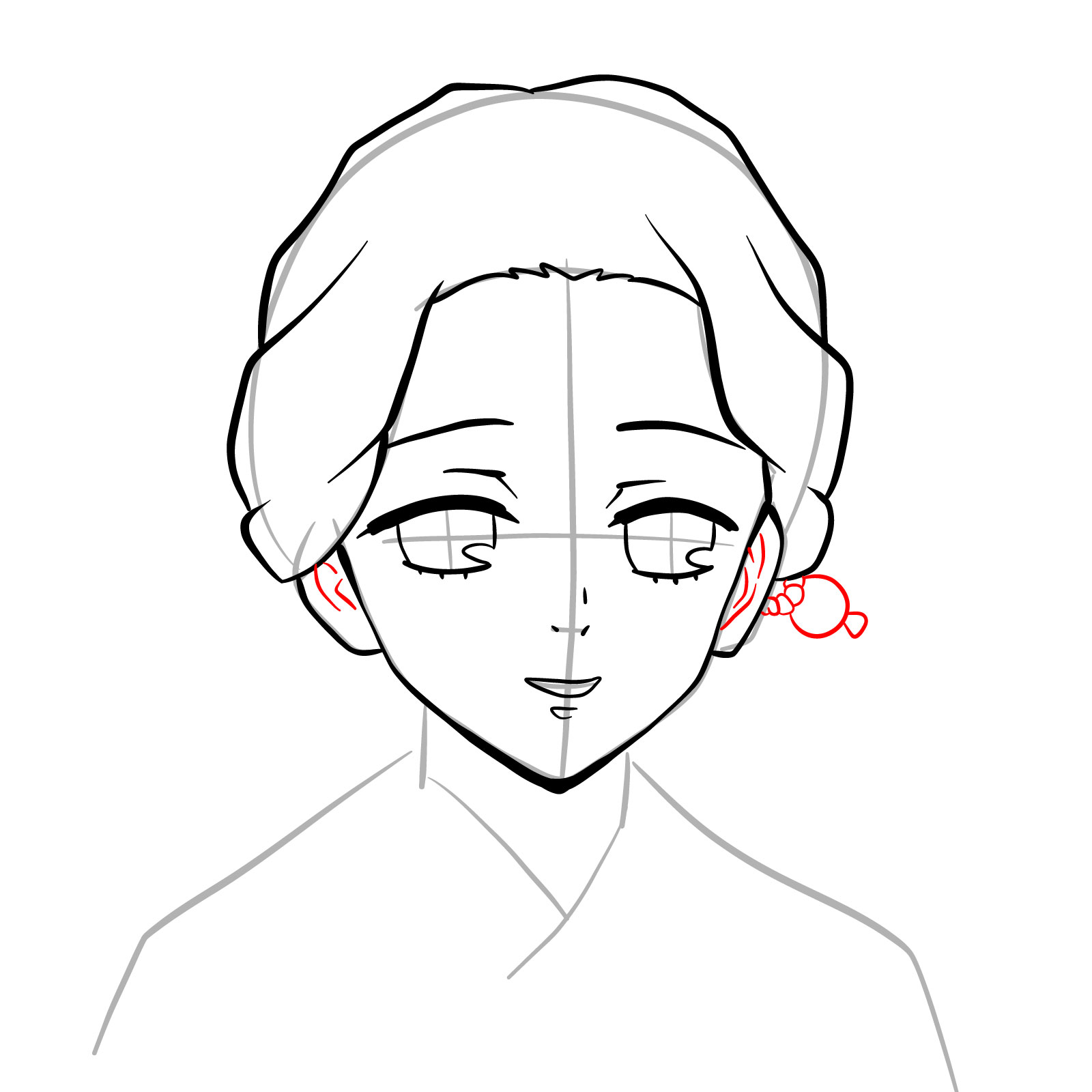 Explore More Characters from the Demon Slayer Universe
Now that you've mastered the art of drawing Tamayo's face, why not continue your artistic journey by exploring other captivating characters from the Demon Slayer universe? Here are a few suggestions to inspire your next drawing:
Nezuko Kamado: Unleash your creativity by capturing Nezuko's fierce determination and unique demon features.
Giyu Tomioka: Dive into the stoic nature of this Water Hashira and bring out the intensity in his piercing gaze.
Shinobu Kocho: Explore the delicate beauty of the Insect Hashira and showcase her graceful demeanor.
By delving into the diverse range of characters in the Demon Slayer series, you can continue honing your drawing skills and immersing yourself in the rich world created by Koyoharu Gotouge.
Become a Part of SketchOk
Creating these drawing guides requires time, effort, and resources. If you've found these tutorials helpful and would like to support my artistic endeavors, I kindly invite you to consider donating. Your contribution will enable me to continue providing free drawing guides and inspire more artists around the world.
You can donate through the Buy Me a Coffee page by following this link: Donate Now. Every contribution, no matter how small, is greatly appreciated and goes a long way in supporting my work.
Additionally, you can support SketchOk by sharing the link to this guide with your friends and fellow art enthusiasts. Spread the knowledge and help others discover the joy of drawing Tamayo and other captivating characters.
Stay connected with us on social media to stay updated with our latest tutorials and artistic creations:
Thank you for your support, and happy drawing!