Welcome to our step-by-step guide on how to draw Golem from Clash of Clans! This mighty character, known for soaking up damage and splitting into Golemites, is an exciting subject for aspiring artists. In this tutorial, we'll guide you through each step to create a fantastic Golem drawing. So, grab your favorite drawing tools, and let's get started!
The Unstoppable Golem: An Overview of the Mighty Dark Elixir Troop
The Golem is a powerful Dark Elixir Troop, unlocked once the Dark Barracks reaches level 4. This slow-moving ground unit may have low damage output, but it boasts massive hitpoints. When defeated, the Golem spawns two or three Golemites, depending on its level, which continue to fight with 1/5th of the Golem's stats. This unique ability makes him a popular choice among CoC players.
Essential Tools for Drawing Your Golem Masterpiece
Before we dive into the drawing process, let's gather our materials. While you're free to use any drawing tools you prefer, we recommend the following:
Pencils (HB and 2B)
Erasers
Black fine-liner pens
Colored pencils or markers
Blending tools (optional)
Drawing paper
Master the Art of Golem Drawing: A Step-by-Step Guide
Part 1: Basic Sketch
Begin your Golem drawing with light pencil strokes to create the basic structure. This first step helps establish accurate proportions for the character. The images provided in the tutorial use red lines to indicate the current step, gray lines for the basic sketch, and black lines for what has already been drawn.
Part 2: Refining the Sketch
Now that you've established the basic structure of your Golem drawing, it's time to refine the sketch. Add details like facial features, huge hands and smaller legs, while fine-tuning proportions. Feel free to use the images provided to guide you and make adjustments as needed.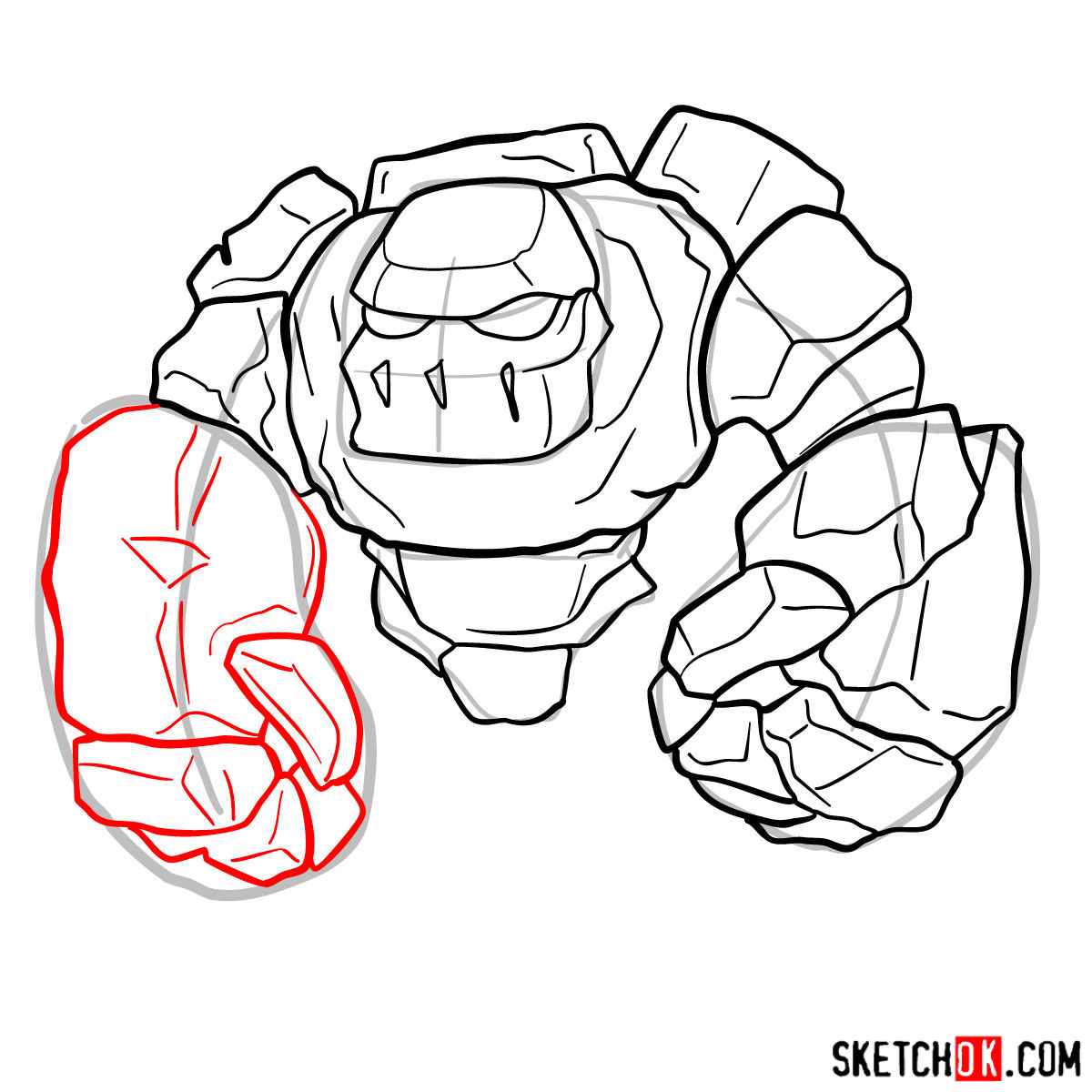 Part 3: Inking
With the refined sketch in place, grab your black fine-liner pens and start outlining your Golem. This process helps bring your drawing to life with crisp, clean lines. Be mindful of line thickness to add depth and dimension to your artwork.
Part 4: Coloring and Shading
Now comes the fun part – adding color! Use colored pencils or markers to bring your Golem drawing to life. Pay attention to shading and highlights to create a sense of depth and realism. Remember, Golems from Clash of Clans share similarities with other characters like Lava Hounds, P.E.K.K.As, and Giants, so feel free to study their color schemes as well.
Pro Tips for Perfecting Your Golem Drawing
Want to take your Golem drawing to the next level? Keep these tips in mind as you work:
Study Golem's appearance and backstory to better understand its design and personality.
Practice drawing related characters, such as Lava Hounds, P.E.K.K.As, and Giants, to improve your skills and expand your Clash of Clans drawing repertoire.
Experiment with different shading techniques to add depth and texture to your Golem drawing.
FAQ:
Q: What type of pencil should I use for the basic sketch?
A: Use a lighter pencil, such as an HB pencil, for the initial sketch. This allows for easier erasing and adjustments as you refine your drawing.
Q: How can I improve my Golem drawing proportions?
A: Breaking the character down into simple shapes can help you accurately capture proportions. Use reference images and practice frequently to hone your skills.
Q: Can I use digital tools for my Golem drawing?
A: Absolutely! Digital tools, such as drawing tablets and software like Adobe Photoshop or Procreate, can provide added flexibility and versatility in your artwork.
That's it! Now you know how to draw Golem from Clash of Clans. With practice and patience, you'll be creating stunning Golem drawings in no time. Remember to share your artwork with friends and fellow Clash of Clans fans. If you found this tutorial helpful, consider supporting the regular release of free drawing guides on SketchOk by donating here. Happy drawing!