Have you ever wondered how to draw the Healer from Clash of Clans? You're in the right place! This step-by-step tutorial will guide you through the process of creating your very own Healer drawing. With a little patience and practice, you'll be able to bring this majestic creature to life on paper. So, gather your materials, and let's get started!
The Healer's Magical Presence
Known for her healing powers, the Healer is a valuable asset on the battlefield. She devotes her life to protecting and aiding her fellow troops, making any army stronger with her support. However, beware of air defenses, as they pose a significant threat to the Healer's safety.
What You'll Need: Tools of the Trade
Before we begin, gather the following materials to ensure a smooth drawing experience:
Pencil (HB or B)
Eraser
Drawing paper
Ink pen or fine liner
Colored pencils, markers, or any coloring medium of your choice
Remember, these are merely recommendations; feel free to use the tools you're most comfortable with.
Step-by-Step Drawing Guide: From Sketch to Masterpiece
Part 1: Basic Sketch
Begin by lightly sketching the basic structure of the Healer with a pencil. Focus on proportions and shapes, as these will serve as the foundation of your drawing. Remember to use light pencil strokes at this stage to make adjustments and erasing easier.
Part 2: Refining the Sketch
Now that you have the basic structure in place, it's time to refine the sketch. Add details, such as the Healer's facial features, hair, wings and clothing, and work on improving the proportions. Continue to use light pencil strokes to allow for easy adjustments.
Part 3: Inking
With your refined sketch as a guide, start inking your drawing using an ink pen or fine liner. Carefully outline the Healer's form, adding final touches and details as you go. Once you're satisfied with your inking, erase any remaining pencil lines.
Part 4: Coloring and Shading
Finally, bring your Healer drawing to life with color! Use colored pencils, markers, or your preferred coloring medium to add vibrant hues to her clothing, hair, and wings. Don't forget to incorporate shading and highlights to create depth and dimension in your artwork.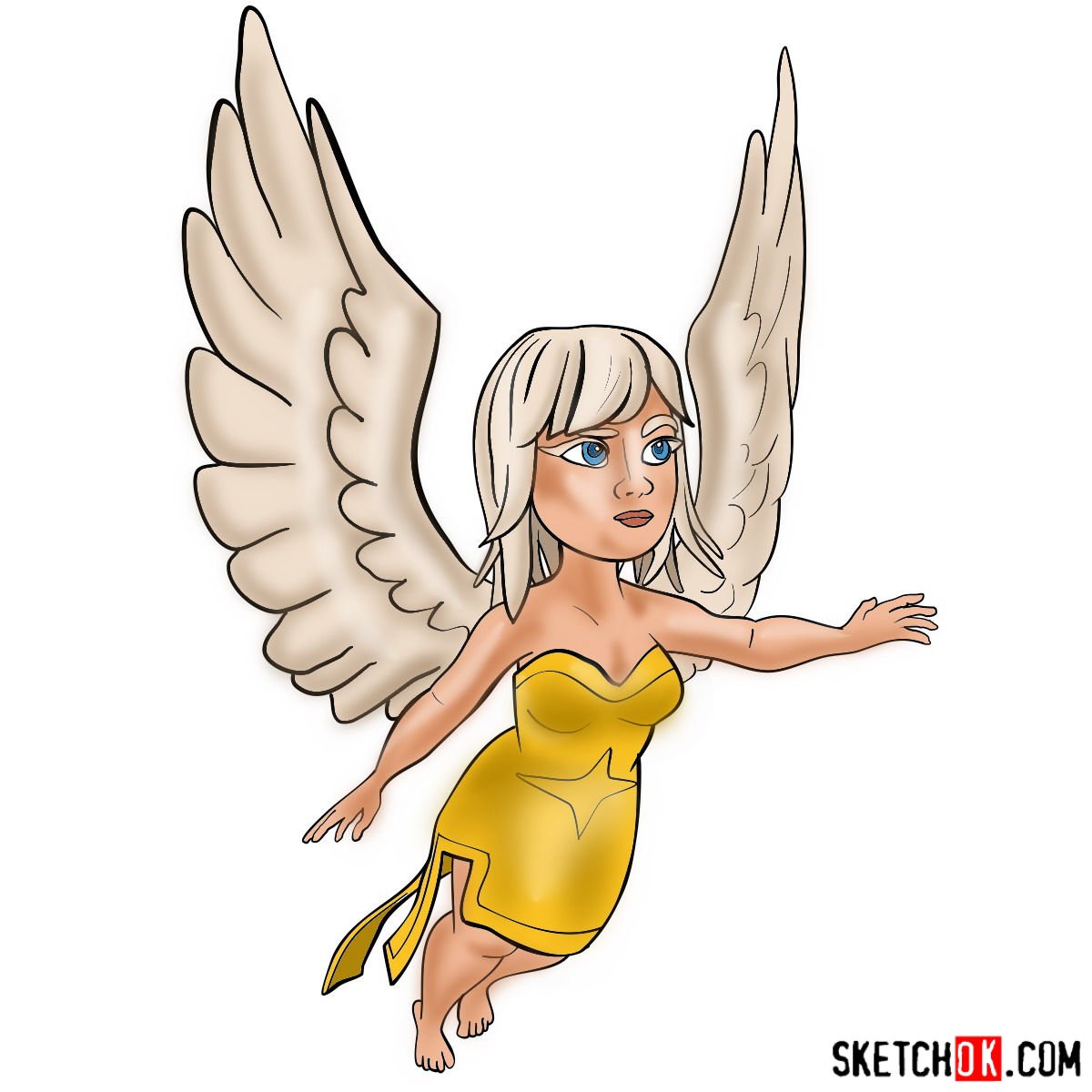 Artistic Alchemy: Tips and Techniques
Here are some additional tips and techniques to enhance your Healer drawing and overall artistic skills:
Practice different shading techniques, such as hatching and cross-hatching, to add texture and depth to your drawing.
Use a blending tool or your finger to smooth out pencil shading for a more polished look.
Experiment with different coloring mediums to find the one that best suits your style and preferences.
Add other CoC characters like a Golem, Hog Rider, Lava Pup etc., to the drawing to create a battle scene.
Be patient and allow yourself time to improve; practice makes perfect!
Frequently Asked Questions
What's the best way to practice drawing the Healer from Clash of Clans?

Begin by breaking down the Healer's form into simple shapes and practice sketching these shapes accurately. As you become more comfortable with the basic structure, start adding details and refining your drawing.

How can I make my Healer drawing look more realistic?

Pay close attention to proportions, shading, and highlights. Studying reference images can also help you capture the Healer's likeness more accurately.

What if my drawing doesn't turn out the way I want it to?

Don't be discouraged! Drawing is a skill that takes time and practice to develop. Keep working on your techniques and try again. Remember, every artist has their unique style, and your Healer drawing may not look exactly like someone else's, but that's okay.
Conclusion: The Healing Power of Art
In conclusion, drawing the Healer from Clash of Clans can be a fun experience. By following this step-by-step tutorial and practicing your skills, you'll soon be able to create your very own Healer masterpiece. Don't forget to share your artwork with others and encourage them to try their hand at drawing too!
If you found this tutorial helpful and would like to support the regular release of free drawing guides on SketchOk, consider buying us a coffee by clicking here. Your support is greatly appreciated!