Unleash your inner artist and learn how to draw Valkyrie, the fierce warrior from the popular game Clash of Clans! In this step-by-step drawing tutorial, we'll guide you through the process of creating an impressive depiction of this mighty character. So, sharpen your pencils and let's embark on this artistic journey together.
The Whirlwind of the Battlefield: Valkyrie's Appearance and Story
Valkyrie, a formidable character in the Clash of Clans universe, is known for her prowess with the double-bladed axe. She sports striking orange hair, a leather loincloth, a matching leather brassiere, and knee-high boots. Her massive weapon is about half her size, making her a force to be reckoned with on the battlefield. Valkyries have no preferred target, attacking the closest building and switching to enemy troops when necessary. Their spinning axe attack allows them to hit multiple targets at once, making them a valuable asset in any army.
Tools of the Trade: Materials and Tools for Drawing Valkyrie
Before we begin, gather the following recommended materials and tools for your Valkyrie drawing:
Pencils of varying hardness
Eraser
Sketching paper
Inking pens or markers
Coloring materials (colored pencils, markers, or paints)
Blending tools (optional)
Feel free to use any tools you prefer; these are simply suggestions to help you achieve the best results.
A Warrior's Journey: Step-by-Step Drawing Guide
Part 1: Basic Sketch
The foundation of any great drawing is a well-structured sketch. Begin by lightly drawing the basic proportions of Valkyrie using gentle pencil strokes. This first step will serve as a guide for the rest of the drawing process, so take your time to ensure accurate proportions.
Part 2: Refining the Sketch
Once you're satisfied with your basic sketch, it's time to add more details and refine the proportions. Enhance Valkyrie's facial features, hair, clothing, and weapon to give her a more lifelike appearance. Remember to use light pencil strokes so you can easily make adjustments as needed.
Part 3: Inking
With your refined sketch as a guide, it's time to ink your drawing. Carefully outline Valkyrie's features with a steady hand, using pens or markers. Add finer details and final touches to bring her character to life. Erase any remaining pencil marks once the ink dries.
Part 4: Coloring and Shading
Now that your Valkyrie drawing is inked, add color to make her pop off the page. Use your chosen coloring materials to fill in her hair, clothing, and weapon. Experiment with shading and highlights to give your drawing depth and dimension.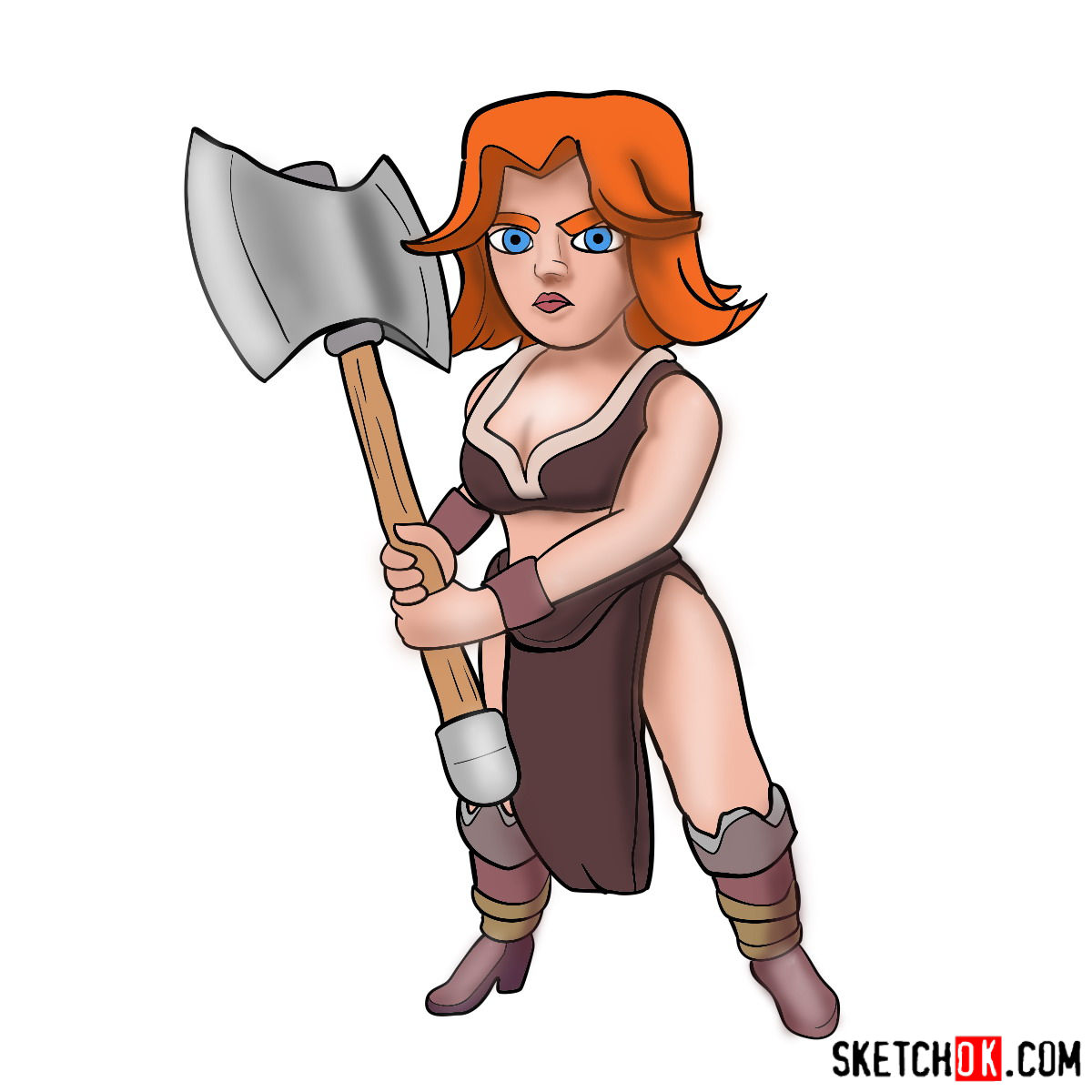 Secrets of the Axe: Tips and Techniques for Drawing Valkyrie
In addition to the step-by-step guide, consider these tips and techniques to elevate your Valkyrie drawing:
Study references of the character to better understand her proportions and design.
Use a light source to guide your shading and highlights.
Experiment with different blending techniques to create smoother transitions between colors.
Consider drawing Valkyrie in action or with other Clash of Clans characters, such as Barbarians, Archers, or Goblins, for a dynamic scene.
Frequently Asked Questions
What are some drawing techniques I can use when sketching Valkyrie?
When sketching Valkyrie, use techniques such as gesture drawing to capture her dynamic movement, cross-hatching for shading, and blending to create smooth color transitions. Also, don't be afraid to use an eraser to make adjustments as you refine your sketch.
How can I improve my drawing skills?
Practice, practice, practice! Drawing consistently will help you develop muscle memory and refine your skills. Additionally, study the work of other artists, attend workshops or classes, and don't be afraid to seek feedback on your work.
By following our step-by-step guide and incorporating the tips and techniques provided, you're well on your way to mastering the art of drawing Valkyrie from Clash of Clans. Don't forget to share your artwork with others and continue to hone your skills by exploring more drawing tutorials. If you'd like to support the regular release of free drawing guides, consider donating to SketchOk by visiting Our Buy me a Coffe page. Happy drawing!