Calling all Clash of Clans enthusiasts! Are you ready to tackle the challenge of drawing the mighty Dragon from your favorite game? With our comprehensive step-by-step tutorial, you'll soon be on your way to creating a masterpiece worthy of any Town Hall. So grab your pencils, and let's dive into the world of dragon drawing!
A Glimpse into the Dragon's Lair
The Dragon is a force to be reckoned with in Clash of Clans. Unlocked at Barracks level 9 and requiring Town Hall level 7, this fearsome flying unit strikes terror in the hearts of its enemies. The Dragon has high health and damage, and its fiery breath can target both ground and air units. Its attacks, like the Wizard's, are ranged and deal splash damage. This scaly behemoth knows no mercy and attacks the closest building without preference. However, when it becomes aware of enemy troops or Heroes, it will engage them in battle.
Preparing Your Artistic Arsenal
Before you embark on your Dragon-drawing journey, you'll need the right tools. Here's what we recommend:
Pencils: A range of hardness, from HB to 4B, for sketching and shading.
Eraser: For correcting mistakes and refining your sketch.
Paper: Preferably a medium-weight drawing paper.
Inking pen: For outlining and adding details.
Coloring tools: Colored pencils, markers, or even digital software, depending on your preference.
Remember, these are just suggestions, and you can use whatever tools you feel most comfortable with.
Step-by-Step Dragon Drawing Guide
Part 1: Lay the Foundations
Start by creating a basic structure for your Dragon sketch. Use light pencil strokes to map out the proportions and establish the overall shape of the character. This foundational step will serve as a guide for the rest of your drawing.
Part 2: Refining the Sketch
With the basic structure in place, it's time to add details and improve proportions. Begin defining the Dragon's features, such as his wings, fierce expression and the fire breath. Remember, the red color in the tutorial images represents the current drawing step, while the grey color shows the basic proportions sketch, and the black color indicates what has already been drawn.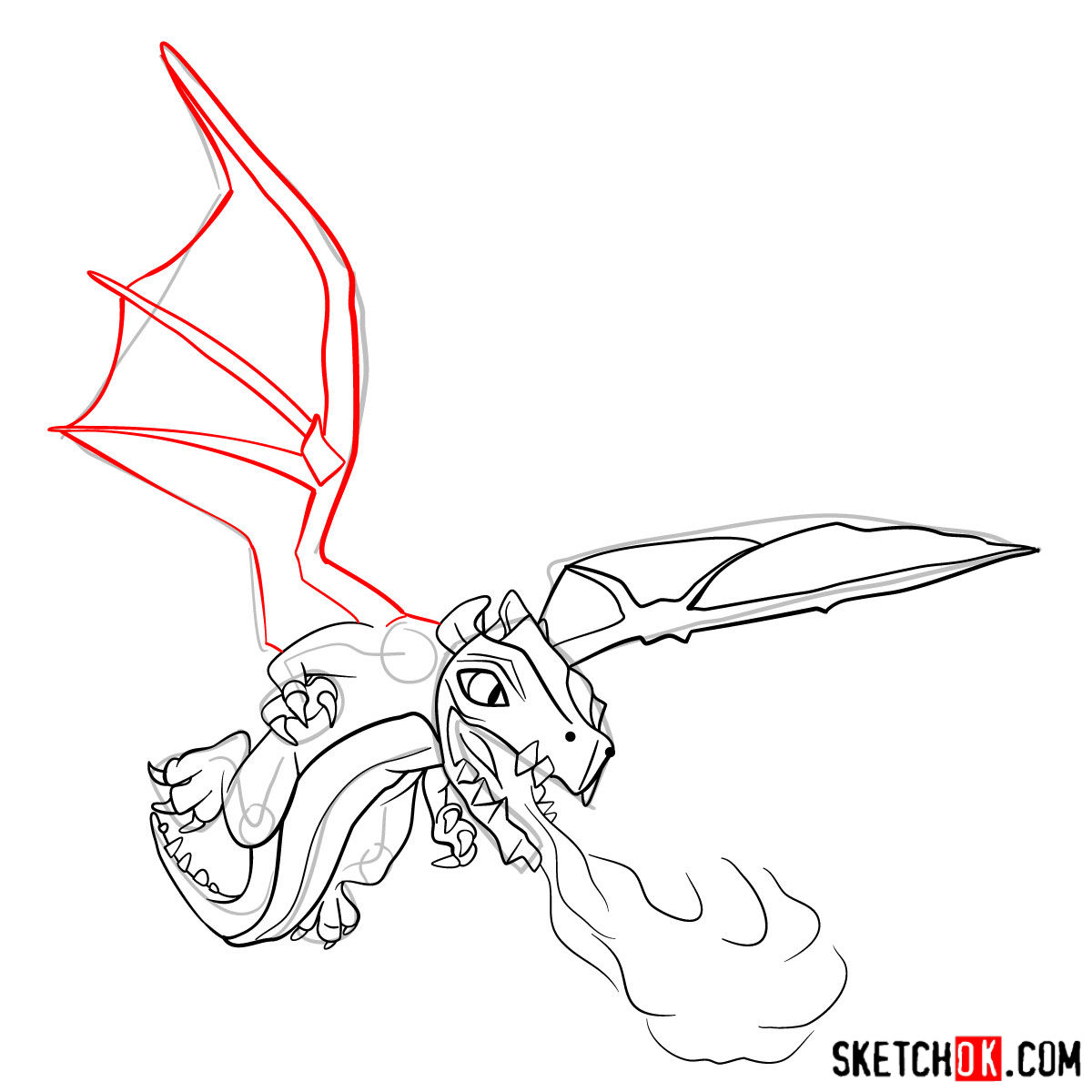 Part 3: Inking the Dragon
Once you're satisfied with your sketch, it's time to ink your drawing. Use a fine-tipped pen to outline your Dragon and add any final touches. Be sure to let the ink dry before moving on to the next step.
Part 4: Coloring and Shading
Now for the fun part! Bring your Dragon to life with color. Choose your preferred coloring medium and fill in the details, such as the Dragon's wings and fiery breath. Add shading and highlights to create depth and dimension.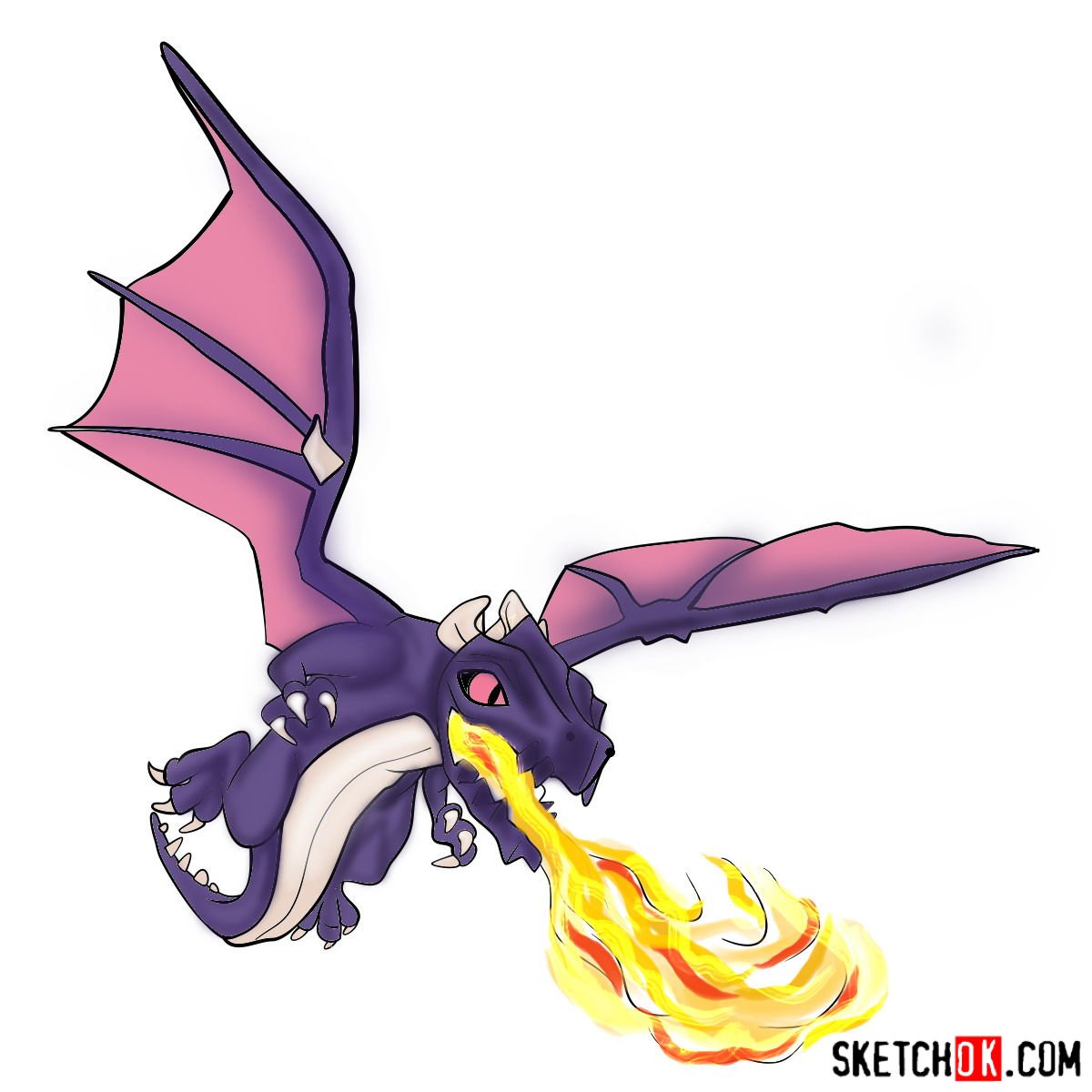 Unleashing Your Dragon Drawing Skills
Here are a few tips and techniques to help you perfect your Dragon drawing:
Practice sketching different poses and perspectives to develop a better understanding of the Dragon's anatomy.
Experiment with various shading techniques, such as cross-hatching or stippling, to add depth and texture to your drawing.
Don't be afraid to use references, such as screenshots from the game or other fan art, to ensure accuracy and consistency in your artwork.
Be patient and persistent! Drawing takes time and practice, so keep honing your skills and learning from your mistakes.
Frequently Asked Questions
Q: What's the best way to create a realistic scale texture on the Dragon?
A: One method is to draw overlapping, slightly curved lines to represent the individual scales. You can then add shading and highlights to create depth and dimension.
Q: How can I make my Dragon drawing more dynamic?
A: Consider drawing the Dragon in an action pose, such as soaring through the air or breathing fire. Also, play with perspective and foreshortening to create a sense of movement and depth.
Q: I'm struggling with drawing the wings. Any tips?
A: Break the wings down into simpler shapes, such as elongated triangles for the main structure and curved lines for the wing membranes. Sketch the wings in a folded position first, then gradually unfold them to better understand their anatomy.
Conclusion: Sharing Your Fiery Creation
Congratulations on completing your Dragon drawing from Clash of Clans! We hope you found this tutorial helpful and that it ignited your passion for drawing these incredible creatures. Don't forget to share your artwork with fellow fans and support our work by donating on Buy Me a Coffee to help us continue releasing free drawing guides on SketchOk. Keep practicing and exploring new techniques, and most importantly, have fun!