Hey, aspiring artists! Are you a fan of Clash of Clans and eager to learn how to draw one of its most mystical characters, the Witch? You're in the right place! In this step-by-step drawing tutorial, we'll guide you through the process of creating your very own Witch drawing, accompanied by a trusty Skeleton sidekick. So grab your pencils, and let's embark on this magical artistic adventure!
The Enchanting Backstory of the Witch and Her Skeletons
The Witch is a powerful splash-damaging Dark Elixir troop in Clash of Clans, unlocked once the Dark Barracks is upgraded to level 5, requiring a Town Hall level 9. She never fights alone, as she constantly raises dead warriors from past battles to lead her attacks. The Witch shoots blue projectiles at her target and can summon Skeletons to fight by her side. She has short purple hair, glowing pink eyes, and wears gold armor and a raggedy purple cape. Like her fellow troops such as P.E.K.K.A, Lava Hounds, and Giants, the Witch is a force to be reckoned with.
Essential Tools for Your Bewitching Drawing
To create your Witch and Skeleton masterpiece, we recommend the following materials and tools:
HB pencil for initial sketching
Eraser for fixing mistakes
Drawing paper or sketchbook
Ink pen or fine liner for inking
Colored pencils or markers for coloring
Remember, these are just recommendations; feel free to use any tools you're comfortable with!
A Magical Step-by-Step Drawing Guide
Part 1: Basic Sketch
Begin your Witch drawing by creating a basic structure using light pencil strokes. This will help you capture the correct proportions and establish a solid foundation for your characters.
Part 2: Refining the Sketch
Once you've created your basic sketch, it's time to refine it. Add details to the Witch's outfit, such as her gold armor and cape. Make any necessary adjustments to improve the proportions and overall appearance of your characters.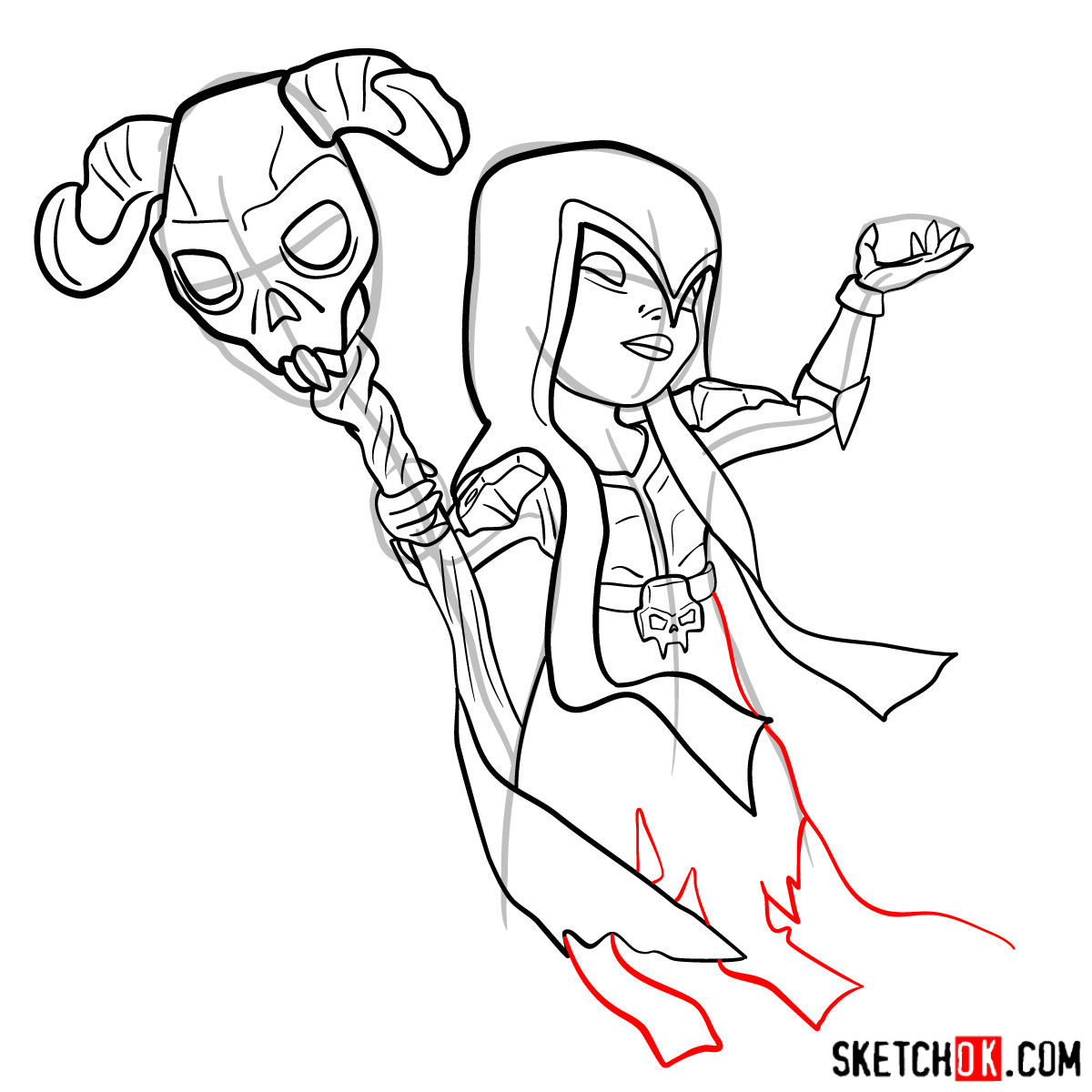 Part 3: Inking
With your sketch refined, it's time to ink your drawing. Carefully outline your Witch using an ink pen or fine liner, adding any final touches to make your characters come to life. Remember to let the ink dry before erasing any pencil lines.
Part 4: Coloring and Shading
The final step in your Witch drawing is to add color, shading, and highlights. Use colored pencils or markers to bring your character to life, experimenting with different shading techniques to create depth and texture.
Spellbinding Tips and Techniques
As you work on your Witch drawing, consider these tips and techniques:
Study the appearance and backstory of the Witch and her Skeletons to better understand their characteristics.
Practice different shading techniques to create depth and realism in your drawing.
Experiment with different poses and expressions to give your Witch a unique personality.
Congratulations on completing the Witch drawing from CoC! By following this step-by-step guide, you've unleashed your inner artist and created a magical masterpiece. Don't forget to share your artwork with friends and fellow Clash of Clans enthusiasts!
If you enjoyed this tutorial and want to support the regular release of free drawing guides, consider buying me a coffee here. Your support helps keep the artistic magic alive! And be sure to check out our other tutorials for more drawing inspiration.
Happy drawing, and may your artistic journey be filled with enchanting discoveries!