Welcome to the ultimate step-by-step drawing tutorial for creating a fantastic illustration of Kitty Pryde and her loyal dragon, Lockheed. By following this guide, you'll learn the necessary techniques and approaches to sketch this iconic X-Men character and her unique pet. So grab your favorite drawing tools and let's start phasing through the art world together!
Who is Kitty Pryde: X-Men's Lovable Phasing Hero
Created by John Byrne and Chris Claremont, Katherine Anne "Kitty" Pryde made her first appearance in The Uncanny X-Men #129. This young mutant is known for her incredible "phasing" ability, which enables her to become intangible and disrupt electrical fields. Kitty Pryde has gone by several codenames, including Sprite, Ariel, and Shadowcat, but it's her heart and determination that make her a fan favorite.
Over time, Kitty Pryde has grown from the X-Men's "kid sister" into a strong and capable hero, taking on more mature roles and even becoming Captain Kate Pryde in the series Marauders. A memorable aspect of Kitty's story is her mental connection with her pet dragon, Lockheed, an alien creature with whom she shares thoughts and emotions.
With appearances in various X-Men-related animated series and films, Kitty Pryde's popularity has soared, and she is now considered one of Marvel's most notable and powerful female heroes.
Artistic Arsenal: Tools and Materials
Before we dive into the drawing process, let's gather the recommended materials and tools for sketching Kitty Pryde and Lockheed:
Pencils: HB, 2B, and 4B
Eraser
Sharpener
Drawing paper
Fineliner pens or markers (for inking)
Colored pencils, markers, or pastels (for coloring)
Feel free to use any drawing tools you're comfortable with, as these recommendations are merely suggestions to help you get started.
From Sketch to Hero: The Kitty Pryde Drawing Guide
Our step-by-step tutorial will guide you through the process of drawing Kitty Pryde and her dragon companion, Lockheed. In the accompanying images, you'll notice red lines indicating the current step, gray lines for the basic proportions sketch, and black lines representing previously drawn lines.
Part 1: Laying the Foundation
Start by drawing a basic sketch with light pencil strokes to establish the proportions and structure of the characters. This foundational step will ensure your characters are well-balanced and proportionate before moving on to the details.
Part 2: Refining the Dynamic Duo
With the basic structure in place, refine your sketch by adding details and improving the proportions of Kitty Pryde and Lockheed. Focus on capturing their unique features and expressions, making them look true to their comic book appearances.
Part 3: Inking the Marvel Masterpiece
Once you're satisfied with the sketch , it's time to ink your drawing. Using fineliner pens or markers, carefully trace the outlines of Kitty Pryde and Lockheed, emphasizing their features and enhancing the overall look of your illustration. Be sure to let the ink dry before proceeding to the next step.
Part 4: Bringing Colors to Life
Now it's time to breathe life into your artwork by adding color, shading, and highlights. Choose your preferred coloring tools, such as colored pencils, markers, or pastels, and apply them to your drawing. Pay attention to the characters' signature color schemes, as well as light and shadow, to create depth and dimension.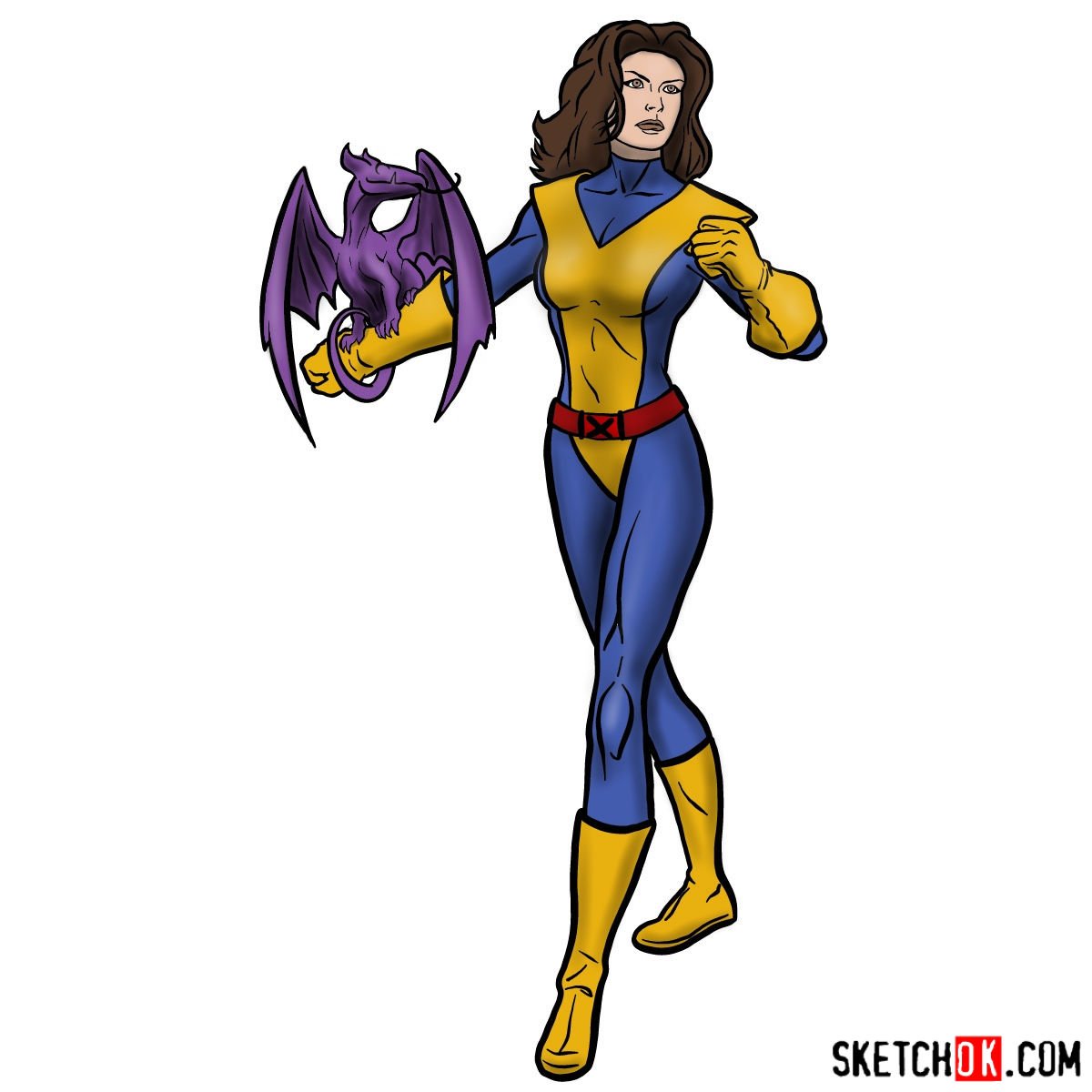 Unleashing Your Inner Artist: Tips and Techniques
Here are ten tips and techniques to help you draw Kitty Pryde and Lockheed more effectively or enhance your artwork:
Study reference images of the characters to familiarize yourself with their appearances and costumes.
Begin with a light pencil sketch, and gradually build up the details to create a solid foundation for your drawing.
Use a combination of short and long pencil strokes to mimic the texture of Kitty's hair and Lockheed's scales.
Pay attention to the characters' expressions and body language, ensuring they convey the right emotions and attitude.
When inking, vary your line thickness to add depth and interest to your drawing.
Use cross-hatching and stippling techniques to create shadows and highlights in your artwork.
Experiment with different coloring techniques, such as blending, layering, and burnishing, to achieve a more vibrant and dynamic result.
Don't be afraid to make mistakes. Remember, practice makes perfect!
Seek feedback from fellow artists or join online art communities to share your work and receive constructive criticism.
Most importantly, have fun and enjoy the creative process!
Frequently Asked Questions
What should I focus on when drawing Kitty Pryde's phasing ability?
When drawing Kitty Pryde's phasing ability, pay attention to the transparency of her body and how it interacts with the surrounding environment. You can achieve this effect by using lighter shades or semi-transparent coloring techniques. Additionally, consider illustrating the disruption of electrical fields around her as she phases through objects.
How can I improve my drawing skills?
To improve your drawing skills, practice regularly and consistently. Study various drawing techniques, experiment with different materials, and don't be afraid to challenge yourself with more complex subjects. Additionally, seek feedback from fellow artists and learn from their experiences and advice.
By following this step-by-step tutorial, you've now gained valuable skills and insights into drawing Kitty Pryde and her dragon companion, Lockheed. Keep practicing and experimenting with different techniques to hone your artistic abilities. If you've enjoyed this guide, consider supporting the content creator by sharing the link, checking out other tutorials, and donating on Buy Me a Coffee.