Are you a fan of the X-Men series and looking for a new drawing challenge? Look no further! In this blog post, we'll guide you through the process of creating a stunning Dark Phoenix drawing. Dark Phoenix, the powerful alter ego of Jean Grey, is an iconic Marvel character with a rich backstory that captivates fans around the world. Let's dive into her story before we explore some tips and advice for drawing this legendary superhero.
Unraveling the Mystique of Dark Phoenix
Dark Phoenix, also known as Jean Grey, first appeared in X-Men #1 in 1963. Jean Grey is a mutant with powerful telepathic and telekinetic abilities. Over the years, she has been a part of various X-Men teams and has had many adventures with fellow mutants such as Cyclops, Wolverine, and Storm. Jean Grey's life takes a dramatic turn when she becomes the host of the powerful Phoenix Force, transforming her into Dark Phoenix.
As Dark Phoenix, her powers are significantly amplified, making her one of the most powerful beings in the Marvel Universe. However, this incredible power comes at a price, as Jean struggles with her dark side and the immense destruction she is capable of causing. This inner turmoil between light and darkness adds depth to her character, making her an intriguing subject for artists.
Getting Started with Your Dark Phoenix Drawing
Now that we have a better understanding of Jean Grey's story, let's get started on your drawing journey. Here are some tips to help you create a captivating Dark Phoenix drawing:
Study reference images of Dark Phoenix to familiarize yourself with her features, costume, and pose.
Begin with a light sketch, focusing on proportions and the overall composition of your drawing.
Consider the use of dynamic lines to capture the energy and power of Dark Phoenix.
Experiment with different shading techniques to create depth and dimension in your drawing.
Pay attention to the details of her costume and facial expressions to bring your drawing to life.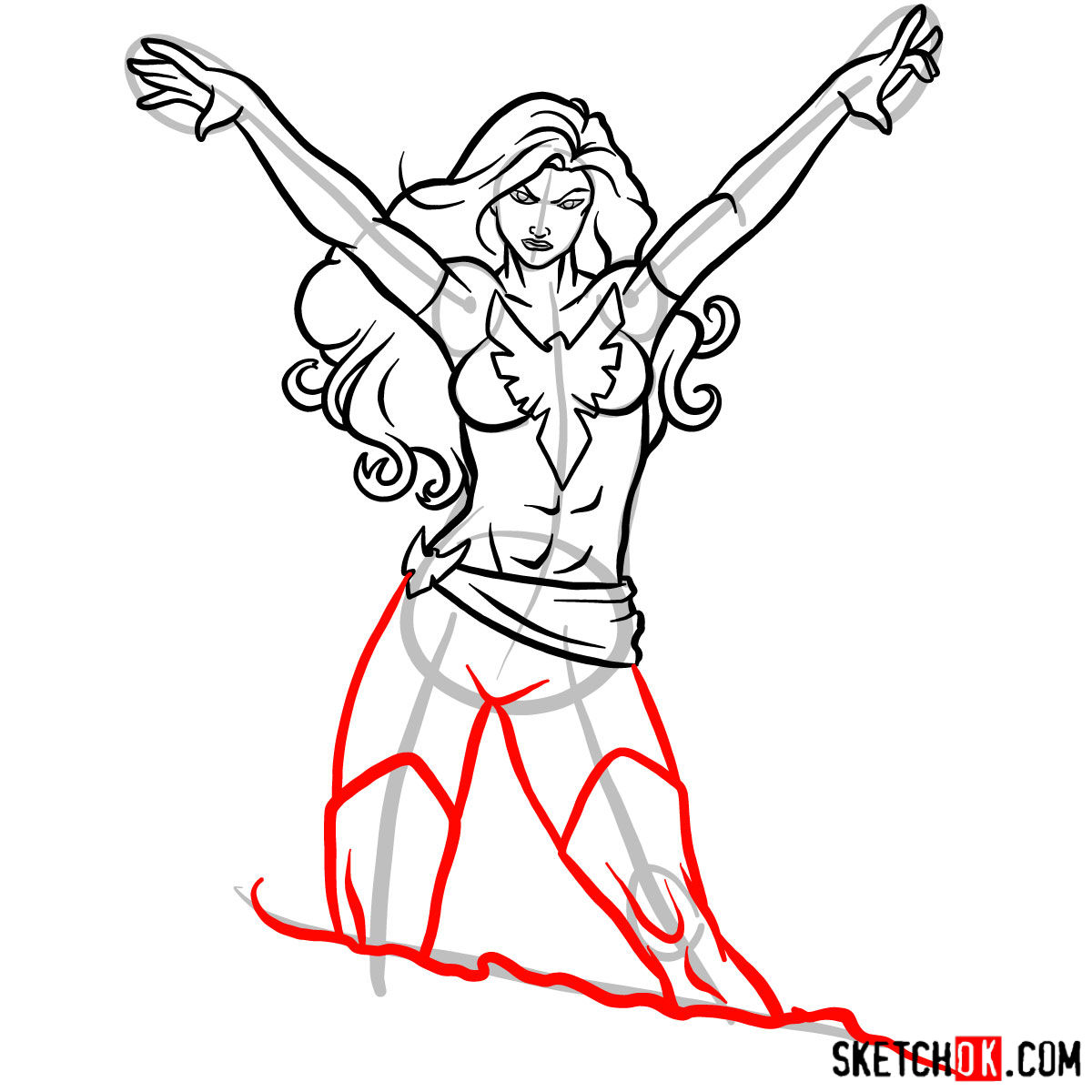 Expand Your Skills with Other Marvel Characters
Once you've mastered drawing Dark Phoenix, you can challenge yourself by drawing other iconic Marvel characters. Some popular choices include Professor X, Magneto and Mystique, who all share a strong connection with Jean Grey in the X-Men universe. By practicing with different characters, you can refine your skills and develop your own unique drawing style.
If you found this guide helpful and would like to support the release of more free drawing guides, please consider donating on Buy Me a Coffee. Your support is greatly appreciated and will help other aspiring artists access valuable resources and tips.
In conclusion, drawing Dark Phoenix is a real challenge for aspiring artists. But byy studying her backstory, paying attention to details, and following the tips provided in this guide, you can easily create a stunning Dark Phoenix drawing that captures the essence of this iconic character. Remember to practice and experiment with different techniques, and don't forget to have fun along the way. Keep honing your skills by drawing other Marvel characters, and soon you'll be a master at creating captivating comic book art. Good luck, and happy drawing!
Frequently Asked Questions
What makes Dark Phoenix unique among other Marvel characters?
Dark Phoenix is unique due to her immense power and the inner struggle she faces between light and darkness. As the host of the Phoenix Force, she is one of the most powerful beings in the Marvel Universe, but this power comes with the potential for destruction and chaos.
Do I need special tools to draw Dark Phoenix?
While you don't need any special tools to draw Dark Phoenix, using sharpened pencils, paper, and erasers can make a difference in the final result. You can also explore different mediums, such as digital art, to create your Dark Phoenix drawing.
How can I improve my drawing skills?
Practice is key when it comes to improving your drawing skills. Draw regularly, study reference images, and experiment with different techniques. Additionally, consider taking art classes or watching online tutorials to learn new methods and receive feedback on your work.
Can I draw other X-Men characters in the same style as Dark Phoenix?
Yes! Once you've developed your own unique drawing style, you can apply it to other X-Men characters, such as Wolverine, Cyclops and etc. This will help you create a cohesive series of drawings featuring your favorite Marvel characters.
How can I add more depth and dimension to my Dark Phoenix drawing?
Experimenting with different shading techniques, such as cross-hatching, stippling, or blending, can help you add depth and dimension to your Dark Phoenix drawing. Additionally, pay attention to the composition and perspective of your drawing to create a more dynamic and engaging piece.