Welcome, young artists! Are you ready to embark on a thrilling artistic journey? Today, we'll learn how to draw Emma Frost, the powerful mutant from the X-Men universe. With her stunning appearance and incredible psychic abilities, Emma Frost has captivated fans for decades. So, let's grab our pencils and paper, and dive into the world of this iconic Marvel character!
In this guide, we'll delve into Emma Frost's background, her distinctive appearance, and provide helpful tips to create an amazing Emma Frost drawing.
Emma Frost: An Overview of Her Story and Appearance
Before we jump into drawing tips, it's essential to familiarize ourselves with Emma Frost's story and unique appearance. Created by writer Chris Claremont and artist John Byrne, Emma Frost first appeared in 1980 as a foe of the X-Men. Over time, she transitioned from a villain to a valued member of the X-Men and even became the team's leader at one point.
Emma Frost, also known as the White Queen, possesses incredible psychic powers, including telepathy and telekinesis. Additionally, she can transform her body into an indestructible diamond form, granting her immense strength and resilience. Her complex character has made her a fan favorite, admired for her strength, intelligence, and cunning.
When it comes to appearance, Emma Frost is known for her beauty, platinum blonde hair, and striking blue eyes. She often wears form-fitting, white attire, reflecting her codename, the White Queen. As you work on your Emma Frost drawing, keep these distinct features in mind to capture the essence of this alluring character.
Introduction to the Drawing Guide: Tips for Sketching Emma Frost
Now that we have a better understanding of Emma Frost's background and appearance, let's dive into some useful tips for creating your very own Emma Frost drawing. Remember, practice makes perfect, so be patient and enjoy the artistic journey!
Tip 1: Start with Simple Shapes and Guidelines
Begin your drawing by breaking down Emma Frost's form into basic shapes, such as circles and simple lines. This technique will help you establish accurate proportions and create a foundation for your drawing.
Tip 2: Pay Attention to Facial Features and Expression
Emma Frost's alluring and confident expression is a crucial aspect of her character. Focus on her eyes, eyebrows, and mouth to convey her charisma and intensity.
Tip 3: Study Reference Images
Collect reference images of Emma Frost from various sources, such as comic books, movies, and action figures. Analyzing different interpretations of the character will inspire your creativity and help you capture her likeness accurately.
Tip 4: Add Details to Her Outfit
Emma Frost's white attire is an essential part of her identity. Be sure to include details like seams, folds, and textures to make her outfit come to life. Don't be afraid to experiment with different costume designs inspired by her various appearances in the comics and movies.
Tip 5: Incorporate Her Psychic Powers and Diamond Form
Consider showcasing Emma Frost's psychic abilities or her diamond form in your drawing. For instance, you can add glowing energy around her hands or depict her partially transformed into her diamond state. These elements will make your Emma Frost drawing more dynamic and engaging.
Tip 6: Use Smooth, Flowing Lines for Hair
Emma Frost's platinum blonde hair is one of her most distinguishing features. Use smooth, flowing lines to create the appearance of silky hair, and add shading to give it depth and dimension.
Tip 7: Create an Intriguing Scene with Other Characters
To make your drawing even more captivating, consider including other X-Men characters, such as Jean Grey, Cyclops, or Magneto. By incorporating interactions or a background that reflects the X-Men universe, you'll create a visually compelling piece that tells a story.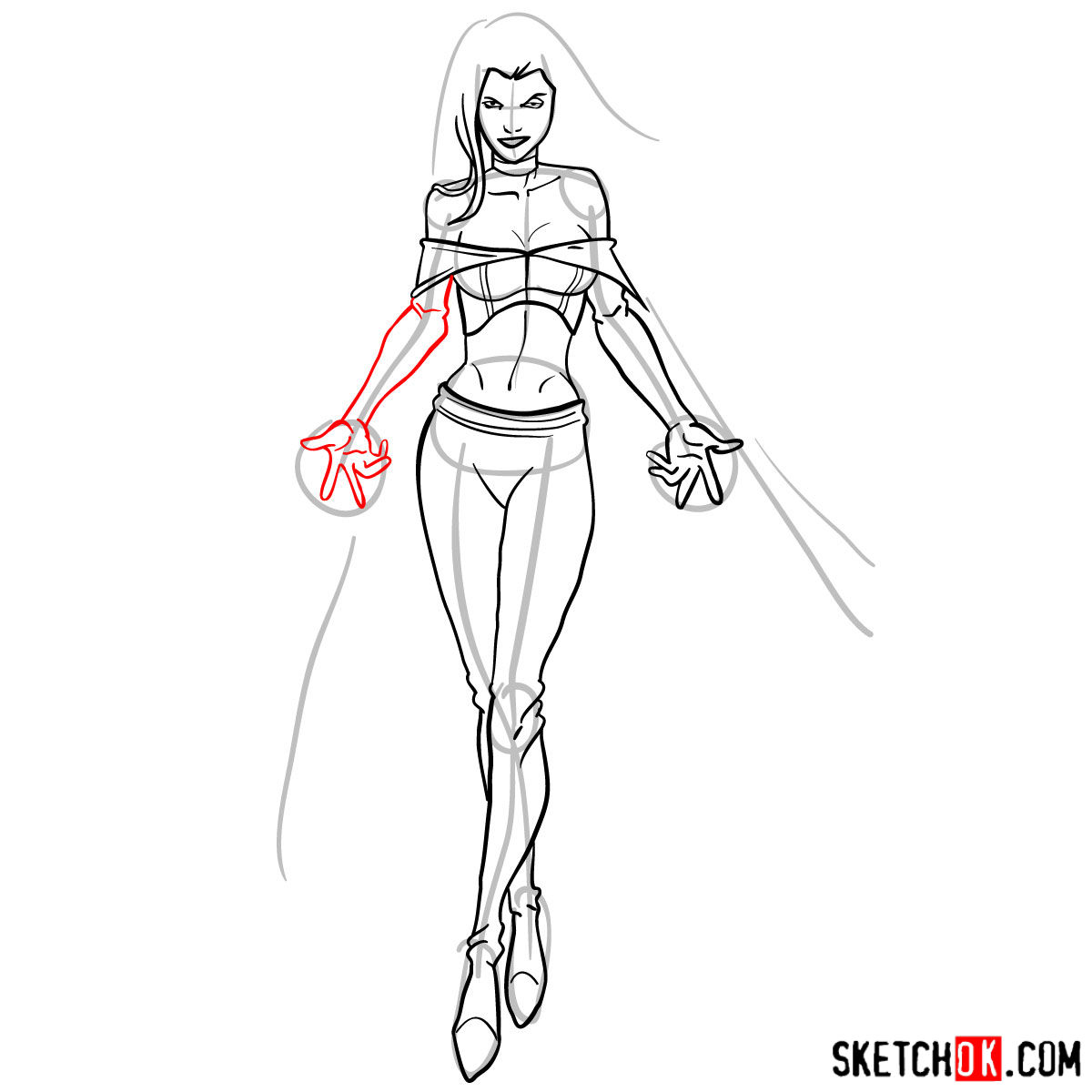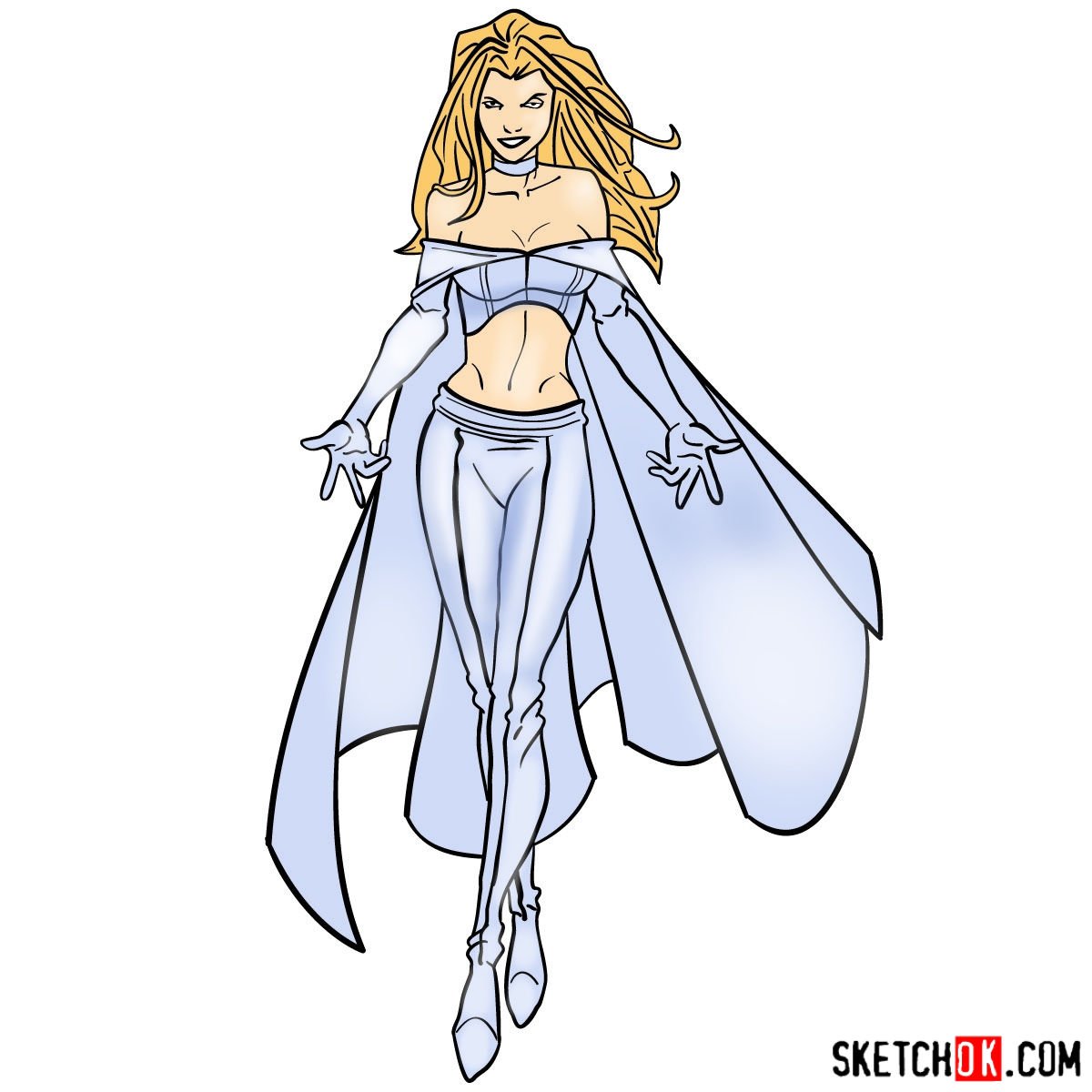 End of Our Artistic Adventure with Emma Frost
With these tips and your creativity, you'll soon have a fantastic Emma Frost drawing to be proud of. Embrace the artistic process, learn from your mistakes, and always keep practicing. Most importantly, enjoy the journey and let your imagination soar!
Once you've completed your masterpiece, share it with friends, family, or on social media to showcase your talent. And if you're inspired to explore more, check out our other guides on drawing beloved Marvel characters.
Finally, if you'd like to support my work and future tutorials, please consider buying me a coffee. Your support helps me continue creating valuable content for aspiring artists like you. Thank you, and happy drawing!